How to Assemble a Winter Cycling Kit—Without a Fat Bike
Nothing (well, except powder skiing) beats staying warm on a snowy trail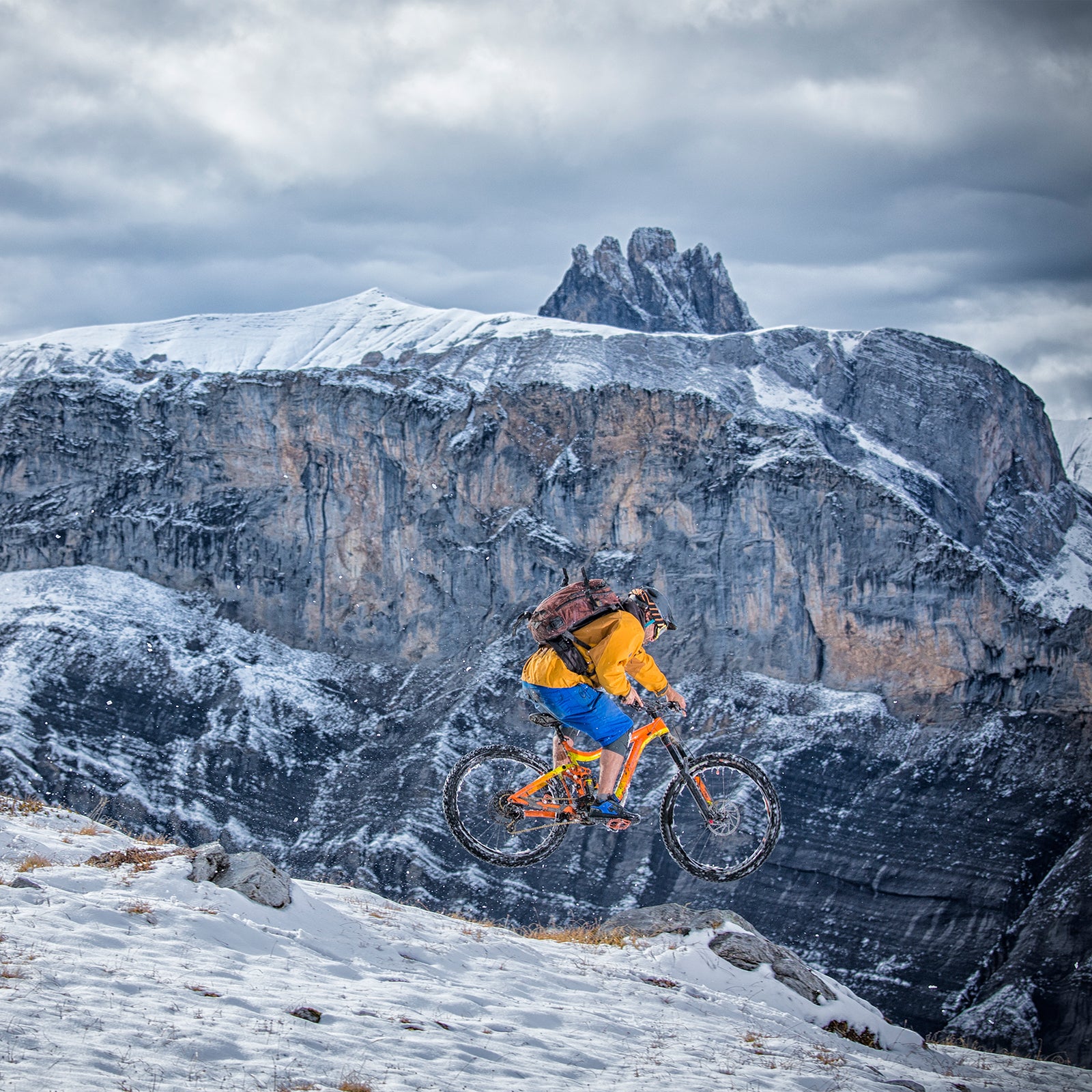 Heading out the door? Read this article on the new Outside+ app available now on iOS devices for members! Download the app.
I won't lie: there's nothing better on a winter morning than fat skis and a foot of fresh snow. But as a cyclist, I also appreciate the beauty of a winter ride.
Snowy outings on your bike are a little different than summer ones. The air feels thick and heavy from the cold. Some of my usual routes are through deep powder. I'm never as fit. If my goal were to train, I'd be inside, on Zwift, where it's always warm and dry and you can pack in a ride of any length on any schedule. But I'm still outside.
Winter riding holds particular delights. Trails are deserted, and even ho-hum sections can take on a challenge and an unpredictability that they lack in summer. But what I love most of all is that soft silence during or after a snowfall, when it's just me, the bike, and the suggestion of singletrack laid out ahead under a blanket of white.
You don't need a closet full of special gear for this. Just a few select additions to your normal riding kit will go far. Here are some essentials I come back to every season for winter riding in dry, cold, sunny Colorado, plus recommendations for folks in other climates. (No, none of the following items is a fat bike.)
A Wool Earflap Cap 
Ounce for ounce and dollar for dollar, I don't think you'll find a better bet for staying warm than a good wool cycling cap with earflaps. You'll find versions of this concept from 45Nrth, Giro, Snek, and plenty of other brands. What to look for: flaps that are large enough to fully cover your ears and the back of your neck, a flexible brim that deflects cold breezes and stuffs into a jacket pocket, and a midweight merino-wool fabric that's warm but trim enough to fit under a helmet. In very cold and humid climes, you might opt for a windproof cap, but I've found that those tend to trap moisture next to my scalp. I'm hot at the start and then cool down as my head gets progressively damper.
A Neck Gaiter 
Number two on my warmth-per-dollar scale, these simple pieces of fabric go by various names (my favorite might be snood). All are essentially a 6-to-12-inch tube that's as versatile and ingenious as it is simple. Worn around the neck, it helps keep cold drafts from going down your jacket collar. Pull it up a bit to protect your nose and chin, or fold and twist it into a hat or headband if you forgot yours. I reach for one of two options, depending on the temperature: a lightweight synthetic that provides just enough coverage to keep out above-freezing chill, or a midweight merino-wool version that's ideal for really frigid days. This one from Buff is perfect.
Thermal Shorts
A pair of cycling shorts in a thick, thermal-weight fabric is among the most versatile items in my wardrobe. For cool road rides, I wear them to keep my rear warm, and I pair them with knee warmers as an essential means of keeping those joints toasty. I layer that combo under trail pants on truly cold days or for snowy trail adventures instead of thermal tights. For a long time, these were niche items, but more and more companies are seeing the light. You can find them from Pearl Izumi and Rapha, among other brands. Santa brought me a pair of Velocio thermals ($209) for Christmas, and so far I'm a big fan of the fit and function. They come in specific versions for men and women.
Overshoes 
If you ride in very cold conditions, you may want dedicated winter cycling shoes, which offer insulation and are often waterproof. But for most of us, I'm not sure they're necessary, simply because they're expensive for a specialty item you'll use only a few months a year. One alternative is to put flat pedals on your bike and ride in the insulated hikers or winter boots you already own. If you're looking for some extra warmth around your toes when temperatures drop down to about 15 degrees, I suggest a good pair of insulated overshoes. Neoprene is the most commonly used insulation, but I prefer fleece-lined versions. When my current pair of Bontragers dies (sadly, they're no longer made), I'll probably replace them with Louis Garneau's fleece and neoprene Thermax II ($45). Should you get road or mountain covers? Either, depending on where you spend most of your winter miles, but the latter are more walkable than road covers and sometimes more sturdily made, yet they still fit over road cleats.
Good Gloves
Seasoned winter fat-bike riders swear by pogies (those bar-mounted hand covers) as the only thing that really works in single-digit temperatures. For something less extreme, try split-finger mitts, which are compatible with cycling's requirements on braking and shifting, unlike full mittens. Pearl Izumi's Pro AmFib Lobster is a classic. You can also always go with inexpensive Carhartt or Kinco work gloves, which sacrifice a bit of dexterity but get the job done. Another option is to look to brands that make gear for cross-country skiing, like Craft, Hestra, Swix, and Toko. 
There are a few types of gloves I avoid. First: I'm not a fan of neoprene next to my skin. Neoprene doesn't breathe, so my hands get wet, which is bad when I inevitably have to remove a glove on a below-freezing ride. It also does not keep me warm. Second: touchscreen compatibility is fiction when dealing with thick, insulated gloves, but that's not a functional feature anyway, so ignore it. 
A Tasty Drink Mix
Energy-food company Skratch Labs makes a hot apple-cider drink mix that combines electrolytes with the taste of those powdered apple-cider beverages you find in almost any ski lodge. It's the perfect nexus of functional sport fuel and warm comfort. Hydration is essential in winter, too; while you may not sweat as much or feel as thirsty in the cold, you're still getting dehydrated when you work out, and the tasty flavor means I don't have to remind myself to drink. I sometimes go ride in the cold just as an excuse to bring some.
An Insulated Mug
Regular plastic water bottles are a sucky choice for a hot drink. They lose heat so quickly that your beverage will be cold in minutes. And hot water brings out the taste of plastic, so you'll wind up drinking hot low-density-polyethylene apple cider. Yum! Instead, I use a double-wall vacuum-insulated steel travel mug with a push-button spout. I have a (now discontinued) old Avex that fits in a jersey pocket or standard water-bottle cage. The updated version of my mug is the ReCharge from Coleman ($16). It keeps drinks hot for about an hour and warm for up to two. If you want something that's better insulated and keeps hot drinks hot longer, I'd look at Yeti's Rambler 18 bottle ($30) and its HotShot cap ($13).
Trail Pants
I wrote about this category last year, and I'm still a believer that good windproof trail pants with a bit of stretch are the perfect on-bike shell layer. My Pearl Izumi Summit AmFib Lites, which feature weather-resistant polyester on the front and a breathable poly-Lycra blend in back, have worked flawlessly through a full season, with no wear or other issues. They're warm, with a soft-backed interior that's comfortable against my skin, and feature plenty of stretch. The cut, which is tailored but still loose enough to comfortably fit over base layers for more insulation, makes them a good crossover piece for cross-country skiing or cold-weather runs. There's a warmer version as well with thicker fabric and more windproofing. If you need something cozier still, look to 45Nrth's Naughtvind, which are meant to be layered over thermal tights. 
An Insulated Midlayer or a Soft Shell
The type of insulation that's right for you depends on your climate, the kind of riding you do, and the conditions. If you're a roadie, a cycling-specific thermal jacket like Rapha's Brevet Insulated ($205) may be the best choice. The trade-off is versatility: road-oriented shells like the Brevet have a snug fit and are cut for a fairly aggressive on-bike position, which makes them less ideal for other aerobic winter sports. Looser alternatives from cycling brands include 7Mesh's Outflow ($330) and Gore's C3 Thermium ($400). The third option is a general-purpose midlayer from an outdoor brand. Some of my favorites lately have been wind-resistant pieces with lofted synthetic insulation—the kind you might also use for alpine touring or snowshoeing. Arc'teryx's Atom LT ($259), Smartwool's Smartloft-X 60 ($250), and Stio's Alpiner ($289) hoodies all work great for winter trail rides and come in men's and women's versions. 
Bonus: A Crappy Bike
You don't need a special bike to ride in winter—especially not a fat bike—unless you live in an area where riding on groomed or packed snow and ice is your primary option. Regular mountain-bike tires work just fine on hardpack, mixed surfaces, and even fresh snow less than six inches deep, and cyclocross or gravel bikes are ideal for roads and dry trails. But if you have the budget and storage space, there's something to be said for the beater bike. Winter riding is pretty abusive to equipment. Bikes get wet, muddy, and coated with road salt and deicing chemicals, and it's often too cold to wash your ride. This is why I like having something I don't mind putting away wet and leaving dirty for a month. Mine is an old steel hardtail with 26-inch wheels (quelle horreur) that I converted to a singlespeed and use mostly in winter, because it's simple and low-maintenance. Its limited suspension, narrow two-inch rubber, and single gear also makes easy trails spicier and more fun. You don't need to spend a ton here and should look for options that will pull double duty, say as a warm-weather commuter. You can find secondhand gear at local swaps, consignment stores, on Craigslist or eBay, or through specialty resellers like the Pro's Closet.
Lead Photo: amygdala_imagery/iStock