First Ride: The New Yeti SB115 Mountain Bike
The company's brand-new SB115 evolved from its super-capable SB100 cross-country model. The latest rendition is even more versatile and well suited to being an everyday trail bike for many.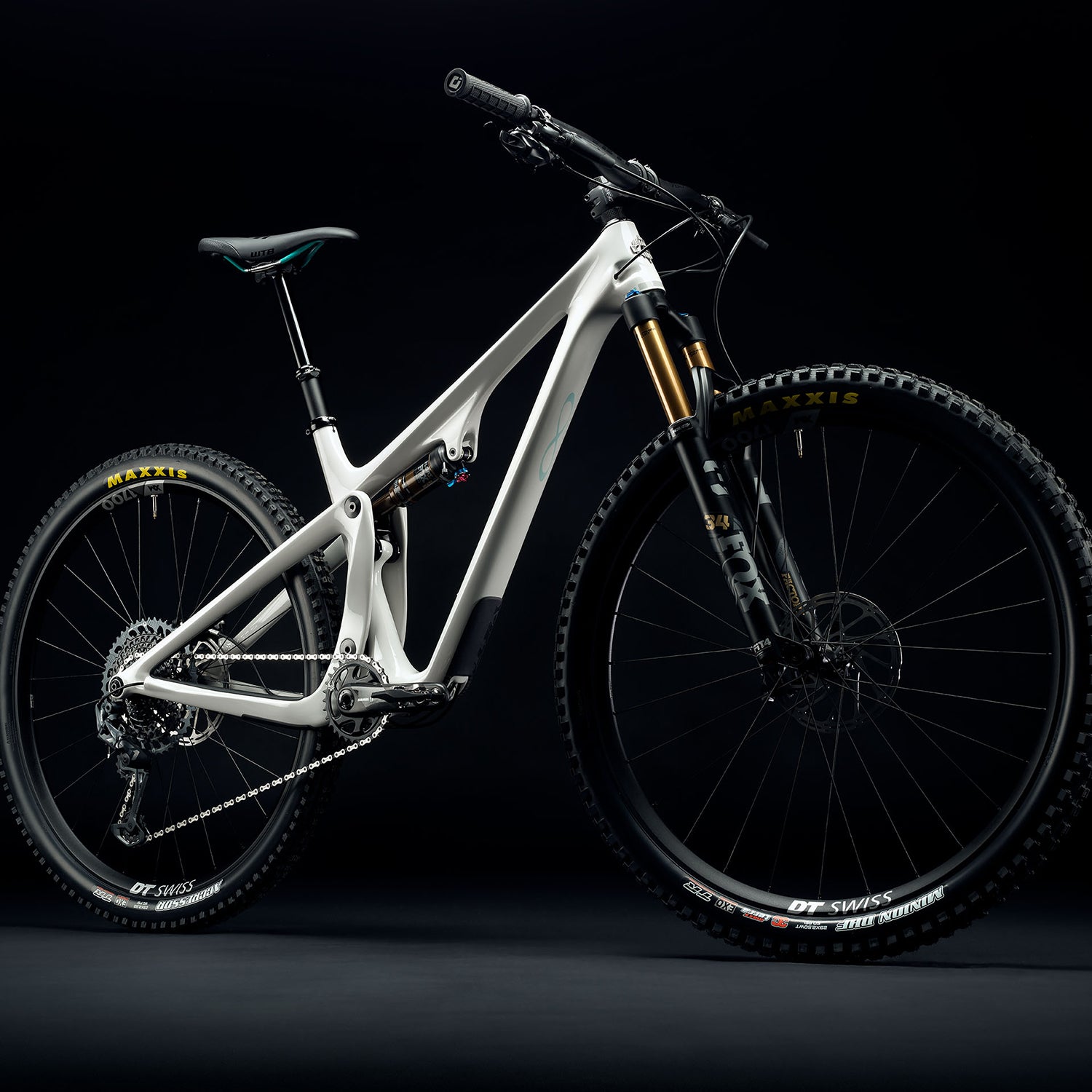 Heading out the door? Read this article on the new Outside+ app available now on iOS devices for members! Download the app.
After our annual bike test, Outside declared 2020 "the year of the short-travel 29er." Contributor Josh Patterson, who ran our test, lauded this category of mountain bike for its well-balanced personality: it has the lively feel of a short-travel bike, paired with the descent-capable geometry of a more aggressive trail bike, and is built around big 29-inch wheels with great rollover capability. 
Yesterday, Yeti Cycles released its latest answer to this much hyped breed with the new Yeti SB115, an evolved version of the SB100 cross-country bike that the company says it will eventually replace. The SB115 has 115 millimeters of rear-wheel travel, a 130-millimeter-travel fork, slack trail-bike geometry, and a build that wouldn't be out of place on an enduro bike.
Though the SB100 was declared a genre-blending bike when it first came out in 2018, with a 120-millimeter fork, longer and slacker geometry, and a stock build that included burly tires and a dropper post, it was, at its heart, a light cross-country race bike. Reviewers and Yeti athletes alike praised it for handling much gnarlier terrain than its 100 millimeters of rear-wheel travel should have allowed, calling it a "downhiller's cross-country bike." But it still only offered 100 millimeters of travel. 
So the SB115 began as an attempt to make the SB100 even more capable through one of Yeti's Lunch Ride (LR) builds, says product manager Ryan Thornberry. (The name Lunch Ride is a nod to the company's long-standing midday-ride tradition, in which employees started putting burlier suspension parts on their personal bikes.) LR kits make existing models more downhill oriented, with a longer fork and a slightly longer stroke shock, as well as a few other build tweaks. 
To make an SB100 LR, engineers swapped in a 130-millimeter fork for the previous 120-millimeter fork, but this slacked out the headtube and seat-tube angles. To maintain the geometry and handling of the 100, engineers redesigned the upper link and moved the pivot that connects the shock to the seatstay to the rear. This not only allowed for nearly identical geometry to the SB100, but it also enabled the installation of a longer-stroke shock and gave the bike an extra 15 millimeters of rear-wheel travel. (Because of the longer fork, the bottom bracket height is taller on the SB115, but the headtube and seat-tube angles are essentially the same as those on the SB100.) Thus the SB115 was born. Impressively, Thornberry says they achieved the extra travel without a net-weight gain—an SB115 frame weighs the same as an SB100 frame.
If the SB100 lived somewhere between a cross-country and trail rig, the parts for the SB115 belies its intentions to evolve closer to the trail end of the spectrum. I'm testing an SB115 in the T2 build ($6,900), which features Yeti's top-tier (lightest) Turq carbon frame and SRAM's X01 Eagle drivetrain, with its new 10-52 cassette. My bike sports four-piston, downhill-style SRAM G2 RSC brakes, based off SRAM's high-powered Code brakes. It has 780-millimeter-wide handlebars. And it rolls on a plump 2.5-inch Maxxis Minion DHF tire in front, with a 2.3-inch Maxxis Aggressor in the rear—the same setup I've run on my enduro bike.
I owned an SB100 for about a year, along with a 135-millimeter-travel 29er that was both enduro and trail oriented. While the SB100 always wowed me with its capability, I still found that I preferred my long-travel trail bike in most normal riding situations, since I gravitate toward technical riding, faster descents, and the bike park. Having ridden the SB115 for the past few weeks, I can say that this new bike is even more versatile and well suited to being an everyday trail bike for many riders.
Unsurprisingly, the SB115 climbs very, very well. Yeti claims that a size medium in my T2 build weighs 27.6 pounds, with a frame weight of 5.9 pounds. (The mid-tier C series carbon frame has a claimed weight of 6.2 pounds.) For a lightweight trail bike these days, that's impressive. Compare these numbers to a couple of the SB115's current peers in the 115-to-120-millimeter-travel 29er category: Pivot's Trail 429 has a purported frame weight of 6.4 pounds; Santa Cruz's Tallboy CC, with a similar X01 build to the SB115, has a stated bike weight of 28 pounds. 
Having ridden the SB115 for the past few weeks, I can say that this new bike is even more versatile and well suited to being an everyday trail bike for many riders.
But the SB115's ability to punch up hills in a direct, efficient fashion is not just because it's light. Yeti's Switch Infinity—its signature suspension design, which pairs a four-bar linkage with a pair of "translating" shafts housed near the bottom bracket—has always displayed great small-bump compliance, amounting to confidence-inspiring traction. On climbs ranging from steep, loose fire roads to scrabbles up lumpy or ledgy sandstone, the SB115 sticks to surfaces, providing a welcome assist on technical uphills. It made noticeably easier work of the hardest climbs in the Colorado Front Range.
And when the trail flattened or turned downhill, the extra 15 millimeters of travel in the rear and 10 millimeters in the front showed. If the SB100 rode like a cross-country bike with trail geometry, the SB115 rides like a short-travel trail bike, period. I rode the SB115 as my daily driver for about a month, on the same terrain where I'd normally take my 135-millimeter 29er or the Yeti SB130 LR I've also been riding. The most revelatory descent I experienced on the SB115 was a fast, notoriously rough, downhill-only trail filled with water bars, bombed-out landings, and bony rock gardens. This was nowhere close to ideal terrain for a bike like this, and while I did have to choose my lines more carefully, the SB115 was remarkably composed at high speeds. On a few similar descents, I even set PRs or lost very little time compared to rides on long-travel bikes. Bigger and frequent slower-speed hits did buck the bike more, but that's to be expected for a short-travel bike. Yeti boasts that Switch Infinity enables engineers to tune for a "bottomless feel"—meaning it's extremely difficult to bottom out—which helps contribute to a bike that rides like it's more capable than its travel suggests. The SB115 exhibits this personality trait to a T.
While it's impressive that the SB115 holds its own on the gnarliest trails, in reality those trails represent a small percentage of the terrain that most of us ride most of the time. It's on all the other trails—the ones that fall in the fat part of the bell curve, the blues and tame blacks—where this bike really shines. Sharp, nimble handling makes the SB115 a joy to dive-bomb through S-turns and flat corners and to lean over and maneuver quickly around obstacles. That same precise feel pays off at slow speeds, too, like when you're threading a tricky line in a rocky switchback turn. And a 67.6-degree head angle strikes a sweet balance between accurate handling and stability: after months of riding super-slacked-out long-travel bikes, the SB115 made me feel like I had suddenly become a better bike handler.
This was nowhere close to ideal terrain for a bike like this, and while I did have to choose my lines more carefully, the SB115 was remarkably composed at high speeds.
A solid pedaling platform encouraged me to hammer out of the saddle on flat and downhill sections more often—even when I was standing up and cranking, the rear suspension held steady without detectable bobbing. Solid mid-stroke support (much easier to achieve on a shorter-travel bike) also makes the SB115 wonderfully poppy off of little rollers and helps it shoot out of deep berms and float over chunky rocks at high speed, displaying grace under pressure. During a time when bikes continue to get longer and slacker and gain more travel, riding the SB115 is a reminder of how fun and playful a well-balanced short-travel trail bike is. If the gnarliest trails are more fun on a long-travel trail bike, most other trails are more fun on the SB115. 
If you're reading this review, though, you're likely already sold on the benefits of a short-travel 29er. So is the SB115 for you? Here's one way to think about it: if you were to do genetic testing on some popular models in the short-travel trail-29er category, results would show that the SB115 is a more direct descendant to a cross-country bike than peers like the Ibis Ripley, Pivot Trail 429, or Santa Cruz Tallboy/Juliana Joplin (all three bikes feature 120 millimeters of rear-wheel travel and 130 millimeters in the front). Remember, the SB115 has essentially the same frame as the SB100, which was designed as a lightweight cross-country race bike that could punch above its weight on the downhills. Bikes like the Trail 429 and the Tallboy, by contrast, have never attempted to pass as cross-country race machines. (Both Pivot and Santa Cruz also offer dedicated, superlight, 100-millimeter-travel cross-country race rigs.) While I haven't ridden the current Trail 429 or Tallboy to be able to speak to how this translates to ride differences, the SB115's racy lineage shows itself in the overall weight numbers presented above, as well as a slightly steeper and shorter geometry compared to these other bikes. (Just for quick illustrative purposes, here are the head angles on the Trail 429, Ripley, and Tallboy: 67, 66.5, and 65.7 degrees, respectively.) 
That makes the SB115 an easy choice for endurance-oriented riders and those who might compete in multi-day events with big uphills and ripping downhills, like the BC Bike Race in British Columbia or the Breck Epic in Colorado. But whether you ever race or not, you want a bike that's not just damn good at climbing but fun to ride all the other days of the year, too—which the SB115 most certainly is. So perhaps another way to think of it is this: Are you looking for a fun, playful, and capable short-travel 29er, and do you also prize having a little extra confidence on the climbs and accurate handling? If the answer is yes, I think you'll be very happy on a Yeti SB115.
Lead Photo: Courtesy Yeti Cycles