Coffee Setups for Home, Camp and Anywhere Else
From camp grounds to house blends, these brewers can handle anything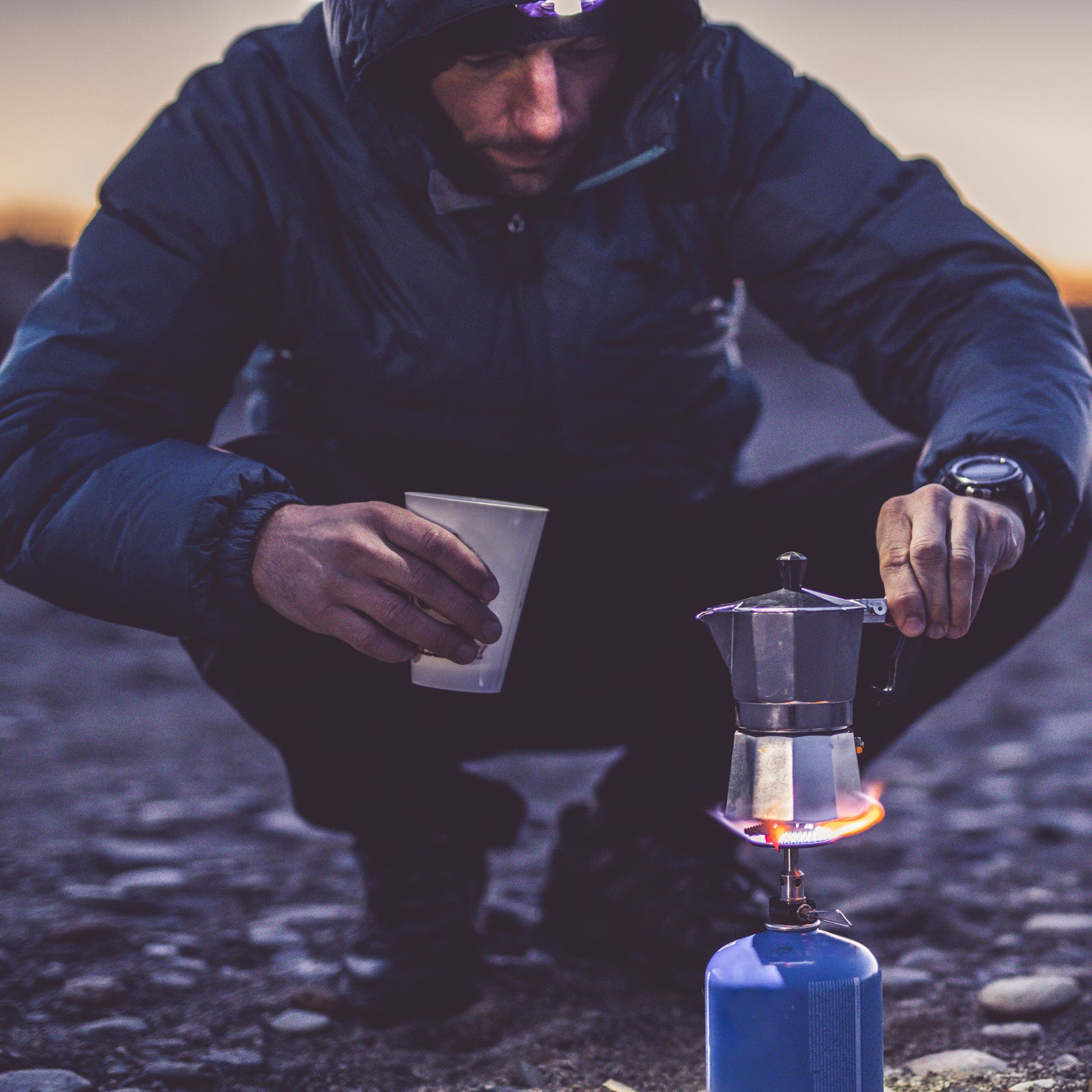 Heading out the door? Read this article on the new Outside+ app available now on iOS devices for members! Download the app.
A great adventure starts with a good cup of camp coffee. I have heard that some people are strong enough to forego caffeine in the backcountry for the sake of cutting weight and trimming down on supplies, and that some even manage to survive without drinking caffeine at all. I am neither. I was once convinced that I had the flu on a camping trip—until I realized that I'd accidentally been drinking decaf. All of this to say: my coffee ritual has to be able to go wherever I do. If you're low on funds or just trying to keep gear clutter to a minimum, there are plenty of brewing methods that can transition seamlessly from kitchen to camp for a quality caffeine kick anywhere. Here are a few of my favorites, from simple to over-the-top.
(Almost) Instant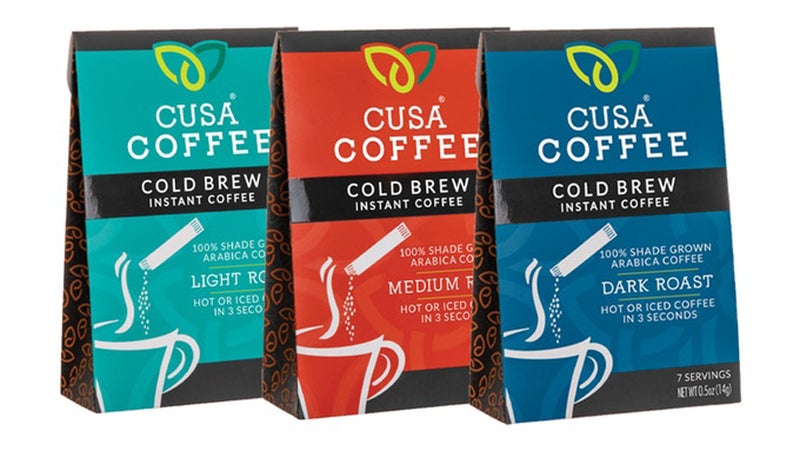 Though I would never advise stooping low enough to make instant coffee a part of your home routine, I have to admit that it's the easiest and lightest solution for backpacking trips. Cusa cold-brews with sustainably grown beans and then dehydrates that black gold to make its new Cold Brew instant coffee ($7 for 7 servings). The result is less bitter and burnt tasting than typical on-the-go options. (Bonus: if you're too lazy to turn on the stove in the morning, it can even be brewed with cold water.)
If you need a quick energy boost but don't want to go the instant route, try steeping your coffee like tea. Make your own bag by scooping grounds into a conical filter and stapling it shut, or pick up some premade packets from Steeped Coffee ($16 for eight servings). For those of you who want to feel fancy with none of the fuss, single-serve pour-overs are also available from Kuju Coffee ($4 per serving).
---
Pour-Overs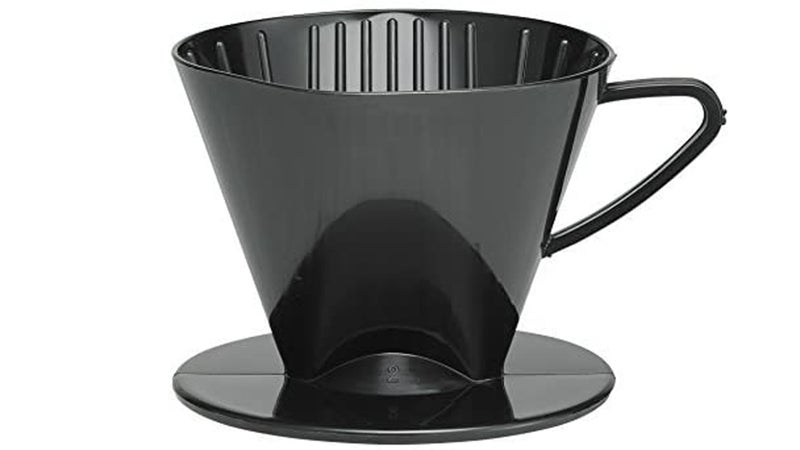 Get your tent-side caffeine fix the old-school way with a plastic pour-over cone. They're lightweight and practically indestructible, plus one will only run you about $5 (and 100 filters cost about $9). This was my method of choice for years of car camping, backpacking, and college-dorm living. The only issue is that these cones are oddly shaped, which can make them tough to pack, so clip them to the outside of your pack instead.
If you backpack often or are just looking for a sleeker pour-over solution, Miir's collapsible Pourigami ($30) works as well as the classic cone and packs down to a four-ounce, 2.5-by-5.1-inch rectangle. It's also made from stainless steel, which won't hold onto flavor like plastic. 
---
French Presses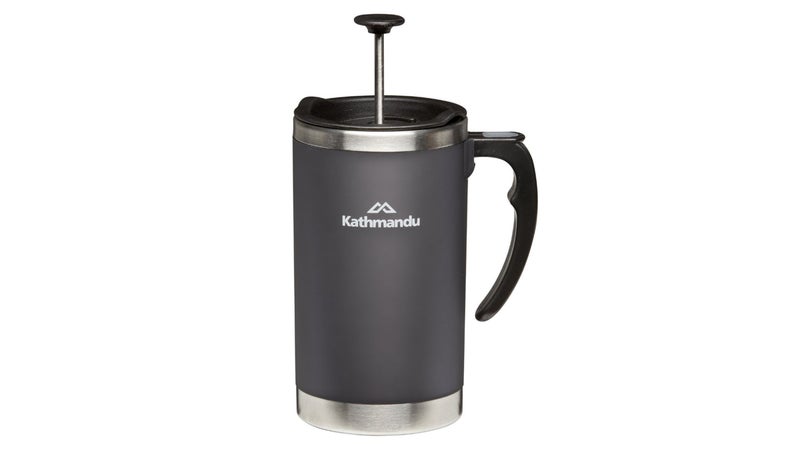 If you're a car camper who prefers your coffee steeped rather than filtered, an insulated press is the perfect crossover tool between your house and the road. Kathmandu's Coffee Plunger mug ($60) is ideal for one person (or a couple willing to share) and keeps 22 ounces of joe toasty for hours. It's also tough—one of our editors used hers while road-tripping in New Zealand, sailing the South Pacific, and at home in New Mexico for the past three years. 
Stanley's Classic Stay Hot French press ($65) is larger (48 ounces) and more heavy-duty than the Kathmandu model, with dishwasher-safe stainless-steel components. It will keep your bean juice hot for up to four hours, and the easy-pour spout makes sharing mess-free. 
---
AeroPress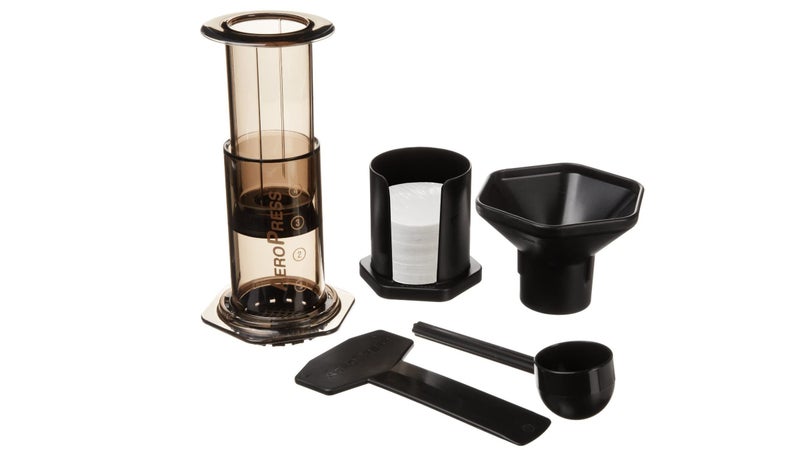 The AeroPress has garnered a cultlike following over the years for its unique brewing method using a light, simple, durable device. The AeroPress ($30) takes about a minute to make two cups of high-caliber Americano-style java and just a few seconds to clean (and washing up uses very little water—just eject the filter and grounds and wipe the plunger—which is a plus at camp).
Frequent backpackers looking for an even lighter-weight, smaller option can try the AeroPress Go Travel ($32), which packs into a compact unit and comes with a mug and a lid.
---
Espresso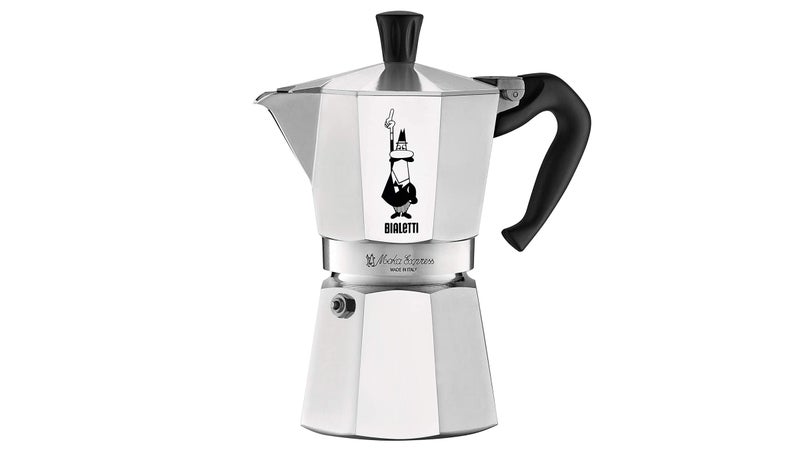 A Bialetti Express 6-Cup Moka pot ($39) has been an indispensable part of my morning ritual for five years. While this device is referred to as a stovetop espresso maker, it doesn't produce the crema-on-top brew that many people expect. But it does quickly make just enough highly concentrated adventure fuel for two (at a little more than two shots per person) and requires no hand pumping or additional filters. It's tough enough to tote around for car camping but likely too heavy and bulky for backpacking. Those who are willing to carry the extra weight might opt for a smaller size, like this three-cup model. 
If you're hell-bent on having real espresso in the backcountry, the Wacaco Nanopresso ($67) is the way to go. At just under 12 ounces, it's not exactly ultralight, but it's barely bigger than a soda can and able to whip up single and double shots on the go. Be warned—generating enough pressure to produce crema means you'll have to hand-pump this manual device.
Lead Photo: freemixer/iStock