Long-Term Review: Big Agnes Tiger Wall Carbon Tent
After nearly a month of testing in Alaska and Yosemite, the shelter can best be described as a guilty pleasure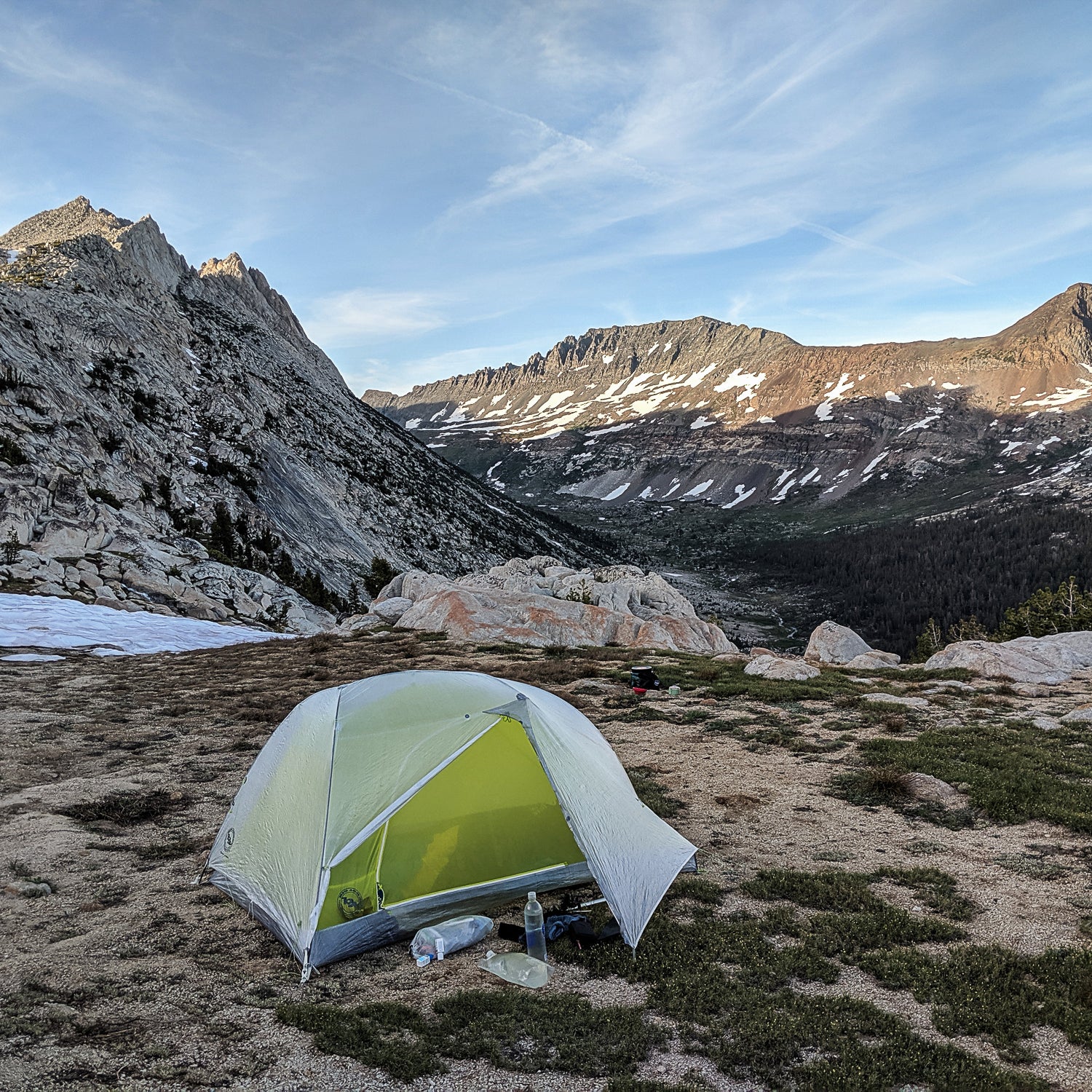 Andrew Skurka(Photo)
Heading out the door? Read this article on the new Outside+ app available now on iOS devices for members! Download the app.
Over dinner at the Pump House in Fairbanks, Alaska, with guides Alan Dixon, "Flyin'" Brian Robinson, and Justin Simoni, I read aloud the disclaimer-filled e-mail about the Big Agnes Tiger Wall 2 Carbon tent that the company's PR firm sent me:
The [Tiger Wall Carbon 2] is intended for only the most advanced users. Although it's extremely strong for its weight, it's not indestructible. Special care during setup and extended trips is important, as rough handling, long-term abrasion, exposure to sharp objects, or rocky campsite selection may result in fabric punctures and tears. We've provided a footprint to improve durability and self-adhesive patches for field repairs. Do not pitch it under pine trees or where it will rub against branches.
I was skeptical about the Tiger Wall Carbon (TWC) and the four other Carbon models when I previewed them at Outdoor Retailer last summer. And this e-mail made me even more concerned about using it on two eight-day guided trips in the Brooks Range, which started the next day. When I asked the table for a second opinion, everyone was in universal agreement: don't do it.
But the forecast looked friendly for the first trip, and Justin had extra room in his tent, so I packed it anyway.
Perhaps to everyone's surprise, the TWC survived two weeks of benign conditions north of the Arctic Circle. But it failed the following month in Yosemite National Park: on its 22nd night out, I put a five-inch tear in the fly while setting it up. Further inspection revealed another pencil-eraser-size hole of unknown origin elsewhere on the fly.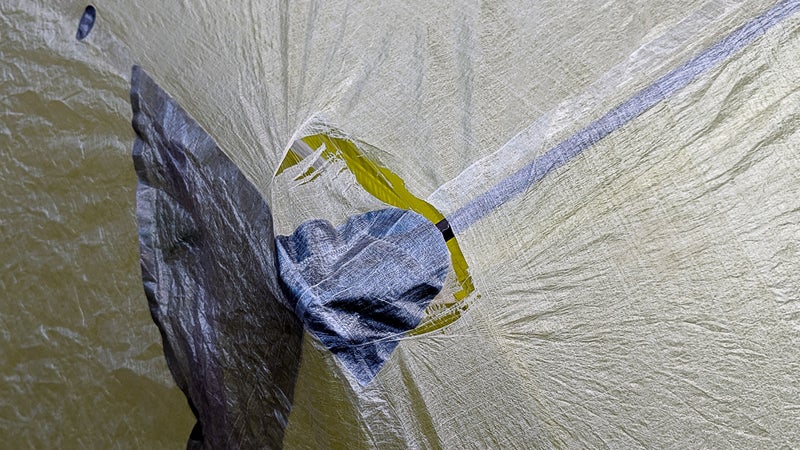 The Big Agnes Tiger Wall Carbon is a guilty pleasure. The two-person and three-person tents are exorbitantly expensive and unacceptably fragile, but they rival the weight of the lightest full-sided double-wall shelters while being more user-friendly because of their semi-freestanding pitch and often more spacious because of their steep sides and ends.
It's a novel tent, but I'd only recommend it if you match all of the following criteria:
You can afford to spend $1,000 to $1,200 on just a shelter.
You baby your gear.
You will not use it often (and will use it mostly in calm and dry conditions).
You prioritize the weight of your gear over its performance.
You don't care to learn about or fuss with the minor eccentricities of trekking pole-supported shelters. 
Overall, the Tiger Wall Carbon is exactly what I feared: stupid light.
I believe that demand exists for semi-freestanding and freestanding tents that are made of Dyneema composite fabric (DCF) and that are available from retail giants like REI and brick-and-mortar stores like Neptune Mountaineering. But as it's currently configured, the TWC does not properly address this niche.
Thankfully, the fix is very easy: Big Agnes must replace the 0.34-ounce-per-square-yard DCF fly with heavier-duty 0.5-ounce-per-square-yard fabric (if not a 0.75-ounce-per-square-yard fabric) and replace the 0.51-ounce-per-square-yard floor with a material that's 0.75 or 1.0 ounce per square yard.
These changes would bump the TWC's weight closer to the Tiger Wall's Platinum build, but it'd be outrageously durable, waterproof, and storm resistant. Constructed as such, it might only be marginally lighter than the Platinum, but it'd be much higher performance.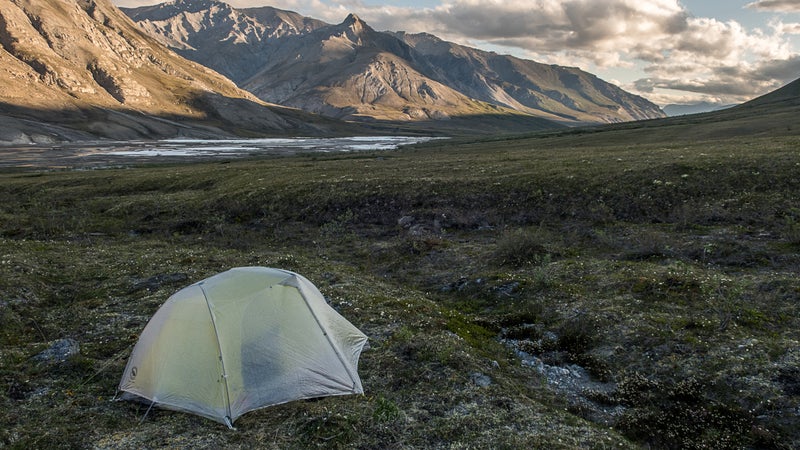 What Should You Buy Instead?
If you are no longer considering the TWC but don't know where else to look, let me offer two suggestions:
1. If you like the Tiger Wall design, consider Big Agnes's Ultralight or Platinum trims, which are more durable and much more economical. Then invest the leftover cash in other equipment that will offset the weight penalty.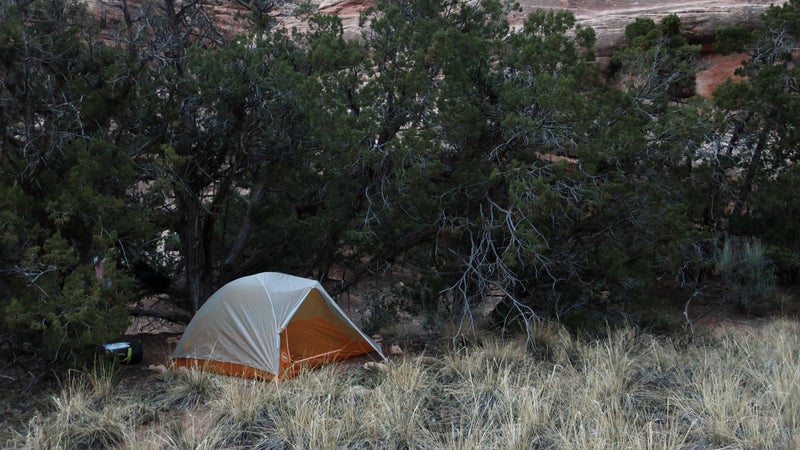 2. If you want a very lightweight full-sided shelter that's more durable, and you're willing to embrace a fussier pitch, look to the cottage industry.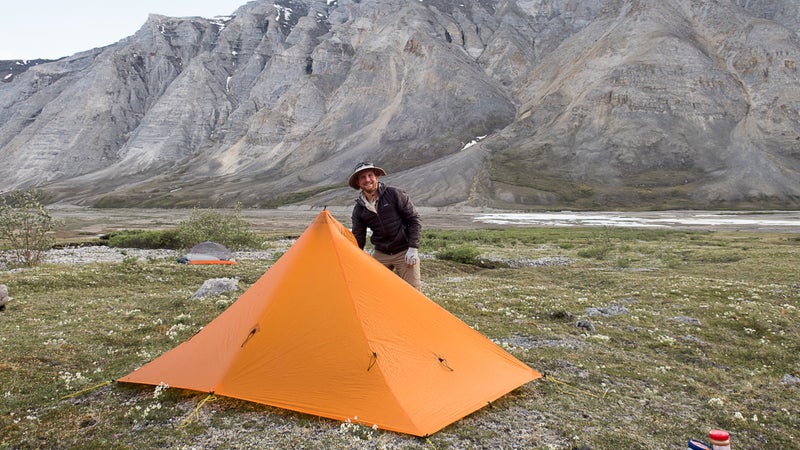 Product Specs
No other semi-freestanding double-wall shelter on the market rivals the weight (or cost) of the Tiger Wall Carbon. 
MSRP: $1,000
Weight: 1 pound 6 ounces 
Capacity: Cramped for two people, spacious for a soloist
Design: Semi-freestanding, two side-entry doors
Configurations: 1. Fly plus inner / 2. Fly plus inner plus accessory footprint / 3. Inner on its own / 4. Fly plus accessory footprint
Vestibules: Two eight-square-foot vestibules
Dimensions: Floor: 27 square feet; 52 inches wide, tapers to 42 inches; 86-inches long / Peak height: 39 inches
Materials: Fly: 0.34-ounce per-square-yard DCF / Floor: 0.51-ounce-per-square-yard DCF / Body: Breathable ripstop nylon / Poles: Easton carbon fiber
Crazy Light
Along with the Tiger Wall 2 Carbon and Tiger Wall 3 Carbon, Big Agnes also released four other Carbon shelters in spring 2019.
The only "new" product is the Onyx, which is an overpriced 8.5-square-foot tarp. Otherwise the Carbon builds are premium editions of existing Big Agnes models. Compared to the Tiger Wall Platinum, the Carbon editions are 24 to 29 percent lighter; compared to the Tiger Wall UL, the Carbon editions are 33 to 37 percent lighter.
I have only used the Tiger Wall 2 Carbon, but I think my experience and conclusions generally apply to the other Carbon models, too, given their shared materials and construction. If you didn't meet the aforementioned criteria as a Tiger Wall Carbon customer, the other Carbon shelters won't suit your needs either.
Basic Design
Two years ago, I reviewed the Tiger Wall UL3, shortly after it was released. Read that review, because I'll only provide a summary here.
The good:
Steep side walls and ends, which optimize interior volume
Fast and foolproof pitch, even on unfavorable ground
Two side-entry doors and two vestibules
Modularity, with three unique configurations (fly plus body, body only, body plus footprint)
The imperfect:
Inherent weight penalty, since it cannot be pitched with trekking poles
Body is vulnerable to precipitation during setup
Stock stake loops are nonadjustable, creating difficulties in rocky and rooty campsites
Realistically, less sleeping space than advertised—the two-person is a spacious one-person tent, and the three-person is a comfortable two-person tent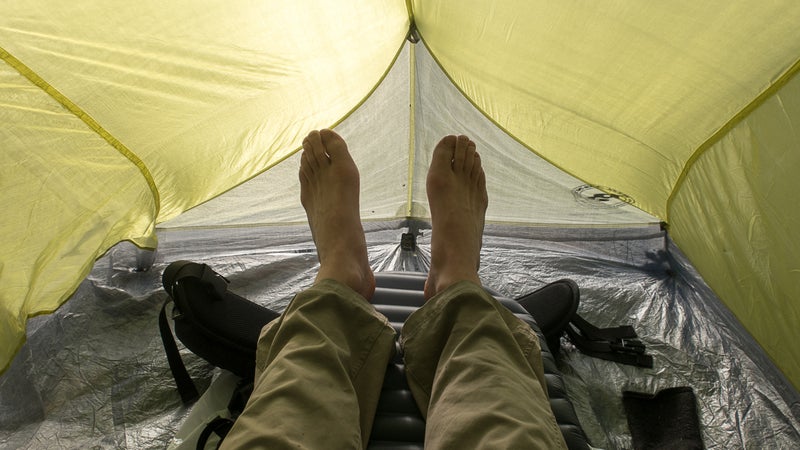 Fragility
To drop weight from its already minimalist Platinum and UL builds, Big Agnes made four substitutions in creating the Carbon trims of the Tiger Wall, Fly Creek, and Scout.
Fly: 0.34-ounce-per-square-yard DCF, rather than 7-denier or 15-denier silicone-polyurethane-coated nylon
Floor: 0.51-ounce-per-square-yard DCF, rather than 10-denier or 15-denier silicone-polyurethane-coated nylon
Poles: Easton carbon fiber, rather than DAC aluminum
Body: Breathable nylon ripstop, rather than heavier no-see-um mesh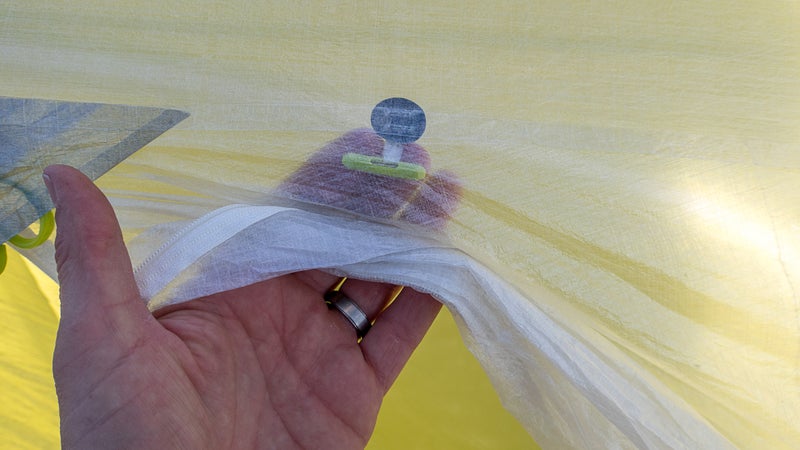 I slept in the Tiger Wall 2 Carbon for 26 nights, split about equally between the Brooks Range and Yosemite. Conditions were ideal for backpacking, less so for gear testing. The tent was rained on twice, placed on soft ground nearly every night, kept away from dust and mud, and endured light winds only on a few nights.
On its 22nd night, a five-inch tear developed in the fly along the edge of a reinforced area while I was trying to insert the horizontal ceiling pole into its pockets. It's a tight fit and actually requires bending the pole—unlike the UL and Platinum fly fabrics, the DCF fly cannot be stretched over it. I knew this was a vulnerable spot, since I'd busted both pull loops earlier on.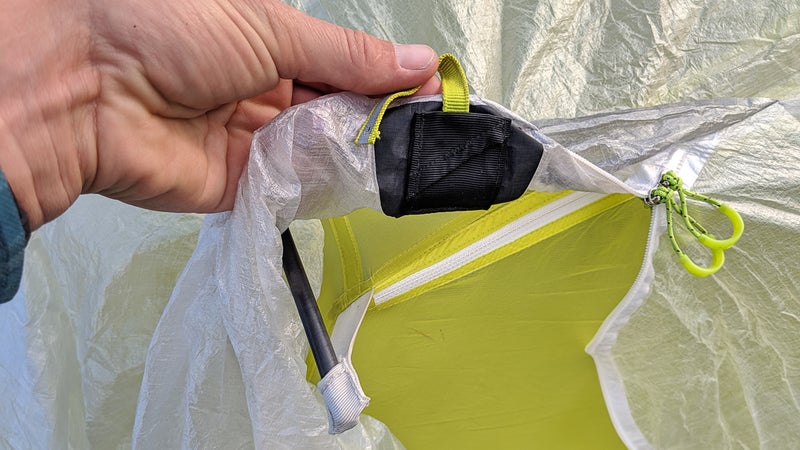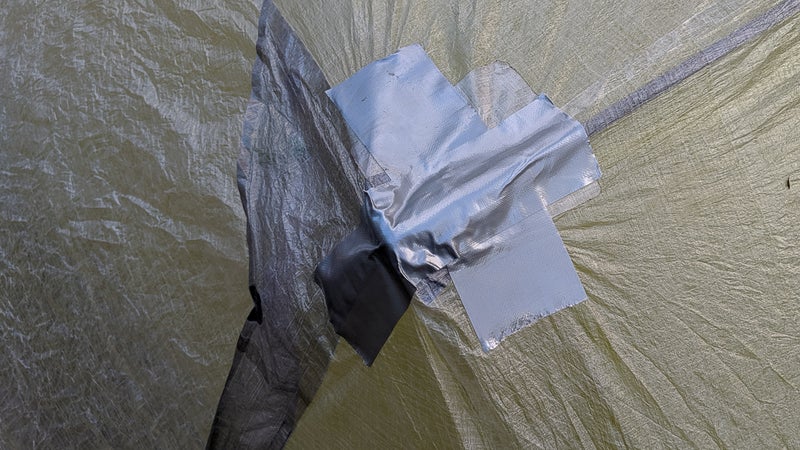 Upon further inspection, I found another hole in the fly. I don't know the exact cause, but abrasion seems most likely.
I've spent thousands of nights in the field, and I've helped clients set up hundreds of different shelters. But I've never seen a shelter fabric rip during setup or due to wind or precipitation or develop an unexplained hole. The 0.34 DCF simply does not seem worthy of anything beyond just-in-case or emergency use. This observation is consistent with the application of DCF by cottage brands, which use 0.51 and 0.75 for the fly and 0.75 and 1.0 for floors.
It's worth noting that the floor, body, and poles all appear intact.
Repair Recommendations
A repair kit is included with the TWC. The kit includes DCF patches that adhere directly to the fabric.
Big Agnes does not recommend making repairs with duct tape, like I did. It "leaves a bad residue and renders the fabric un-repairable," wrote the company's PR.
For additional tent repair tips, refer to this video.
Final Thoughts
I want the Carbon builds to succeed: freestanding and semi-freestanding tents made of Dyneema composite fabric will be as light and user-friendly as their nylon counterparts but offer a vastly superior performance. Hopefully, increased use of DCF will also drive down its price.
I applaud Big Agnes for being the first to this market. But I'd encourage the brand to rethink its fabric choices and will steer most people away from the Carbon line until a more reliable version is available.
Lead Photo: Andrew Skurka