An Off-Grid Test of Airstream's Most Rugged Trailer
How does the 2021 Basecamp X measure up to #vanlife?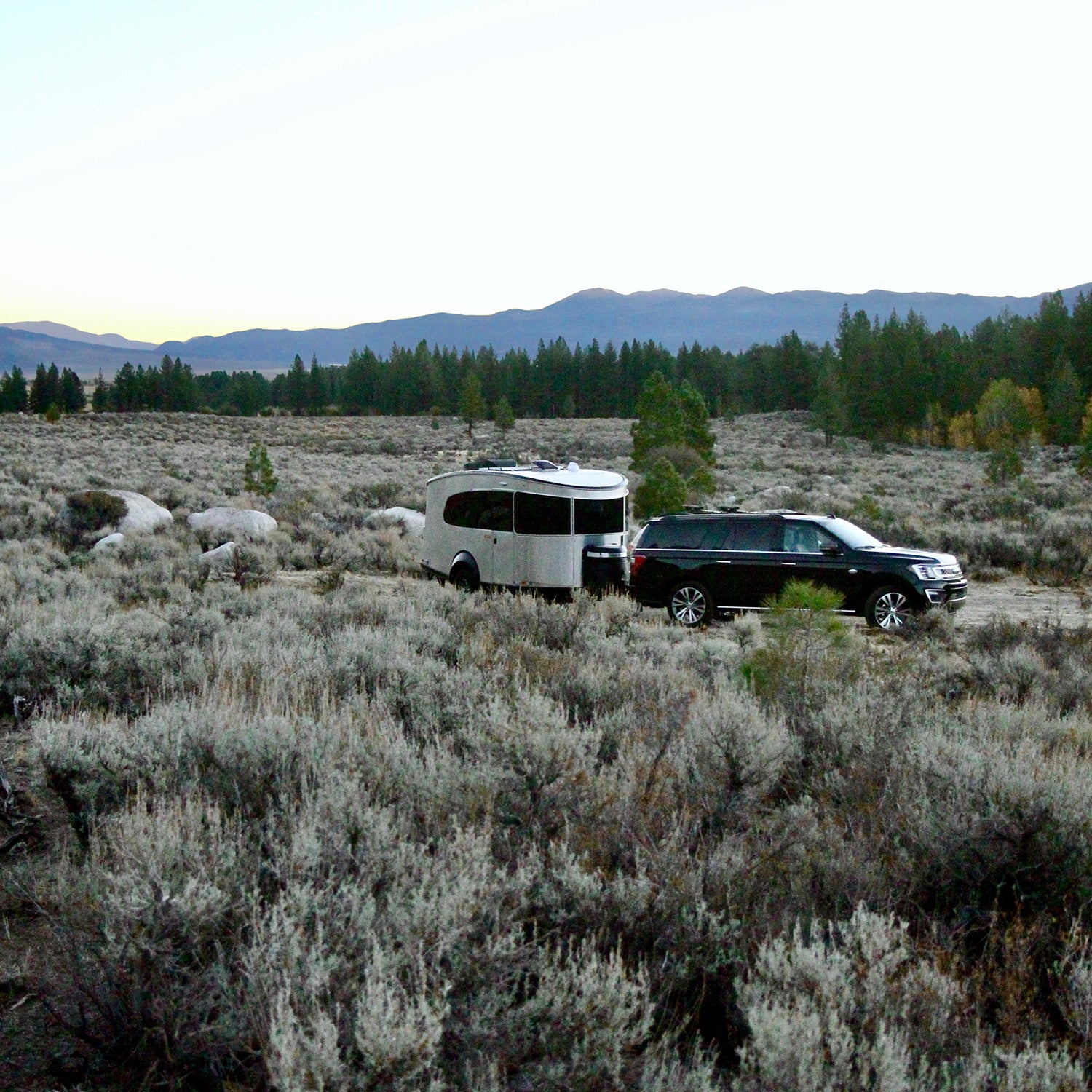 Hayden Coplen(Photo)
Heading out the door? Read this article on the new Outside+ app available now on iOS devices for members! Download the app.
After a six-hour drive, we parked the loaner Airstream Basecamp X on a dirt road near Bridgeport, California, but we knew it wasn't our final stop. Three friends and I were in the western corner of Humboldt-Toiyabe National Forest, a haven for dispersed camping, and I was determined to find an isolated patch of land somewhere up the unpaved road, with dreams of hiking trails and hot springs outside our trailer door. It was Friday afternoon, though, and with the fall sun quickly disappearing below the sawtooth peaks of the eastern Sierra Nevada, the weekend crowds were drifting in—Winnebagos, Jeeps, and Jaycos, all snaking by, searching for their own spot away from everyone else. 
After a few minutes of deliberation overlooking the alpine valley, a friend noticed a trail in the distance. "How about that?" he suggested, pointing at a forest road pockmarked with small boulders and mountain sagebrush. A narrow passage contoured a pine-dotted hill, with a tiny turnaround visible about a half-mile ahead. The fifth wheels, toy haulers, and 30-footers could never navigate it, but our 20-foot trailer might have a shot. Underneath the waning sun, we rolled over rocks and squeezed between trees in our 2020 Ford Expedition Max 4×4 until we successfully maneuvered the truck and the 3,500-pound trailer into a dirt clearing, proving that the Basecamp X was far from a burden but a gleaming wilderness pass to our own slice of serenity. 
Living the nomadic lifestyle is a growing aspiration for many people, and camper vans are surging in popularity. Moments like the one we experienced in the Sierra are exactly when you want to have a vehicle like the Basecamp X. The trailer is well crafted and nimble both off-road and on, and I've found that it can be used for days away from water, gas, and electricity. 
The Basecamp series contains Airstream's smallest models, and the 16-foot version has been the company's top-selling trailer since it relaunched in 2016. The edict of the line is to be efficient, towable, and rugged. Or as Justin Humphreys, Airstream's vice president of sales, put it, "The Basecamp model line was originally built for people looking to experience off-grid life and still have everything within reach." I tried the 16-foot model in February at Yosemite, but our adventure to the eastern Sierra was my first experience with the 20-footer, which debuted this year. The X package, which I tested, adds $3,000 to the $45,900 base price and includes increased ground clearance, off-road Goodyear tires, and stainless-steel stone guards on the front end. "The Basecamp 20 encompasses all of the same off-grid capabilities as the 16 but also represents a lot of market and customer feedback," Humphreys added. The additional bed and increased water-tank capacity were, to me, the most notable perks, and I much preferred this model to the 16-footer.
The interior of the 20-foot Basecamp X is cleverly designed, with plenty of space for gear and food for the three other intrepid campers along for my test. One example is the dinette table, which swivels to allow whoever is seated in the middle of the U-shaped booth to get out without anyone else having to get up. In the smaller model, I had to pack away the bed each day to access seating space, but not in the 20-footer, which accommodated cooking, storage, bathroom access, and a dining table in the front, even while the convertible king bed lay unfolded in the rear. 
I quickly grew fond of stashing items in the open overhead compartments that are spread around the interior. These catch-all spaces are made of burly mesh stitched to yellow cargo bars, providing transparent, unfussy storage, ideal for tossing random gear, snacks, and any extras like sunscreen or lanterns that you may want to grab quickly without bending over and rooting through a lower cabinet. (They wouldn't be a good place to keep fragile items while in tow, however.)
The hanging compartments, along with the underbed storage that's accessible from the back hatch, are perfect representations of what this trailer does best—it gives a sense of structure to the camping experience, but with a design that encourages you to spend more time outdoors than in. The Basecamp X is simple to unpack inside, uncomplicated to run off-grid, and easy to tow. This is not the Airstream that affords every last comfort of home (for that, try the Classic or the Globetrotter), but it is the one that will get you on the trail quickest. 
Beyond the cosmetics, Airstream made some intelligent designs in the guts of this trailer that help it thrive while boondocking. The two 12-volt Lifeline GPL-24T AGM Deep Cycle batteries in the 2021 model, in conjunction with the 180-watt rooftop solar package, are powerful and efficient. I couldn't drain them, despite using fans and lights liberally and running the fridge from the moment I picked up the trailer until I got home. There are also separate tanks for gray and black water, which turned out to be necessary, as I filled the gray tank more than halfway after four days of camp cooking. (The 16-footer has a combination tank, with about half the total capacity of the 20-footer.)
I never did find the limit of the Basecamp X while towing it behind the Ford Expedition. It was light enough to ascend and descend 6 percent grades on asphalt without much push or pull, and rugged enough to bounce over sloping, rutted-out dirt paths and bumpy back-road bridges en route to camp. Its narrow profile was helpful on forest roads, and shin-high rocks were no obstacle. I will say that, despite the additional three-inch lift and skid-plate protection in the X model, I kept a watchful eye on the underbody while off-road, concerned that one risky move might catch the exposed plumbing (though this never happened). 
There are a few improvements I could envision. The stovetop, which otherwise works well, proved about two or three inches too small for my uses. While cooking for our group of four, I could fit one ten-inch cast-iron pan on it but not quite two—meaning the pot or pan on the second burner would hang off the stove and rest on the metal countertop edging. It was doable for a weekend but not ideal, and it meant the second burner cooked things a little slower. There is also no way to tell when you're running low on propane (besides the ol' backyard-BBQ shake-and-feel test), which can lead to your furnace shutting off in the middle of the night in 20-degree temperatures—that happened to us. Also, some form of trash receptacle would be welcomed, as we were often stumbling around our bag of trash and sticking it beneath the dinette table at night to avoid attracting animals. 
Quibbles aside, the Basecamp X is poised to become a bestseller, thanks to its relative affordability, modest footprint, and ability to get farther off the beaten path, and the 20-foot version is its ideal expression. After weeks largely stuck inside my house, or scouring my local forests for open trails away from smoke and crowds, the space I found in the trailer was life-giving. Still, it's a competitive time in the RV industry, and it's impossible to ignore the steep price tag. If you were playing with $50,000, would you opt to put it toward a Mercedes Sprinter or a Dodge ProMaster? Maybe instead you'd buy an old van, gut it, spend months of sweat equity building it back to your specs, and pocket the rest as savings for your adventures to come. Or would you want this ready-made trailer, with classic looks, off-road chops, and a premium pedigree? There are pros and cons on each side and no perfect answer. But I do know that it's been a few days since I've returned to sprawling, hazy Los Angeles, and I'm still dreaming of nosing the trailer up a forested dirt road, parking between junipers and aspens, and swinging the back door wide open for a midday nap with an infinite view. 
Lead Photo: Hayden Coplen
Trending on Outside Online