The Yearlong American Road Trip That Didn't Kill Us
Or: How to live in a vehicle long-term with your significant other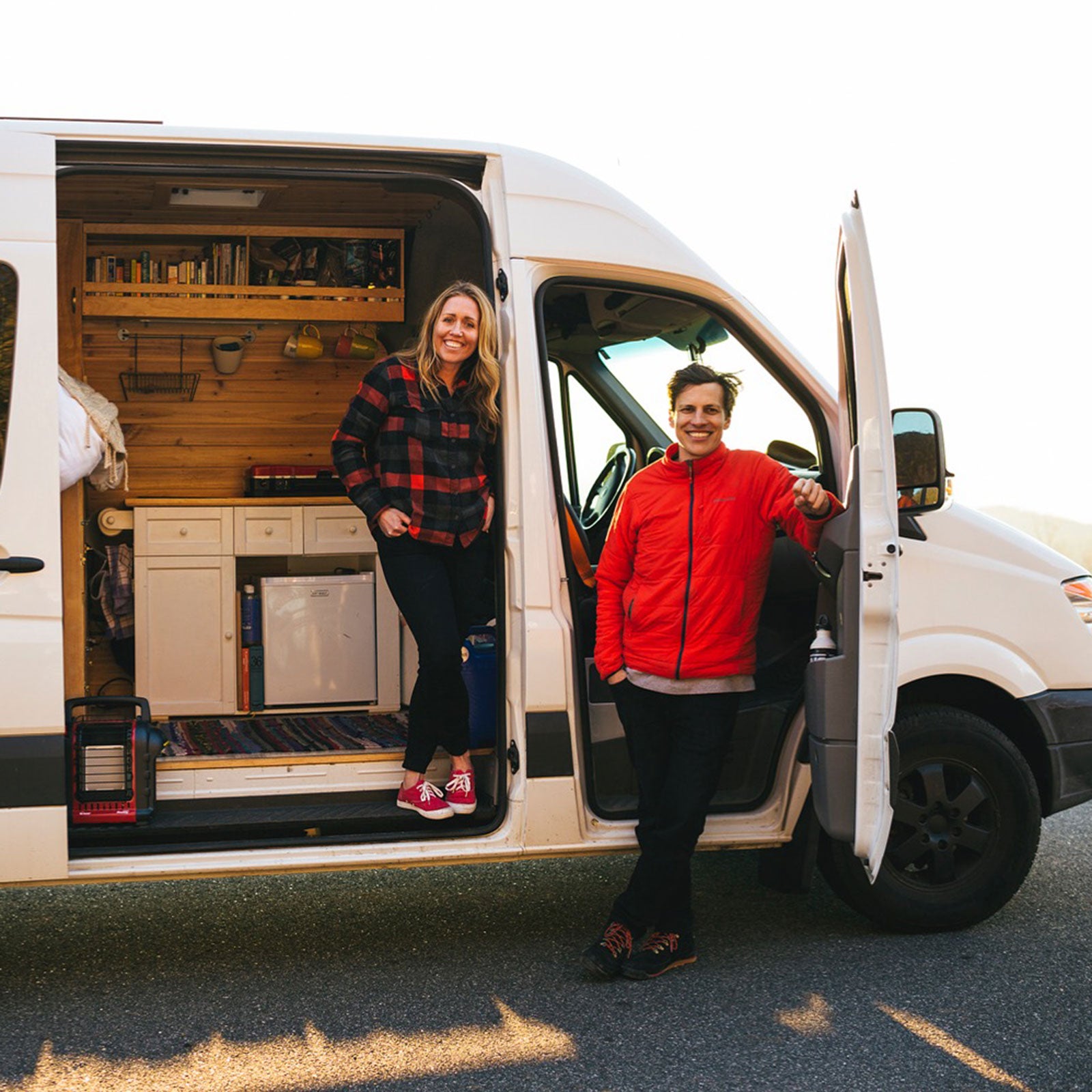 Courtesy Janna Irons(Photo)
Heading out the door? Read this article on the new Outside+ app available now on iOS devices for members! Download the app.
Spending 13 months circling North America in a 2009 Dodge Sprinter van will tell you a thing or two about yourself—and whoever you're traveling with. Janna Irons and John Stifter met and started dating while working as editors at Surfer and Powder, respectively. (Both magazines are owned by the same company and share offices.) They soon began fantasizing about adventuring together and pulled the trigger in the summer of 2015. After spending three months converting their newly purchased Sprinter into a tiny cabin on wheels, they left San Diego that August. Roughly 37,000 miles of national parks, skiing, hiking, biking, and surfing around America later (all the while working remotely), they finished the trip in September 2016. Here they discuss tips and strategies for coexisting in such a small space, like when you have to pull over and force your significant other to chill out with a roadside planking session.
Irons: John and I had been dating a few years and living together for about six months when we decided to move into a van and circle the country over the course of a year. Spoiler alert: we're married now, meaning it didn't cause irreparable relationship damage.
Stifter: I remember reading some Bill Murray quote back in the day about how you should travel with your loved one to know if you should get married. I didn't consciously think of that going in, but after spending almost 13 months in an 82-square-foot space, I can see his point.
Irons: I think the thing that made our trip extra challenging was that we were both working full-time, which meant juggling competing conference-call schedules, searching for cell service in remote areas, trying to meet deadlines, and fighting to download giant files on our Wi-Fi hot spot (that seemed to always be reaching its data limit)—all while maximizing our time in the places we were in.
Stifter: You have to understand: we were with each other all day, every day. It wasn't like our previous lives where we kissed each other goodbye in the morning and reconvened after a long day at the office. I probably held on to the romantic idea of vanlife a bit too much. I quickly realized that living in a van was still real life. Our small space taught me a lot about my work habits and Janna's. When one of us was having a frustrating day, that energy just permeated.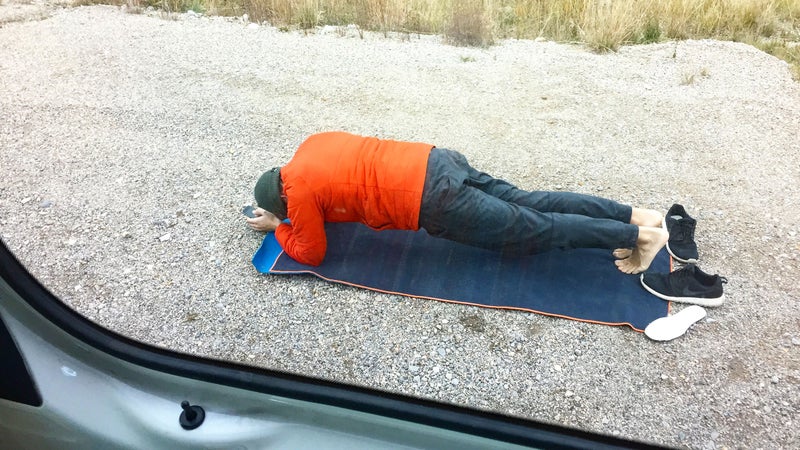 Irons: But we figured out how to make it work. Sometimes I would just make John get out of the van and take a breather. This photo is us pulled over on the side of the road in Yellowstone National Park. John was having a stress meltdown and being snappy, so we stopped and he planked out his frustration. It's ridiculous, but it worked!
Stifter: In my defense, we had just paid $50 to increase our hot-spot data so I could download and upload video files for my biggest project of the year. In one morning, I maxed it out… again. I thought Janna was gonna kill me. Hell, I wanted to kill me. Taking a breather kept things in perspective.
Irons: The other daily concern was figuring out where to sleep every night. When we weren't at a campground or posted up on BLM land somewhere or in a friend's (or a friend of a friend of a friend's) driveway, we were urban camping.
Stifter: We realized that the keys to stealthy urban camping are celebrity-tinted windows and parking on streets in tree-lined neighborhoods among other cars, which aren't always easy to find. We tried to make our white, high-roof Sprinter van blend in as much as it could. We'd find a spot, hang the curtains, crack the air vent, and hope nobody would notice we were camping in front of their upscale home (and dumping our pee bucket on their manicured lawn).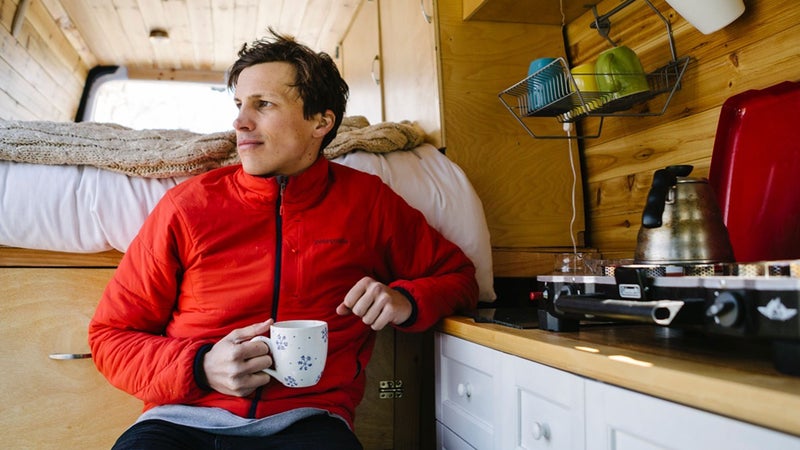 Irons: The very first question people ask when they see our rig is, "But where did you go to the bathroom?" They're usually distressed or even disgusted when they hear that I was perfectly fine peeing in a tall Tupperware canister. In my defense, it has a well-fitting lid and is a lovely height for popping a squat, or in John's case, taking a knee. We washed it with soap every day or two. It was fine!
Stifter: Gentlemen, no toilet-seat raising or lowering, and no splash! I swear. And let's be clear—I was the one who washed it. People also asked where we showered. Local aquatic centers were a great option, or we'd find yoga studios or gyms with showers and get a workout in before we washed off.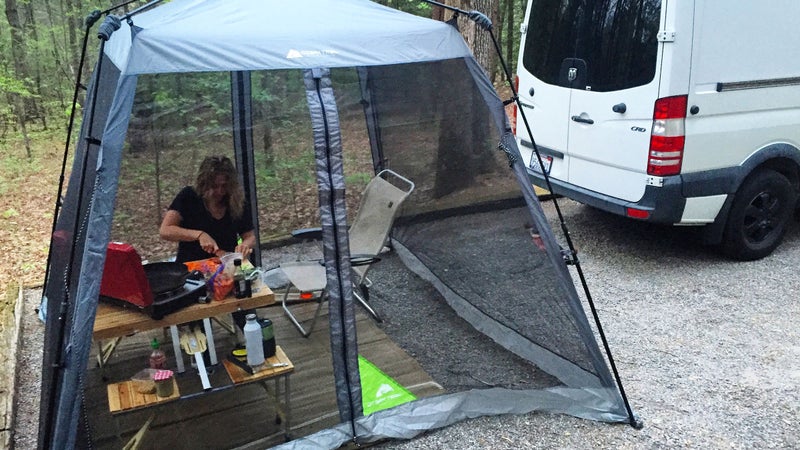 Irons: Going in, we were of the opinion that most van-specific accessories were gimmicky and expensive, but we realized that a few key items can really amplify an experience—or in some cases, just make it tolerable. It was early May when we arrived in the Florida Keys, and it was already hot. Up until that point, we'd just leave the slider door open to get more airflow and cool off. But in the South, let alone the Keys, the early-summer humidity and mosquitoes are real.
Stifter: We'd actually apply bug spray before climbing into bed, but the mosquitos were so bad that we had to close the doors and windows, which made it impossible to sleep. I was overheating. So I got up in the night and showered several times in the crumbling campground shower. I don't think we slept at all. But lesson learned. The next morning, we went online and ordered a $300 screen "door."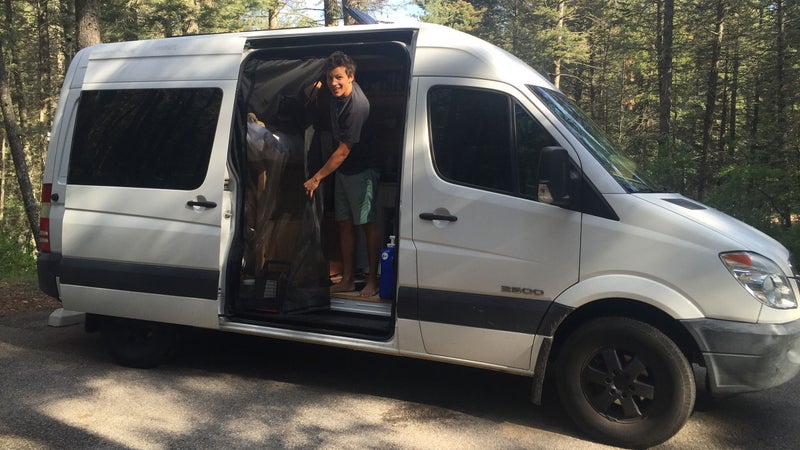 Irons: I have no idea why we didn't do that sooner. We also eventually got a big straw mat, a folding picnic table, and a screened pop-up tent that we put outside the van in the warmer months that extended our living space. I think the key is really to make your vehicle feel like home. We had a fluffy down comforter, blankets, and throw pillows, as well as a bookshelf ambitiously filled with the books we thought we'd have time to read.
Stifter: Between work and exploring the places we were in—outdoor activities or just sightseeing—we didn't have nearly as much downtime as we imagined we would.
Irons: Even though we were on the road for a year, we barely scratched the surface of America. But we tried to maximize. We'd ask for recommendations from friends and use apps like the Outbound Collective to find trails or other outdoor activities. When we were in cities, we'd look at Eater and On the Grid and cross-reference them with The New York Times' 36 Hours to find things to do, restaurants to eat at, and places to get a drink. It really was an elaborate process—but I had time to do the digging on our long drives between cities.
Stifter: Janna searched the internet for places to go and things to do, and I drove. We quickly learned she was the stronger navigator and planner, and I felt comfortable driving a large van and parallel parking it in cities.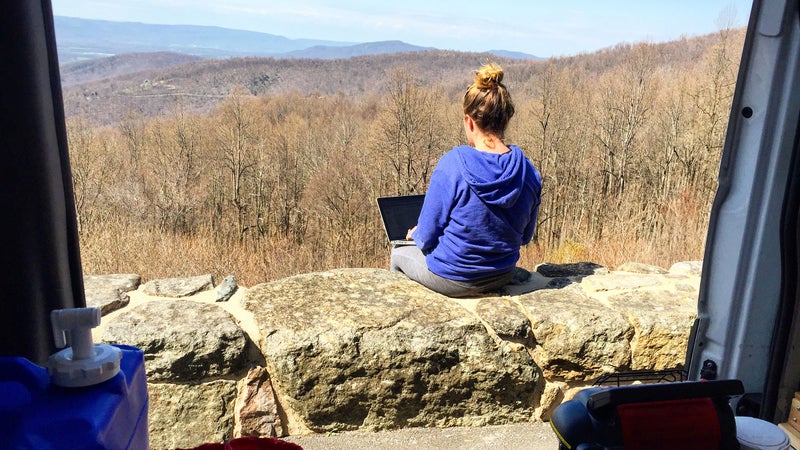 Irons: In the end, we got to see friends spread out across the country, visit almost every national park, and see all the cities we've ever wanted to visit. While it certainly would have been nice to have saved enough to not work for the year we were on the road and have spent more time playing, we were grateful we didn't have to stress about the budget too much—though you could say we traded stressors.
Stifter: Overall, the trip was absolutely the best decision we have ever made. And of course, sharing those once-in-a-lifetime experiences with the person I love most made all those stressful moments seem silly.
Lead Photo: Courtesy Janna Irons