The 4 Ways to Get Your Vehicle Unstuck
Including which work best in certain situations and what they'll cost you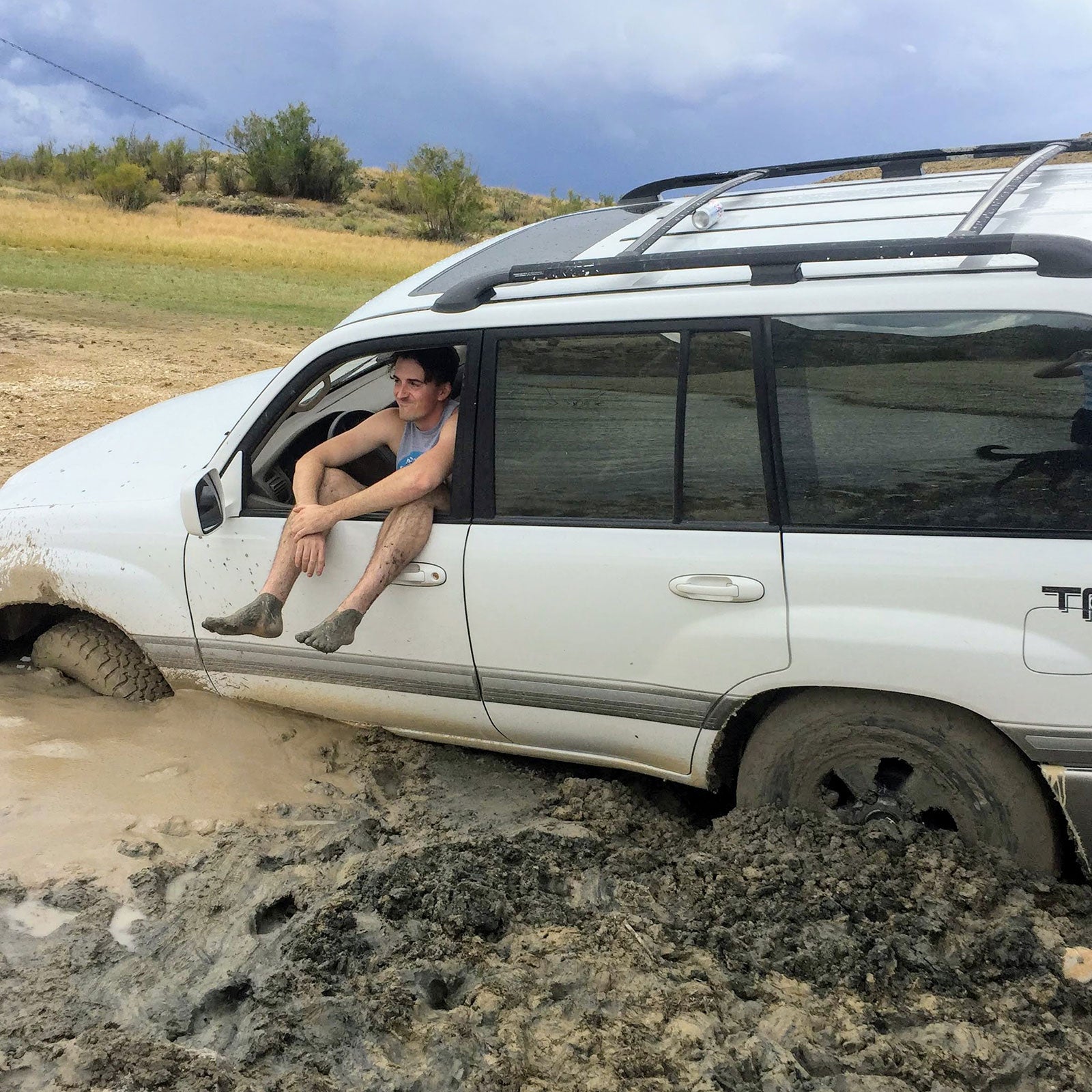 Heading out the door? Read this article on the new Outside+ app available now on iOS devices for members! Download the app.
For any burgeoning off-roader, getting stuck is a right of passage. Whether it's an off-camber obstacle that's left a tire or two spinning uselessly in the air or a childlike gravitation toward whatever sloppy, muddy terrain you can find (which is what happened to me in the photo above), physics and the limitations of friction will get you at some point. Be prepared with the right equipment or, at the very least, the knowledge of what around you can help free your stuck rig.
Sticks and Brush (Free)
In a pinch, sometimes sticks and brush can be the best (read: absolutely free) method for getting moving again. To understand how exactly to do this, it helps to have an idea of how axles and differentials work together to move a vehicle down the road. Most daily-driver cars and trucks come with open differentials that allow wheels on the same axle to travel at different speeds, which is necessary since the wheel on the outside of a turn needs to travel farther and faster than the wheel on the inside. This is great for on-road driving, when all four tires are firmly planted on the pavement, but an unfortunate byproduct of this design is lost forward momentum any time one wheel is in the air, as the open differential will send power to whichever wheel is slipping the most. If a wheel is spinning, the way to get it to stop—thus forcing the truck to send power to the planted wheel—is to give the spinning wheel something to grab onto. If you're caught in this scenario out in the desert with no recovery equipment, you can usually get the job done by gathering sticks, brush, rocks, or whatever you can find, and jamming them under that traction-less wheel until it catches, giving your vehicle the grip needed to free itself. You may need a lot of sticks and brush, and this certainly isn't the fastest means to extraction. (Never mind that all the sticks and brush in the world wouldn't have saved me from that mud hole.) But it's a good first option before resorting to more drastic means. Ultimately, though, if you plan to get off-road regularly, you'll want to invest in a more sophisticated method.
Recovery Strap ($50)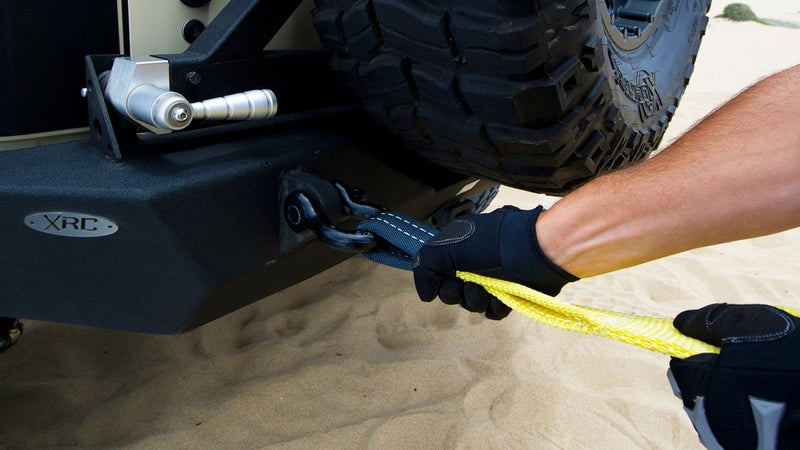 At under $50, a good recovery strap is a cheap yet reliable piece of insurance against getting stuck. Immediately after getting my Land Cruiser freed from the mud pit, with help from some good ol' boys in a lifted, seventies-era, flatbed diesel Dodge Ram, I went home and bought this CC330 strap ($40) from Smittybilt. I opted for one with nylon loops at the end instead of metal hooks, not wanting to deal with the potentially catastrophic whiplash of a hook that fails during use. A good-size strap for pulling one passenger vehicle with another is 20 to 40 feet long and between two to three inches wide (anything bigger is likely meant for heavier equipment). Your owner's manual should outline appropriate recovery points on your specific car or truck. Make sure that you're attaching the strap to one of these spots rather than a tie-down point (used only for shipping the car on a carrier), the axles, suspension, or—God forbid—the bodywork (bumper, fender, etc). That would almost certainly result in something expensive being torn off. On my Land Cruiser, I've used the rear tow hitch, attaching the strap with a simple girth hitch, feeding the loop on one end through the loop on the other, and pulling it tight. That said, if you're doing a lot of recovering, it's worth investing in a more durable D-ring shackle for your receiver hitch, like this one ($67) from Warn.
Recovery straps work like big elastic bands and are designed to stretch. You'll want to start with some slack, enough that the strap lays on the ground and you have ten to twenty feet to drive before it becomes taut. This allows the vehicle doing the pulling some room to get a little momentum before the strap becomes tight enough to yank on the stuck car. Essentially, this momentum loads the band with energy, which, once it reaches the limits of its stretch, should jerk the stuck vehicle forward. Don't go too fast. Five miles per hour is plenty to start, just enough to give things a little jolt. Finally, it may go without saying, but make sure to have the stuck car turned on, in drive (or reverse if you're pulling the back end), and someone in the driver's seat ready to control it once it's free.
One more thing: any time ropes, straps, or pulling is involved, a safe practice is to drape a heavy towel, blanket, or special damper over the middle of the strap before you start pulling. This way, if the strap tears, the blanket will weigh down the flying ends and keep them from whipping into your truck or a bystander. And speaking of other people, get everyone out of the cars and well away from the recovery.
While a recovery strap won't do you much good if you're adventuring solo, it'll usually get the job done as long as you've got someone else with you to do the pulling.
Traction Boards ($300)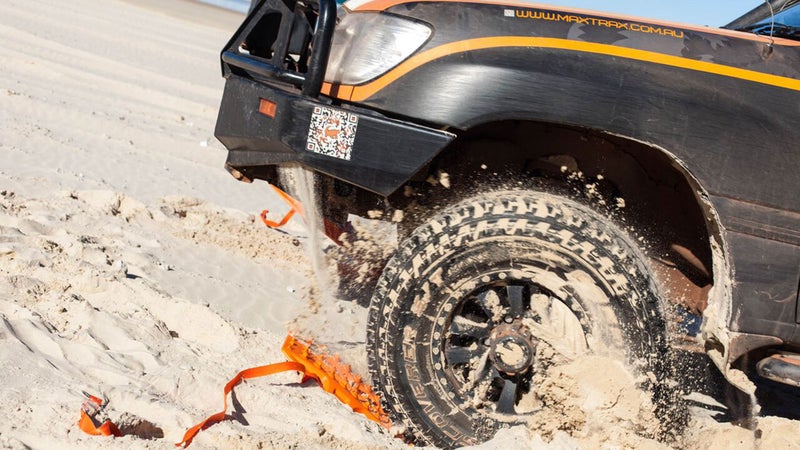 Traction boards are typically made of orange plastic, covered in pegs, and measure about one foot by four feet. (You've probably seen them on more than one occasion mounted to the side of a lifted Toyota Tacoma.) To use a traction board, you simply wedge it, peg side up, under the wheel with the least traction, and gently step on the gas to avoid spinning the wheels. Similar to the sticks-and-brush method in the example above, this gives the spinning wheel something to bite on. Once they're properly in place, traction boards will almost certainly help any stuck vehicle get going again. Boards are also great for keeping your vehicle from getting stuck in the first place, as they can be used as ramps to climb up and over downed tree trunks or to make a bridge for traversing ruts or gullies in your path.
The industry leader in traction boards is Maxtrax, and the MKII model sells for $300. This is certainly steep for what amounts to two semiflexible pieces of plastic, but you get what you pay for, and Maxtrax products are engineered to withstand serious punishment. Be wary of cheap knock-off traction boards. While you my find yourself drawn in by their low price, these will almost certainly be less durable and carry a lower weight rating than those from a reputable manufacturer.
Winch ($500 and up)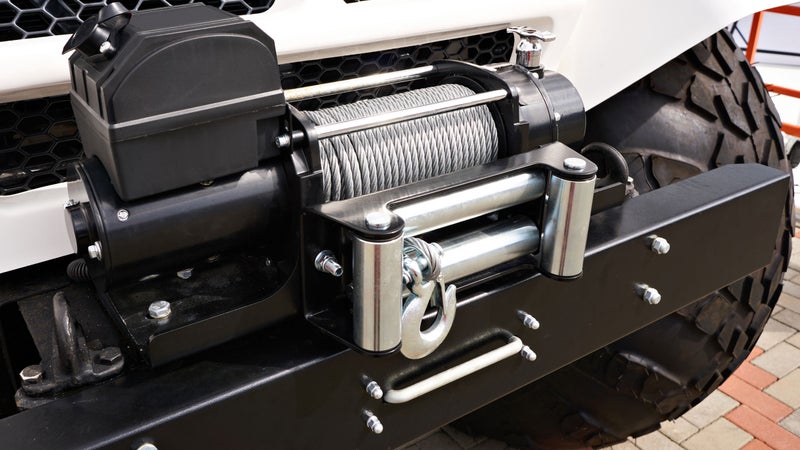 If you need a winch, you probably already know it. These are essential for anyone planning on spending a lot of time solo off-roading on challenging terrain. A good rule of thumb is to opt for a winch with a weight rating of 1.5 to 2 times your truck's gross vehicle weight rating. So if your truck maxes out at 6,000 pounds when fully loaded up with gear, get a winch that can pull 9,000 to 12,000 pounds. Another important thing to decide is whether you want a nylon or steel cable. Nylon is lighter, cheaper, and safer, since it doesn't hold as much energy and thus won't become quite as lethal a whip if it breaks. Steel, on the other hand, is stronger and more durable. But when a steel cable fails, it does so spectacularly, with the risk for serious injury. Steel cables are also more expensive to replace.
A winch mounted to the front of a vehicle can look a little complicated, but they're actually pretty easy to use. Typically, you'll be winching off a tree, so you want to make sure you get a tree-trunk protector, as wrapping a bare cable around a tree will shred the bark and potentially kill the tree. Also make sure that the tree is alive, as a dead one will likely rip right out of the ground once you start pulling. Much of the same logic used with a recovery strap applies to winching as well: it's a good idea to throw a blanket over the line once you start pulling to hold the flying ends down in case of a break. Winches are controlled by a remote that either plugs into the winch itself when needed or is completely wireless. Wireless remotes are nice, because they allow you to easily control the winch from the driver's seat during solo extractions. You can also winch off another vehicle or use the winch on your vehicle to pull another vehicle free. Here, too, make sure to only hook onto the specified recovery points, and it's a good idea to have one of those trailer-hitch D-ring shackles mentioned above.
Warn, the industry leader when it comes to winches, offers a few different categories. Its Zeon line ($1,116 and up) is a great place to start your search as it offers 8,000-, 10,000-, and 12,000-pound pulling capacities and features like an IP68 waterproof and dustproof rating. And be warned: winches are pricey. But if you know you'll need one, it's worth the investment.
The Upshot
Which method makes sense for you will depend primarily on what kind of off-roading you do and how often you do it. Drive down a forest road once or twice a year? You're probably safe relying on sticks and brush as your contingency plan. Spend a lot of time off-roading in a group? A tow strap could come in handy and could score you points with the rest of the crew when someone inevitably gets stuck. Do a lot of solo adventuring? Maxtrax and a winch are worthwhile.
Lead Photo: Courtesy Chris O'Neill