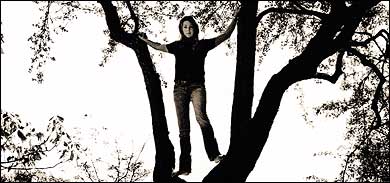 Heading out the door? Read this article on the new Outside+ app available now on iOS devices for members! Download the app.
WELCOME TO THE REVOLUTION. Here at Outside, our mantra is higher, faster, farther, tougher. In case you haven't noticed, the thrill of total commitment has also gripped the women in our world. Where once a few plucky pioneers fought an uphill battle for equal access to adventure, this month's pantheon of heroines represents a generation that embraces wild places and epic endeavors as its birthright. In the pages that follow, we celebrate the athletes, explorers, innovators, and troublemakers who are living bigger, braver lives and daring us to follow their lead. These 25 women know something you should know: It's a wide-open world. Grab it. It's yours.
Climbers
Araceli Segarra

Araceli Segarra
Steph Davis

Steph Davis
ARACELI SEGARRA 33
Mountaineer
Barcelona, Spain

WHY SHE RULES: There are a few important things to know about Spanish climber Araceli Segarra: She doesn't believe in ropes, oxygen, or porters. As was the case on Nepal's 28,169-foot Kanchenjunga in 2000, if she doesn't think she can ascend safely on her own, she'll turn back—even when she is just shy of the top. She hasn't sought out sponsorship, preferring instead to fund her climbs—among them, her 1996 ascent of Everest; a 1997 expedition to the Ganesh Himal, in India; 1999 ascents of the Kagatondo and Warnerdu routes, in Mali; and a 2000 north-south traverse of the Lebanon Mountains—with money she made from stints as an exercise physiologist and magazine model for Elle, Vogue, and Marie Claire. And as two unsuccessful attempts on K2 in the past three years have shown, she's a stridently independent climber who isn't afraid of the f-word. "Failure? What is that?" she says. "I learn something every time I'm on a mountain, no matter how high I go." SAYS WHO: "The best thing about Araceli is her mettle," says Jeff Rhoads, a filmmaker and mountaineer who climbed with Segarra on K2 in 2002. DON'T GO THERE: Rumors are flying about Segarra's engagement to 35-year-old Mexican mountaineer Hector Ponce de Leon, her frequent expedition partner. Ask her about it and you'll feel some of the same stubbornness that gets her up an 8,000-meter peak. Her answer: It's nobody's beeswax. FORWARD SPIN: Next spring, she'll scout a few of Nepal's 150-plus newly opened peaks, as well as big walls in Iran. —SHANTI SOSIENSKI



SUE NOTT 34
Alpinist
Vail, Colorado

WHY SHE RULES: Sue Nott is a climber's climber: one of only a handful of individuals with the skill and boldness to play the toughest alpine game there is. Her résumé is filled with obscure-sounding routes—the Glass Onion, in Valdez, Alaska; the Sorcerer, in the Canadian Rockies; Scotch on the Rocks, in the French Alps—and that's the way she likes it. Ever since she started ice-climbing at age 20 in her hometown of Vail, Nott has gravitated toward technical ice-and-rock climbs rather than long snowplods up 8,000-meter peaks like Everest and Kanchenjunga. In 1999, she came close to paying the ultimate price when a tower of ice in Vail called the Seventh Tentacle collapsed, crushing her abdomen and severing an intestine. "I flatlined, but they brought me back," says Nott. According to 30-year-old John Varco, her frequent rope mate, Nott was alpine climbing in Peru after two months, despite the fact that "the staples were practically popping out of her stomach." Four years later, in 2003, she became the first American woman to climb the Eiger's north face and the Croz Spur on the Alps' Grand Jorasses in winter; and just last June, she and Varco established a new route on the north buttress of Kalanka, in the Indian Garwhal. SAYS WHO: Varco describes Nott as incredibly committed: "When it gets grim, there are always a thousand reasons to go down, and it's hard to find just one to go up. Sue always finds that one." WHAT MATTERS MOST: "People always bring up the gender issue, but it's not a big deal to me," says Nott. "Women are doing cool, notable ascents all over the world. To climb hard routes, it is essential to have a strong connection to your partner, and I've had this with both men and women." FORWARD SPIN: As she has for the past three winters, Nott will head to Chamonix to continue her assault on the Alps' classic north faces; then it's off to the Peruvian Andes and some very thin air in India. Sound cryptic? "I have to keep the objectives top secret," says Nott. "You don't want anyone cutting in front." —MARK JENKINS



STEPH DAVIS 31
Climber
Moab, Utah
WHY SHE RULES: Illinois-born Steph Davis got her first taste of rock climbing in 1990, when a college classmate at the University of Maryland persuaded her to cut calculus and head for a local crag. Since then, the bold but bookish 31-year-old—she holds a master's in British and American literature from Colorado State—has become one of the best all-around climbers in the world. Davis frequently leads tough 5.13 trad routes (no bolts—only natural protection) and free-solos (no ropes) finger-wide cracks hundreds of feet off the ground. She is also an accomplished alpinist with first ascents on high-altitude peaks and big walls in Pakistan, Kyrgyzstan, Baffin Island, and, most recently, Patagonia, where in 2002 she became the first woman to summit all seven major peaks in the Fitzroy Range. Her marriage last year to a fellow climbing star, speed soloist Dean Potter, brought a new set of challenges—and stoked her competitive fire. After spending last winter and spring helping Potter pull off one of his longtime dreams—free-climbing Half Dome and El Capitan in a single 24-hour period—Davis balked when he asked her to provide similar assistance on a notoriously hard crack on Tombstone, a sandstone slab near Moab. Instead she insisted on a share of the lead-climbing responsibilities. "As a woman, it's easy to always be supportive—you really want to give and help your husband feel manly," she explains. "But after Yosemite, I made a point of changing the rules." SAYS WHO: "Steph is one of the most dedicated and hardworking climbers I know," says Lynn Hill, the first person to free-climb the Nose on El Cap. "She wants to push her career as far as it can go, so she picks big projects and gets them done." DOMESTIC BLISS: With a cozy house in Moab and a new cabin near Yosemite, the formerly nomadic First Couple of Climbing appear to be settling down. But don't expect any revelations about parenthood—yet. "We really like our dog Fletcher a lot," says Davis, laughing. "Pretty much more than anyone has ever liked a dog." FORWARD SPIN: "Dean and I are focusing on Yosemite projects that we can work on together at first," Davis says. "I'm too superstitious to say exactly what they are, but basically I want to free some of the bigger stuff on my own." —ROB BUCHANAN
Aqua Women

TANYA STREETER 30
Freediver
Austin, Texas

WHY SHE RULES: Don't talk to Tanya Streeter about going after another world record. Yet. "I'm still recovering from the last one," she says. No wonder—it was a crusher. This past July, in the Turks and Caicos, Streeter took a big gulp of air and rode a weighted sled to a record-setting depth of 122 meters (400 feet), enduring pressure that squeezed her lungs to the size of fists. (The previous record, held by Belgian diver Patrick Musimu, was 120 meters, or about 394 feet.) Three minutes and 38 seconds later, Streeter surfaced under her own power, becoming the first freediver to simultaneously hold world records in each of the sport's five disciplines (which vary according to the type of equipment, if any, used to power the diver's descents and ascents). Since the brash Cayman Islands native made her first record-breaking dive, in 1998, she's appeared everywhere, from Vogue to Dateline NBC to the chair next to Conan O'Brien. She sees the limelight as an opportunity to promote her favorite enviro groups, the Coral Reef Alliance and the Whale and Dolphin Conservation Society. "To think my grandchildren may grow up without coral reefs—that's abhorrent," she says. "Someday people will know me more for being an outspoken environmentalist than as a freediver." SAYS WHO: "Tanya has a rare composure and grace," says Tec Clark, captain of the U.S. freediving team. "She's uniquely attuned to being in the underwater world." BORN UNDER A WATER SIGN: Streeter developed her aqua lungs as a kid snorkeling in warm Caribbean bays. "I could go 60 feet down from the time I was ten," she says, "but it never occurred to me that it could be a sport." FORWARD SPIN: It may be time for Streeter, who trains in Austin and the Turks and Caicos, to get back in the water: In September, Canadian Mandy-Rae Cruickshank, 29, snatched away one of her five world records. —BRUCE BARCOTT NATALIE COUGHLIN 21
Speed Swimmer
Concord, California

WHY SHE RULES: Despite never having taken a stroke in an Olympic race, Natalie Coughlin has already been branded the golden girl for the 2004 Athens Games. She can't help it: The multitalented sprinter currently holds five world records, 17 American records, six NCAA records, and one highly developed Type A personality. "I'm the most competitive among supercompetitive people," says Coughlin, a senior psychology major at Berkeley who maintains a 3.5 GPA, trains upwards of five hours a day, and juggles at least seven events in a typical NCAA meet (the 100- and 200-meter freestyle, the 100 and 200 backstroke, the 100 butterfly, and several relays). Though Coughlin seems oblivious to her newfound fame, she's not immune to the accompanying pressure. "The criticism was difficult to take," she says of her underwhelming performance at the 2003 World Championships, in Barcelona, Spain, in July, the result of a 102-degree fever. "I was incredibly hard on myself when it went so poorly." Which may be just the motivation she needs to commandeer six medals in Athens. SAYS WHO: "Natalie is the kind of swimmer who comes along once in a generation," says Rowdy Gaines, swimming's triple gold medalist at the 1984 Summer Games and now an NBC Sports commentator. "The number of events she's capable of winning is absolutely mind-boggling." DOUBLE-BOOKING IS A DRAG: Athens organizers didn't do Coughlin any favors when they scheduled the 100 freestyle finals and 200 backstroke semifinals—both events in which she's favored for gold—a mere 45 minutes apart. "I may have to choose between the two," she says. "I'm bummed. I'm very bummed." FORWARD SPIN: First she has to make the national team: Olympic Trials are slated for mid-July in Long Beach, California; until then she'll be honing her technique to ward off the chronic shoulder pain that cost her a spot on the Sydney 2000 roster. —DIMITY MCDOWELL
Skiers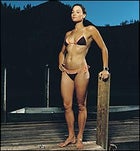 HILAREE O'NEILL 30
Ski Mountaineer
Telluride, Colorado

WHY SHE RULES: Hilaree O'Neill once scouted powder stashes from the cracked leather seat of a standard double chairlift. That was before a ski-bumming stint in Chamonix, where the Seattle native discovered climbing skins and a talent that has transformed her into an elite ski mountaineer and an Alaska heli-skiing guide. "In seven years I've gone from 'Crampons? What are those?' to guiding in unskied regions of Mongolia," says O'Neill. A North Face-sponsored athlete since 1999, O'Neill has claimed first tracks in unmapped regions of China, Lebanon, and Tibet, and in 2002 she fronted the first ski expedition to eastern Mongolia's Five Holy Peaks. "There were no maps, no photos, no nothing," she says of her trip up and down the 15,000-foot towers on the China-Russia border. "You didn't even consider freaking out." As the only female on the nine-guide team at Dean Cummings's Valdez, Alaska-based H2O Heli Guides, O'Neill leads (mostly male) clients down open bowls and unnamed peaks in the 7,000-foot Chugach Mountains. She also runs weeklong Chicks in the Chugach heli-skiing camps, designed to teach women to feel as comfortable ripping through the backcountry as she does. SAYS WHO: "Hilaree has an unmatched, easygoing attitude, mental and physical toughness, and endurance," says Cummings, 38, former world extreme-skiing champion. "She's opening doors for women to build careers in mountaineering." STRONGEST BODY PART: Stomach lining. In Mongolia, O'Neill and her team subsisted for 14 days on goat fat, horse meat, and other local delicacies. "We ate boiled marmot—with no salt," she laments. "It would have been so much better with salt." FORWARD SPIN: O'Neill will climb and ski Myanmar's 19,296-foot Hkakabo Razi, near the China-India border, in fall 2004. "It's only been climbed once, by a Japanese mountaineer who said it was harder than Everest," says O'Neill. "Who knows if we can ski it, but we might as well try." —TRACY ROSS


CHARLOTTE MOATS 23
Big-Mountain Freeskier
Jackson, Wyoming

WHY SHE RULES: Charlotte Moats is a double-shifter, juggling an old-school Ivy League education and a new-school freeskiing career. "It keeps me honest," she says. "Neither world on its own is that significant." Put them together, though, and you've got a downhill firecracker with brawn and brains. In addition to her spot on Dartmouth's dean's list, the senior geography major can claim six first descents in Alaska's Chugach Mountains, the 2002 World Endurance Skiing Champion title, first place at the 2000 Canadian Freeskiing Championships, and a gold medal in slalom from the 1995 Junior Olympics. Not to mention a promising ski-flick career, which includes appearances in Warren Miller's 2002 Storm and Teton Gravity Research's 2003 release High Life. Her gender stands out in difficult terrain, and she laughs when the topic comes up. "The main difference between being a woman in a sport and being a man in a sport," she says, "is that you're asked that question constantly. I absolutely believe in strength in numbers. The more women in the sport, the better it will get for everyone." SAYS WHO: "In the midst of difficult and potentially dangerous conditions, she was calm and focused," says veteran ski photographer Paul Morrison, 49, of Moats's winning composure at the Andes Photo Challenge freeskiing competition in Portillo, Chile, in September. HER ULTIMATE SURVIVAL SKILL: Denial. "When I'm alone on a ridge, I try to focus only on the snow before me and the line I intend to ski," says Moats. "I don't think about the rocks or the exposed drop-offs or the avalanche danger. If I did, I'd be dead." FORWARD SPIN: After turning in her thesis—on rural transportation in New Hampshire—and picking up her Dartmouth diploma in early December, Moats will ski her first unabridged winter, competing in the World Tour of Freeskiing (starting in Whistler, in January) and attempting first descents in Belarus and Chile. —LISA ANNE AUERBACH
Visionaries


NADIA KIMMEL 35
Outdoor Educator
Breckenridge, Colorado

WHY SHE RULES: When Nadia Kimmel signed up for a 1994 wilderness-medicine course, she wasn't exactly wowed by the location: a claustrophobic classroom in Fort Collins, Colorado. Nor was she convinced that the mostly indoor training in basic medical assessment and treatment was enough to prepare her for real backcountry emergencies. So in 1998 she took matters into her own hands, founding Desert Mountain Medicine and offering a tailor-made curriculum that combines Wilderness First Responder certification and adventure travel. With offices in Breckenridge and Flagstaff, Arizona, Desert Mountain Medicine offers 25 nine- to 12-day courses each year, from rafting in the Grand Canyon to sea kayaking off Vancouver Island. "Anyone can learn hard medical skills, but the soft skills, such as good judgment and leadership, come with experience," says Kimmel. "These are what will save someone's life." SAYS WHO: "Nadia's passion and enthusiasm are infectious," says Andrew MacDonald, a British Columbia paddling guide who completed Kimmel's Grand Canyon program in 2003. "I've taken similar courses, but this one re-created lifesaving scenarios in the environment in which I work." TIGHT SPOTS: Kimmel has learned from her own brushes with disaster, like the time she had an asthma attack when her raft overturned. "It's all about losing the fear and diving in." FORWARD SPIN: Kimmel's working on her doctorate in wilderness medicine at Northern Arizona University. Her focus: using herbal supplements, like cayenne and ginger, to help women stay warm at high altitudes. —ALISON WRIGHT



LIESL CLARK 37
High-Altitude Filmmaker
Boston, Massachusetts
WHY SHE RULES: After moving to Aspen in 1989, Liesl Clark did what any Harvard grad who'd studied the poststructural theory of semiotics would do: took a job as a production assistant with Aspen-based outdoor-film company American Adventure Productions. Clark's apprentice work, broadcast on ESPN's Expedition Earth in the early 1990s, had her following round-the-world balloon attempts and chasing big cats in Africa. After joining the PBS series Nova as a producer in 1996, she began filming in even bolder venues. "Basically, I did all the extreme films no one else wanted to do," says Clark, who quickly established her niche as writer, director, and producer of cold-weather adventure documentaries. With camera in hand, she's climbed Mount McKinley to study how low temperatures affect the body, made the first eastern ascent of Antarctica's Vinson Massif, and spelunked and rafted half a mile into a Mont Blanc glacier. "In remote places, I know how to hire porters and yaks and be self-sufficient," she says, "but I'm a buffoon when dealing with modern convenience." SAYS WHO: "Liesl's drive and work ethic are impressive," says mountaineer Dave Hahn, who worked with Clark when she filmed the 1999 Mallory and Irvine Research Expedition. "She knows how to keep people focused." WILD CHILD: Clark's first child, Finn, was born in May. "They say babies travel well, so I'll bring him with me unless something is really, really extreme," she says. "It wouldn't make sense to take him to Antarctica till he's at least one and a half." FORWARD SPIN: Clark's new Nova film, which follows extreme scientists studying subglacial water in the French Alps, debuts in January. —JASON DALEY KAE KAWANISHI 35
Wildlife Ecologist
Kuala Lumpur, Malaysia

WHY SHE RULES: A typical day finds researcher Kae Kawanishi—think Dian Fossey meets Indiana Jones—darting through a Southeast Asian jungle in the name of conservation. Her objective: tracking the stealthy, endangered tigers that inhabit Malaysia's nearly impenetrable rainforests. For her landmark 2002 research—the most comprehensive population study of Indochinese tigers to date—Kawanishi spent 33 months setting up, maintaining, and moving a total of 135 motion-triggered cameras across a 1,677-square-mile area of Malaysia's Taman Negara National Park. The Osaka, Japan-born scientist commanded teams of up to ten porters, three research assistants, and five rangers (all of them, invariably, male) in field conditions that ranged from bad to horrific: torrential rains, marauding elephants, knee-deep mud, and lurking pythons. Equally challenging were the odds of actually capturing one of the elusive cats on film; out of 9,000-plus exposures, fewer than 100 depict tigers. "It was like photographing a ghost," says Kawanishi, who earned her doctorate in wildlife ecology and conservation at the University of Florida and now lives in Kuala Lumpur with her seven-year-old daughter, Rio. "Only my obsession kept me at it." SAYS WHO: "Kae's work is invaluable—she has produced a reliable picture of tiger density and predator-prey dynamics in the region," says John Seidensticker, chairman of the Washington, D.C.-based Save the Tiger Fund Council. "A study like this had never been done before, because it's so truly difficult. But she had the drive." WHAT SHE COULD HAVE DONE WITHOUT: Bouts of jungle foot rot. Bloodsucking leeches. And then there was the time she was trapped on a log when a flash flood hit, and had to be rescued by her porters. "My crew often saved my life," says Kawanishi. FORWARD SPIN: Kawanishi is now working with the Malaysian government to develop a countrywide conservation plan that will ensure the tiger's protection for the next 100 years. —FLORENCE WILLIAMS


POPPY GALL 45 & CAROLYN COOKE 43
Gear Entrepreneurs
Burlington, Vermont

WHY THEY RULE: After schussing corn snow one spring day at Stowe five years ago, longtime pals Poppy Gall (left) and Carolyn Cooke got to griping about their ill-fitting unisex skiwear: short-inseamed pants that were too snug and soft shells with arms designed for an orangutan. In a matter of days, they had drawn up a business plan for a women-specific apparel company and christened it Isis, after the Egyptian Great Mother goddess. That day, Gall says, "we leapt off a cliff and never looked back." Thanks to their combined 40 years of outdoor-industry experience (Cooke in sales and marketing, Gall in product design), Isis is now a successful company reportedly worth $3 million, and in the last year it has increased sales by 74 percent and more than doubled its nationwide dealer base—from 100 stores to 220. Most impressive: Their clothes work. Marrying feminine accents and fit (Velcro that won't snag a ponytail) to technical components and fabrics (cashmere-soft fleece collars), Gall and Cooke give women the freedom to dress pretty and play tough. SAYS WHO: "They could have doubled their business by venturing into men's clothing, but they chose to build their brand instead," says John Cooley, director of public relations for Marmot. "That positioning will pay off." FORWARD SPIN: A whiz with scissors and a sewing machine, Gall plans to refine Isis's proprietary fabric, Duet—a weather-resistant soft shell that feels good next to bare skin—and design Duet bibs for female ice climbers and skiers. —KI BASSETT



KRIS TOMPKINS 53
Conservationist
Pumalin Park, Chile

WHY SHE RULES: "I have a farm in Patagonia," Kris Tompkins told her friends in 1993, when the then-43-year-old CEO of Patagonia up and moved to the fjords of southern Chile to homestead with her new husband, conservationist and former North Face CEO Doug Tompkins. Never mind that she spoke only gringo español, or that the nearest telephone was a Cessna flight away: Tompkins set about turning their little house in the rainforest into a sustainable, privately owned national park, 800,000-acre Pumalin. Ten years later, the couple now spend half the year restoring 600,000 acres of savanna in northern Argentina's Corrientes province. "Commit first and figure it out later" has long been Tompkins's M.O. In 1973 she helped her friend Yvon Chouinard turn his fledgling piton business into Patagonia Inc. That first year, the company grossed $708,000; by '93, she and Chouinard had built an anti-corporation renowned for lunch-break surfing, ecological sabbaticals, and annual sales of $112 million. In 2000, Tompkins sold her Patagonia clothing shares and founded the Patagonia Land Trust, a charitable foundation that has, in three years, bought and preserved more than a quarter of a million acres of Argentina's Andean grasslands, southern beech forests, and wild Atlantic coastline. PLT donated to the country its first coastal national park, 155,000-acre Monte Léon, in October 2002. SAYS WHO: "Whatever Kris does, she has a real sophistication," says Chouinard. "I've seen her on the Today show as comfortable as can be, and I've seen her sitting around a campfire, covered in soot." NO EXCUSES: "Adventurous women, by their very nature, tend to have courage and energy and enthusiasm for doing great things," says Tompkins. "If we're going to use wild nature, and entertain ourselves with it, we need to spend that powerful energy protecting the things we love." FORWARD SPIN: There are giant anteaters to reintroduce in Corrientes, penguin rookeries to protect at Monte Léon, eco-friendly wool sweaters to design at Pumalin, and millions more dollars to raise. "This is lifetime work," she says. "I'm gonna do it till I drop dead. And hopefully it will continue long after that." —ELIZABETH HIGHTOWER



SABRIYE TENBERKEN 33
Adventure Altruist
Lhasa, Tibet

WHY SHE RULES: Sabriye Tenberken has trekked on three continents, whitewater-kayaked throughout Europe, and now lives in a spare, 16-by-23-foot stone room in Tibet. But what makes her adventures truly remarkable is that the German-born traveler has been completely blind since age 12, and her wanderlust is fueled by a simple goal: to help others. In 1997, she horsepacked across Tibet as part of a research mission to meet blind children. (Because of dust, wind, alpine sun glare, and poor medical facilities, the region has one of the highest rates of blindness in the world.) The next year, she and her boyfriend, 35-year-old Dutch engineer Paul Kronenberg, founded the first Tibetan training center for the blind, Braille Without Borders, in Lhasa. Now the pair teach some 29 students math, daily living and vocational skills, English, Chinese, and Tibetan Braille, which Tenberken developed while majoring in Central Asian Studies at the University of Bonn. "I wanted to start a school where blind children and adults could be educated," says Tenberken, "but above all where they could learn to believe in themselves and not be ashamed of being blind." SAYS WHO: "Sabriye has a strong drive to help those who are suffering," says Ton Ten Hove, director of Dark & Light Blind Care, a Dutch foundation that funds treatment and education projects in 25 countries across Asia and Africa. "There was nothing done for blind people in Tibet before her, and now she turns their lives from darkness to light." ONE STEP UP: In May, Erik Weihenmayer, the first blind climber to summit Everest, will guide Tenberken and her students through the basics of mountaineering on an ascent of Khartse, a 21,325-foot peak near Everest. Next fall, she and six blind and partially blind German kayakers, along with seven instructors, will attempt first descents on several of Tibet's remote Class III-IV rivers. FORWARD SPIN: Tenberken will open a second school, in Ladakh, India, next year. Her five-year plan? To establish a Braille Without Borders international training center in Ladakh that will enable developing countries to establish their own schools for the blind. —KATE SIBER
Explorers


EMMA RICHARDS 29
Round-the-World Sailor
Cowes, Scotland

WHY SHE RULES: Emma Richards can pinpoint the moment she decided to spend the rest of her life on the water. It was 1997, and she was crewing for British sailing legend Tracy Edwards on an all-female bid for a new round-the-world speed record when an ailing teammate handed her the wheel of the 92-foot catamaran Royal & Sun Alliance in the middle of the Southern Ocean. "At the end of that race," says the Scotland-born sailor, "I decided I didn't want to wait for other people to put teams together." And she didn't. Following in the footsteps of her rival, 26-year-old British star Ellen MacArthur, Richards has blasted through a dozen high-profile races, setting an all-female speed record (with 34-year-old Brit Miranda Merron) in the 2000 Round Britain and Ireland Race. Last May she finished fourth in the 28,800-mile, eight-month Around Alone, becoming the youngest competitor and first British woman ever to complete the grueling race. "You have to be a jack-of-all-trades," she says of solo endeavors, "always watching things like battery voltage and your food levels. It's as much project management as it is sailing." SAYS WHO: "I was quite surprised when Emma opted for single-handed sailing, since she is such a great team player," says Edwards, 41, whom Richards considers a mentor. "But Emma works hard at getting things right and never takes anything for granted." DRY-LAND EXERCISES: When not at sea, Richards derives perverse joy from carving up the British Isles' nearly nonexistent powder. "If you can snowboard in Scotland," she says, "you can do it anywhere." FORWARD SPIN: Richards is assembling a crew for the 2005 round-the-world Volvo Ocean Race, in which she'll likely go head to head with MacArthur. —JASON DALEY



LOUISE LEAKEY 31
Fossil Hunter
Nairobi, Kenya

WHY SHE RULES: In 1977, six-year-old Louise Leakey became the youngest human to find one of the oldest hominoids. Thirsty and exhausted from trying to keep up with her parents, renowned paleoanthropologists Richard and Meave, Louise plopped down in the dust in northwestern Kenya's Turkana Basin and picked up a shiny sliver of what looked like a tooth, which it was—from a 17-million-year-old primate. By age 12, the heir to the world's most famous archaeological dynasty (she's the granddaughter of Louis and Mary) was driving the Land Rover to pick up water for the team, and at age 18 she learned how to fly a single-engine Cessna 150. "You can't expect anyone to do something that you would not first do yourself," Louise says of growing up in the bush. In 1993, while she was at college in England, her father lost his legs in a plane crash, and Louise was summoned back to Africa to help her mother run the family's field camp. Six years later, the mother-daughter team found a 3.5-million-year-old skull that is believed to belong to a branch of early humans known as Kenyanthropus platyops—a discovery that confirmed her place within the Leakey legacy. "I have certainly stepped into big boots," she admits, "but there are many paths to walk them along." SAYS WHO: "Louise's love of fossils and her motivation to recover them from the field is as high as I've ever seen," says Richard Potts, director of the Smithsonian Institution's Human Origins Program. "She will make a tremendous contribution to science." HAVE A FOUR-CYLINDER MOTOR, WILL FLY: Last April, Louise and fiancée; Emmanuel de Merode, who works to protect great apes in the Democratic Republic of Congo, flew from France to Kenya in a homemade plane powered by a Subaru car engine. The trip took 45 hours. FORWARD SPIN: First there's the wedding, then the fundraising: Further fossil exploration along the eastern edge of Lake Turkana will cost an estimated $2.4 million over five years. —STEPHANIE PEARSON



RENATA CHLUMSKA 30
Expeditioner
Jönköping, Sweden

WHY SHE RULES: Renata Chlumska is one of those maddeningly natural athletes who makes every undertaking look easy. Growing up in Sweden, she dabbled in ballet, competitive cycling, jujitsu, and diving. In 1995 she took a rock-climbing course in Sweden and fell in love with the sport and her instructor, Swedish adventurer Göran Kropp. Chlumska caught the Himalayan bug the next year while managing Kropp's Everest base camp, and became the first Swedish woman to summit the peak in 1999. But it's her passion for long-haul exploration—such as her four-month, 4,000-mile bike ride from Nepal to Sweden with Kropp in '96—that sets her apart. When Kropp was killed in a September 2002 climbing accident, Chlumska vowed to move forward with their next expedition on her own: circumnavigating the lower 48 by bike, kayak, and foot. "Even though there are days I still think Göran's just away on a long trip," she says, "I only know how to go full force and follow my own dreams." SAYS WHO: "Renata can deal with long periods of exhausting work and is not easily intimidated by bad weather or big objectives," says IMAX filmmaker David Breashears, who befriended Chlumska while filming Everest in 1996. "The only thing that would surprise me about Renata is if she didn't achieve what she set out to do." WHAT'S HOLDING HER BACK: U.S. immigration officials don't recognize "multisport athlete" as a legitimate occupation and, at press time, aren't letting her back in the country. "She's survived rock-throwing and knife-wielding in Asia and the Middle East," says Ryan Hayter, PR consultant for Chlumska's gear sponsor, Helly Hansen, "but she can't seem to beat America's stiff immigration policies." FORWARD SPIN: Red tape aside, Chlumska hopes to launch her 11,600-mile trip from Seattle in July. "Thinking about it is the only thing that puts a smile on my face," she says. "It will help me build a platform for my next adventure." —DIMITY MCDOWELL
Biker

LESLEY TOMLINSON 43
Endurance Mountain Biker
Vancouver, British Columbia

WHY SHE RULES: "In high school I hung out with smokers," says Lesley Tomlinson. "I wasn't a jock by any stretch of the imagination." It's hard to imagine that this five-foot-four, 114-pound fireball was ever a slacker: Since entering her first cycling race at the age of 28, Tomlinson has racked up 23 top-ten World Cup cross-country finishes, a 1994 Pan Am Championship cross-country silver medal, and berths on the 1996 and 2000 Canadian Olympic teams (she finished 12th and 19th in cross-country, respectively). Lately, she's taken on longer distances, with her usual winning spunk: She rode round-the-clock to victory in the 2002 24-Hour Solo World Championships, at Vernon, B.C., and nabbed back-to-back wins in the 2002 and 2003 TransAlp Challenge, the premier eight-day, 400-mile European endurance mountain-bike race held each July. Throughout her career, Tomlinson has proved that age is a state of mind, gamely moving from one discipline to another whenever she has needed a new challenge. "I was never trying to be a pro athlete," says Tomlinson. "I just put all my energy into achieving my goals, and then one day I realized that was what I had become." SAYS WHO: "Lesley has developed her abilities to the max yet continually finds a way to push her limits as far as possible," says Alison Sydor, three-time world champion and cross-country silver medalist at the 1996 Atlanta Games. "It's never a surprise to me when she succeeds in long, difficult races, where many athletes might consider calling it quits." PIVOTAL MOMENT: Switching from skinny tires to fat in 1994, after a nearly career-ending collision with a car and a discouraging run-in with a cycling coach who thought she was too old. "Years after I made the Olympic team, the former national coach apologized for not believing in me at the time," recalls Tomlinson. FORWARD SPIN: Next year, she'll continue training eight young Canadian mountain-bike disciples (one of her riders, 18-year-old Brad Fairall, made the 2003 junior national team); come summer, she'll defend her TransAlp Challenge title. —SHANTI SOSIENSKI
Groms

LYN-Z ADAMS HAWKINS 14
Skateboarder
Encinitas, California
WHY SHE RULES: The first time Lyn-Z Adams Hawkins dropped into a vert ramp, she was a skinny ten-year-old who could barely turn a skateboard. The next day, she begged her mom to let her skip soccer practice so she could charge back down the 13-foot plywood walls. That was four years ago. Now she's a homeschooled skater who spends her days riding alongside sport legends Tony Hawk and Bucky Lasek at the most famous skate park in America, the Encinitas Y, and traveling to pro skate-offs around the world. Last summer, Hawkins blasted into the glitziest action-sports testing ground: ESPN's Summer X Games, in Los Angeles. She took home silver in the skate-park contest and bronze in the vert ramp, competing against an undefeated Cara-Beth Burnside, 34, who has been skating longer than Hawkins has been alive. "I wanted to get gold," says Hawkins, "but then I realized that if I have learned anything through skateboarding it's that you can't win everything right away. Sometimes it takes time to learn a new trick—like maybe a few days." SAYS WHO: "Lyn-Z has fire in her eyes," says 25-year-old professional skateboarder Jen O'Brien, who has been a mentor to Hawkins since they met in 2000. "That determination and skill are part of what she has, but she's also skating with the best in the world on a daily basis, so her standards are very high." WHY HOOKY RULES: "People ask me if I am missing out by not going to school," says Hawkins. "Hello?! I travel the world and meet tons of people. That's pretty cool, I think." FORWARD SPIN: Winter cross-training events, like the Tahoe amateur snowboard series and local San Diego surf contests, are high on Hawkins's to-do list. She'll be back on four wheels for the Slam City Jam, in Whistler, British Columbia, in May. —SHANTI SOSIENSKI



CHELSEA GEORGESON 20
Shortboard Surfer
Avalon, New South Wales, Australia

WHY SHE RULES: Chelsea Georgeson may be the youngest woman ever to qualify for the Association of Surfing Professionals' World Championship Tour (she was 18 when she joined the WCT last year), but the Australian powerhouse is proving that she's no grommet. After a strong performance last May at the Billabong Pro Teahupo, in Tahiti, Georgeson was ranked sixth on the WCT; by July she'd nailed a surprise victory at the U.S. Surfing Open, in Huntington Beach, California, beating seasoned pros Rochelle Ballard and Pauline Menczer by a wide margin. We should have seen it coming: The 2001 junior world champion grew up riding barrels with her older brothers on Australia's east coast—which may explain her laid-back attitude. "It's not like I'm training every day," she says. "I just go surfing." SAYS WHO: "She has a huge future," says four-time world champ Lisa Andersen. "She stands out for her smooth style and power. When you mix the two, it's a lethal weapon." READY FOR PRIME TIME: Reality-TV fans may recognize Georgeson from her role on Boarding House: North Shore, the WB's 2003 series that followed competitors in Hawaii's Triple Crown as they surfed and club-hopped in Honolulu. FORWARD SPIN: Georgeson hopes to nab a WCT win next year—all the sweeter if it happens on her home surf. —FLORENCE WILLIAMS



GRETCHEN BLEILER 22
Halfpipe Queen
Aspen, Colorado

WHY SHE RULES: Gretchen Bleiler has dreamed of snowboarding in the Olympics ever since she dropped into her first halfpipe at age 15. But losing her 2002 berth in a last-minute triple tiebreaker against one of her closest friends, Tricia Byrnes, may have been the best thing that could have happened. "Not making the team was hard," Bleiler recalls, "but it really helped me see how badly I wanted it." She spent the rest of the season nailing new tricks, like the crippler 720, a dicey inverted rotation that left her with a rash of bruises and a black eye. By 2003, she was landing cripplers left and right in competition and dominating the halfpipe, taking first place at the American Snowboard Tour, the Vans Triple Crown, the U.S. Grand Prix, the Winter X Games, the U.S. Open of Snowboarding, and three other international contests—an eight-win streak that no snowboarder has matched. SAYS WHO: "Gretchen doesn't make mistakes in competitions," says U.S. Snowboard Team halfpipe coach Bud Keene. "She has confidence and is very coolheaded. That's always been the case, but it's really showing now." WITH FRIENDS LIKE THESE: Given the fact that only a small cadre of women compete on the world halfpipe circuit—including 17-year-old prodigy Hannah Teter—there's a fine line between camaraderie and rivalry. "Some of my best friends are my biggest competitors," says Bleiler, "but we try to encourage each other, learn from each other, and teach each other." FORWARD SPIN: Bleiler plans to spend the first half of 2004 riding the world's deepest powder for an all-girls snowboard video by Drop Stitch Productions, but come March she'll be defending her gold medal at the U.S. Open, in Stratton, Vermont. Beyond that, she's saving her legs for the 2006 Winter Games, in Turin, Italy. —SHANTI SOSIENSKI
Sprinter

ALLYSON FELIX 18
Sprinter
Los Angeles, California

WHY SHE RULES: College freshman Allyson Felix has gotten used to being called the next Marion Jones. As track-and-field's newest phenom, she was the first high school runner to entirely forgo college competition (along with her athletic scholarship to the University of Southern California) in order to turn pro. At L.A.'s Baptist High, she was nicknamed "Chicken Legs" by her teammates; the majority of the five-foot-six, 125-pound sprinter's body is a skinny bottom half. But her slightness belies her strength (she can dead-lift 250 pounds and power-clean 150) and speed. In a two-week span last spring, Felix—in only her fourth year of competitive track—ran the 200 meters in 22.51 seconds, breaking Jones's high school record (22.67, set in 1992). Then, at the Grand Prix Banamex meet, in Mexico City, she clocked 22.11 in the same event, a junior world record. Just before a disappointing showing at September's 2003 World Championships, in Paris, where she failed to advance past the quarterfinals, Felix signed a six-year sponsorship deal with Adidas, which will pay her an undisclosed sum and pick up her college tuition. "It was really hard to tell the coaches I'm not going to compete for USC," she says, "but my goal is the Athens Olympics, and I have to focus on that." SAYS WHO: "I can see why she's compared to Marion Jones," says Angie Taylor, Felix's coach on the 2003 U.S. national team, "but I just see her as Allyson Felix, and I see her as being phenomenal." IT RUNS IN THE FAMILY: Felix, who's majoring in elementary education at USC, shares an off-campus apartment with her older brother, Wes, a junior and the reigning 200-meter Pac-10 champion. FORWARD SPIN: She may be in for a July showdown with Jones in the 200 meters at the Olympic Trials in Sacramento; if all goes her way, Felix will live up to her own name at Athens in August, not somebody else's. —DIMITY MCDOWELL
Kayaker

NICOLA KELLY 29
Extreme Kayaker
Gore, New Zealand

WHY SHE RULES: Unlike her more specialized paddling peers, Nikki Kelly has made a career out of rodeo kayaking, steepcreeking, expedition kayaking, even river rafting—and she kicks tail in every discipline. Last July, at the 2003 Teva Mountain Games, in Vail, Kelly took first place in the head-to-head competition and the eight-ball sprint (racing three other paddlers on a 200-meter course), along with second place in the rodeo and steepcreek categories; she won the extreme-paddling title and placed second in head-to-head racing at the 2002 Gorge Games; and she's been crowned the world river-rafting champ every year since 1999. The New Zealand native spent her late teens guiding raft trips near her hometown on the South Island, but it wasn't until a 1995 kayak trip in Costa Rica that she swapped rubber for plastic. "I got addicted," she says, "and kayaking snowballed into a lifestyle." When not competing, she's scouting more remote rivers to run—like the Class V+ Zambezi, in Africa, and California's Middle Kings—often with all-male teams. "Competitions are a way to make a living between big trips," she says. "Expeditions are what kayaking's really all about." SAYS WHO: "Nikki is aggressive but graceful, and in it for all the right reasons," says kayaker Brad Ludden, who's led more than ten major expeditions. "She paddles for passion and for herself, and that makes her so much better." SECRET WEAPON: A degree from the Core Massage Institute, in Knoxville, Tennessee, which she was awarded in December. "It's amazing how outdoors people abuse their bodies and never get a massage," she says. "I think I'll be quite popular on the kayak scene." FORWARD SPIN: In May, Kelly plans to join Ludden and five other kayakers on an eight-month round-the-world paddling adventure exploring 30 river systems, including the Mekong and the Blue Nile. —JASON DALEY
Endurance Divas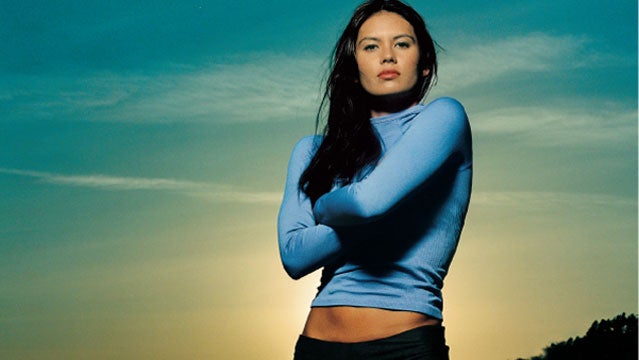 Lokelani McMichael

Lokelani McMichael
Rebecca Rusch

Rebecca Rusch
Jeannie Wall

Jeannie Wall
Lokelani McMichael, 26
Triathlete
Kona, Hawaii
Why She Rules: It was no big surprise when, at age 18, Lokelani McMichael (whose full name is Lokelanikuu'leimakamae) became the youngest woman to finish the Hawaii Ironman—a record she still holds. After all, she'd grown up watching the legendary triathlon pass by her parents' Kona surf shop and began volunteering as a race-day water patroller when she was seven. The real surprise? That she braved bike crashes, full-body jellyfish stings, and close encounters with tiger sharks to rocket through seven consecutive Ironman Triathlon World Championships in Hawaii—athletic cred she has put toward her latest multisport venture. As co-host of Adventure Challenge, debuting in December on HDNet, a new cable network that films only in high-definition digital format, McMichael offers onscreen instruction from enviable locales: surfing in Huntington Beach, paragliding in San Diego, and scuba diving in the Maldives.
Says Who: "Loke's an undercover athlete," says Adventure Challenge co-host and producer Tom Holm. "If you met her, you wouldn't guess she's such a fierce competitor. But after she kicks your butt, she'll joke around and drink a smoothie with you. She's very grounded."
Meet the Anti-Waif: "I've been told my muscles are too big for fashion magazines," says McMichael, who has modeled for Elle, Self, Shape, Esquire, and Nike's latest ad campaign.
Forward Spin: Her filming schedule is almost as grueling as her training regimen: Next year she'll sea-kayak in the San Juan Islands, climb Mount Rainier, and backcountry-ski in the Tetons. And in the far future? McMichael plans to compete in triathlons until she's 80. World record for the oldest woman to complete the Ironman, anyone?
Rebecca Rusch, 35
Adventure Racer
Ketchum, Idaho
Why She Rules: Rebecca Rusch is the quintessential adventure racer—which is to say, she's a sports addict. In 1994, she was a walk-on at the Newport Beach outrigger canoe club; in 2000 she and her eight crewmates won the sport's national championships. Not long after, she was recruited by a women's whitewater rafting team from California—and helped lead them to national championships in 2001 and 2002. Given her hyperactive, hypersuccessful résumé, the itinerant Rusch (she lives out of her Bronco eight months of the year) seemed destined to get hooked on adventure racing. She started Team Montrail in 1998, and the four-person squad went on to win the Raid Gauloises, in Kyrgyzstan, in June 2003. But being the lone woman on one of the top adventure teams in the world isn't always a good thing: "The guys' attitude usually is 'I'm going to beat you!' " says Rusch. "It revs me up when I can hold my own with a bunch of men, but sometimes it gets a little intense."
Says Who: "Rebecca understands what's required to be great, and she's gone out and done it," says former Raid winner Ian Adamson, 39. "She is definitely a force to be contended with." HOW TO AVOID A
Testosterone Overload: Hang out with the girls. "It's my therapy," Rusch says of her recent all-women outings—like notching female first ascents in Yosemite and riverboarding (think boogie board, with handles) the entire length of the Grand Canyon, some 300 miles of Class II-V rapids, in 19 days.
Forward Spin: She'll help Team Montrail defend their title at the 2004 Raid World Championship and try to improve on their 2003 second-place finish at next year's Primal Quest.
Jeannie Wall, 36
Endurance Diva
Bozeman, Montana
Why She Rules: Jeannie Wall is standing at the boat dock in Grand Teton National Park, looking fresh despite August temperatures in the nineties. She has run here from Teton Pass, nearly 30 miles away, over several 10,000-foot-plus passes. It is a typical moment in the life of this self-described endurance junkie, and she is grinning. In the past ten years, Wall has climbed Mont Blanc in just over four hours, run rim to rim to rim across the Grand Canyon—just for the fun of it—and summited three of the four highest peaks in North America: Steele, Lucania, and Logan. And when her passion turns competitive, she dominates. In 2002, Wall was the first female to cross the finish line in the 32-mile American Birkebeiner nordic ski race, in Cable, Wisconsin. In March 2003, she won both the North American Randonnée Championships, in Jackson Hole, and the Wasatch PowderKeg, in Alta. No wonder many think Wall is the toughest woman in the Rockies.
Says Who: "There are not enough hours in the day to keep up with Jeannie's whirling dervish of a life," says cross-country ski racer Brooke Baughman, 31. "But look where it gets her: She's one of the best endurance athletes out there."
Wait, There's More: Wall joined the staff of Patagonia as a hard-goods buyer at 23 and has worked in product design ever since. So what's the source of all this drive? "It's Darwinian," she explains. "I was the youngest of 11 children. I wanted to do it all and be part of it all."
Forward Spin: In March, she'll compete in the world championship randonnée races, in Val d'Aran, Spain; then she's off to Alaska. "I'd like to climb every spring in Alaska for the rest of my life," Wall says with another grin.