Gear Guy
Our Gear Guy's Favorite Trucker Hat
He's literally tested hundreds of hats, and this is his go-to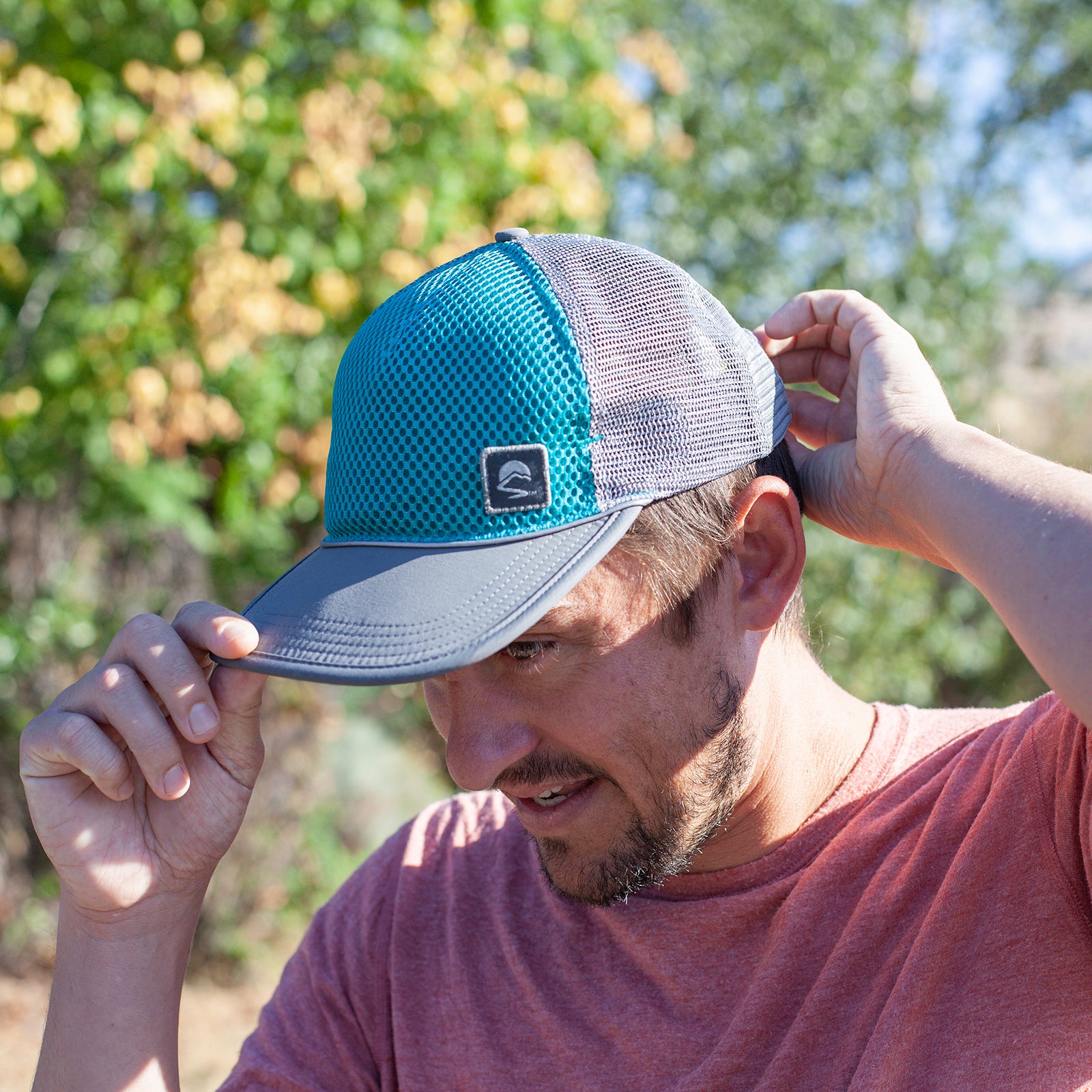 Sarah Jackson(Photo)
Heading out the door? Read this article on the new Outside+ app available now on iOS devices for members! Download the app.
A combination of my active outdoor lifestyle, the relaxed attire requirements of working as a freelance writer (read: there are none), and a lack of basic personal hygiene means that I wear a hat for at least 50 percent of the day, seven days a week. To my long-suffering and quite-tidy wife's chagrin, I have trucker hats shoved into every corner of our house, vehicles, garage, and a perpetually overflowing hat-storage cube in my closet. In the midst of all of that chaos, I do have one clear favorite for both performance and everyday use: the Sunday Afternoons Vantage Point trucker hat ($32).
The Vantage Point took the win for my all-time favorite hat for four main reasons: it breathes better than any hat I've tested, it's the most comfortable trucker I've worn, it travels exceptionally well, and it brilliantly mitigates nasty sweat stains. While those first three traits are straightforward, the fourth one might seem goofy (I rolled my eyes when I first heard about the technology). But its prevention of staining turned out to be a major factor in what makes this hat such a solid everyday driver. Let's unpack. 
I sweat so heavily, I can develop a moist upper lip just walking up a flight of stairs in an air-conditioned building. Summer running usually results in a lot of soaked-through hats for me. I've logged hundreds of trail and road miles wearing the Vantage Point over the past year, and I've never run with a hat that deals with heat and moisture better. The front panel has a pretty rigid exterior that's covered with Tic Tac–size vents. The structure of the outer panel keeps it off my forehead, and the ample venting actively moves air onto my dome. It feels like a benevolent little trail angel is blowing on my sweaty cranium.
The entire headband, as well as the underside of the Vantage Point's brim, is a lightweight, moisture-wicking material that draws sweat away from my brow. The top is a DWR-treated fabric that helps the hat's wicking abilities even more, and also means the bill doesn't get the gross jagged lines of salt stains that all my other truckers suffer from. The fact that I can run in it and it doesn't look filthy afterward means I can throw it on as an everyday hat without looking like a slob, even if I sweat through the thing in the morning.
It also fits my head more comfortably than any other trucker I have worn. Credit the nearly three-inch crushable brim and Sunday Afternoons' proprietary StretchBack Sizing system. The latter comes from an inch of stretchy plastic on the back of a classic snap-back size adjustment you see on most truckers, which makes it significantly more malleable for fitting. The soft brim doesn't push into my head, either, which allows for a tight athletic fit that doesn't feel like it's choking my temples. This also means the hat is super packable for stress-free storage when on the road or in transit across town.
The Vantage Point has become a staple of my summer uniform. I actually own two of them: one lives in my closet, while the other spends all of the time it's not on my head in the small backpack I use as a diaper bag for excursions with my kiddo. I have become so attached to its performance and wearability that I have a hard time being outside without one.
Lead Photo: Sarah Jackson
Trending on Outside Online