Gear Guy
How to Shop for Puffy Jackets
Understanding a few technical basics—and being honest about your needs—will help you pick one you'll love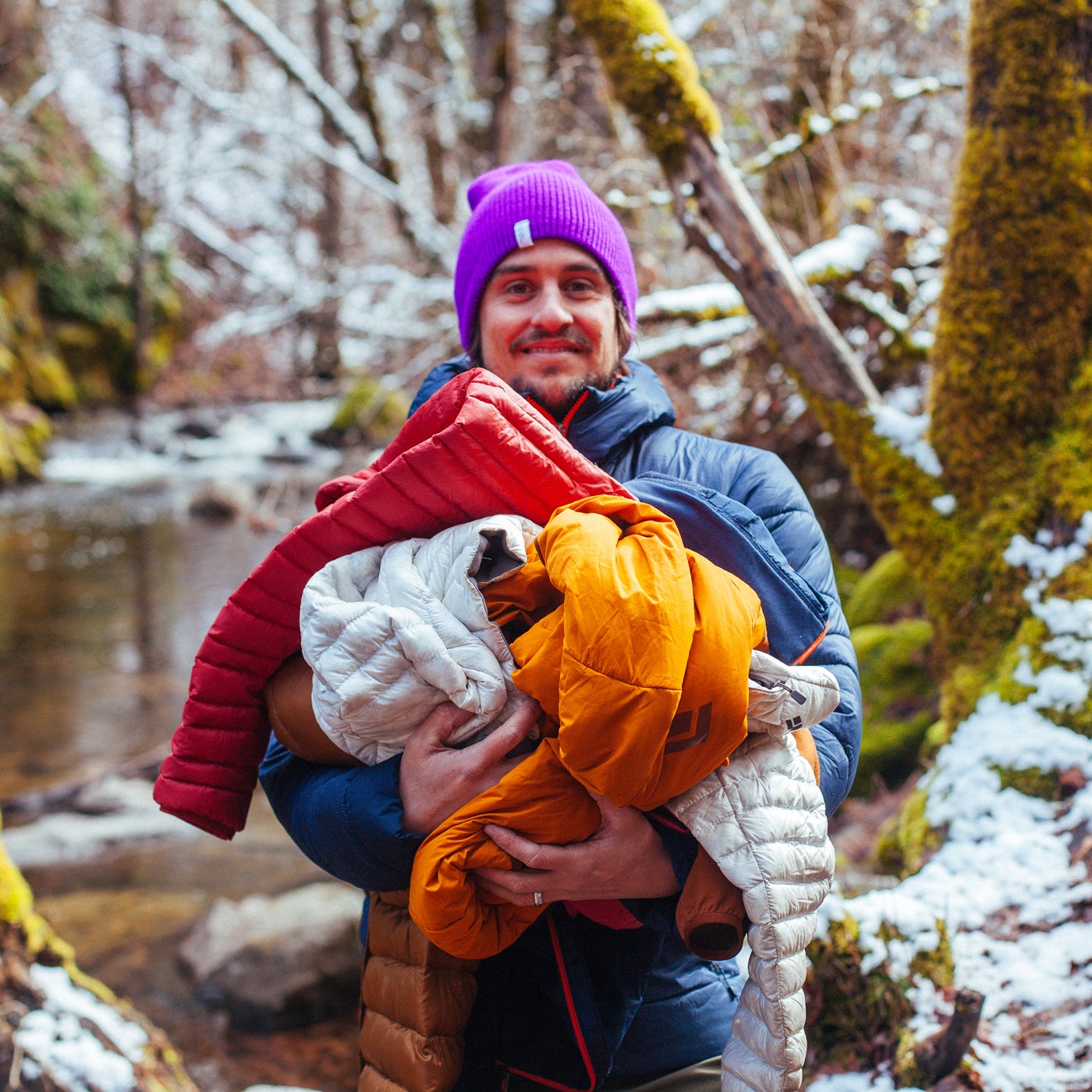 Heading out the door? Read this article on the new Outside+ app available now on iOS devices for members! Download the app.
The puffy jacket can be both a key part of a winter layering kit and your go-to for walking around town on cold nights. Like any truly capable piece of gear, it's deceptively complicated. Below are my tips on what to look for when buying your next puffy.
#1. Be Honest About Where You'll Wear It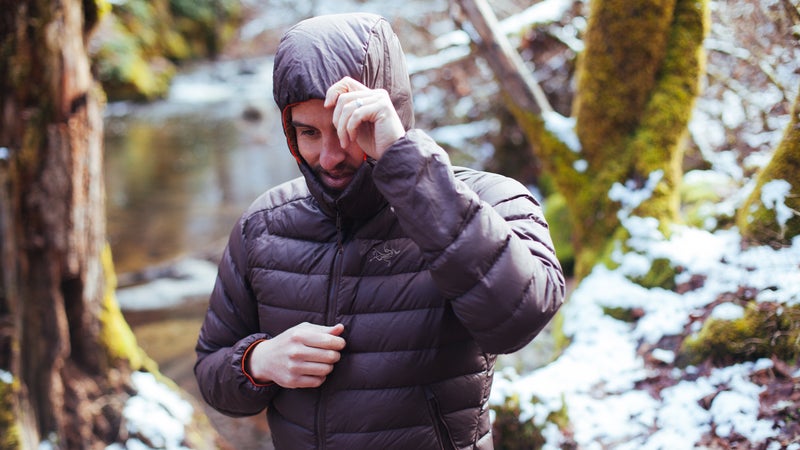 People use puffies for everything from staying warm while belaying a climber on multipitch routes in the Canadian Rockies to throwing over their jammies to take the trash out in the morning. Carefully consider what you'll use your jacket for, and be realistic. Even if you dream of one day taking expeditions in subzero temperatures, if you really just expect to wear your puffy around town for the next few years, don't spring for the ultra-high-end model. Your bank account will thank you for setting aside your ego.
#2. Pick Your Stuffing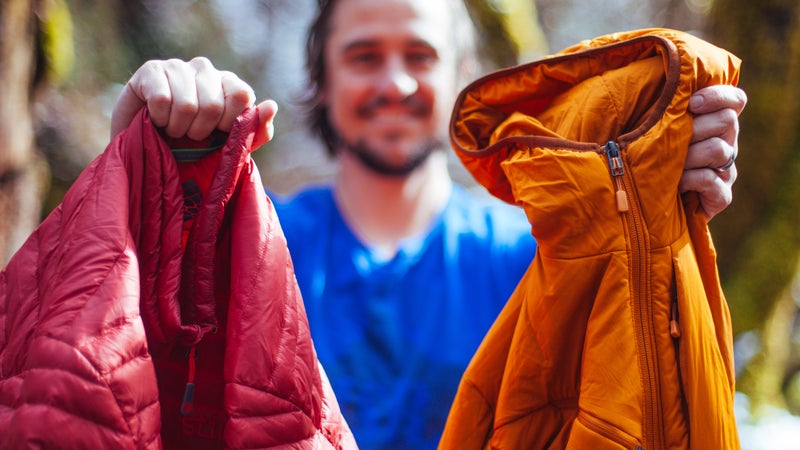 There are two main types of puffy insulation: down and synthetic (usually made from polyester fibers). I've written about both, but here are the abbreviated notes.
Down
Pros: The insulating clusters gathered from the coats of geese or ducks are incredibly light, have an unrivaled warmth-to-weight ratio, and are exceptionally packable.
Cons: Down is expensive. And if it gets wet, it clumps together (the spaces between the clusters' individual fibers are what trap heat), vastly diminishing its ability to insulate. Plus, the ducks or geese that the down came from could have potentially been treated poorly, though the outdoor industry is getting better about tracking its down sources and working with humane suppliers.
Synthetic
Pros: Synthetic fibers retain their structure when wet and can still insulate well if they get damp. Synthetic insulation also dries out more quickly and is less expensive.
Cons: Because the insulation is usually constructed in a single sheet, it's less packable. It's also heavier than down clusters.
Takeaway
If weight and packability are high on your list, you have the scratch, and you aren't planning to be in wet environments, opt for down. Just make sure the tag includes the Responsible Down Standard or Traceable Down Standard so you know the animal the insulation came from was treated well. If you're looking to save money or are regularly getting out in heavy rain or snow, synthetic will treat you better. Though if it's within your budget, don't give up on down if precipitation is in your future: Some jackets come with hydrophobic down that resists wetting out.
#3. Check the Loft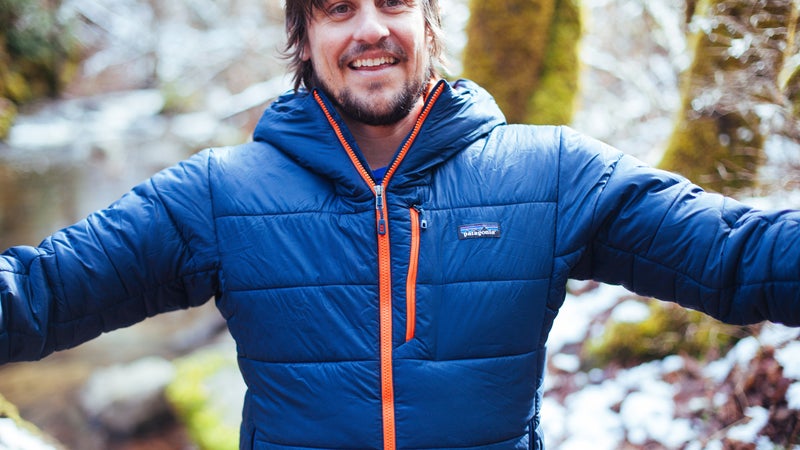 At the end of the day, the loft—the amount of heat-trapping air a jacket creates between your body and the elements—is going to make the biggest difference in the warmth of your puffy. A jacket with three inches of loft created from the cheapest synthetic stuffing in the world will keep you toastier than a quarter-inch of the most expensive 900-fill down money can buy. As mentioned above, good down is lighter and more packable than a synthetic. My current favorite high-loft jacket is Patagonia's synthetic Hyper Puff Hoodie ($179) . While it's more than twice the weight of my favorite lightweight down jacket (the Mountain Hardwear Ghost Whisperer; $227), it's the one I'll always grab before heading out into single-digit or colder temperatures.
If you're buying a down jacket, it will have a fill power rating between 450 and 900. This number tells you how many cubic inches an ounce of that specific down will take up. A higher rating generally means a relatively higher-quality down. But the fill power is not a measurement of overall loft, just how efficiently the down in the jacket puffs up. To see how lofted a down jacket will be, look at the fill weight.
Synthetic loft is measured in straightforward grams. It usually ranges from 50 to 200 grams, with 200 being a big winter parka and 50 being something light enough wear on a spring run.
#4. Mind the Face Fabric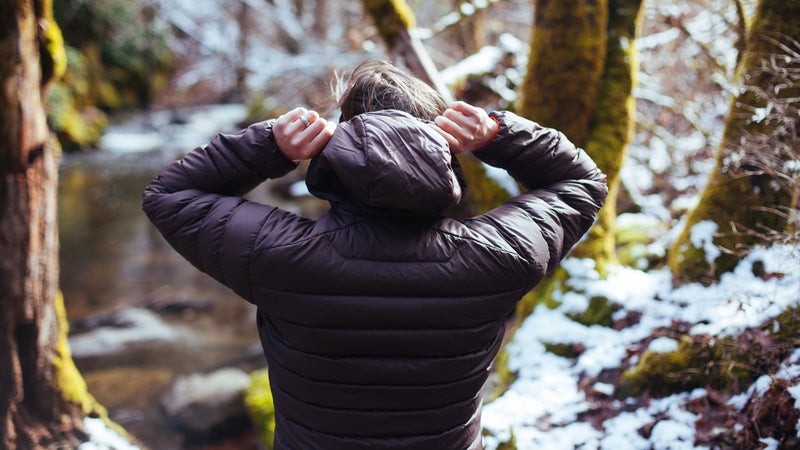 On most puffies, the face fabric is some form of lightweight nylon that is quite breathable. This is good, because you want the jacket to vent moisture and sweat, lest it get trapped and soak the down. But pay attention to the denier—the measurement of a fabric's thickness—usually found on the spec sheet or tag with a capital D. A puffy's face-fabric denier will typically range between single digits (an ultralight down jacket for fast-and-light peak bagging) and 80 (something with a waterproof exterior). For reference, ballistic nylons that you'd expect on hardy backpacks or duffels are measured in the high hundreds to 1,000 range. One way designers drop weight on insulated jackets is to build them from gossamer, almost see-through face fabrics. My seven-denier Mountain Hardwear Ghost Whisperer ($227) is warm as hell and weighs less than eight ounces. It's my absolute favorite piece for ski mountaineering and backpacking trips, but I fear that it will shred to bits if I get too close to a tree, rocks, or anything, really. Something sturdier, like Patagonia's Tough Puff ($299) is worth the extra ounces if you'll be rubbing up on granite.
Some puffies come with the waterproof membrane built in. While that may keep the down dry from the outside, it can impede venting from the inside. I prefer to layer a lightweight waterproof shell over a puffy so I can throw it on to keep rain and wet snow off and take it off to let the puffy breathe when there's no precipitation. If you're really amped on getting a single jacket to repel water and keep you warm, I suggest looking for one with ample venting, like Helly Hansen's Alpha 3.0 ($450), which uses zips and a porous interior to dump heat and moisture.
#5. Sweat the Details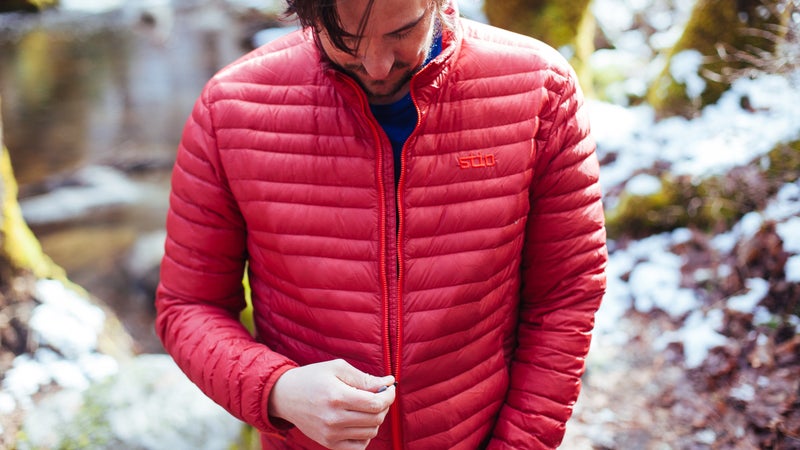 Stitching and Zippers
Always take a close look at the stitching and zippers of a puffy before purchasing it. You don't have to be a trained designer to notice that a seam looks loose or a zipper appears flimsy and doesn't zip neatly. Steer clear of puffies that exhibit this poor craftsmanship, even if the price is a bargain. They'll fail quickly enough that you'll have to buy two to three in the time it would take a quality jacket to give up the ghost.
Hood vs. No Hood
Hoods are a great way to keep your head and neck extra warm. But if you're planning on layering a shell over your puffy, I suggest going without one. Not many puffy hoods play nicely under hooded rain jackets. They also usually add about $50 to the price.
Versatility
One excellent way to save money is to get a jacket that works on hardcore excursions and in more casual settings. I tend to choose muted colors. A matte-black puffy can be worn over my nicest dress shirt yet won't look out of place or under a shell on a backcountry trip.
Also, I find that a lower-fill (about 50 to 75 grams) synthetic jacket can be extremely versatile when paired with a shell. On its own, it breathes well and moves moisture, so it won't soak through even on a hard ski tour. When temps drop and I throw a shell over it, the added layer helps trap heat and makes the whole system feel like a warm winter coat.
Lead Photo: Sarah Jackson