Gear Guy
Which hat and gloves will serve me well in the West Virginia mountains?
I'm searching for gloves and a hat for general use in the West Virginia mountains. I need a pair of durable, thin, wind- and water-resistant gloves with excellent grip. I would also like to have something to layer over them that would work well for serious snow. In the hat, I want the warmest hat in existence that can be easily rolled and placed in the pocket of whatever jacket I'm wearing. What'cha got for me? Carl Morgantown, West Virginia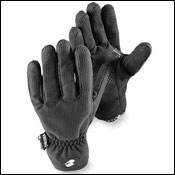 Heading out the door? Read this article on the new Outside+ app available now on iOS devices for members! Download the app.
Well, at least you know exactly what you're looking for. Finding it is another matter, but I'll have a go.
Manzella Silkweight Windstopper Glove

Manzella Silkweight Windstopper Glove
For the gloves, the thing that leaps to mind instantly is the Manzella Silkweight Windstopper Glove ($30; manzella.com). Made from Gore Windstopper, these are a very thin, lightweight glove that are windproof, reasonably moisture-proof (the palms and finger fronts have a waterproof coating), and grippy. I use mine extensively for winter hiking and bicycling. You can greatly extend their warmth range by adding some glove liners, such as the Manzella Power Dry liners ($17) or any synthetic or silk liner. Outdoor Research's Airfoil gloves ($40; outdoorresearch.com) also use Gore Windstopper in a glove with a little heavier palm coating and an elastic wrist. Nice gloves. Again, a liner would help you keep warm down into single digits, depending on the activity. And they'll hold up to a few handfuls of snow (or more) before some moisture gets in.
As for a hat, while I haven't worn The North Face High Point ($38; thenorthface.com) or Mountain Hardwear Dome Perignon ($29; mountainhardwear.com), I have worn similar hats and can tell you that both would be very warm. They're made from 200-weight fleece with a Windstopper liner, so are both windproof and insulating. I prefer the simpler design of the Dome Perignon. I'm not a fan of the Inca-style design of the High Point. This is an irrational thing, having to do with some complete clowns who once set up camp ten feet away from our own camp prior to a climb of Dome Peak in the North Cascades. They then proceeded to don their Inca-style hats and read Rod McKuen poems to each other. I'm not kidding. And I'm obviously not over it.
The Gear Guy reports from 2007 Winter Outdoor Retailer, the bi-annual gearapalooza in Salt Lake City. Check out his top picks for gear to watch in 2007.
Trending on Outside Online