Remembering Gert Boyle, the Legend Behind Columbia
She escaped the Nazis, stuck it to the men, turned the outdoor industry on its head, and made us laugh. All while seeking perfection.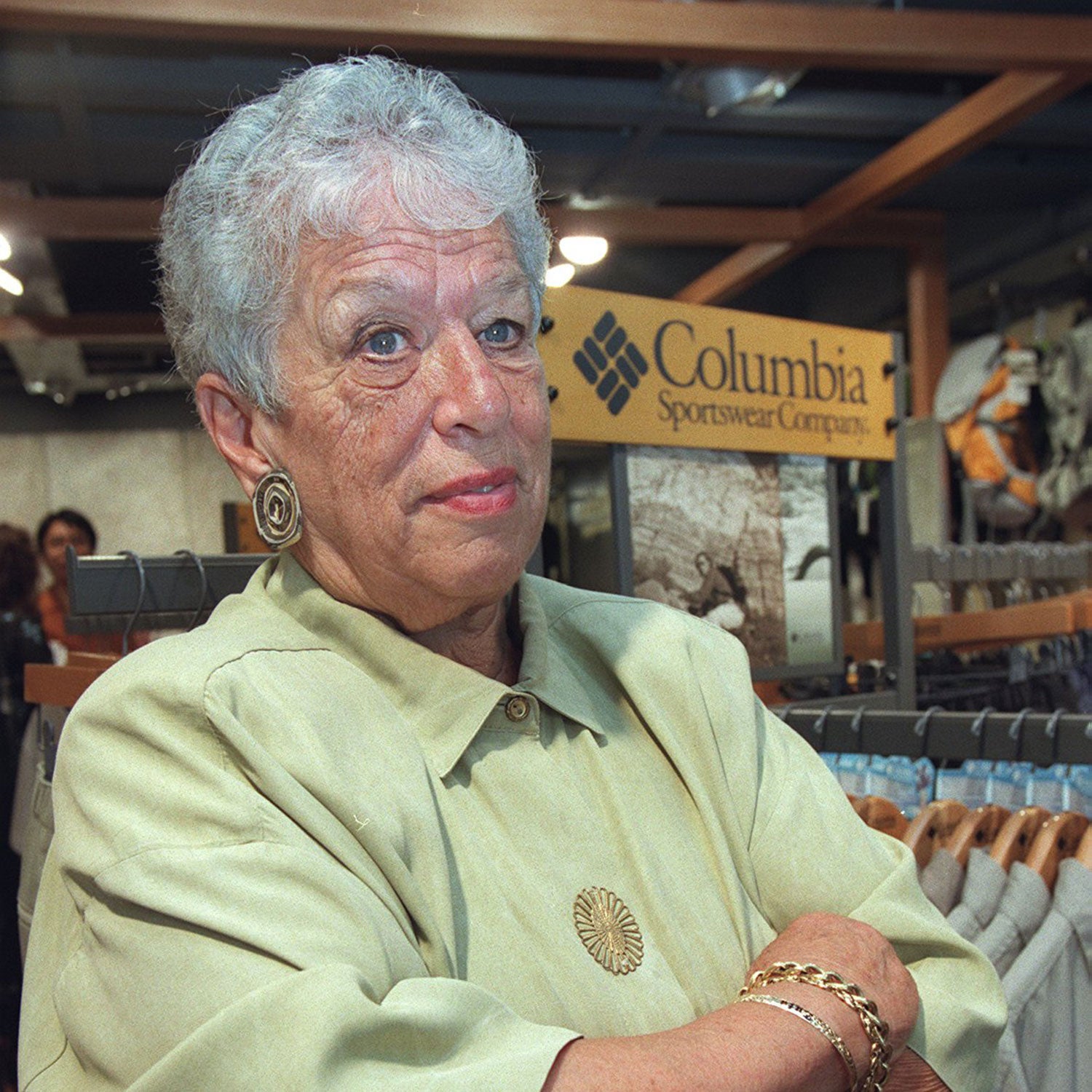 Heading out the door? Read this article on the new Outside+ app available now on iOS devices for members! Download the app.
Talk to anyone who interacted with Gert Boyle—who passed away on November 3, at the age of 95—and they will give you a familiar line: she was one tough mother to please. And that observation would have amused the outdoor industry pioneer who was so famous for her one-liners. Wander around Columbia Sportswear's Portland, Oregon, headquarters and you will find what her son Tim Boyle calls "Gert-isms" all over the building. But there is one snippet of Gert's zen wit that best explains how she grew an unassuming hat company into a global sportswear giant: "It's perfect. Now make it better." 
Gert Boyle was born Gerturde Lamfrom to a Jewish family in Augsburg, Germany, in 1924. Her father owned that country's largest shirt factory, but in 1937 the Nazis seized the business and the family fled to the United States. The following year, her father bought the Rosenfeld Hat Company, in Portland, which he renamed the Columbia Hat Company. Gert's husband, Neal Boyle, took over in 1964 when Paul, Gert's father, passed away and renamed it Columbia Sportswear, moving beyond hats into outdoor apparel and finding success with a fishing vest that Gert designed.
Neal died suddenly of a heart attack in 1970, at age 47, and Gert found herself running Columbia Sportswear. She was full of passion and confidence, but was untrained in basics such as how to manage inventory or undertake daily meetings with employees. She called on her son Tim, then a senior in college, to help. But without business assistance or capital, the pair struggled and the company's annual sales dropped from a modest $800,000 down to $600,000 in 1971. The banks told them it was time to close up shop and sell. 
Soon after, they found an interested buyer, but after reviewing Columbia's assets and talking down to Gert in the process, he offered her just $1,400 for the company. Gert cussed him out and told him, "For $1,400, I would just as soon run this business into the ground myself." Then she slammed the door in his face. 
Gert and Tim went on to build one of the most successful businesses in North America. For 2019, Columbia Sportswear predicts net sales of over $3 billion. The hard-nosed mother of three founded one of the cornerstones of what has become an $887 billion industry in the United States. Alongside male rock climbers and adventurers like Yvon Chouinard, Royal Robbins, and Doug Tompkins, she showed that women could be leaders in the outdoor industry.
"She was a powerful force," Tim says. "She inspired and frankly gave confidence to so many women. She helped them realize they could be a positive force in life and not hold back."
Ma Boyle, as she was often known, marketed gear to everyday people, not just elite athletes, while still insisting her products could hold up to the worst conditions. In 1975, Columbia was the first outdoor brand to use Gore-Tex fabric. As the company grew, it focused on creating its own fabrics, including its Omni Heat reflective fabric and fully sustainable OutDry Extreme Eco products. These innovations always came with a dose of Gert's perfection mantra—and humor.  
"She and Tim did something no one else was even trying," says Jim Thomsen, co-founder of outdoor brand Wilderness Experience. "All the other real outdoor companies, including mine, looked at ourselves as so cool, making products for the elite. And we sold them only to the coolest stores. Then along came Gert and Tim and they made really good products, but they did something no of the rest of us would ever think of doing… they sold products to sporting goods stores, those non-cool places that sold to people who didn't even know how to climb. And they started selling a lot."
She inspired and frankly gave confidence to so many women. She helped them realize they could be a positive force in life and not hold back.
Gert's dedication to quality and her sense of humor spoke to consumers and helped propel the company's wide reach. Columbia's Tough Mother ad campaign, which began in 1984, featured Gert running extreme gear tests on Tim. She would run him over with a Zamboni, cycle him through a car wash, pull him up a cliff. Those spots made Gert an American cultural icon beyond the outdoor industry. A 1999 ad featured Gert wearing a Columbia jacket sitting in a deck chair in the middle of a snowy landscape with a cup of coffee, giving the camera her trademark "Impress Me" glare. The text read: "She'd move to Florida but the weather sucks there." Gert would later comment on the ad: "I got quite a few letters from people who didn't like a certain word in this ad. In case you are wondering, I don't mean 'Florida.'" 
Her reputation grew even more in 2010 when a robber who tied her up at gunpoint and she outwitted him by setting off a silent police alarm. When help arrived, she criticized the cop's choice for wearing a North Face jacket. 
Along with the wry laughs, Gert never forgot her immigrant roots or the importance of the outdoors to all Americans, and the company has been outspoken on those issues. When the President shut down the government and public lands in January, Columbia bought a full-page ad in the Washington Post that read: "Make America's parks open again." 
"Gert's story has been a real immigrant story," Tim says. "She came here, welcomed into the United States at a time when there was strife around the world… hopefully we can learn from [her] how much impact immigrants can have today. I'm just amazed by how many people she impacted."
Gert treated every Columbia employee like family. And that idea that she was a tough mother to all rang true in her dedication to the job. Gert made it in to the office through her 95th birthday on March 6, and according to the company, she was still having business discussions last week.
"When people ask me what my plans are for the years ahead, I often answer by telling them I want to be thin, blonde, and sexy. Don't hold your breath," Gert Boyle wrote in her 2005 memoir One Tough Mother. "What I do look forward to is coming to work and doing what I can to help Columbia remain at the top of our field in terms of quality and creativity. And when my time comes, I might just keep coming to work."
Lead Photo: Edward Wong/South China Morning