Outdoor Retailer and Snow Show Liveblog: Day 2
First looks, analysis, and interviews, all delivered from our team at Winter OR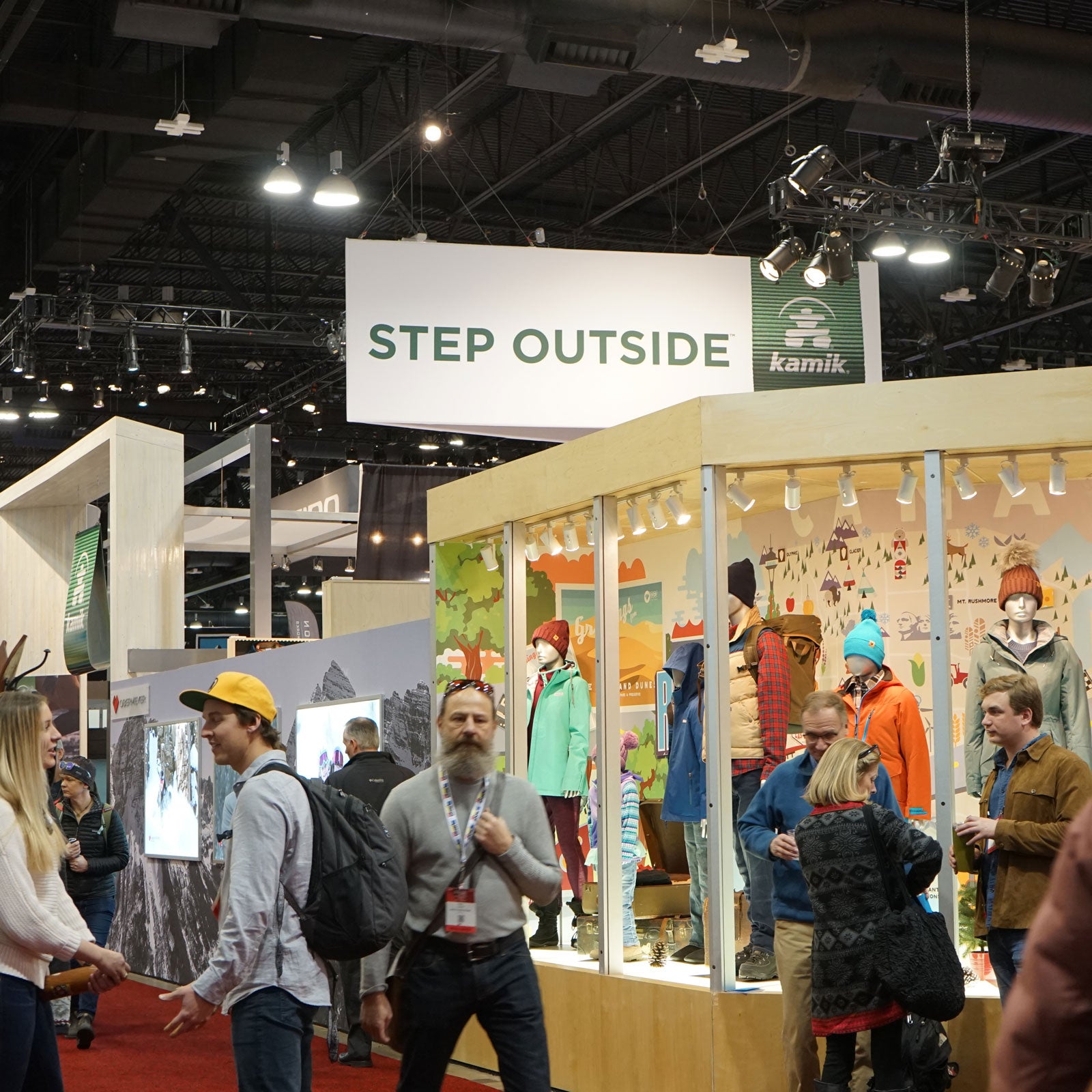 Ariella Gintzler(Photo)
Heading out the door? Read this article on the new Outside+ app available now on iOS devices for members! Download the app.
The Outside gear editors are on the floor at the 2019 Outdoor Retailer and Snow Show this week in Denver. Follow along to see our coverage of the greatest gear coming out next winter, hot trends in the snowsports industry, and other happenings at the Colorado Convention Center. We'll be live-blogging throughout the event, with the most recent posts appearing at the top.
Otter + Pop Is a Delight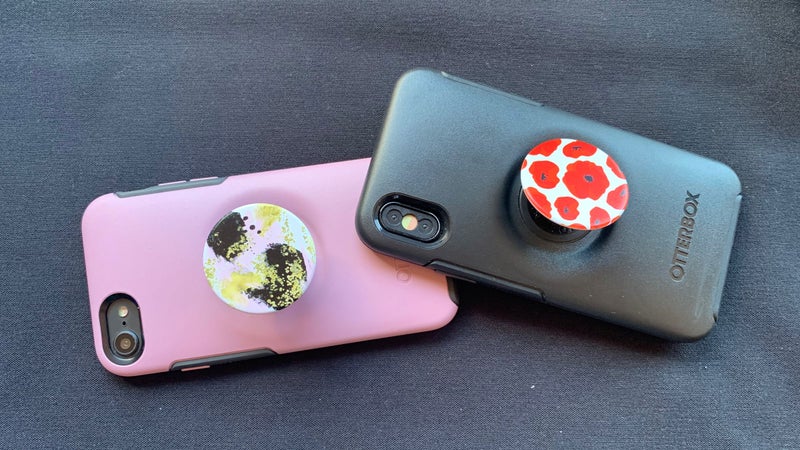 PopSockets are everywhere these days because they're nifty—the device adheres with a sticker to the back of your phone and deploys to provide a sturdy one-handed grip or angled prop. Since Otterbox is a leader in sturdy smartphone cases, the Otter + Pop Symmetry feels like a brand collaboration made in heaven. Otterbox took its svelte, pocket-friendly Symmetry case and added a recessed clip for attaching—and detaching—a PopSocket. Each Otter + Pop Symmetry ($50) includes one PopSocket, which are also sold separately in a range of colors to mix and match. In the grand scheme of gear technology, this is a minor innovation. But anyone who has pulled out their phone on a chairlift or boat can appreciate the added security.
—Ariella Gintzler, assistant editor
Sanuk's Chiba Journey LX Is a Step Up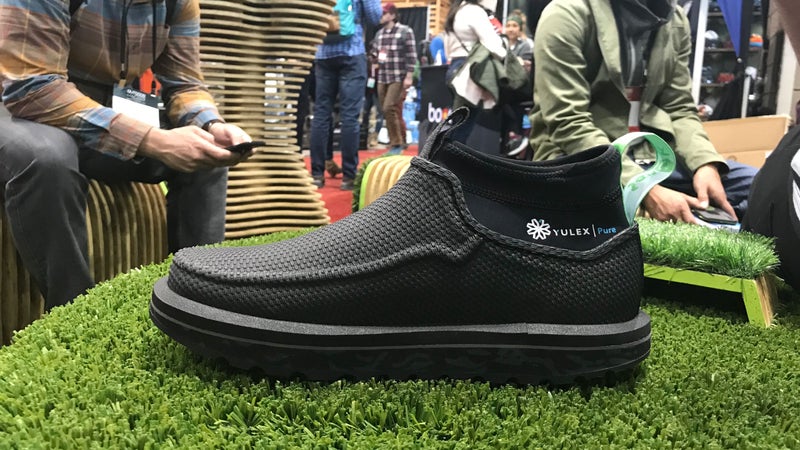 With their spacious cotton uppers and rockered soles, Sanuks are hands-down the most comfortable shoes I've ever worn. But because they're lightweight slip-ons, they're mostly relegated to boardwalks, beaches, and casual settings. The Chiba Journey aims to change that. It pairs the brand's venerated EVA midsole with a rubber outsole with aggressive tread. On top of that, there's a durable rubber upper and a neoprene gaiter made from Yulex, the plant-based neoprene alternative that Patagonia uses in its wetsuits. We can't wait to go for a stroll.
—Ben Fox, affiliate reviews manager
Hit the Trail with Ridge Merino's Crowley Tights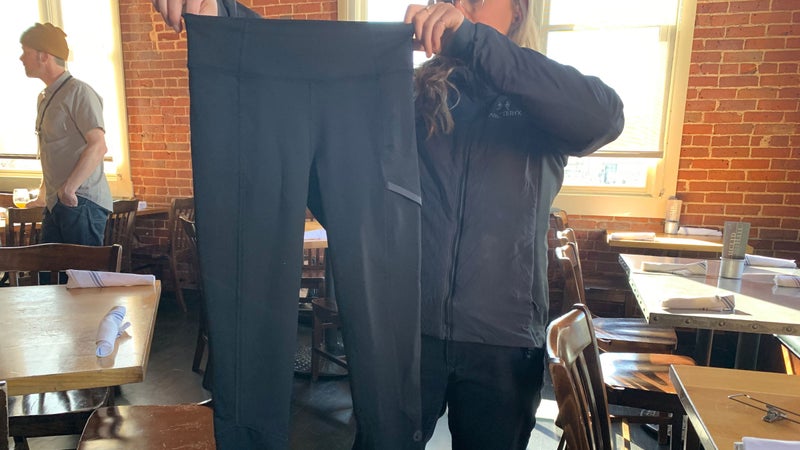 We love merino wool for its comfort, performance, and stink-fighting capabilities. Ridge Merino makes some of our favorite base layers—the Jovi tank is editor Emily Reed's favorite summer top. So we're excited to learn that the company is launching running tights in September. The Crowleys are made with a polyester-merino blend, and according to Ridge Merino they'll be first-ever running-compression wool tights on the market. We're especially impressed by the durable-feeling fabric, which seems like it'll hold up well to branches and rocks, and the side thigh pocket, which is big enough to handle an ultra's worth of trail trash.
—A.G.
Scarpa Has Created the Lightest Climbing Shoe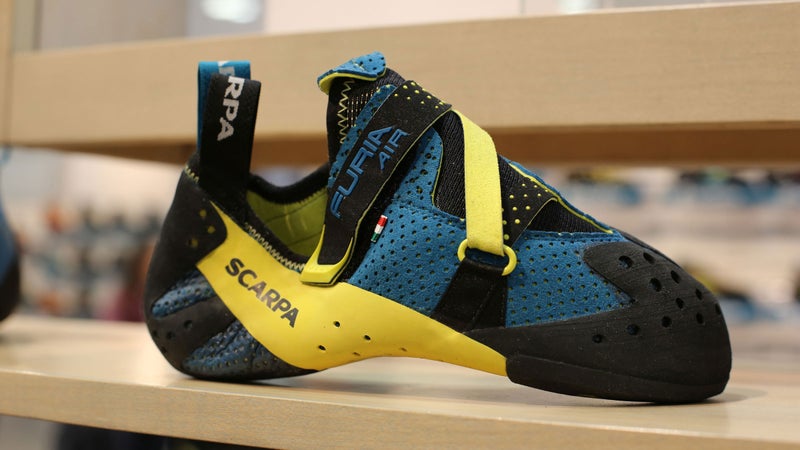 We've been religiously climbing in the Furia S ever since we could get our hands on it—it's soft, responsive, and one of the most comfortable shoes we've ever climbed in.
That's why we're stoked on the new Furia Air ($200), available this fall. It's light as air (just 130 grams), and the interior under the big toe is upgraded with Alcantara, a synthetic material used in the seats of Formula One cars and space capsules that offers the benefits of leather but with less weight, more durability, and a higher-friction surface.
Needless to say, we're incredibly excited to get our hands on this shoe for a full test. Until then, we'll gaze lovingly at photos.
—Emily Reed, assistant editor
Duckworth's Polaris Crew Is a Montana Merino Masterpiece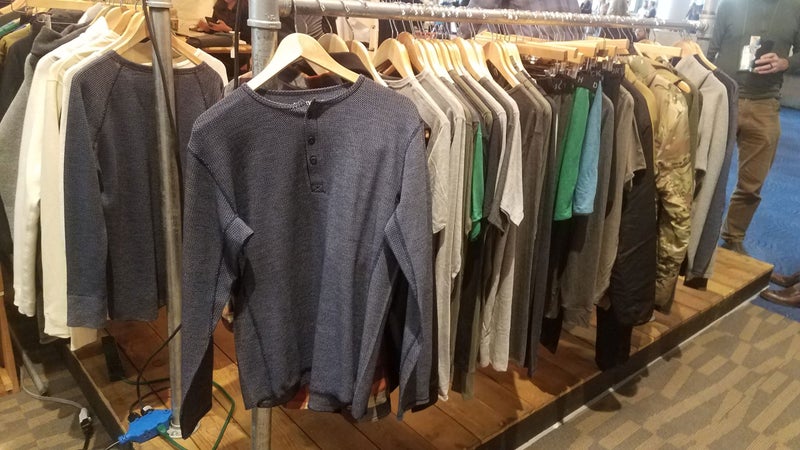 Duckworth, the Montana merino-wool brand, makes some of our favorite base layers. And the company sources its wool from Montana-bred sheep only, which produce different fleece than those bred in New Zealand and Australia. It's slightly kinkier and has more of a curl, giving it a natural loft without compromising its softness and wicking power. Duckworth took advantage of that in its new Polaris crew. The waffle fabric is supremely light and breathable, making it great for high-exertion activities in cold weather. And it looks good to boot, perfect for wearing on its own on warm days. The Polaris is available next fall, and will also come in a henley version.
—Will Egensteiner, senior gear editor
The S-Lab Ultra Lightens Up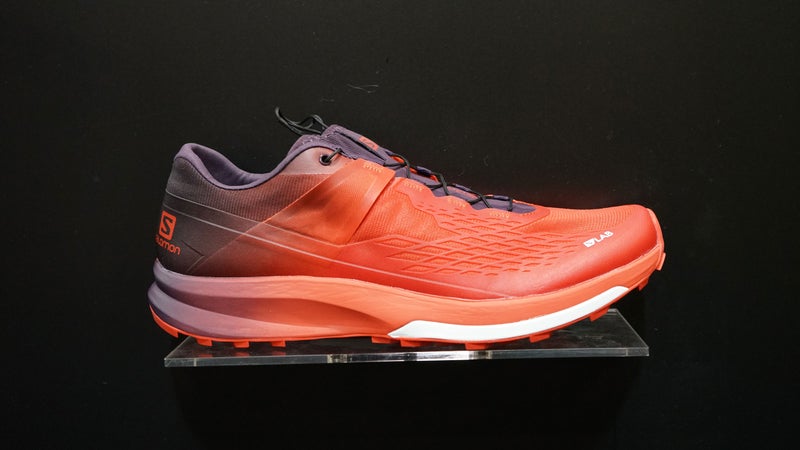 We love Salomon's S-Lab Ultra, the highly cushioned trail shoe designed in collaboration with Ultra Trail du Mont Blanc champion Francois D'haene: it's outfitted with a polyurethane insert in the midsole to help prevent the foam from packing down on high-mileage days. The latest version keeps that midsole plus the same stack height and outsole, but takes the upper down a weight class. Most notably, it uses a lighter mesh and has only one set of overlay wings to help lock in the foot. This shaves a few grams without sacrificing the shoe's foot-hugging chops.
—A.G.
The Igloo Recool Is Biodegradable and Costs $10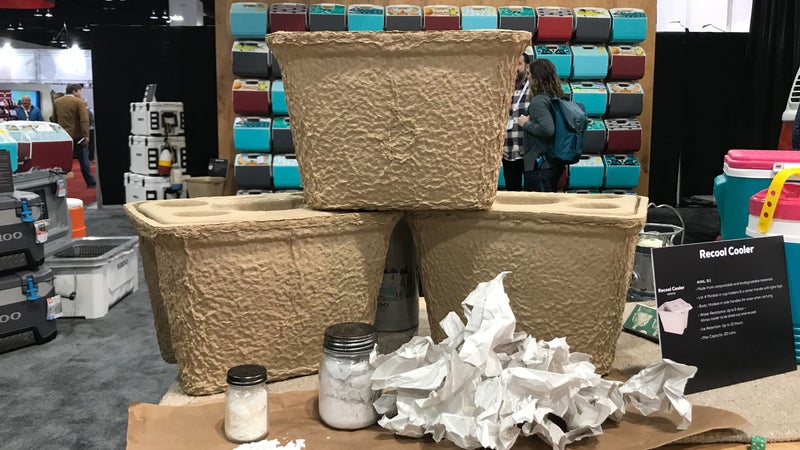 Watch out, styrofoam gas-station coolers. There's a new kid in town, and she's a friend to Mother Earth. Igloo is targeting the disposables market by releasing a completely biodegradable cooler made with tree pulp. The Recool keeps ice frozen for up to 12 hours and is waterproof for up to five days. (After that, you can dry it out and reuse it.) Plus its durability is superior to a traditional styrofoam cooler—as demonstrated by the Igloo team who haphazardly threw the unit to the ground with a significant amount of force.
The Recool will retail for a measly $10 and is available starting March 1. The stoke is high for this product, and it's already won several industry innovation awards.
—E.R.
Salomon Overhauls Its QST Ski Line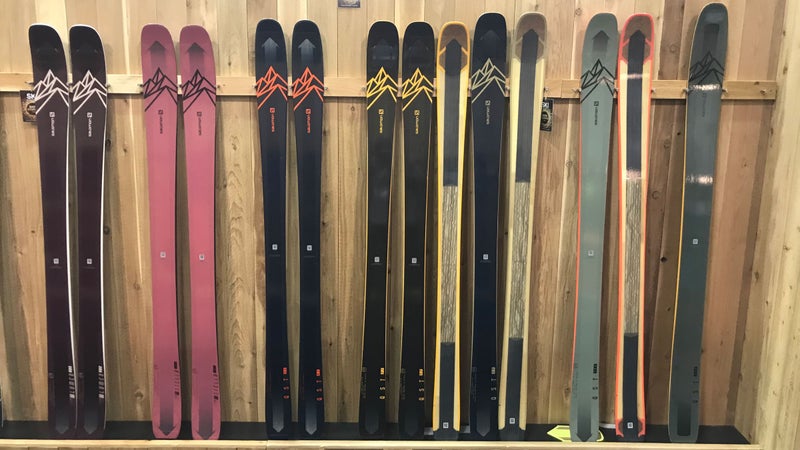 For fall 2019, Salomon is completely overhauling its entire QST suite with new materials and new shapes. This makes me a little nervous, as Outside has praised a number of QST models over the years, and I'm personally a huge fan of the QST 106— it's my go-to touring ski. But with the goal of making the QST line even more versatile, Salomon is focusing on further dampening the skis and eliminating chatter at high speeds and on firm terrain. One of the unique ways it's achieving this is by replacing the Koryod tips and tails with lightweight, vibration-absorbing cork. The new shape, which is wider in the tip and tail, provides smoother turn initiation, better float in deep snow, and more confidence at speed on steep terrain.
—B.F.
Stanley Remasters Its Master Series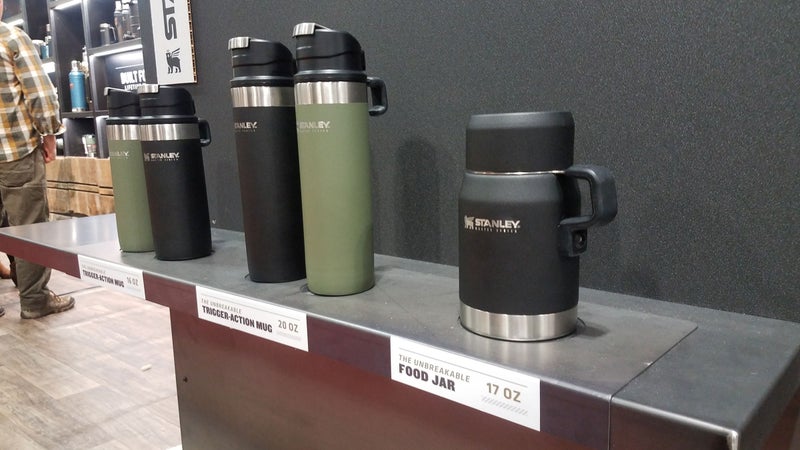 I recently discovered the joy of bringing soup with me when I head out for a day in the snow. On a trip to Bozeman, Montana, earlier this month, I threw thermoses full of chili and minestrone into my pack each morning before heading out to Hyalite Canyon, and sipping from them provided a much needed shot of warmth between the frigid action.
And Stanley's new Food Jar (part of its revamped Master Series, which we got a look at this morning) is what I'll be using to carry my soup from now on. It has two added layers of insulation, with copper and tin between the double-wall stainless steel to trap heat, so the contents can hold their temperature for up to 40 hours. The wide mouth is easy to sip from, and the burly handle will play nice with gloves. The Food Jar holds 17 ounces and goes on sale this fall.
—W.E.
Dovetail Workwear's Cosy Fabric Is Everything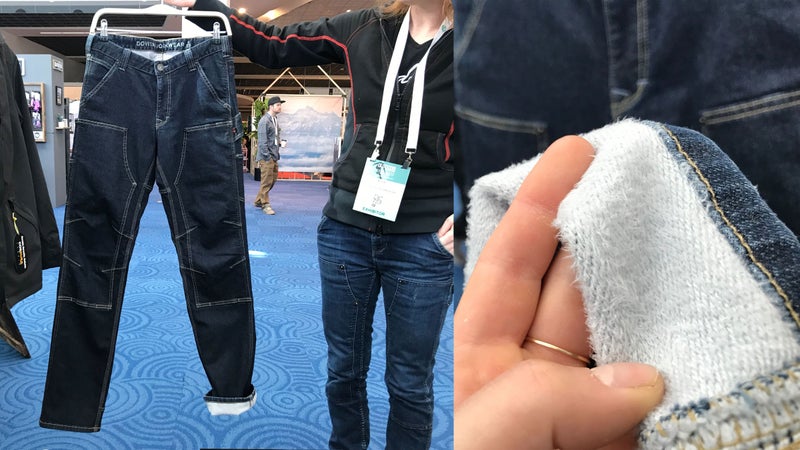 Workwear for women, by women—Dovetail has the eye of a gender that's worn ill-fitting work pants for too long. Started by three women in July 2018, two of whom owned a landscaping business together in Portland, Oregon, Dovetail just debuted its new Cosy fleeced denim in two of its pants styles: the Britt Utility straight leg ($110) and Freshley overalls ($140). Where most insulated pants use two layers of fabric, Dovetail's Cosy denim is a single layer that's fleeced on one side. The end product is insulated work pants that maintain an incredible amount of mobility, which is great for getting after it. It will be available for the coming fall-winter season, and we're excited to get into a pair soon.
—E.R.
Our Favorite New Camp Blanket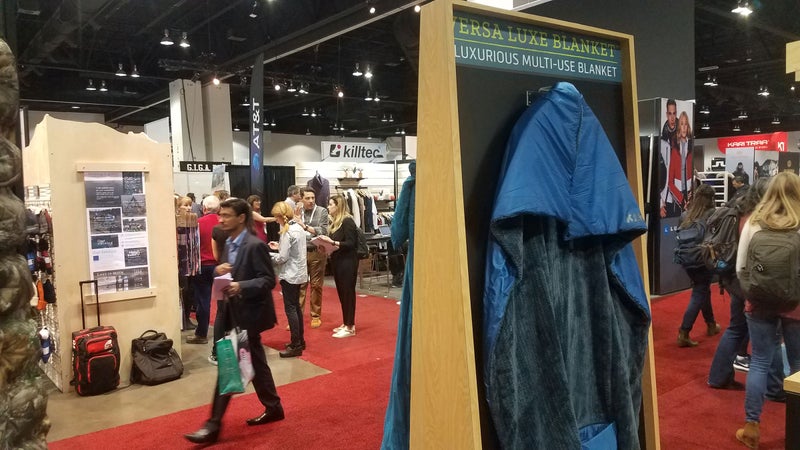 Klymit has long been known for its sleeping pads, but what stole the show for us when we stopped by its booth this morning was the updated Versa blanket. The new Versa Luxe ($120) has everything we love about the original—including insulated hand pockets and footbox, and the ability to morph into a sleeping bag via snaps and a cinch—but it also has a new super-soft fleece lining that gives the Versa a bit more insulating power and even more comfort. The best camp blanket just got better.
—W.E.
PrimaLoft Bio Insulation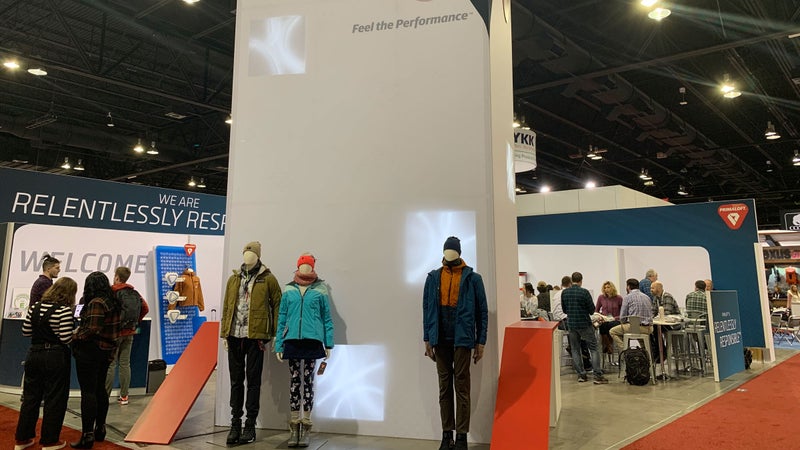 PrimaLoft made a splash in 2018 when it announced its new biodegradable insulation, which is designed to break down once it hits the landfill (or the ocean) without disintegrating prematurely in your closet—the first synthetic insulation of its kind. Now Primaloft has announced the first five companies that will use Bio: Helly Hansen, Houdini, L.L.Bean, Norrona, and Vaude. All of these brands will be releasing apparel that uses Primaloft Bio in fall 2020. Though we don't yet have specifics on the products, we're excited to see this new class of jacket fill hit stores.
—A.G.
The Icebreaker Hyperia Zoned Jacket May Be the Best New Skiing Midlayer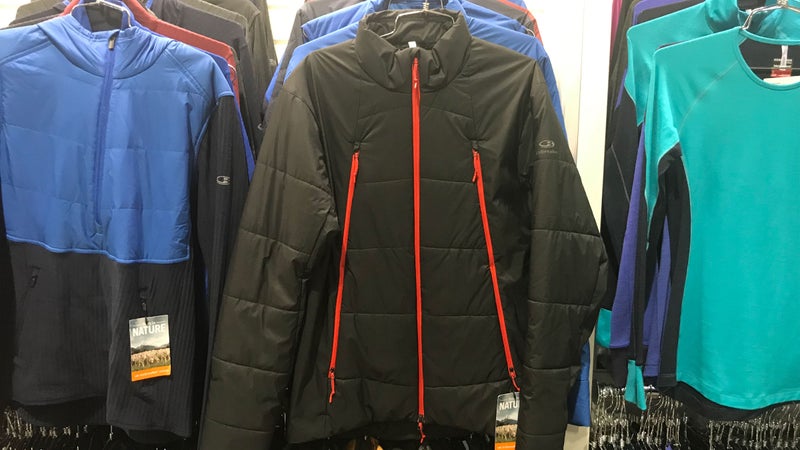 Ever since Patagonia launched its Nano Air in 2014, brands have put a huge emphasis on active insulation—layers that keep you warm but also allow heat to escape easily. A unique player in the game is Icebreaker, which forgoes traditional down or synthetic insulation for merino wool. The new Hyperia Zoned jacket uses 100-gram merino in the core for extra warmth and 70-gram under the arms for better breathability. Icebreaker also moved the pit zips from under the arms to the chest (the two large zippers pictured), which it claims dumps heat better because your arms are no longer blocking the vents. It seems like a great idea, and we can't wait to put it to the test on the skin track.
—B.F.
Crescent Moon Luna Snowshoes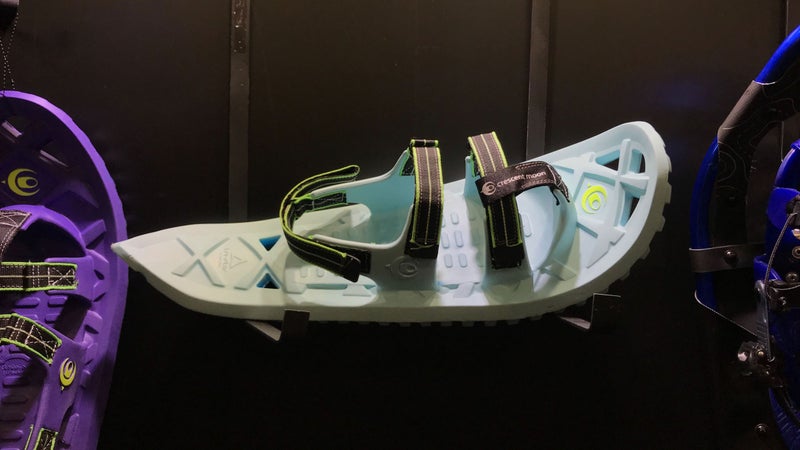 Available this coming fall, the Luna is a lighter and smaller model of the groundbreaking Eva we awarded Gear of the Show two years ago. Weighing in at just three pounds per pair, these snowshoes are designed to go faster and lighter and also fit smaller feet better. Made from single-density EVA foam (instead of the Eva's dual-density material), the Crescent Moon was able to shave weight while maintaining the iconic rocker shape. These puppies will retail for $130—a competitive price in the landscape of snowshoes.
—E.R.
Lead Photo: Ariella Gintzler
Trending on Outside Online