What the Heck Is a Gravel Running Shoe and Do I Need a Pair?
Reebok's Floatride Energy 4 Adventure delivers a road-shoe ride with just enough toughness for dirt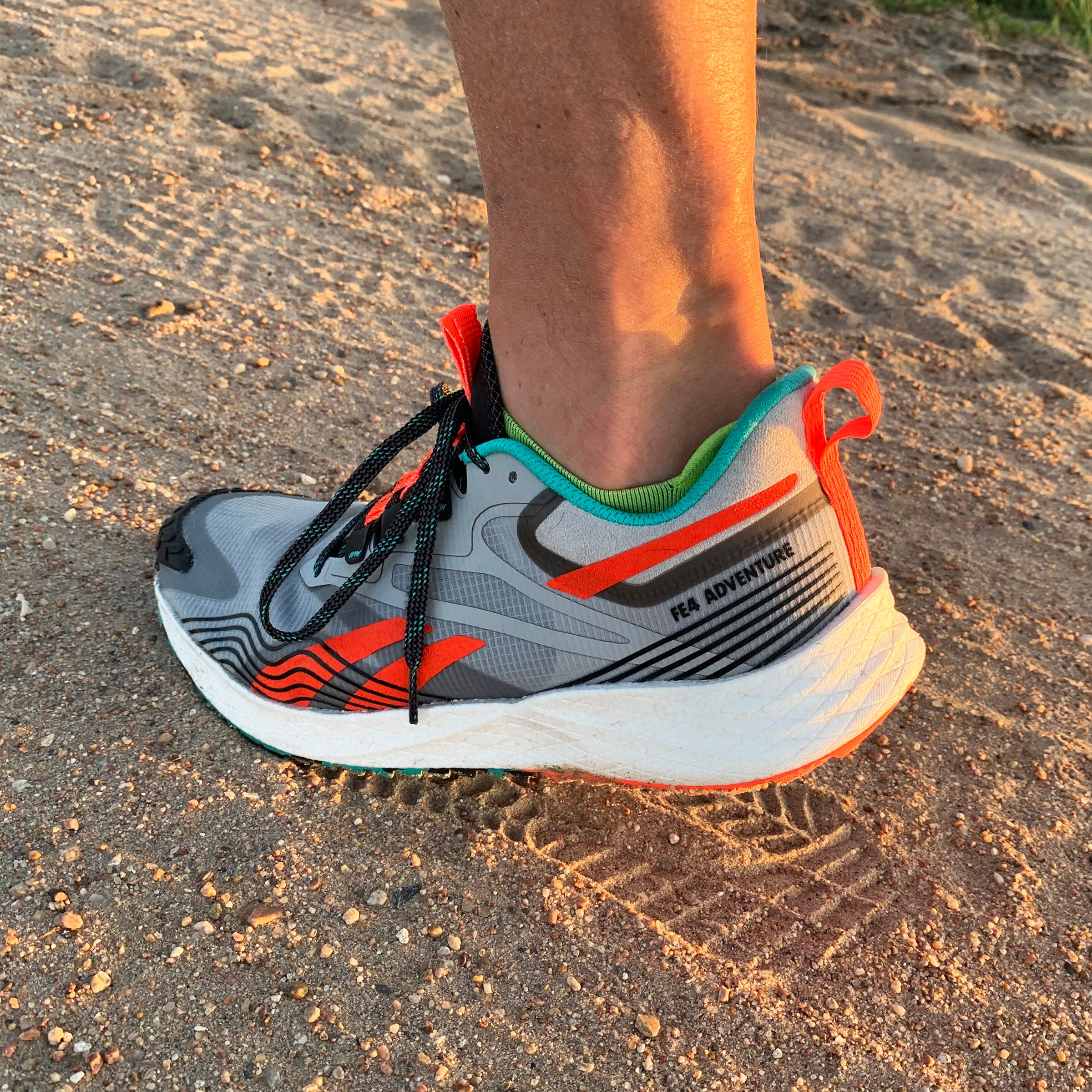 101 Degrees West
Heading out the door? Read this article on the new Outside+ app available now on iOS devices for members! Download the app.
Reebok Floatride Energy 4 Adventure Review
MSRP: $120
Weight: 8.1 ounces (women's) / 9.6 ounces (men's)
Stack Height: 26.5-millimeter heel / 17.5-millimeter forefoot / 9-millimeter drop
In the cycling world, no one would mistake a mountain bike for a road racer, but, to the untrained eye, it's hard to tell the difference between a road bike and a gravel bike. Which makes sense, given that gravel roads are still roads, and they share many characteristics with their paved counterparts, so bikes designed for them should too. Both dirt and paved roads are leveled, smoothed, and mostly absent large obstacles, holes or extreme turns or slopes requiring drastically different frames, handlebars, suspensions, and tires. What differs is the surface, mandating subtle modifications in tread, ride, geometries, and toughness. All of the above could also be said about gravel shoes, a new category that might be best represented by Reebok's new Floatride Energy 4 Adventure.
Up until recently, no one talked about gravel shoes. The closest were trail models whose ride was smooth enough on roads that runners would be happy wearing them from door to trail and back. But most of these cross-over models felt more comfortable scrambling up hills than on the smooth and level, like a mountain bike with slightly less knobby tires. This year, however, several brands are taking cues from the gravel biking boom by marketing shoes designed specifically for running on gravel roads and paths.
"The outdoor industry is growing massively," says Keith Stern, senior product manager at Reebok. "But most people aren't going for super-heavy trails. Most are doing light hiking, and a mix of road and light trail running." The FE4 Adventure was created for this customer, a shoe that can go off-road, but not very far off, and excels on any smooth surface, whether gravel, dirt, or pavement.
At the shoe's core is the same midsole as found in the Floatride Energy 4 road trainer: 26.5 millimeters in the heel and 17.5 millimeters in the forefoot of Reebok's Floatride Energy foam—a TPE-based blend with a soft-and-bouncy ride reminiscent of Boost midsoles, without the weight penalty. Around that midsole, Stern says, "We wanted to add only what you need for that light trail."
On the bottom, a nearly full-coverage, grippy-rubber outsole echoes gravel bike tire tread, with smaller, tightly-spaced lugs in the center for a smooth roll on firm sections, and larger—but still shallow—lugs on the perimeter for digging in when needed. On top, the upper is made of a flexible and airy, yet rugged, ripstop mesh made of 100 percent recycled plastic, with light printed lines reinforcing abrasion-prone areas, and a substantial bumper of sole rubber wrapped up and around the toe. Minimal structure and padding around the heel and collar keep the weight down and the fit close to the foot.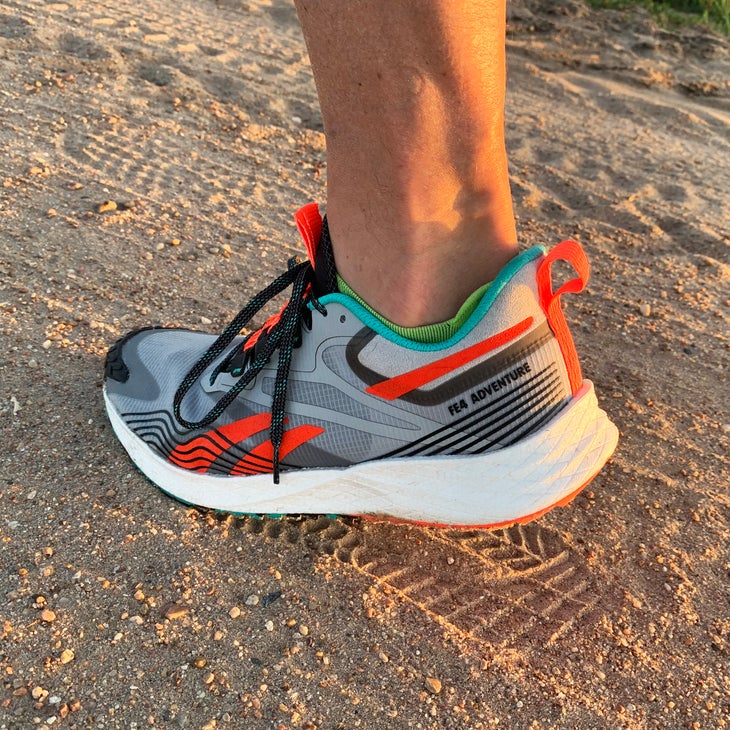 Since I live four miles from the nearest pavement on the dirt backroads of western Nebraska's high plains, I have the perfect venue for testing a shoe designed for gravel. I've worn the FE 4 Adventure every day for a week now, mostly on easy runs, with one a bit longer and a few that included up-tempo segments—like the morning I got chased by two badgers (you can't make this stuff up). I also took them into the Sandhills one day for a less-groomed surface underfoot, following pickup double-tracks between windmills.
Knowing my gravel roads aren't always perfectly smooth and stable, I was initially leery of how soft and unstructured the midsole was on the FE4 Adventure. But the softness turned out to add to the shoe's agility, as the combination of a relatively low stack height, deep compression, and bouncy firmness at the bottom of the cushioning delivered a sure-footed, stable ground feel. The softness of the foam also created smooth touchdowns on the beveled heel, and its flexibility in the forefoot—rare in the age of rockers—kept my feet connected and engaged through toe-off. The active ground feel was almost minimalist, but with a soft, contour-coddling landing.
The shoes felt entirely comfortable on hard-packed sections, and the tread had enough bite to dance over loose gravel and sandy spots without drama. When I headed for the hills, the flexible sole continued to handle banked landings and rough footing, but the upper's flexibility and roominess left me worried about sliding off. The hold, however, was perfectly adequate on the more groomed surfaces for which it was intended, and, in that context, its light weight, gentle wrap and exceptional breathability were heartily welcomed.
I was able to pick up the pace in the FE4 Adventure, but I wouldn't choose them for speed workouts or race day, and the forefoot started to feel a bit too close to the ground when I went past an hour in them. But I'd reach for them regularly for short to medium-distance runs on any surface where I'd ride a gravel bike.
Thus, they hit their mark, leaving only the question: who needs a gravel shoe? A road shoe can work on gravel, and might be all you need if you only occasional step off the pavement. But it wouldn't be as sure-footed off-road, or as durable, so if you spend much time on the dirt, the FE 4 Adventure could be worth a look. And at $120, they're a downright bargain, particularly for a shoe this versatile.
Check Out the FE4 Adventure If: You do most of your miles on gravel roads or smooth dirt trails and prefer the ride of a lightweight, low-profile, flexible road shoe.
---
Similar Models:
Altra Outroad ($140)
Weight: 8.8 ounces (women's) / 10.2 ounces (men's)
Stack Height: 27-millimeter heel / 27-millimeter forefoot / 0-millimeter drop
One step closer to a trail shoe, with a luggier outsole and slightly more protective and secure upper. Similar bouncy ground feel, with more foam under the forefoot.
---
On CloudVista ($140)
Weight: 8.4 ounces (women's) / 10.0 ounces (men's)
Stack Height: 30-millimeter heel / 23-millimeter forefoot / 7-millimeter drop
One step closer to a road shoe, with a responsive, flexible-plated, quick-rolling ride, and minimal lugs on the outsole. Similar light, flexible, breathable upper with minimal control.
---
INOV-8 Parkclaw G 280 ($180)
Weight: 9.8 ounces (unisex)
Stack Height: 29-millimeter heel / 21-millimeter forefoot / 8-millimeter drop
Mostly a trail shoe, with well-padded, snug-fitting upper and more aggressive lugs (although flat-faced and tightly-clustered enough to roll smoothly on the road). Similar flexible sole, with a somewhat firmer, responsive ride.
---
Hoka Kawana ($140)
Weight: 8.4 ounces (women's) / 10.0 ounces (men's)
Stack Height: 27-millimeter heel / 22-millimeter forefoot / 5-millimeter drop (women's)
30-millimeter heel / 25-millimeter forefoot / 5-millimeter drop (men's)
Mostly a road shoe with slightly reinforced outsole and upper. Similar soft-and-bouncy ride, with more foam underfoot. Narrower fit and less flexible forefoot roll.
Lead Photo: 101 Degrees West
Trending on Outside Online