How to Be Seen Better When Out for a Run: Brooks NightLife 2.0
Heading out the door? Read this article on the new Outside+ app available now on iOS devices for members! Download the app.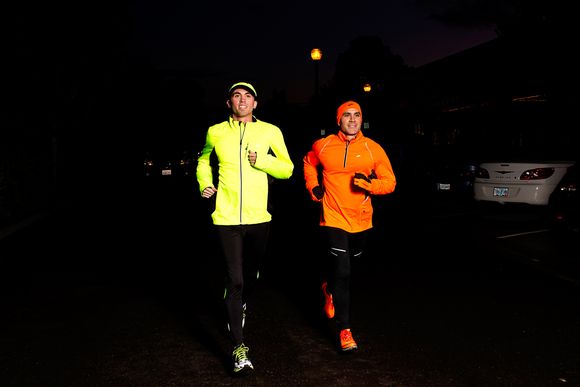 Fluorescent colors and reflective stripes certainly make you more visible to drivers when you're running at dusk or in the dark. But a new study by Brooks Running shows that low light perception is more scientific than just throwing some glare at oncoming traffic.
Brooks Running product designers went to the brain lab to understand how the human eye sees, and how the brain processes information in changing light. They found that a combination of brightness, contrast, and reflectivity not only help the brain of someone driving a car, for example, understand that it's looking at a human shape it should avoid, but respond at lightning speed.
According to Brooks, there are three common "phases" of lighting: daylight, dusk, and darkness.  Humans can't see in the dark, as we know. The rods and cones of the human eye enable vision, and as light fades they are chronic underperformers.
Brooks learned that bright colors give moving objects (runners, cyclists, pedestrians) high visibility in daylight and dusk, and that the visibility of those bright colors is multiplied when they're outlined in a dark contrasting color. They also learned that highlighting the edges of the body that are in motion (elbows, hips, chest, back, thighs, knees, ankles, hands and head) with reflectivity helps a possibly vision-compromised motorist recognize a runner, and steer away.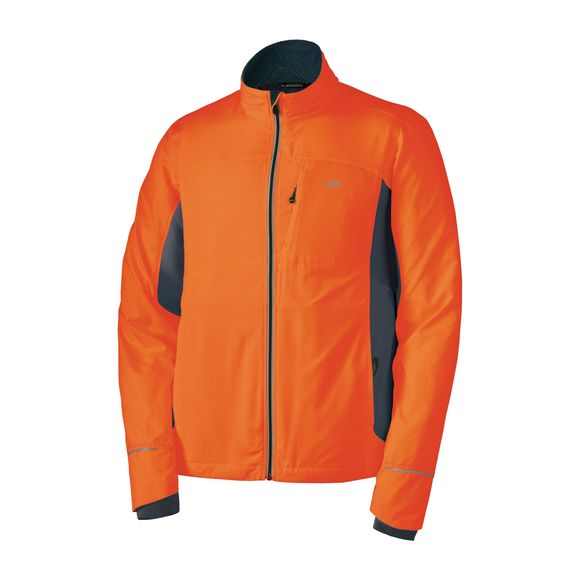 Brooks' NightLife Jacket II (Available August 2012, $115) has 360° reflectivity, back venting, thumbholes, and ergonomic design lines—and it's 100% wind- and water-resistant. Pull down flaps add reflectivity across the butt when you need it most, then tuck away.
Brooks' NightLife Essential Run Jacket II (Available July 2012, $85) is a lightweight wind shell with side stretch panels for best flex and fit, and a punch of contrast color on each sleeve. Brooksrunning.com.
–Berne Broudy
@berneb