The Performance Lab Studying How Women Sweat
Smartwool discovered that women run at much different temperatures than men. Now it's using that data to reengineer its women's socks and base layers.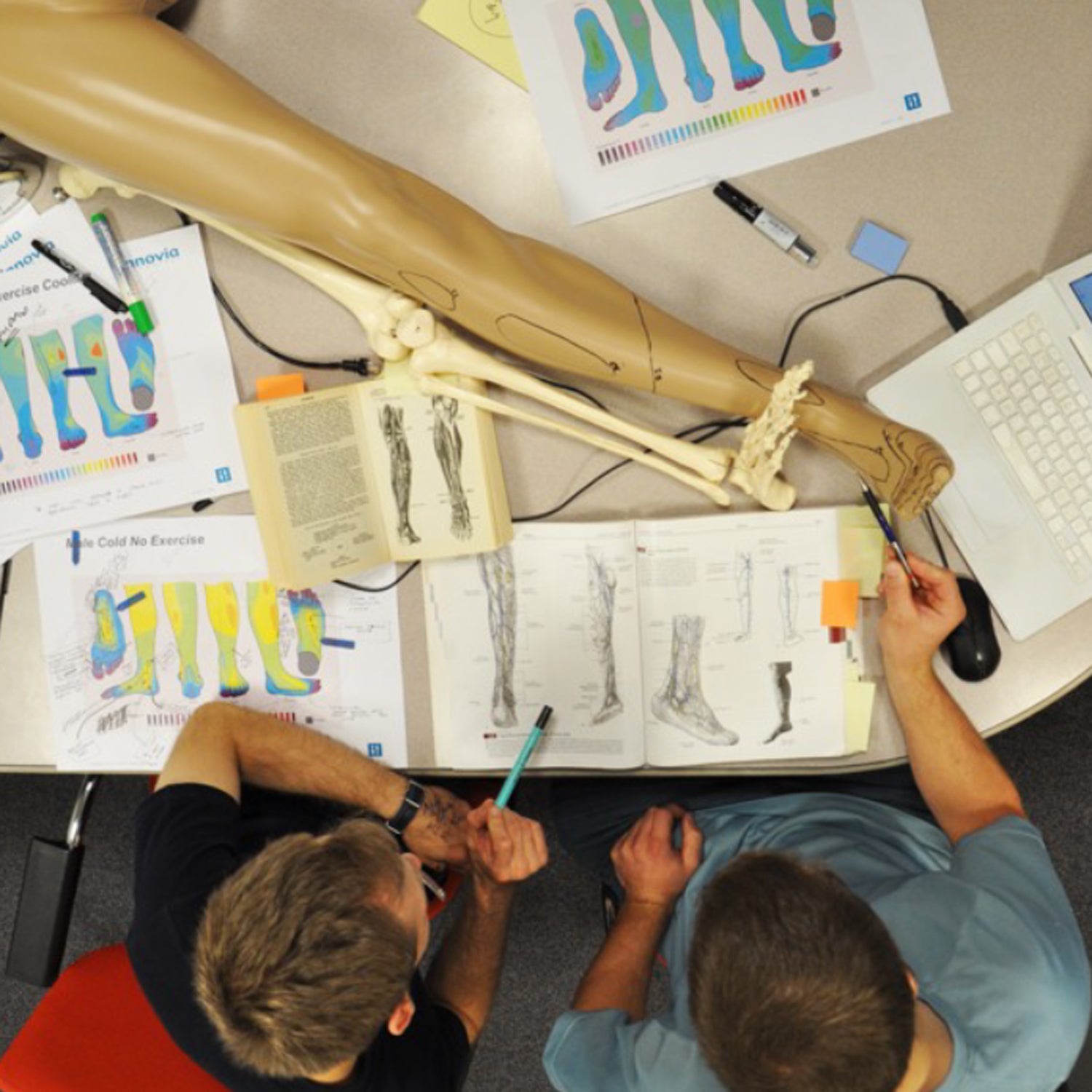 Smartwool(Photo)
Heading out the door? Read this article on the new Outside+ app available now on iOS devices for members! Download the app.
"It's interesting—not what you would expect," murmurs Sue Jesch, Smartwool's design director. The diagrams scattered across the table before her look like pages from Gray's Anatomy, with front and side profiles of men and women painted with blotches of color. Some pages map out sweat zones. Others depict variations in temperature. "Women run pretty hot in their top half," says Jesch. "Maybe that's a childbearing thing. Nature wants to keep that womb warm."
In 2011, VF Corporation, the parent company of Smartwool and The North Face, commissioned a 1,200-person study examining how women and men respond to exercise in hot and cold temperatures. Sensors on subjects' skin recorded surface temperature and perspiration rates, while questionnaires determined where on their bodies subjects thought they ran hot and cold, so researchers could compare perception against reality.
Turns out women run warmer than they perceive. The study found that in winter, women's coldest zones are the backs of our hands, our glutes, our outer arms, and, oddly enough, our kneecaps. Our upper backs, calves, collarbones, and pelvis actually emit lots of heat during stop-and-go, cold-climate activities like skiing. During hot-weather exercise, women's legs are markedly cooler than their upper bodies, while men are more evenly balanced. And women's feet are always colder than men's, regardless of the outside temperature.
The Smartwool team used this information to create a figurative road map for its performance line. "This informs everything we make," says Jesch, sweeping her arm across the color-coded illustrations. "From our socks to our sport underwear to our PhD line of base layers, every item has to incorporate what we've learned here. This guides our decisions about where we put mesh and where we build in more warmth."
The Women's PhD Run socks, which hit the market in spring 2015, were among the first Smartwool products to incorporate the thermoregulation data. Like men, women sweat mostly on the arches of their feet, but the shape of that sweaty zone differs, so Jesch's team positioned the midfoot mesh to correspond with where women need maximum breathability. The women's socks also feature a narrower heel and broader forefoot since many women have V-shaped feet, according to the research.
This winter's new base layers also take cues from the study's thermal mapping. The Women's PhD Light Bottom ($85), for example, has thicker fabric on the glutes and hamstrings, where women run colder, and ultralight fabric on the outer thighs and behind the knees. The brand uses seamless knitting techniques to blend denser, warmer fabric with thinner, more-breathable zones that mimic the thermal maps without looking fussy or obvious.
I haven't used the bottoms, but I can attest to the performance of the running socks: they breathe and stay snugly in place better than any other sock in my drawer. And my PhD Ultra-Light Long Sleeve has proven its worth on low-temp powder days: its meshy, heat-dumping panels on the upper chest, upper back, and under the arms keep me from overheating on the downhill, while denser fabric everywhere else fends off the chill when I'm back on the chair.
Lead Photo: Smartwool
Trending on Outside Online