The Best Resort Skis of 2017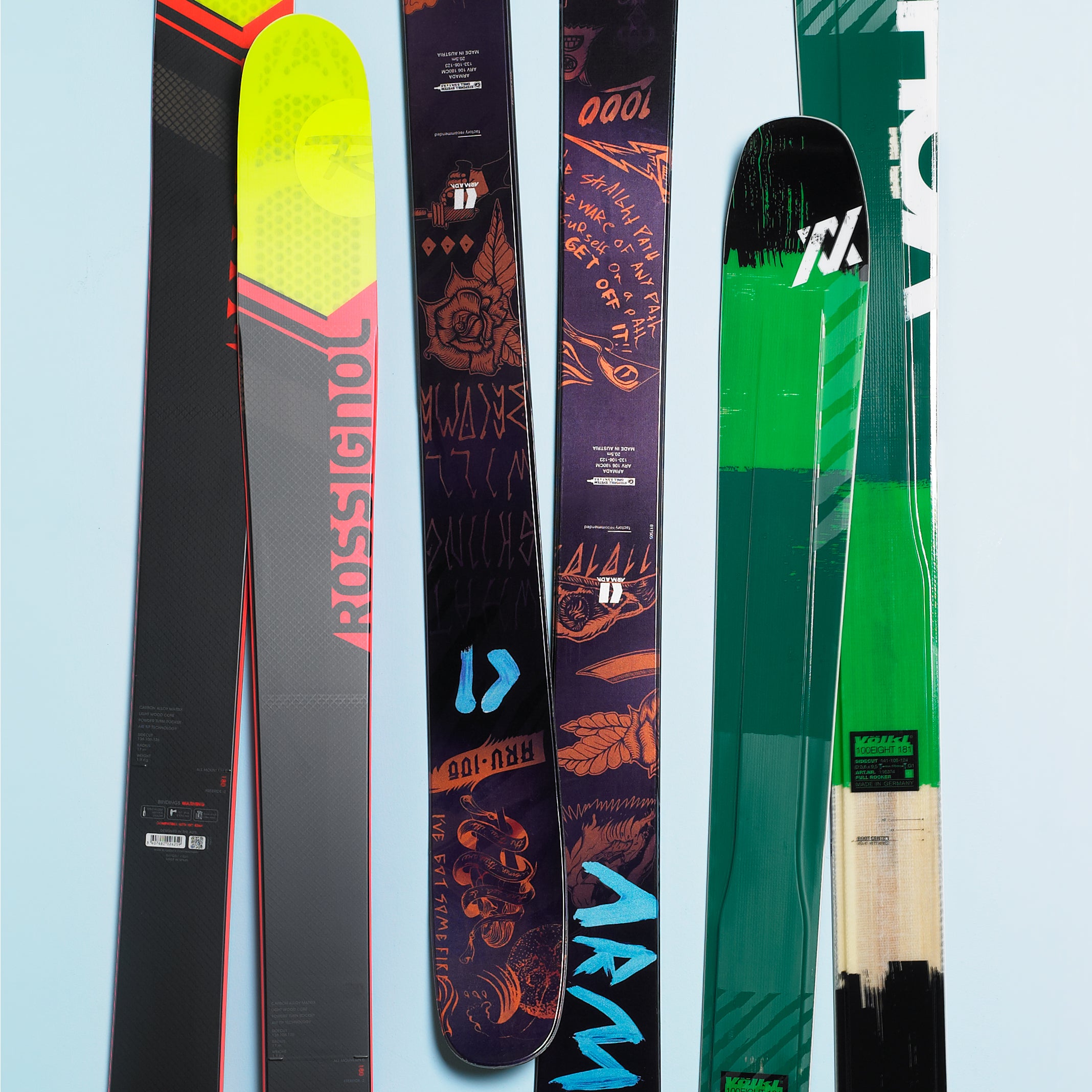 Inga Hendrickson
Heading out the door? Read this article on the new Outside+ app available now on iOS devices for members! Download the app.
Our testers whittled a field of 132 down to ten. Here are our three choices for best all mountain powder skis. Now shut up and ski.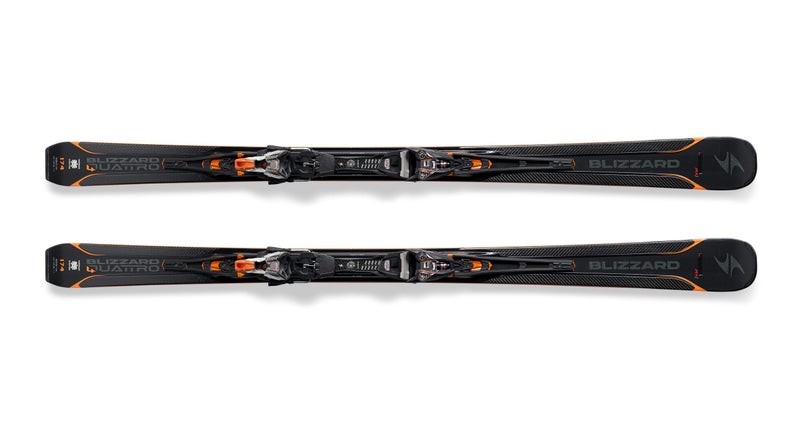 Blizzard Quattro RX
Gear of the Year
Most of us bought fat rockered skis at some point in the past five years, and for good reason—in soft snow, the loose feel lets you surf the mountain. But what about the hardpack we usually find? Increasingly, the industry has taken lessons learned from fattie designs and applied them to all-mountain frontside skis. The result? User-friendly, lightweight, subtly rockered skis that lay trenches in corduroy. Our Gear of the Year winner sits at the apex of that new category. In Europe, the new Quattro line is co-marketed with the Audi of the same name. It's not just hype: Blizzard's Austrian engineers put all their high-­performance heritage into producing this ultrapremium ski built to shred groomed snow—the equivalent of a road rally. The company stacked layers of wood, carbon fiber, and titanium for maximum stability and power, while its unique IQ System, which embeds the binding in the guts of the ski, makes the Quattro RX respond almost instantaneously to pressure. So yeah, it's a race car. But don't be intimidated: a wide (for this category) 84-millimeter waist keeps it easy to ski. "The RX defines the top-end category," said one tester. "You can achieve extreme edge angles—but you can back off, too." 129/84/113

Price $1,320 with bindings
All Mountain Frontside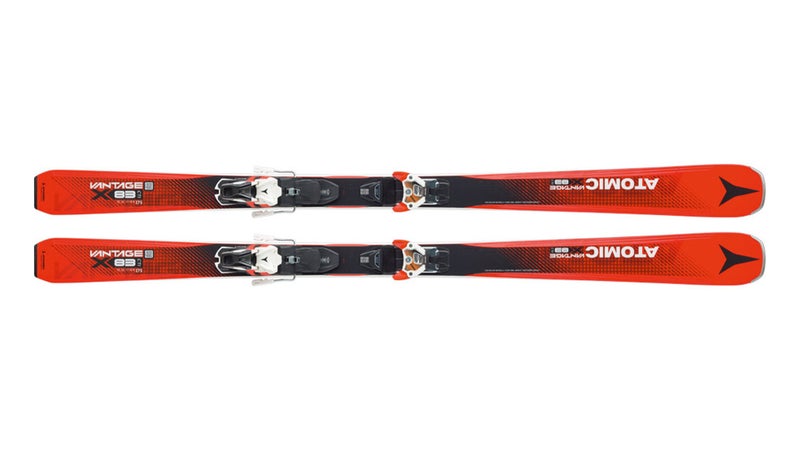 Atomic Vantage X 83 CTI
Best For: Everything from groomers to bumps to chalky steeps. 
The Test: Our testers called the brand-new Vantage X 83 CTI "the most versatile ski in the category, by a long shot." It railed arced racer turns on groomed snow nearly as well as the Völkl RTM and Blizzard Quattro, but it's both lighter and more nimble off-piste. Much of the credit lies with Atomic's proven Carbon Tank Mesh. The open-weave fiber boosts the ski's stability and smooths out the ride without adding excess weight. A smartly placed titanium backbone further cuts chatter and adds to the dynamic re­bound of the ski as you exit turns. The CTI can also crank out everything from short swing turns in the fall line to sweeping arcs at Mach speeds. 
The Verdict: "It begs to ski the entire mountain," one tester said. "Super quick and super stable." 124/83/109.5

Price $899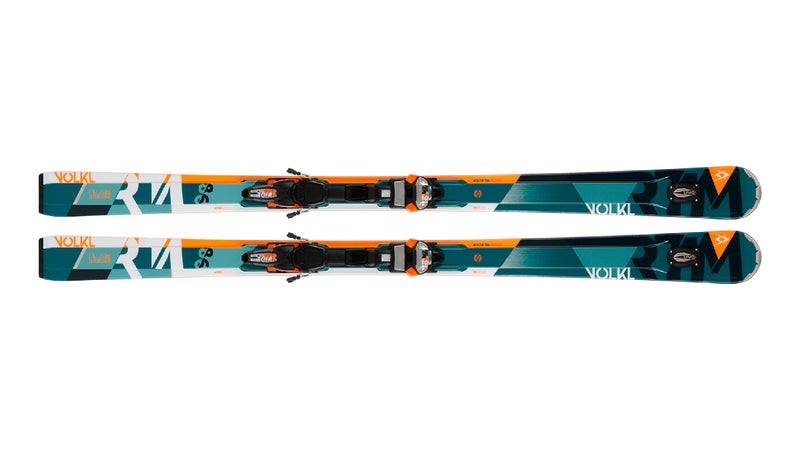 Völkl RTM 86 UVO
Best For: Many, many days in Vermont. 
The Test: Most people equate more width in this category with more float in soft snow. And while that's true, a fatter waist, like the RTM 86's, also lets you lay the ski way over on edge before you're bucked out of the turn. Kit such a ski out with wood and metal innards, then top it off with a vibration-eating damper, and you get one of the most capable packed-snow planks we've ever tested. The powerful build and German pre­cision finish make it as adept as a race ski on a sheet of ice. But when conditions soften up, that ­extra width lets the edges bite deep to prolong the carving sensation. 
The Verdict: "It thunks into the belly of a turn like a dead bolt in a lock," said a tester. 132/86/114 

Price $1,175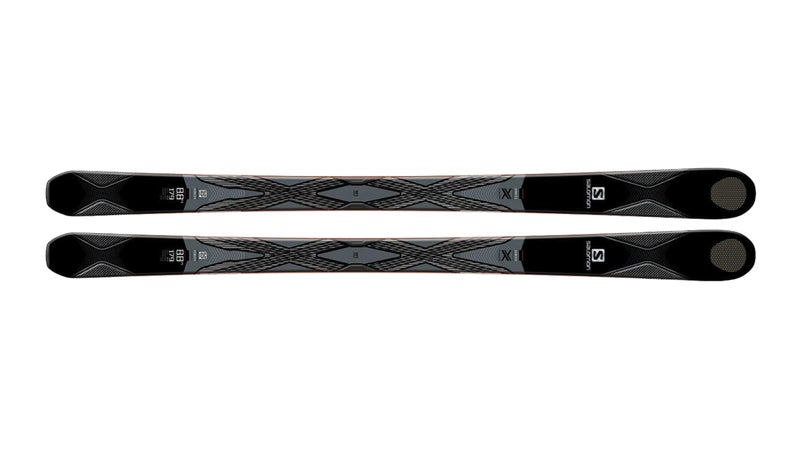 Salomon X-Drive 8.8 FS
Best For: Wailing turns in packed powder. 
The Test: Utah and Colorado are the perfect haunts for this versatile, fun ski. A honeycomb tip sheds weight and boosts playfulness on groomers, while a sheet of carbon fiber paired with a layer of basalt makes it stable at full tilt. It's also fat and rockered enough to take off-trail in all but pure powder conditions, and its airy tip keeps the ski maneuverable. A couple of our heavier testers (they spent their meal vouchers on bratwurst) complained that the X-Drive was a little soft, but the svelte among us had no such issues. 
The Verdict: It's not designed for solid ice. But out west, it'll make those groomed-snow days between storms way more fun. 130/88/116 

Price $850
All Mountain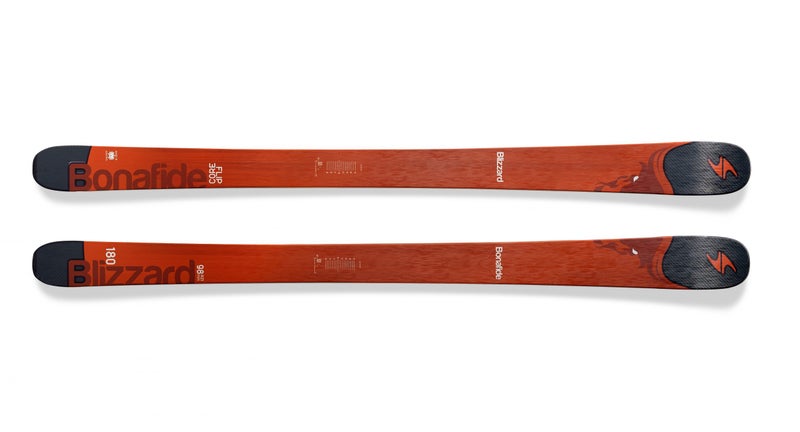 Blizzard Bonafide
Best For: Your Colorado one-ski quiver. 
The Test: Our testers aren't engineers. They're skiers. But one bit of engineering they universally adore: when a manufacturer strips excess ounces from the tip and tail, reducing swing weight and making a demanding ski stupid easy to slough in and out of turns. To one degree or another, all the skis we selected for this category fit that description, but the Bonafide stands out. Blizzard took a proven rockered shape and damp wood core, then added carbon fiber at the tip and tail. That upgrade makes the ski more accessible without sacrificing the brand's characteristic power. We took this new balanced, predictable iteration off-trail from opening bell and never looked back. 
The Verdict: Bottomless powder days are few and far between. In the West, you'd ski the Bonafide 90 percent of the time and never wish you'd hauled a second pair to the hill. 133/98/118

Price $840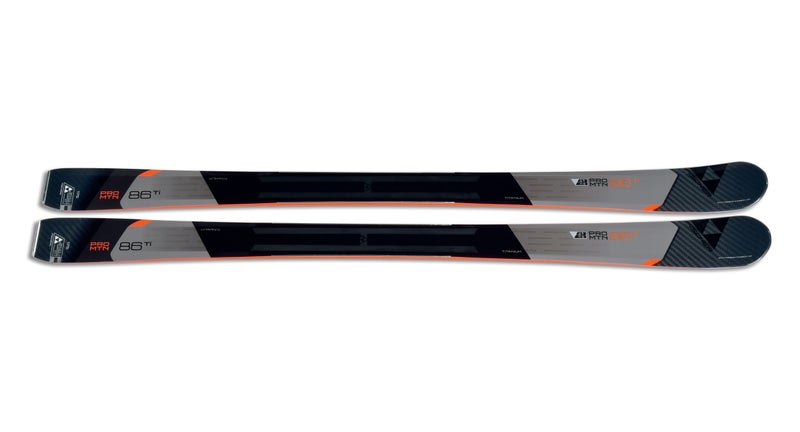 Fischer Pro Mtn 95 Ti
Best For: A guy named Hard Charger. 
The Test: Yes, the brand-new Pro Mtn 95 Ti has user-friendly features like carbon inserts in the tip and tail, a hint of rocker, and a lightweight core. But it's still an Austrian-made gun. We favored it for eye-watering super-G turns on groomers and chalky windblown snow on alpine faces. A sheet of titanium keeps it vibration-free at full throttle, while the thin construction keeps the ski from hanging up in powder. The edge hold is best in class. One tester called it "an aggressive rocket that vaporizes crud. Once on edge, it hangs on no matter how hard the surface." 
The Verdict: Confidence-inspiring and powerful as long as you keep it on the open slopes. 137/95/122

Price $850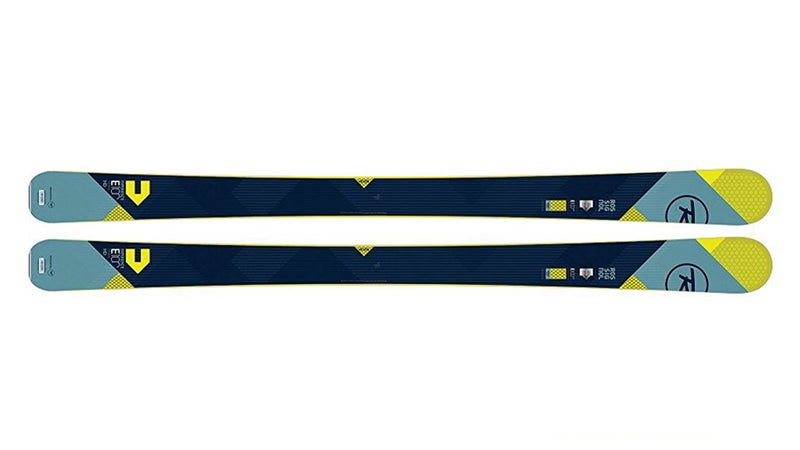 Rossignol Experience 100 HD
Best For: Arcing turns on big mountains.
The Test: To our crew of testers, the Experience 100 HD is a beloved anomaly. In some ways it's a fat carving ski, with a 59-foot turn radius and an extended-sidecut silhouette (that is, it has less taper in the tip and tail). But because the shovel is slightly rockered, 140 millimeters wide, and crafted with a honeycomb tip, the ski floats effortlessly in knee-deep powder, too. If there was a gripe about last year's model, it was that the ski lacked rebound energy as you exited a turn. This year, Rossi addressed that by incorporating a carbon weave beneath the topsheet. The open matrix acts like an extra layer of metal, without the weight penalty. 
The Verdict: "Whether you're on a groomer or an open face, you simply can't overcook a turn," said a tester. 140/100/130

Price $850
All Mountain Powder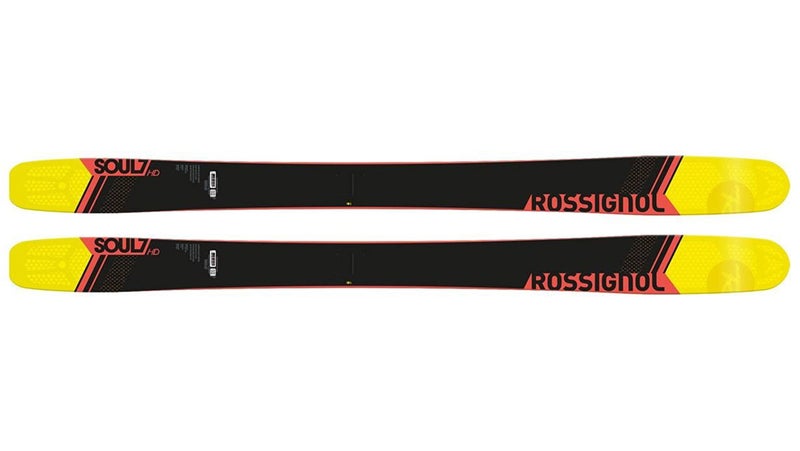 Rossignol Soul 7 HD
Best For: Steep trees and back bowls. 
The Test: One ski-shop employee said of the Soul 7 HD: "Anyone who demos this ski will buy it." That sums up why Rossignol's madly successful 7-series boards have sold so well. They're incredibly appealing to a wide range of skiers and extremely high performance. With a lightweight honeycomb tip and tail, plus ample rockering, the 106-millimeter Soul 7 is arguably the best inbounds-tree-skiing ride of all time. You can whip it around in a pivot turn, slash through an alley, and float up and out of the wettest mank with barely a grunt. At speed, the HD version is more energetic and stable on open slopes than its predecessor because of the same open-weave carbon layer that's in the Experience line. 
The Verdict: The old Soul 7 was a bit of a liability on groomers. The HD version is a rocket. 136/106/126

Price $850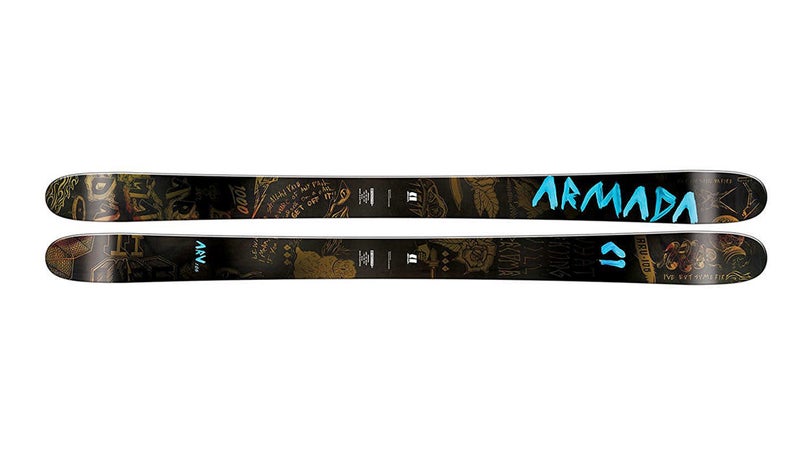 Armada ARV 106
Best For: Spinning, slashing, and then Maching back to the chair. 
The Test: A few winters ago, a true powder ski had to be fatter than 115 millimeters underfoot to offer the float needed for storm days. But today, a well-refined mix of lightweight materials, reduced swing weight, and rocker means that a 106-millimeter-waisted ski like the ARV is all most of us will ever need. A lightweight tip makes the front easy to control in deep snow, while an airy core keeps the ARV from sinking like an anchor. Carbon and Kevlar struts add stability, vibration damping, and dynamic rebound. Top it off with ample rocker that lets you pivot in crud and you get a ski that's loose and playful but no limp biscuit. 
The Verdict: We see kids running the ARV 106 all over the mountain, searching out leftover powder stashes and booters in the woods. 133/106/123

Price $700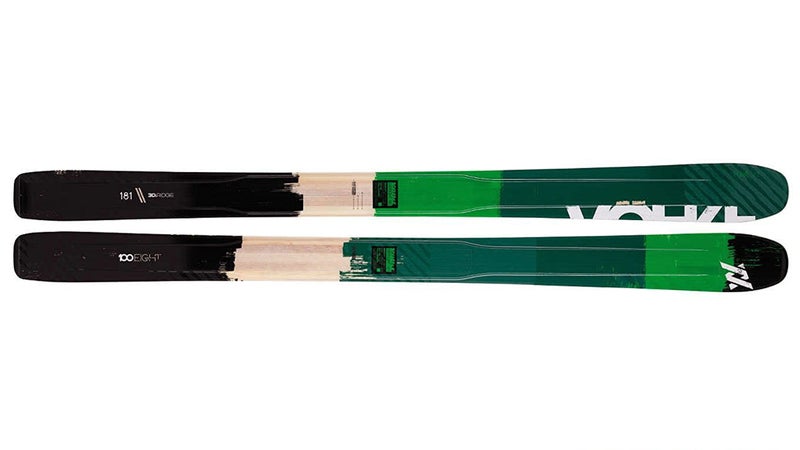 Völkl 100Eight
Best For: Your daily driver in snowy Utah.
The Test: If this was a pure pow category, the 100Eight might drop a rank or two in the general classification. But when snow totals tallied fewer than ten inches, it was our testers' clear favorite. A milled ridge backed by carbon stringers sheds excess material, keeping this Völkl lightweight and flotacious in powder. And a fully rockered design (no camber underfoot) makes it easy to pivot and smear in forest crud. Still, as playful as it is, it's no noodle, laying out clean super-G arcs. And at 108 millimeters underfoot, it can get up on edge without dislocating your hip. 
The Verdict: If you live in Salt Lake City, it's your all-mountain ride. For the rest of us, the 100Eight is a powder ski. 141/108/124

Price $825