The Best Ski and Snowboard Goggles
Our favorite snow-sports eyewear of all time, from affordable to high-tech
Jay Goodrich/Tandem(Photo)
Heading out the door? Read this article on the new Outside+ app available now on iOS devices for members! Download the app.
It's a good time to buy goggles. Over the past decade, skiers and snowboarders have been treated to a quick succession of improvements in goggle tech, from fast and easy lens-change systems to bespoke light-filtering tints that boost contrast. This winter I tested about 20 new goggles, as well as Atomic's Count 360° HD, which uses a spherical, fused double lens. My top pick was the Count 360° HD, and I've reviewed it and several other excellent goggles below.
Our Favorite Goggles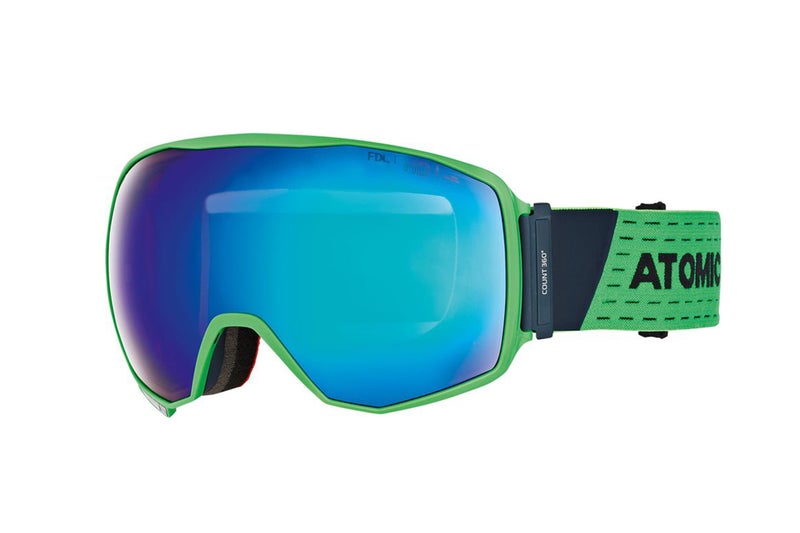 Atomic Count 360° HD ($200)
The Count 360° HD attacks two issues familiar to anyone who has worn goggles—fogging and distortion—using a spherical lens built from two fused lenses with no thermal gap in between (more on that technology shortly). The thickness of the fused lenses, combined with an excellent antifog coating, meant they never clouded with moisture, even when wearing them into a warm lodge.
Most importantly, the Count 360° HD has crazy-sharp optics, with minimal light refraction or mirroring. I was able to pick up small variations in the snow surface while bombing a groomer at 40 miles per hour. The light-filtering outer lens uses a crystal dye that boosts contrast, and its subtle mirrored coating cuts glare without darkening the tint. The field of view also felt wide enough to see skiers coming up on each side without needing to turn my head.
To understand why fused lenses represent such a huge jump forward, it helps to understand a couple things about ski goggles. Since the 1960s, companies have been selling goggles with two lenses, with a layer of insulating air in between. Like a thermal window, the air layer helped fight fogging.
But there were problems. For one, light bends as it passes through even the best lenses. Adding a second lens often leads to distortion and may even cause headaches in some people. On sunny days, light can also bounce off the inner lens, or your face, and then reflect back at you from the outer lens, creating a distracting mirroring effect. Single-lens goggles don't have some of these problems, and ski racers sometimes still wear them in good weather, but they're prone to fogging. Atomic's fused lens is remarkable for maintaining sharp optics without fogging. Still, because the Count 360° HD lens isn't interchangeable, its tint may not be ideal in all scenarios. That can be a serious drawback for some skiers, especially those who are sensitive to bright light. On bright days at high altitude, you might want something darker. Likewise, on dark and stormy days, or for tree skiing, you might crave something a touch lighter. But the 360° HD's optical performance and antifogging capabilities are so good, I think it's worth the compromise.
---
Best Affordable Goggles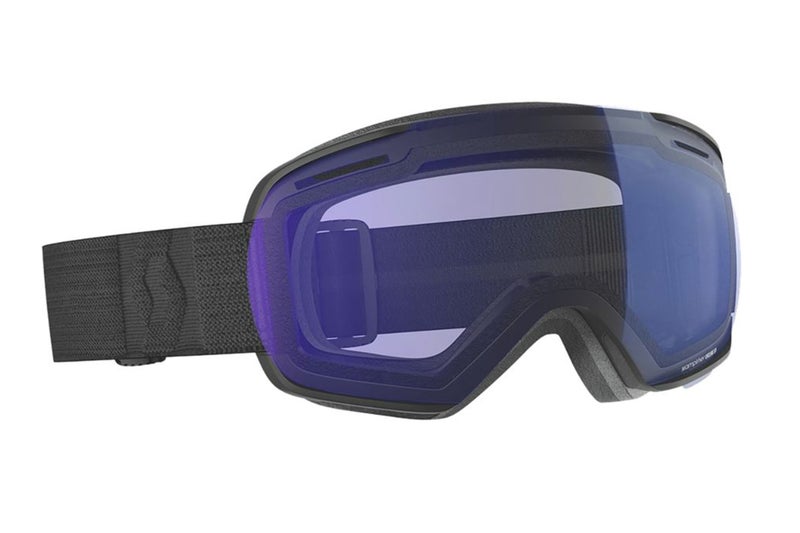 Scott Linx ($130)
True, $130 isn't cheap, but with the Linx you're getting a lot of performance bang for your buck. These goggles feature an optically sharp spherical lens of the same quality as Scott's top-of-the-line models. The frame, too, attaches to your face with the same comfy three layers of foam as Scott's premium product and even features the brand's unique fit system, which lets you make microadjustments around the cheekbones. A silicone-beaded strap (absent on many goggles at this price point) keeps them from slipping on a helmet. Speaking of which, like most of Scott's offerings, the frame matched up well with several styles of helmets. And the field of view is impressive.
We took the Linx out in storms and blue-sky sessions through the spring and forgot we weren't wearing goggles twice as expensive. Out in alpine terrain, we found that the Amplifier lens—Scott's take on tailored light filtering that eliminates bad or flat light and boosts waves that heighten contrast—helped with contrast and heightened definition in flat light. The Linx does have some drawbacks: its interchangable lens system is functional but not as easy to operate as others we tested, and it uses the older two-lens-air-gap system. But day to day I liked using them, and I think many other skiers will, too.
---
Best Tint-Changing Goggles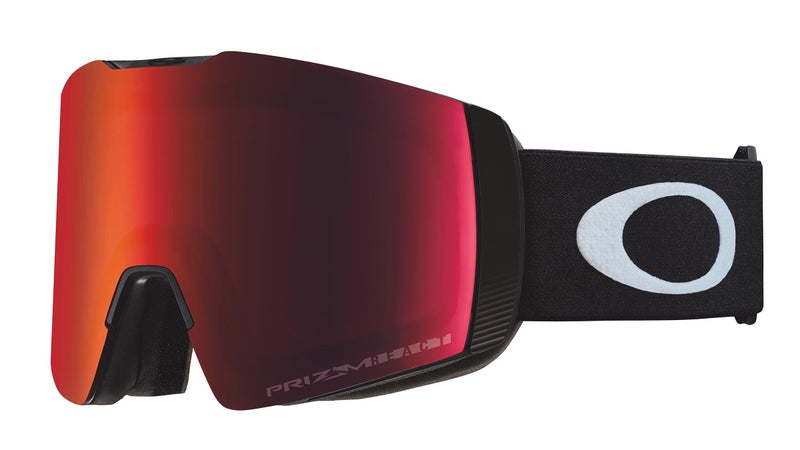 Oakley Fall Line XL with Prizm React Lens ($299)
Changing lens tints on the fly is tough. Traditionally, you had two options: buy interchangeable-lens goggles and physically swap lenses to match light conditions, or buy photochromic goggle lenses that chemically react to light. The problem with either approach was speed—after all, who wants to stop and swap lenses midrun or wait while the tint shifts as you ski from bright sun to dark timber?
With the Oakley Fall Line XL, kitted out with a Prizm React lens, now all you have to do is push a button. Electronic lens tinting isn't brand-new to the goggle market, but Oakley incorporated its battery sleekly into the frame as opposed to awkwardly into the strap. You can scroll through three lens tints—from nearly clear to quite dark—without taking the goggles off. The technology, which was five years in the making, is similar to that found in cutting-edge eco-friendly electrochromic windows, which manipulate lithium ions to go from light to dark in lieu of blinds. In the goggles, a little vibration action lets you know it's working. Within three seconds, the change is complete. Like everything these days, you charge the goggles via a micro USB, and in our testing, the charge lasted for a week of skiing. Peripheral vision is excellent.
---
Best Magnetic Lens-Swap Goggles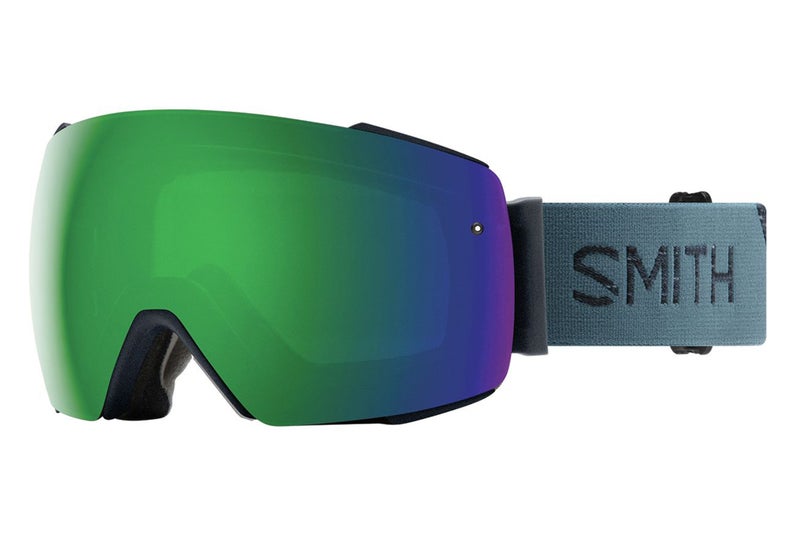 Smith I/O Mag ($240)
We've tested numerous magnetic interchangeable-lens goggles over the years, and they've always disappointed. Yes, you can change lenses with magnetic systems in mere seconds, but the resulting connection is rarely airtight and frequently causes gaping holes between the lens and the frame as the latter molds to your face. The result: watery eyes when you're going fast and snow intrusion on powder days. Even worse, in a crash they sometimes pop off. I've displaced magnetic lenses just moving goggles from face to helmet. On the other hand, traditional lens-change systems require warm and supple plastic frames and can be tough to use in cold temperatures.
Smith's new I/O Mag is the first magnetic goggle we've tested that gets it right. It still uses magnets to seat the lens into the frame, but they're backed up with two barely perceptible clips behind the lens strap that lock the lens into place. The clips require no futzing, are easy to engage, and only slow lens swaps down by two seconds. (They also seem to help eliminate air gaps that have plagued the other magnetic-secured lenses I've used.) When the I/O Mag goggles were snug to my face, I felt no weird wind channeling and experienced no idiotic lens dislocations. And there's a bonus: the I/O Mag comes with two great ChromaPop lenses, one for full sun and one for lower-visibility storm days.
---
Honorable Mentions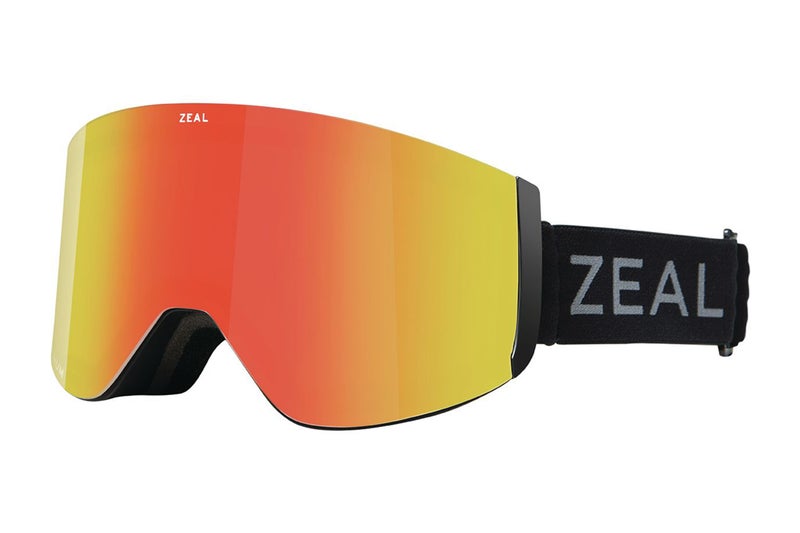 Zeal Hatchet ($159)
I don't have any evidence to back this up, but I think modern cylindrical lenses like those in Zeal's Hatchet are even more optically sharp than their spherical counterparts. They provide better peripheral vision, and goggle makers seem to have an easier time nailing the quality of their tints, so the lenses reveal more contrast in the snow. One other nice feature of Zeal's lens-change system is that it's easy to lift the lens and vent the goggle when you're hiking or just overheating in the sun. Each goggle ships with a blue-mirrored storm lens.
---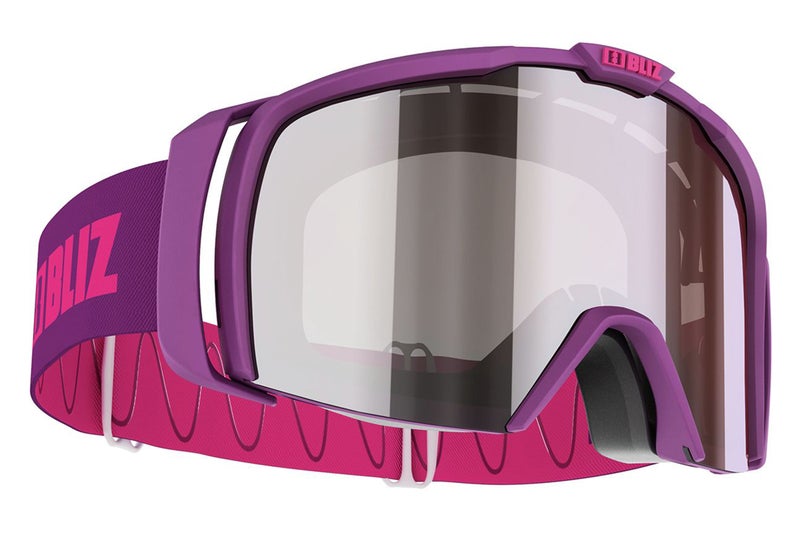 Bliz Nova ULS ($210)
Bliz Nova's ULS goggles use a fused-lens design, like Atomic's Count 360° HD. They're cylindrical, so they provide a huge field of vision, and in testing, the optics seemed sharp. Nor did they fog up. They're a good fused-lens option for less money. Sharp readers who follow World Cup ski racing may recognize them as Bliz is a European company.
---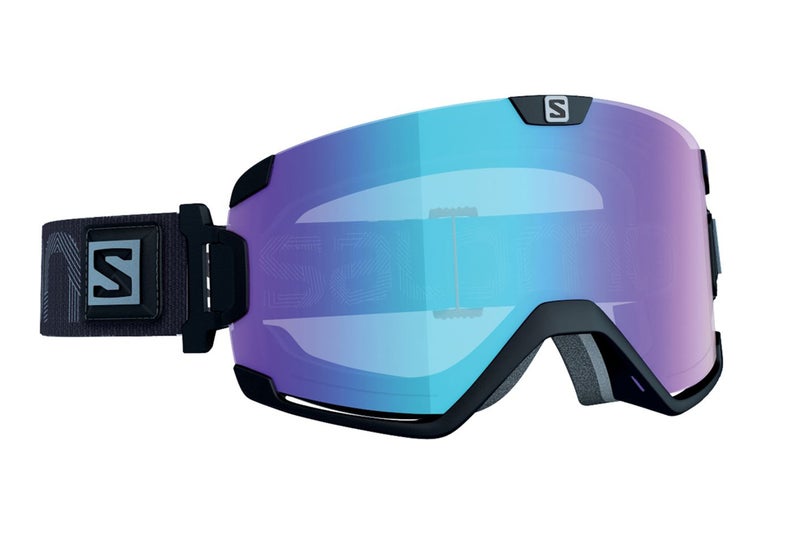 Salomon Cosmic Sigma Stone OTG ($168)
The Cosmic Sigma Stone OTG goggles are designed to fit the temple pieces of your glasses without compromising the seal around your face. That means you won't tear up because there's wind in your eyes. In my testing, I had zero issues with fogging, and even my oversize glasses fit into the frame without adding any pressure to my nose or temples. They fit my medium face well, though people with extra-large faces might want to try them on first. You always lose a bit of peripheral range with glasses under your goggles, but the big wrap of the cylindrical lens helps.
---
How I Test Goggles
I'm a former ski-shop manager and buyer, and I've been testing goggles for Outside for 12 years. From March to May, I keep a duffel bag stuffed with about 20 pairs of goggles in the back of my truck. If it's bluebird and glaringly bright out? I'll cycle through the offerings to see how they deal with glare. The same applies with flat-light days, storm skiing, and wet precipitation. Often I'll keep several pairs in my backpack when I'm out skiing to cycle through run by run. My goal is to test goggles in all conditions most skiers and riders will use them and to test them head to head. (It's amazing how much things like optical clarity and peripheral vision differ when you're outside in the real world.)
Because I ski a lot for work and pleasure, that means I'm actively testing goggles about 20 days each winter. In the process, I even try things I'd never recommend that an actual consumer do, like changing lenses on a chairlift in a storm or keeping the goggles on my face as I leave the cold and dry outdoors for the warm and humid lodge—still the best way to fog up a pair. I included the best-performing new models in this review.
How to Buy Goggles
This year we've seen two innovations become widespread. The first is an industry-wide shift to cylindrical—as opposed to spherical—lenses. Modern cylindrical lenses wrap your face a little better, aiding peripheral vision without increasing distortion. The second, which is just hitting the U.S. market now, is the invention of the fused double lens, which reduces fogging and was the piece of tech that made Atomic's 360° HD our favorite goggles of the year.
Anyone shopping for goggles should try to avoid buying them online. Instead, bring your helmet to your local ski shop and try on your short list. Check to make sure they fit your face and match up seamlessly with your helmet—nobody wants to show up on opening day with a gaper gap.
And finally, I don't recommend bargain-basement goggles. Unlike spherical or cylindrical lenses, these lenses are stamped out flat and then bent into the frame of the goggle. That creates gobs of distortion.
Lead Photo: Jay Goodrich/Tandem