Testing the Best Sleds You Can Buy at Big-Box Stores
We sent six editors down a hill for a gear review
Heading out the door? Read this article on the new Outside+ app available now on iOS devices for members! Download the app.
Every year, we test the season's best skis and snowboards. But as my colleague Joe Jackson pointed out, you don't need fancy and expensive equipment to enjoy snow, gravity, and tears in your eyes from charging down a hill. This year, we decided to test a handful of options available at stores you can find anywhere. Kids would arguably make the best testers, but they weren't old enough for the "beer test" portion of this review. So we wrangled six adults, grabbed a case of Bavarian-style lager, and carpooled to the local hill.
The Test
Six testers each rode five sleds and recorded their thoughts on scorecards, measuring maneuverability, speed, and shock absorption. We also awarded style points and judged how much spillage occurred from a full, freshly cracked beer as we slid down the course. (The more beer left in the can, the better.) Each tester scored the five categories from one to five, for a combined total of up to 30 points per category and a potential grand total of 150 points for each sled.
Flexible Flyer 3-Inch Multicolored ($27 for 3-pack)
Steering/Carving: 5/30
Speed: 23/30
Shock Absorption: 0/30
Style Points: 10.5/30
Beer Test: 17.5/30
Total Score: 56/150
Best For: Speeding on a budget
One tester's note captures the feeling of riding this beast: "PAINFUL." Another noted it was the "most painful," while a third wrote, "Broke my sunglasses." Beyond our scribble, when we look to the scorecards, this simple piece of plastic received a whopping zero points for shock absorption. Our backs, still sore weeks later, vouch for this rating. Beyond these blemishes, the three-inch model excelled in the speed department; it was the second-fastest of the bunch. If you want to ride the mechanical bull equivalent of a sled—for less than ten bucks—you can't go wrong with this bad boy.
---
Flexible Flyer Snow Boat ($33)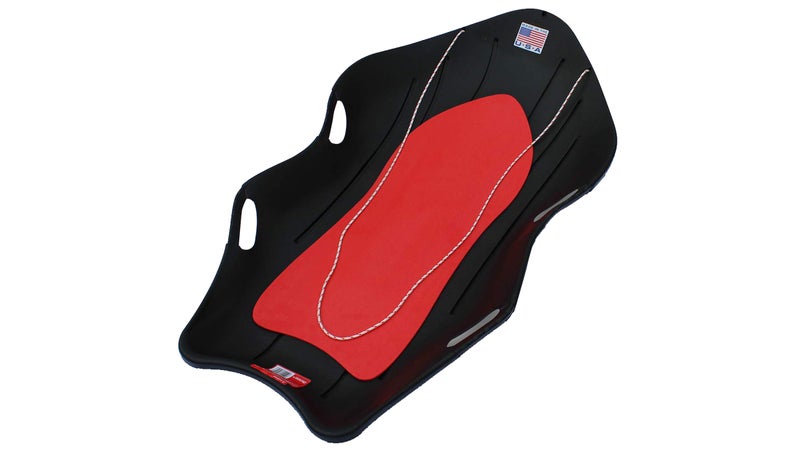 Steering/Carving: 9/30
Speed: 22/30
Shock Absorption: 12/30
Style Points: 21.5/30
Beer Test: 12/30
Total Score: 76.5/150
Best For: Two-person riding
We felt largely confident as we sat in the Snow Boat at the top of the hill. The reins, four handles, and spacious interior suggested it was easy to steer. Reader, we were mistaken. The reins posed more of a safety hazard on fast, bumpy terrain. "I thought I was going to break my ankle when the rope got tangled around my foot," our guinea pig wrote after a quick lap. Quick, indeed: the Snow Boat was third fastest in the test, narrowly beat out by the three-inch dish model. But the Snow Boat missed the mark on durability. The plastic handles broke after only a few runs. If it had any redeeming qualities besides speed, it was that it could fit two adults comfortably.
---
Big Mouth Snow Tube ($16)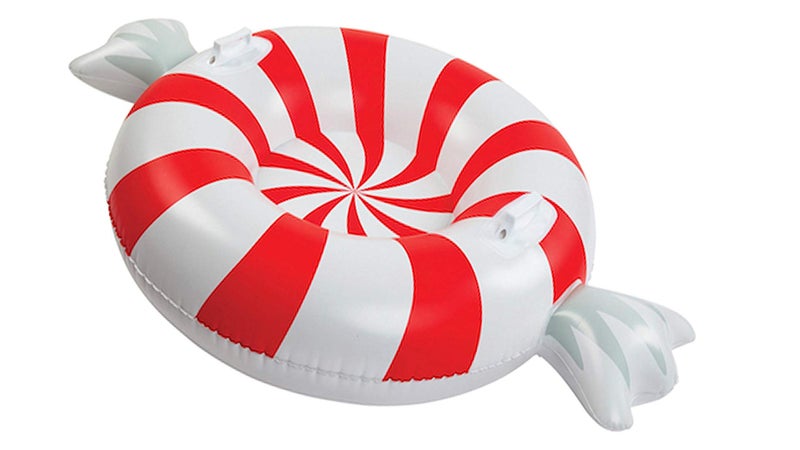 Steering/Carving: 4/30
Speed: 18/30
Shock Absorption: 13/30
Style Points: 28/30
Beer Test: 18/30
Total Score: 81/150
Best For: Packing and spontaneous sled trips
Testers were immediately transported to Candy Land as we rode the peppermint model of the Snow Tube. It ranked dead last in the carving category, tallying just four points. But some riders enjoyed that—riding the Snow Tube was akin to a lazy river float, but faster. One wrote that it provided solid grip with handles, while another said it offered "good slipperiness!" It won more style points than any other sled, with a near-perfect score of 28. We liked that it was inflatable and thus packable. If you want fate to decide your path in a chaotic slide down the mountain, the Snow Tube is your steed. Just make sure it's inflated to "max capash," one rider noted.
---
Runner Up: Stallion Sport RYDR 50-Inch T4 ($45)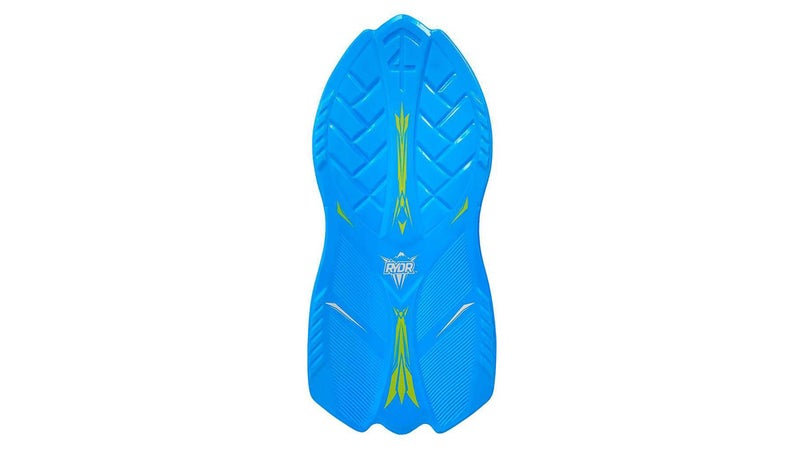 Steering/Carving: 14/30
Speed: 28/30
Shock Absorption: 14.5/30
Style Points: 18/30
Beer Test: 12/30
Total Score: 86.5/150
Best For: Sending it as fast as possible
You will need goggles for this speed demon. It broke our radar guns, tallying a category-winning 28 points for speed. The waxy plastic bottom lent it glide and sent our testers farther down the slalom than any other model. "Favorite!" one test driver recorded. "Distance is really good!" another wrote. Because it was average elsewhere, the Stallion was our test's runner-up despite its speed. We agreed this is a fair all-around option, but it's possible to get cheaper models that excel in the desired categories. This Stallion might be a one-trick pony, but it's a fast one.
---
Winner: Airhead Scoot Snow Scooter ($27)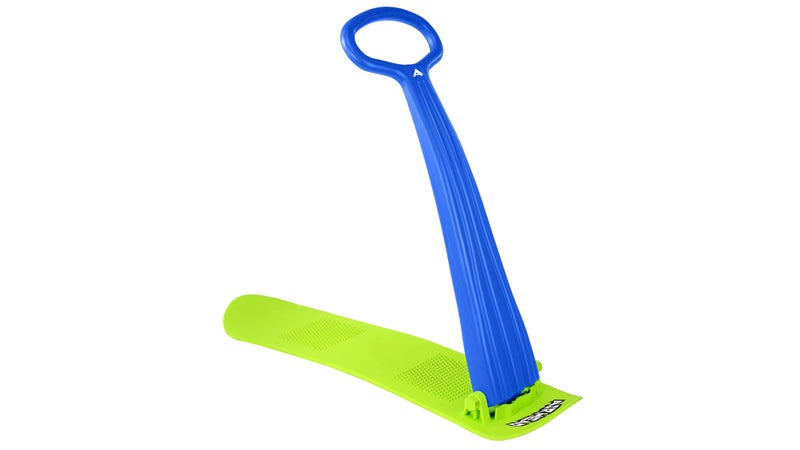 Steering/Carving: 24/30
Speed: 12.5/30
Shock Absorption: 11.5/30
Style Points: 26/30
Beer Test: 25/30
Total Score: 99/150
Best For: Pure control
We were initially skeptical of this contraption that looks more like a Fisher-Price toy than a sled. But after a few runs, it won us over with its impeccable control. It was the best carver in the test, and riders noted that its tall handle offered the ability to steer. It was the board-style orientation that gave it a unique edge on the competition. Testers were able to ride the Airhead sitting down or standing up. One tester noted that it "got sendy!" after eating it on a run. By some criteria, like shock absorption, this scooter was polarizing: one awarded it four points, while another felt it was worthy of zero. The same goes for speed: some ranked it one out of five, while others gave it a four, perhaps because testers rode the Scooter in different stances. But we could all agree on its superb performance in the beer test. One rider exclaimed there was "zero spillage" after taking a newly opened lager down the hill. For those reasons, the Airhead was worthy of the top spot in our test.
Lead Photo: Mary Mathis