The Best Ways to Carry Your Shit While Skiing
How to stay fueled and warm on the slopes without looking like a total nerd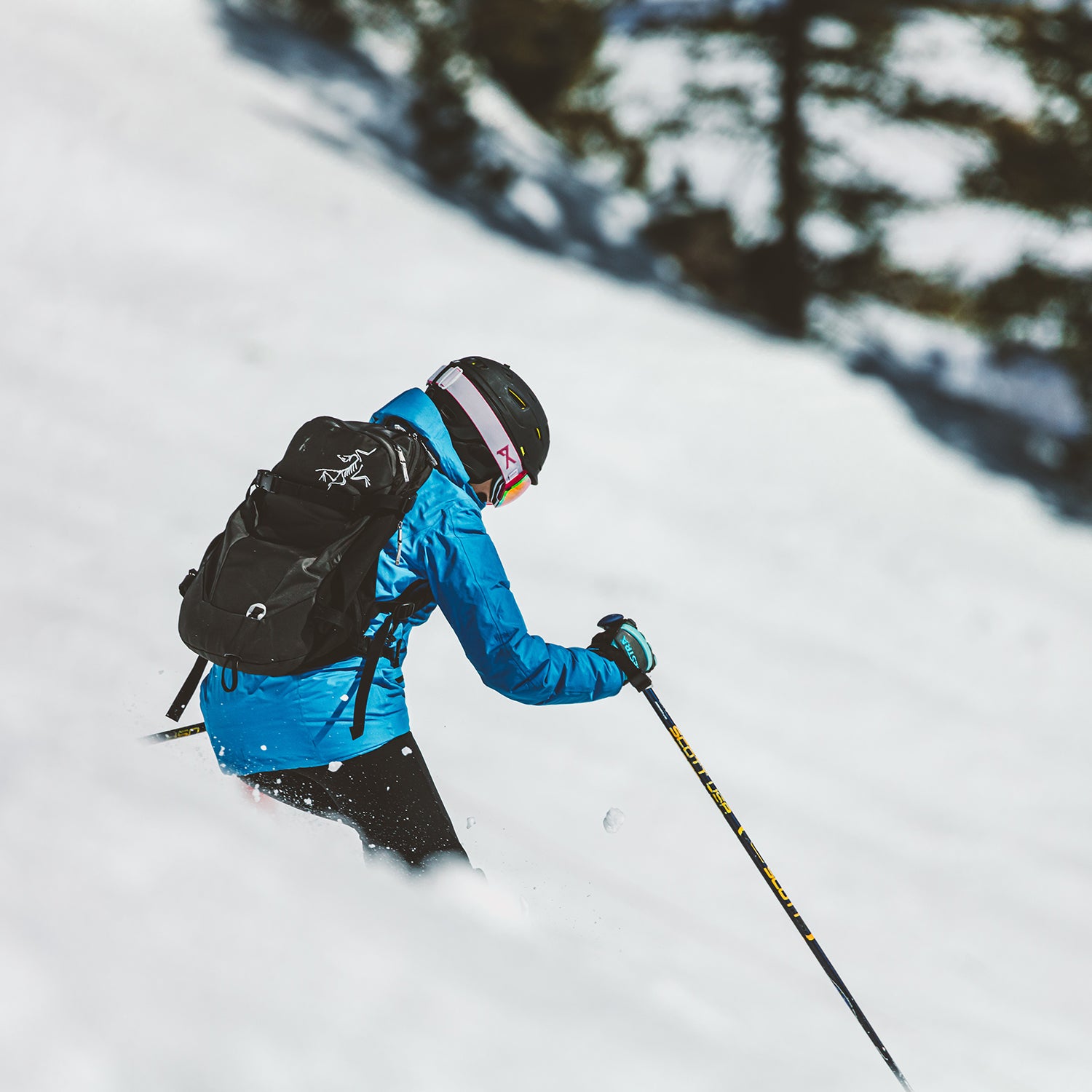 Patrick Hendry/Unsplash(Photo)
Heading out the door? Read this article on the new Outside+ app available now on iOS devices for members! Download the app.
With base lodges closed or at limited capacity this ski season, you won't be able to just stuff extra layers in a locker, grab a hot bowl of chili at the caf, and warm up your frozen digits by a cozy fireplace. But the season is still on, and you gotta stay fueled and warm to chase that pow. So where will you stash your hand warmers, thermos, and pocket bacon? I conducted an unofficial survey of Outside staffers and my Twitter followers to find out. Here's the verdict.
Winner: Shove Everything in Your Pockets
Zip pockets, stuff pockets, chest pockets, drop pockets—this no-nonsense approach easily took the win with nearly half the total votes. Adherents to this method fill up their ski jackets with granola bars, liner gloves, extra goggle lenses, and sunscreen sticks. The strategy takes some creative packing to keep you from looking like the Michelin Man, but if executed well, it can be a no-fuss solution for minimalist skiers. Plus, every item is within reach for easy access on the lift, so you'll never need to slow down. It can be tricky to carry water, though, so we suggest investing in some soft flasks. And if you're hoping to add or shed a layer, you're out of luck.
Runner-Up: Wear a Backpack
The humble backpack took second place in the polls, though it's worth noting that it was tied for first among our staff, likely due to the unusually high number of gearheads at Outside. Perhaps it's not the coolest choice, but it is the most practical. Looking to tackle some out-of-bounds terrain? You'll need space for avy tools. Skiing with kids? That bag better be full of snacks and hand warmers. If you get yourself a reservoir and a nifty insulated hose, you won't even have to pause to hydrate. As a person who runs cold and refuses to hit the slopes without an entire meal's worth of food along, this strategy is my personal pick. Just make sure your hauler is sleek enough to leave room on the lift seat for your butt, or be prepared to take it off after every run. Pro tip: "My preferred method is skiing with someone else who has a pack," one Outside employee wrote. She might be onto something here.
Honorable Mention: Rock a Fanny Pack
As one editor succinctly put it, fanny packs are best "for springtime and beers." If you're not quite a backpack person but can't fit everything in your pockets, a slick waist pack is undoubtedly the way to go. Trust us on this: they're cool again.
Honorable Mention: Get a Ski-Patroller Vest
The vest is undoubtedly a pro move. It's the best of all worlds, a high-capacity, close-fitting, convenient essential—and pretty badass. There's a reason this is the uniform for mountain professionals. Some vests even sport a backpack-like compartment for snow tools, so you can safely access that sweet, sweet sidecountry. Vests are specialized pieces of gear and often pricey, but they can be a worthwhile investment for anyone who spends more days on the mountain than off. You'll just need the snow-sliding chops to back up the look.
Lead Photo: Patrick Hendry/Unsplash
Trending on Outside Online