The Elan Ripstick Is the Do-It-All Women's Ski
Finally, a ski for women that excels in all conditions, from hardpack to powder to tight trees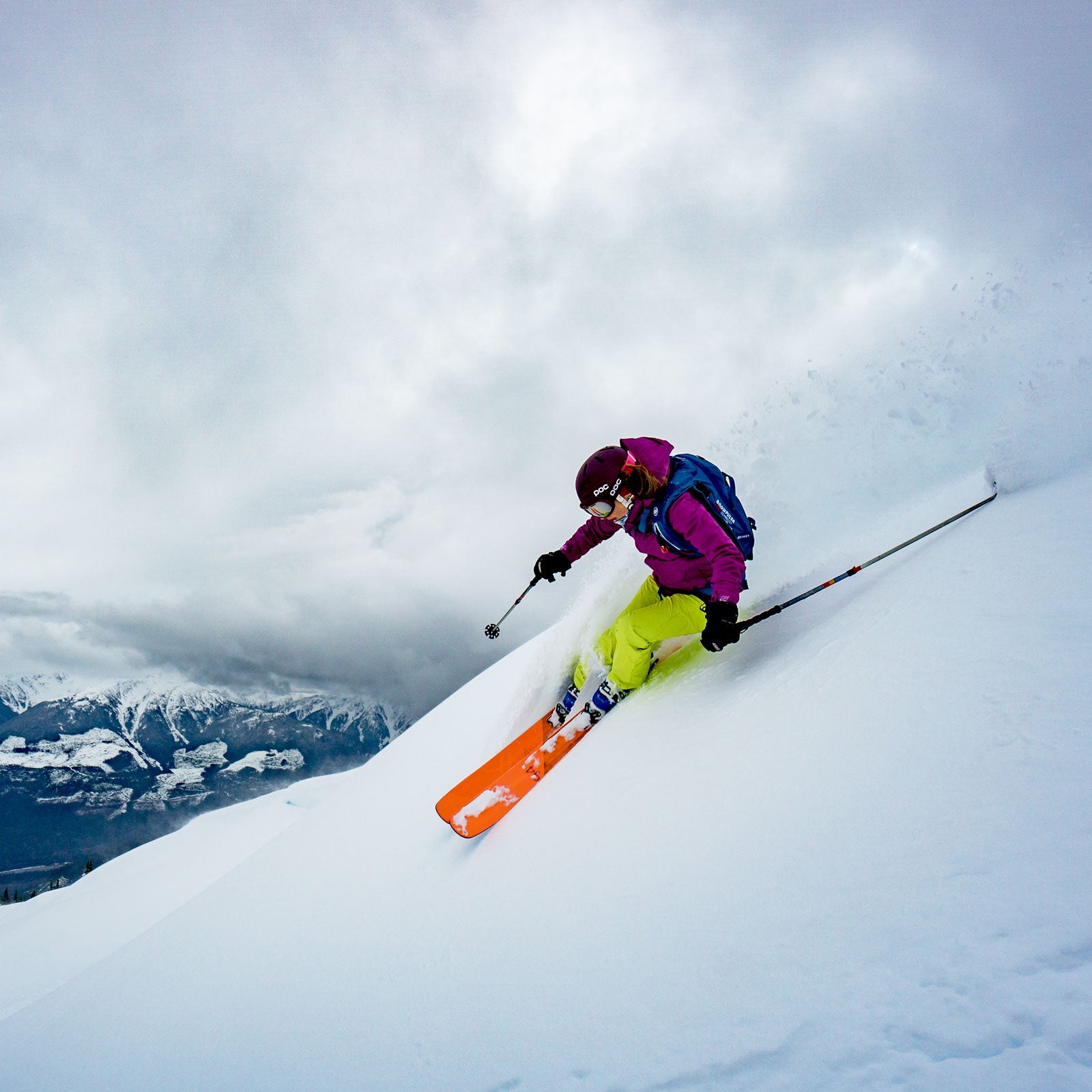 Heading out the door? Read this article on the new Outside+ app available now on iOS devices for members! Download the app.
The do-it-all, magic-bullet ski has been difficult for designers to produce. In the past, there have always been tradeoffs: if a ski floated in powder it was skittish on groomers, and if it were confidence inspiring when going fast, it refused to make short-radius turns through glades.
Women in particular have been shortchanged. Longer planks are more stable at speed, but on average ladies are shorter than men. So to get the stability they want, many expert-level women ski lengthy boards that are heavier and less agile. It takes tremendous skill and athleticism to guide extra-long missiles around trees all day.
Now innovations in ski materials and construction are making it easier to produce a do-it-all ski. The most clever designers, like Melanja Sober at Elan, are building skis that minimize compromise. The women's Ripstick, which debuted last season and costs $700 to $800, depending on the width, is one of the best examples. And this winter, Elan rolled out a svelte Ripstick 96 Black Edition ($1,000) that features a carbon-reinforced core and topsheet for extra stability and power at speed.
Elan offers the Ripstick for men, too. And unlike many women's and men's models, aside from the widths the ski comes in (86, 96, 106, and 116 millimeters for men; 86, 94, and 102 millimeters for women), there are few differences between the two. The internal makeup is the same, though the women's binding mount is a bit farther back. That's because studies conducted by Elan and other ski makers confirmed that women have broader, weightier hips and position themselves differently on skis. "Women tend to have their body weight a bit toward the tail," explains Melanja Sober, head of product for the winter division at Elan, which is based in Bled, Slovenia. "The women's Ripstick's center is adjusted so they can use the ski to its full potential, without any limit."
I've been testing the Ripstick 94 in the 156-centimeter length. (I'm five feet tall.) I skied it on soft-snow days and on refrozen hardpack in the trees at Steamboat, and in the Alta Chutes at Jackson Hole. I spent several weeks with the Ripstick as my daily driver, and there aren't many situations where this ski feels out of its element.
It holds an edge like nobody's business. On carvable groomers, the Ripstick left trenches so deep that ski patrol should've flagged them as hazards. It's also fun and lively from turn to turn.
The ski is maneuverable in tight trees and other technical situations that call for quick turns. When I need to scrub speed, or when I zoom up to an unexpected obstacle hiding behind an aspen, I can easily redirect the Ripstick onto a better line. Yes, I've ridden turnier skis, but none of them were as stable as the Ripstick.
With 94 millimeters underfoot, the Ripstick has decent float (six inches of powder is the sweet spot). It even manages to plow through chunky snow better than I'd expect, given the relatively light weight. Skiing across hardened tracks and heavy crud, it can be wonderfully bossy: it punches through junky snow and smooths out the roughest conditions.
Of course, the Ripstick has some shortfalls. It isn't quite stable enough to go really fast. (The Black Edition fills this void.) And even though it's extremely capable on groomers, a dedicated carving ski like the Head Supershape still outperforms it.
But the Ripstick is an all-mountain freeride ski, not an on-piste specialist. As such, its ability to be so compliant and assertive is impressive.
The secret, says Elan, is twofold. First, there's the Tubelite core, which Elan initially developed as a way to lighten up its women's skis, though the innovation proved to be so beneficial that it crossed over into the men's line as well. The structure combines lightweight wood, for a smooth, damp feel, with carbon rods along the edge of the ski for strength and grip. While some designers use titanium or other metals to create a powerful, hard-charging plank, Elan achieves similar results with weight-saving carbon.
The Ripstick's other innovation is the way it uses both rocker and camber at the tip. The ski's inside edge is cambered for excellent grip on hardpack, where skiers benefit from a longer effective edge. The outer edge is rockered, creating a shorter effective edge that smears easily into a turn. Thus the Ripstick has a dedicated right and left ski—and a Jekyll and Hyde personality. It skis long when you want power and stability and short when you need easy steering. That's practically the definition of versatility.
Plus, the Ripstick proves that focusing on female rippers can improve ski design for all riders. The industry is doing a better job of listening to women, says Sober. With its W Studio, a team of female skiers around the world, Elan solicits input on performance and design. That's how Elan heard the call for a light, easy-handling ski that was powerful enough for experts. "Now we know what those skiers want and are able to use that knowledge to push innovation," Sober says. Developing the Tubelite core was Elan's response, and men have greeted it with equal enthusiasm. While the Ripstick is light and maneuverable, it's anything but dumbed down.
Lead Photo: Courtesy Kyle Hamilton/Elan