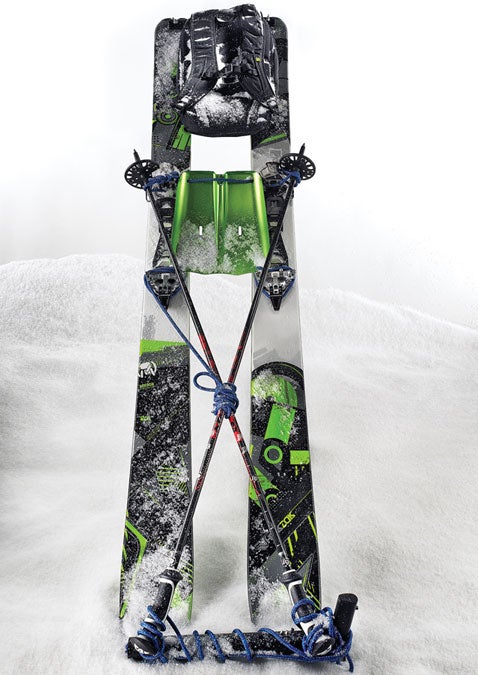 Heading out the door? Read this article on the new Outside+ app available now on iOS devices for members! Download the app.
K2 Rescue Shovel Plus
Most collapsible backcountry shovels just dig and scoop. K2's Rescue Shovel Plus has you more than covered there.  The twin points on the blade give it more bite—and increase its structural integrity—when you're, say, furiously chopping through concrete-hard avalanche debris and your buddy's crappy old plastic shovel is buckling. You can also affix the blade to the uniquely shaped grip, which essentially turns the shovel into a hoe, allowing you to quickly scoop out an igloo or build a backcountry kitchen. But, true to its name, it serves another, totally unique function. Because it has the necessary nuts and bolts stashed in its hollow handle, and the blade and shaft have been pre-drilled in the right places, it can also be used to construct a rescue sled. The instructions are in with the pouch of hardware; all you need are a few ski straps, ten yards of cordelette, and skis with holes in the tip and tail (like all of K2's and Völkl's backcountry skis). We hope you never have to assemble it, but it's nice to know that, in a pinch, you've got options.
Mountain Approach Folding Approach Skis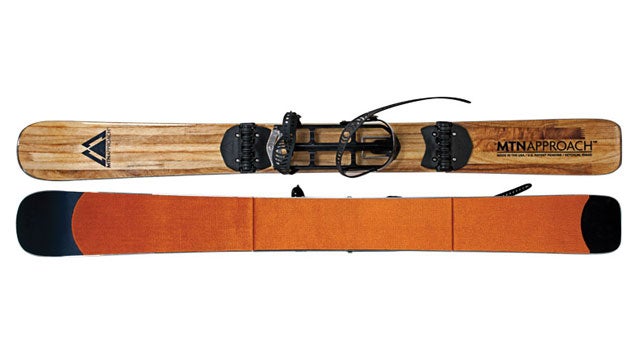 Until now, snowboarders have generally had two options for getting into the backcountry: snowshoes or splitboards. But snowshoeing is slow (no glide), and even the best break-aparts aren't as responsive as a solid board. Mountain Approach's Folding Approach skis offer a new way. In lieu of a traditional P-tex base, these 55-inch-long, 4.5-pound minis have integrated climbing skins and free-pivoting bindings, allowing you to skin up in your snowboard boots. At the top, you fold the skis into thirds—two hinges let them collapse—slide them into the included 35-liter backpack, and down you go.
Pieps Vector Avalanche Transceiver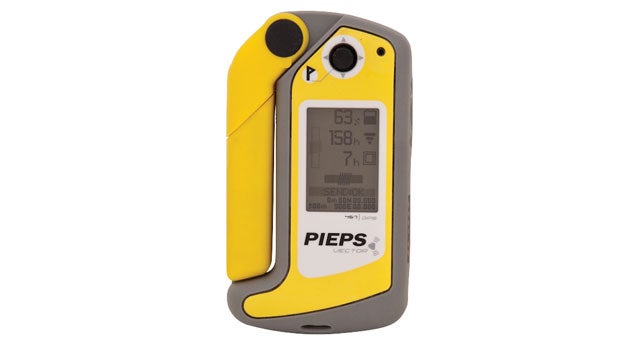 The Pieps Vector is the first avalanche transceiver to incorporate GPS technology. It's a welcome addition. For starters, you can use the Vector as you would any other GPS device. But it's also helpful in the event of a slide. While GPS signals won't lead you directly to your buried buddy—the location information they provide is too general—they do allow you, thanks to the principles of tri-angulation, to figure out the relative position of the signal much faster, saving you, and him, precious time.
La Sportiva Stratos Boots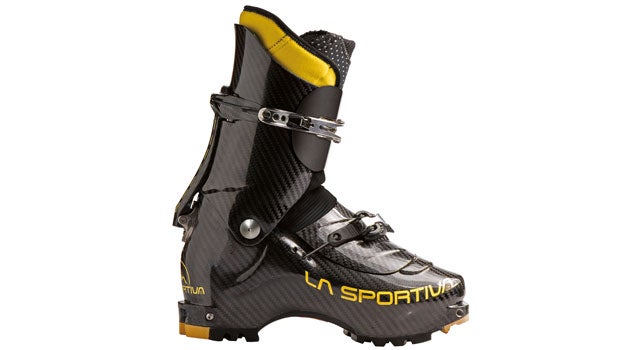 The average alpine ski boot weighs around five pounds. Alpine touring, four. This one? Just over a pound and a half, or about the same as a leather backpacking boot. Designed for elite randonnée racers, the all-carbon La Sportiva Stratos are the lightest ski-mountaineering boots on the planet. Due to their design complexity (and niche use), La Sportiva—which recently debuted an entire line of backcountry ski gear, including the ultralight bindings on page 106—handcrafts just five pairs a week in its factory in Trentino, Italy. Every minute detail, from the titanium rivets to the six-position adjustable forward lean to the featherweight custom liners, is made with one thing in mind: getting up the mountain as fast as possible.
Columbia Circuit Breaker Soft Shell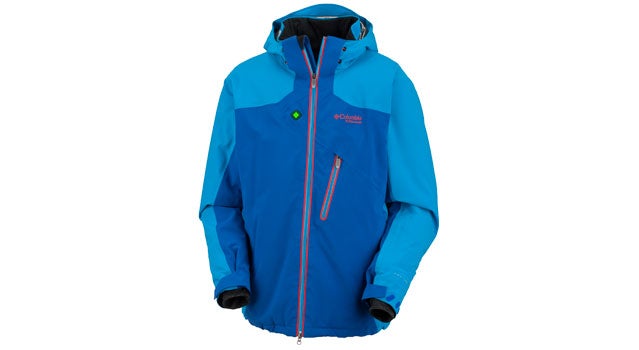 Self-warming skiwear isn't new. Skiers have been putting aftermarket heaters in their boots for years, and Columbia and Black Diamond recently debuted impressive (if expensive) battery-heated gloves. But we've never tested an electric jacket we liked until now. The best thing we can say about the Columbia Circuit Breaker soft shell, aside from how warm it kept us, is that it doesn't feel like a heated jacket. It's a bit heavier than a standard shell—there are two power packs, each the size of an iPod—but because the heat travels along lightweight, flexible carbon-fiber threads sewn into the fabric, it isn't stiffer than other soft shells. Turning it on is as easy as pushing a chest-mounted button, and the Circuit Breaker really does blaze: on its highest setting, it kept us toasty for more than five hours. 
Zeal Transcend GPS SPPX Goggles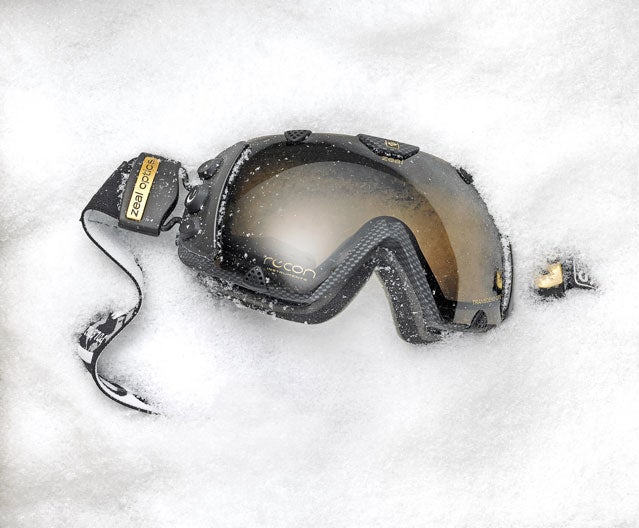 It seems like technological tomfoolery. A GPS-powered digital display embedded in the lens of high-end, polarized, photochromic goggles? Foolish but for the fact that the Zeal Transcend GPS SPPX works exceedingly well. Better, actually, than anything you could wear on your wrist or download to your smartphone. While last year's version was pretty slick, the new model is even cooler, with pre-loaded resort maps and a feature that automatically records distance and drop. Part of the reason is how easy it is to use: simply reach up and toggle through speed, altitude, temperature, distance, and more. The micro display, visible toward the bottom right of the lens, disappears from view when you're skiing. It's like a downloadable dashboard from one of those badass European roadsters James Bond drives—when he isn't on the slopes.
Salomon BBR 8.9 Ski
Narrow waist. Oversize tip. Slight rocker. Pintail. We've seen them before, just never on the same ski. The sum of these parts? Salomon's BBR 8.9 is intended to do it all: carve groomers, float in powder, and be playful on everything in between. The most surprising thing about the BBR, which was inspired by the shape of water skis and designed by Bertrand Krafft—the same guy behind Salomon's popular X Scream series and its classic Pocket Rockets—is how well it succeeds. While some experts might want more tail (to finish turns strongly), and the narrow-waist and wide-tip combo can get grabby at higher speeds in crud,  many intermediate and advanced skiers will find that it lives up to the hype. The slight rocker makes turn initiation automatic. It's just as happy making short turns as big sweepers. And the extra-wide tip and narrower tail make it, as one tester put it, "without a doubt one of the best powder skis I've ever tested." 147/88/110
DPS Spoon 150 Skis

Since its inception in 2005, Salt Lake City-based boutique ski maker DPS has been combining rocker and carbon fiber in experimental ways. (One of the company's partners, Peter Turner, is the former R&D manager at Volant Skis, the company that created the now legendary Spatula, the world's first reverse-camber, reverse-sidecut ski.) The Spoon 150, which is still in the concept phase and won't hit shelves until 2013, is its most radical design to date. Looking to create more lift and smearability in deep snow, DPS engineered the ridiculously fat Spoon (150 millimeters underfoot) with a completely convex base. But because the shape—the most extremely rockered ski the world has ever seen—allows for virtually no edge grip, its engineers added what they're calling cleats, or "downward vertical undulations," designed to give you some bite in firmer conditions. According to DPS, test runs in fresh snow in Alaska this spring yielded "long, 100-foot smears at 30 mph, with unmatched reeling sprays." No word yet on how the cleats dig into the firmer stuff. 154/150/152