Marker's New Touring Binding Does (Almost) Everything
For a small weight penalty, the new system offers tech-pin efficiency and pro-level descending. Outside spent the past 11 months testing it.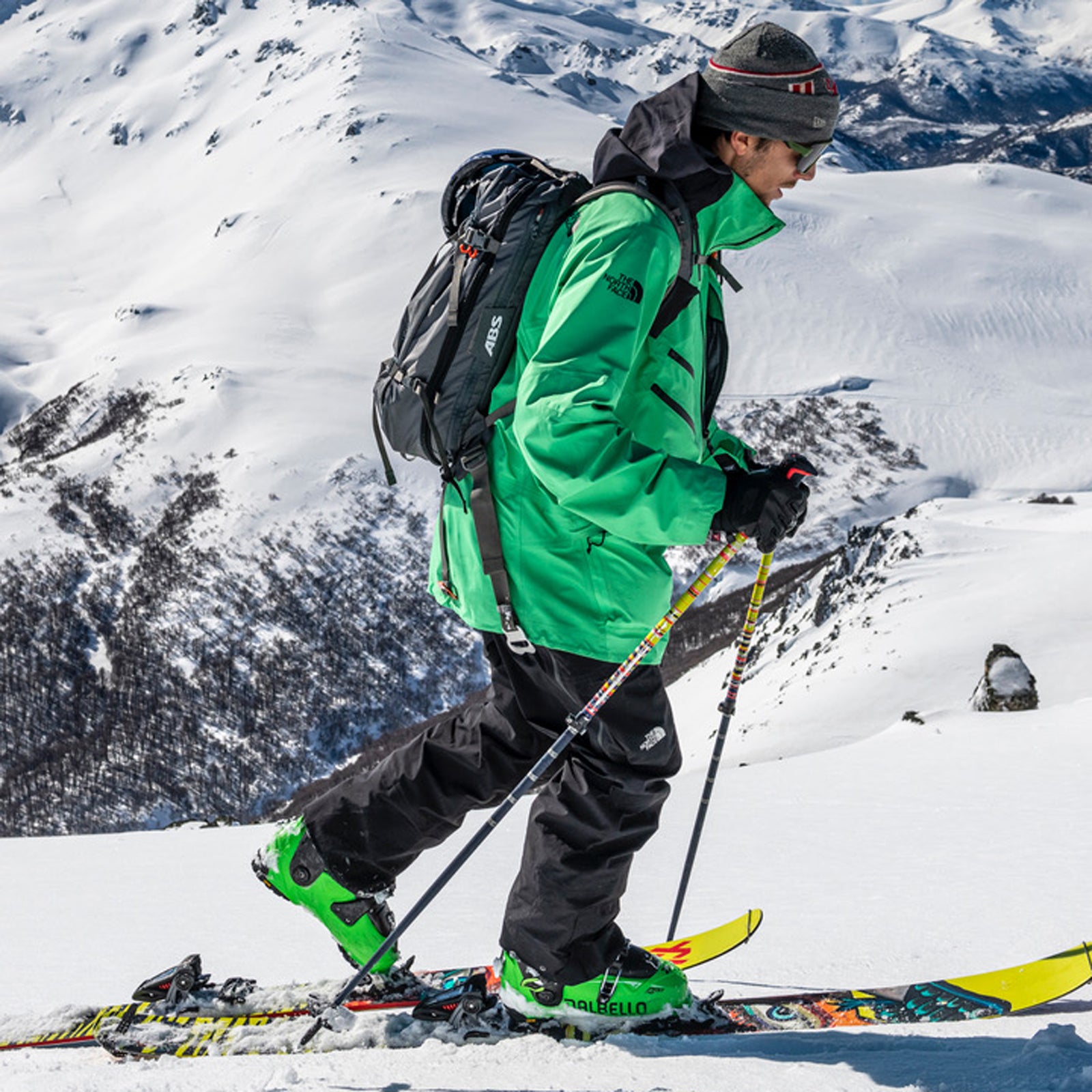 Courtesy Marker(Photo)
Heading out the door? Read this article on the new Outside+ app available now on iOS devices for members! Download the app.
Just before COVID-19 shut down skiing in March 2020, Marker launched the Duke PT (from $600), a binding built for skiers who want all the downhill performance of a traditional top-shelf alpine binding with enough tech binding functionality for efficient ski touring. Ski brands have been trying to develop a burly crossover like this for decades. They've come up with all sorts of solutions over the years, but none were really perfect. Why the obsession? In certain terrain, at certain times, for certain skiers, charging hard matters more than touring ease. Think about all those days when you're ripping laps inbounds with friends, and then—based on a strong working knowledge of the snowpack and current avalanche advisories—you decide to head out the gates. The Duke PT may bear a weight penalty, but it's the first widely available binding system that truly lets you climb uphill and still perform downhill at the peak of your athletic abilities. 
What Came Before
For decades, most other touring bindings kind of sucked, either on the downhill or the uphill or both. Lightweight, hyperefficient Dynafit-style "tech" bindings are ideal for extended ski tours where energy savings outweigh downhill performance. But skiing them inbounds or in the backcountry at high speeds on rowdy terrain is a mistake for most skiers. There's no real elastic travel (shock absorption) in the system, and the boots rock on those pins at the heel, which robs you of power at the end of the turn. That translates to an overly rigid ride that's prone to chatter and reduced edge hold. In an alpine binding, large coil springs act like shocks, allowing the boot to subtly move side to side but also return to center. There are also legitimate safety concerns: tech bindings release, but not in the same way as traditional alpine bindings, which means in certain types of falls they might not release laterally, and in specific terrain features—a deep trough or moguls—they might prerelease at the heel. They're the ultimate in backcountry transportation, but you should back off the air and knock down your speed when you ride them.   
Since the late 1990s, manufacturers tried to pawn off old-school frame bindings—the ones that elevate you off the ski and force you to lift an underfoot platform with each step—as the fix. But that added height reduces your snow feel and yields more lateral slop, which means they don't ski well inbounds. Some brands attempted to correct that by reinforcing the platform, but the clunky touring motion and loss of sensitivity remained (think: the original Marker Duke or Salomon Guardian). 
Recently, hybrid bindings like the Marker Kingpin ($650) and Salomon Shift ($600) came close to the platonic ideal of an AT binding capable of sending. But the Kingpin still suffers from that too-rigid feeling at the toe. (Again, it doesn't release laterally.) And while the Shift may be the perfect solution for many skiers due to its blend of alpine-style safety and impressive uphill efficiency, it ultimately falls short of serious shredding because it lacks the big springs and metal reinforcement of a top-shelf alpine binding. Don't get me wrong: I was an early adopter and have spent the better part of the past four years as a dedicated fan of that system. It tours exceedingly well and is light enough for big climbing days if you're fit. But while the Shift's toe piece compares to the best alpine offerings, its lightweight heel and limited elastic travel mean it doesn't feel like one on the way down. Specifically, it doesn't produce as much downward pressure on the heel of your boot, so in a powered-up turn, the G-forces can overcome the binding and result in lateral slop. In my testing, I couldn't feel that in powder, but I could feel it on hardpack, where that loss of power translates to a less-secure feel and edges that don't want to bite as hard. 
All of this brings us back to the needs of hard-charging skiers. Historically, that crowd had only one option: the CAST binding system, an aftermarket solution that lets you remove an alpine-style toe piece in the field and replace it with a tech toe for the climb. Because it only works with Look Pivot bindings, is complicated to install, and isn't available through shops, it's been called a "One Percenter" binding—engineered for a few pro athletes. (This year, CAST has sold more than 2,000 units and counting and burned through multiple production runs.) That's where the Duke comes in.
The Duke PT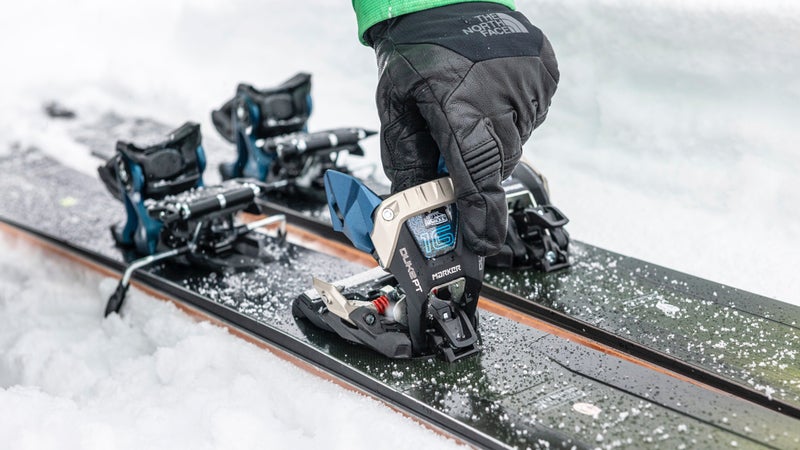 In alpine mode, it's tough to distinguish this new hybrid freeride model from Marker's elite-level Jester family of alpine bindings, which are the company's benchmark for downhill performance. But press down on the tab at the front and the alpine toe miraculously rolls forward, revealing a hidden tech toe below. At this point, you have two options. If you're touring up a short pitch, simply press the alpine toe flush with the ski and lock it into place. For longer tours, pull up on a lever and remove the alpine toe segment entirely so you can stash it in your pack or pockets. (Carrying weight on your torso is easier than carrying weight at your extremities.) Flip a lever to lift and lock the brake for full tour mode. A climbing aid incorporated into the brake pedal flips up to offer 10 degrees of lift, which is roughly equivalent to the lower riser on a regular touring binding. To ski down, simply reverse the process, reattaching the toe piece, rolling it back into place, and smacking the lift lever to release the brake. Then, step in like an alpine binding. The Duke PT comes in two versions: The PT 12 ($700) weighs 1,090 grams in total or 850 grams without the toe pieces. The PT 16 ($700), with its burlier spring and beefed-up heel, weighs 1,280 grams or 1,000 grams without the toe pieces. For comparison, the Shift weighs 860 grams, and a Dynafit ST Rotation ($650) weighs 605 grams. The binding is compatible with regular alpine boots, GripWalk boots with tech fittings, and touring-specific boots with toe lugs. 
The Test
I tested the system on the new Völkl Blaze 106 over six days in the backcountry and another few days at my local ski area, the Montana Snowbowl. To match the burly ski and binding setup, I rode in the Dalbello Lupo Air 130 ($800), a hybrid AT boot with tech fittings. 
Though it looks like it would be cumbersome, the Duke PT is actually quite slick. After a few practice runs, I was able to go from ski to tour mode with both toe pieces stashed in my hipbelt pockets in under 15 seconds. Leaving the toe pieces connected saves even more time. A little ice accumulation slowed this process; as with the Shift, it's a good idea to carry a cycling chain brush alongside your Glop Stopper and scraper. Going back to ski mode is nearly as quick, but it takes some practice to get a feel for reattaching the toe pieces. Still, I did it in under 20 seconds for both skis, even when flubbing it. Marker has also tweaked the location of the heel pivot in many of its high-performance bindings, including the Duke PT, which means stepping back in is easy. 
Moving uphill, the Duke PT 16 bindings I tested were, of course, noticeably heavier than my Dynafit Superlites and somewhat heavier than my Shifts, though it can be tough to feel the extra 115 grams per pair when you're in heavy boots anyway. I would not want to be the only one on them chasing people on tech bindings. But overall, they functioned flawlessly, and I never accidentally kicked down the brake, which happens once a day on my Shifts. 
As for the downhill performance, the Duke PT 16 skis exactly like the Jester Pros that I've hammered for years. Objectively, the PT offers two to three times more elastic travel at the heel than any other freeride hybrid out there, and the downward pressure on the heel feels significantly more stout. At the toe, the Duke features the same contact points and return to center as the Jester. All of which is to say that it skis like the burliest alpine bindings on the market. I had no qualms about pushing to my limits inbounds.
The Verdict
I try not to get too prescriptive with gear. Plenty of elite skiers charge downhill on tech bindings. And for big tours with fit people or extra-long approaches, I will always reach for lightweight gear first. Meanwhile, the Salomon Shift is great for bringing alpine binding safety and remarkable skiability to the backcountry. So, where does the Duke PT fit in? If the Shift is a freeride hybrid that sacrifices some small amount of downhill performance for climbing efficiency, then the Duke PT is one that sacrifices touring efficiencies for expert-level charging. Think of it as the winter equivalent of a full-suspension bike with 150 millimeters of travel. In that analogy, the Shift would be a do-it-all 130-millimeter trail bike, and a lightweight tech binding would be a cross-country race bike. Since the Duke PT is heavy, it doesn't climb quite as well as a Shift or a tech binding, but when you get up to speed on the descent, you'll forget all about that. 
Ultimately, it lives up to my 20-year vision of a binding that can confidently shred inbounds but still hang if I head out the gates midday. It's perfect for the kind of high-consequence skin-access terrain you'd find in Alaska, patrollers who want uphill functionality and downhill performance, or dedicated resort skiers who want to do some guided ski touring out the gates in places like Jackson Hole.
Lead Photo: Courtesy Marker