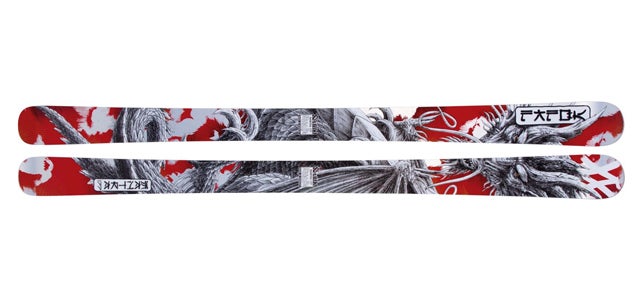 Heading out the door? Read this article on the new Outside+ app available now on iOS devices for members! Download the app.
Völkl Mantra Skis
BEST FOR: Your one-ski quiver.
THE TEST: A ski this wide—98 millimeters underfoot—used to be gigantic and hard to turn in anything but powder. But thanks to the gentle flare up front, that's all changed. You just tip the ski onto its side and the Mantra dives effortlessly into big hard-snow turns. The rocker also makes it float like a fat-waisted ski in powder.
THE VERDICT: "Effortless carving. No speed limit. And a touch of that surfy feel in powder," said one tester. "Eight out of 10 skiers will love this ski," said another. 132/98/118
Kastle MX83 Skis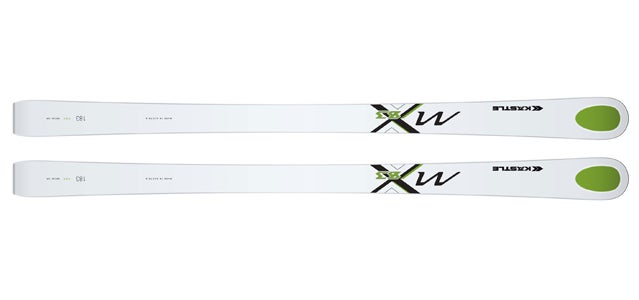 BEST FOR: All-mountain versatility.
THE TEST: Included in the frontside category at our Snowbird, Utah, ski tests, the MX83 lived up to its billing as a stable control freak on multiple snow surfaces. Every tester wrote the word "damp" on their review cards, usually followed by "stable, predictable, and solid." But the MX's dampness and predictability come at a cost: you don't get as much energy out of each turn as with Kästle's BMX line.
THE VERDICT: "You could drink a cup of coffee and text while going 40mph on these things," said one tester. 123/83/109
Dynastar Cham 97 Skis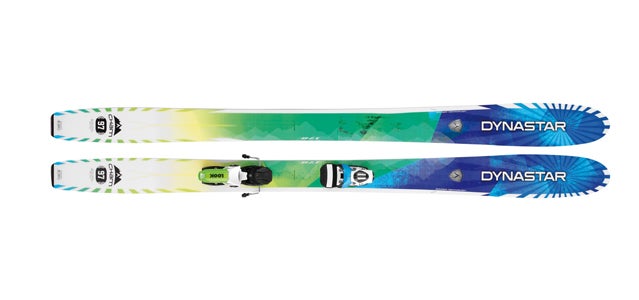 BEST FOR: Hard charging all over the mountain.
THE TEST: The Gear of the Year award winner in Outside's Winter Buyer's Guide, the Cham 97 is one of the most versatile all-mountain skis we've ever tested. The tip floats in everything but waist-deep glop, but unlike most surfy and fun skis, the flat tail lets you power through turns. Plus, because the ski tapers into a pintail, you can release the power of your turn at any point along the way.
THE VERDICT: A playful rockered ski with serious horsepower. 118/133/97/113/94
Blizzard Gunsmoke Skis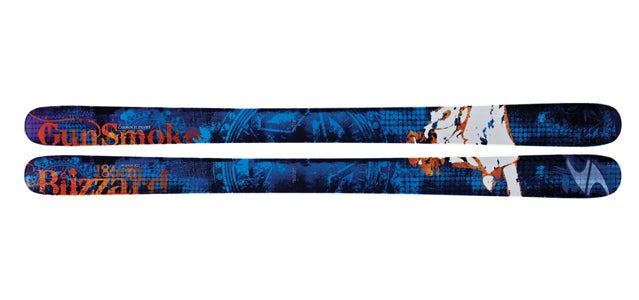 BEST FOR: Tip-rockered fun minus the flutter.
THE TEST: Once upon a time (three years ago), the only thing a powder ski had to do was float. Then it needed to float and feel surfy in tight trees. The Gunsmoke sets the bar higher still: it floats, it surfs, and it's as stable and powerful as all but a few big-mountain boards. "Crazy stability and a quiet ride, given all that rocker," said one tester.
THE VERDICT: Anytime there's six inches or more of new snow blowin' into town, reach for the Gunsmoke and don't stop chuting. 140/114/130
Head Sacrifice 105 Skis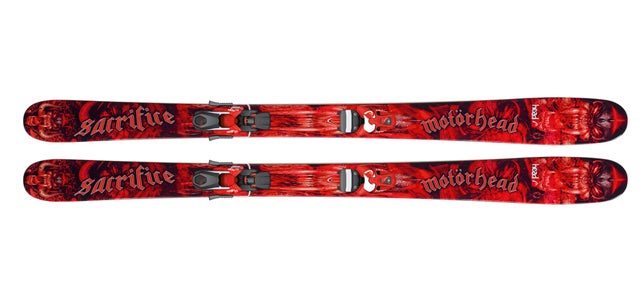 BEST FOR: All-around versatility.  
THE TEST: We took a couple of GS turns on groomers to get a feel, then dove into knee-deep powder, trees, and screeching super-G turns. If it could talk, the Sacrifice 105 would scream, "More!" It's not as surfy or as playful as some powder skis, but Head's claim that the Sacrifice will edge even on bulletproof snow isn't overblown.
THE VERDICT: Impressively versatile. This could be Head's new flagship ski. "This thing rips!" said one tester. "Love the loose shovel and the traditional feel underfoot." 144/105/131
Atomic Ritual Skis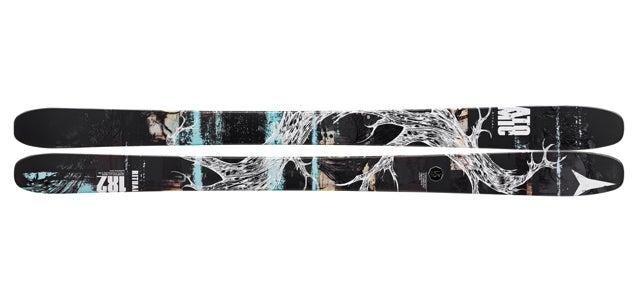 BEST FOR: Race-inspired power in a big-mountain charger.
THE TEST: Here's a rockered ski with edging guts. We found the Ritual effortless to pivot around in soft snow, but with camber, wood, vertical sidewalls, and metal (in the belly of the ski), there's tons of power here, too. Although it doesn't make a perfect tip-to-tail carve, it does lay down power turns on hard snow. "Lightweight feel, and easy to mix up the turn shape and terrain," said one tester.
THE VERDICT: A fun powder ski with some serious chutzpah. 130/103/121