The Evolution of an Adventure Wheelchair
AdvenChair 2.0, coming out late this year, will allow more people to experience more wilderness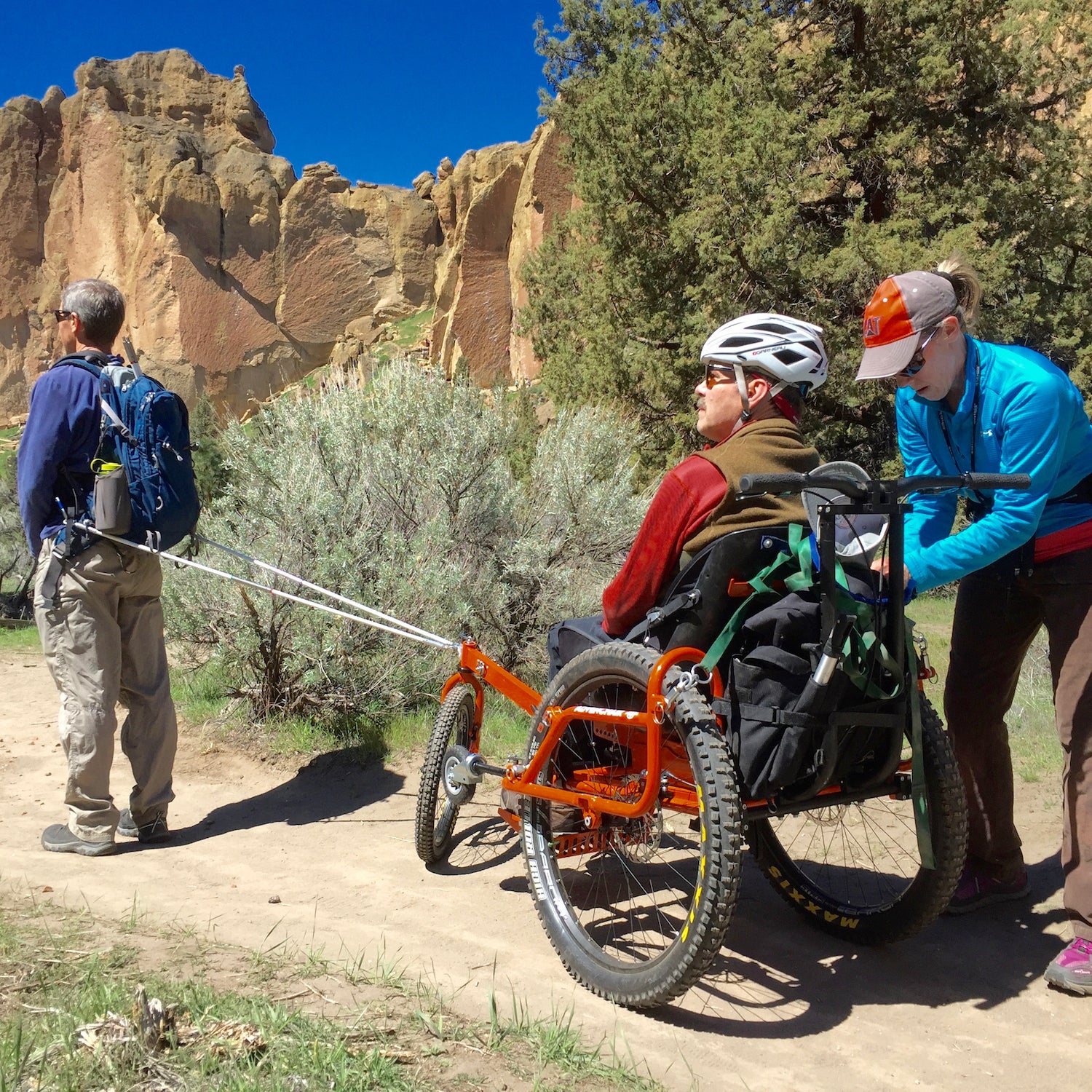 Heading out the door? Read this article on the new Outside+ app available now on iOS devices for members! Download the app.
The road to building a good all-terrain wheelchair is littered with broken axles, gravel road rash, and uncomfortable ergonomics; just ask Geoff Babb. "The most significant mishaps are also the best things that could happen during development," he says. An inventor on the cutting edge of wheelchair technology, Babb is the creator of the AdvenChair, a rugged, outdoor-friendly roller that uses bi-ski and mountain-bike technology to enable people with mobility issues and their gang of helpers to navigate rocky, steep trails. (It can also be operated solely by the chair's user for short distances.)
A lifelong outdoor enthusiast and BLM fire ecologist, Babb loved backpacking, climbing, and mountain biking near his hometown of Bend, Oregon, until his life took an abrupt turn when he suffered a near fatal brain-stem stroke at age 48. "While I was in rehab, it became obvious that I wasn't going to walk and that I would be in a wheelchair," he says. Getting back outdoors was a top priority for him, his wife, Yvonne, and their two boys, but none of the chairs they saw on the market fit the bill.
Without enough arm strength to push himself, he accumulated a laundry list of solutions that would allow helpers to aid him in an ergonomic way. "We also needed parts that were easily accessible, versatility to maneuver outdoors and indoors, and a chair that was durable enough to go on rougher or steeper trails," Babb says. Nothing checked off all the boxes, so they developed a solution on their own.
The AdvenChair 1.0 was little more than a standard-issue wheelchair with knobby tires (instead of thinner, pavement-friendly ones) and an added front wheel for increased mobility when rolling over curbs and rocks. After testing the chair on trails all over Smith Rock State Park, Crater Lake, and Mount Rainier, Babb and his family decided to put it through the ringer on a 2016 trip to Grand Canyon National Park.
With a team of three to four people (lovingly referred to as "mules") helping push and pull the chair, they set off from the Bright Angel Trailhead on the Grand Canyon's South Rim, carefully navigating the wheels over hundreds of bumps and drainage channels.
Just two miles from the trailhead, an axle snapped. Babb and his team were forced to retreat back to the parking lot. "I see this mishap as a gift, as it forced us to rethink our design," he says. "Within a week, we were back in my garage finding new ways to make it better."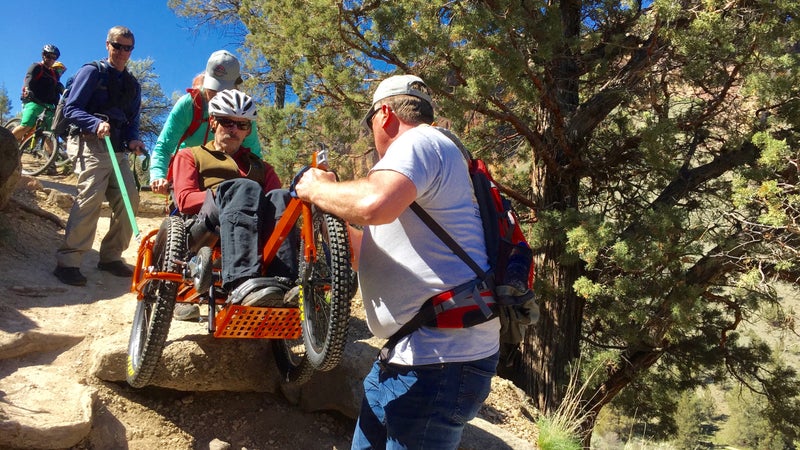 Enter the AdvenChair 2.0, Babb's latest creation. With the help of helicopter mechanic Dave Neubauer, CAD designer Jack Arnold, and Yvonne's steering and ergonomic expertise, Babb fully redesigned his initial concept.
"The frame of the AdvenChair 2.0 is more durable and capable of overcoming obstacles like logs, stream crossings, rocks, and roots," Babb says. The team worked to make the 20-inch front wheel more all-terrain friendly, with an added shock and included ease-of-use features like 180-millimeter disk-brake rotors, handlebar-mounted brakes, and a durable 6061 T6 aluminum frame with lifting and towing points for the chair's pushers and pullers. The new model weighs 60 pounds and can fit into the back seat of most sedans once the front wheel is removed. "AdvenChair 2.0 is the whole enchilada," Babb says.
This foray into the world of all-terrain wheelchairs is not without competition. From the tanklike, motorized Action Trackchair ($12,000) to the sporty, push-powered Grit Freedom Chair ($3,000) and the popular Freewheel ($600), people with disabilities have more options than ever when it comes to choosing an adventure-ready rig.
What really sets the AdvenChair apart, however, is its combined use of bi-ski and mountain-bike technology, which allows a team of one to four pushers and pullers to maneuver the chair across the toughest trails out there with little to no help from the rider. There are 16 points on the chair to push, pull, or lift. Babb adopted the waist belt and fiberglass towing poles often used on a pulk sled so that a friend can help pull the chair from the front, while another helper can use the adjustable, wide handlebars to push the chair and access the disc brakes from the back.
Much of the chair is constructed with standard-issue bike parts, like grippy 27.5-inch wheels and tires, allowing users to repair and maintain the chair themselves. Not a do-it-yourselfer? Just bring the chair into your local bike shop for a tune-up. Its padded bucket seat is also easily removed, a boon for a child user, who can grow with the AdvenChair and only ever need to purchase a new, larger seat to be fitted on the chair, greatly extending its life span.
AdvenChair will begin taking orders late this year, shipping the first units next year for a cost of about $10,000 per chair. After that, Babb has a Grand Canyon redux planned, and with the 2.0's robust new features, I'd say the odds are with him.
"We believe that everyone, regardless of physical ability, should have the opportunity to visit wild places," Babb says. "Instead of needing a landscape that's been adapted to wheelchairs, people can now have a chair that adapts to the landscape."
Trending on Outside Online