Northeast Adventures
New England's Best Outdoor Gear Shops
In the Northeast, you'll find many of the nation's oldest and most interesting gear shops—and some of its younger and most innovative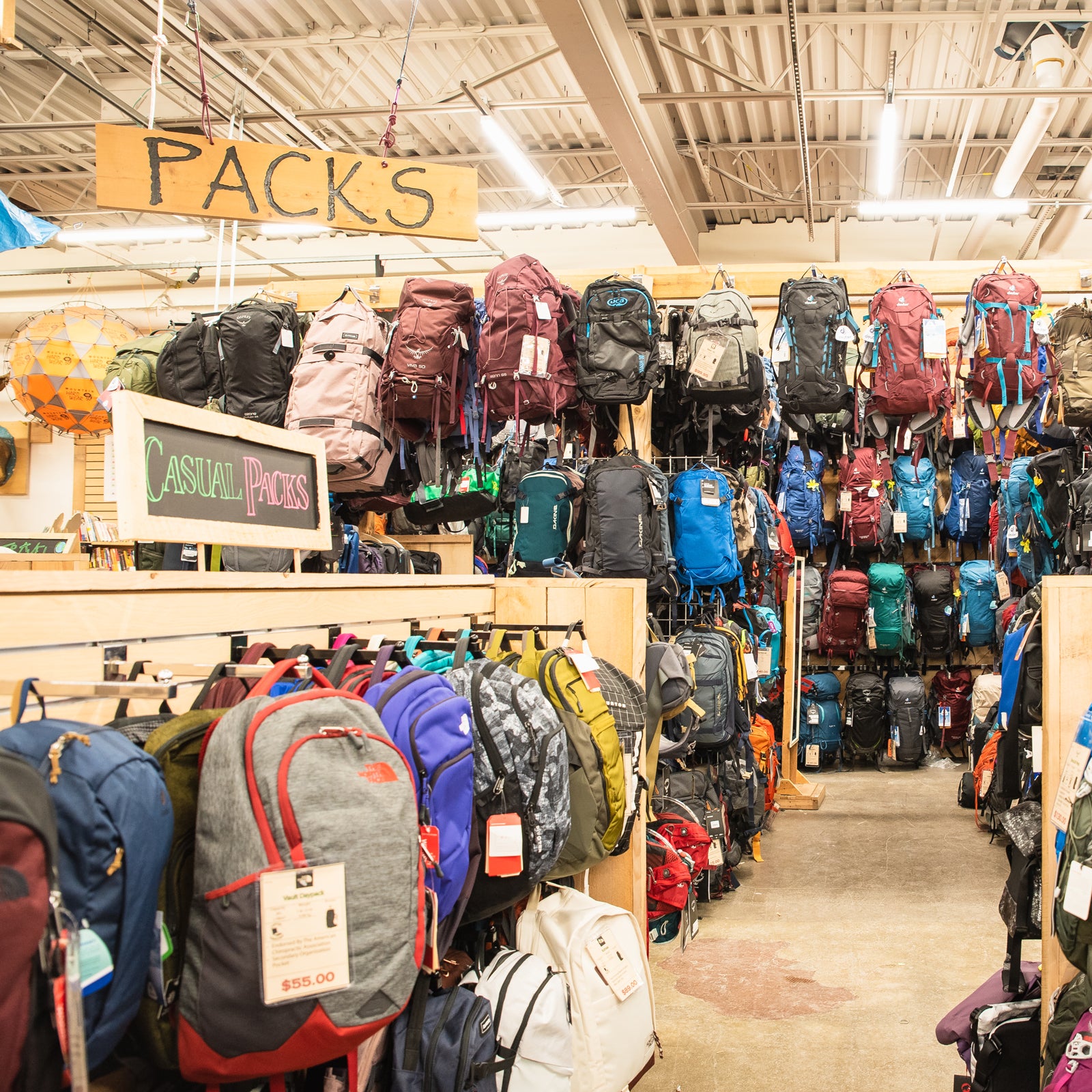 Courtesy Outdoor Gear Exchange(Photo)
Heading out the door? Read this article on the new Outside+ app available now on iOS devices for members! Download the app.
If there's one thing that makes New England stand out among other outdoorsy regions of the United States, it's the history. All across Connecticut, Maine, Vermont, New Hampshire, Massachusetts, and Rhode Island, outdoor traditions run deep. This is where you'll find the country's oldest long trail—the Long Trail, a 272-mile path built in Vermont in 1910 by what is now the Green Mountain Club—and the country's oldest outdoor group, the Appalachian Mountain Club, a conservation and outdoor recreation organization founded in New Hampshire in 1876.
It's also where you'll find many of the nation's oldest and most interesting gear shops—and some of its younger and most innovative. These stores run the gamut from more than 100 years old to brand-spankin' new, and they're all worth a detour on your next trip up north.
L.L.Bean Flagship in Freeport, Maine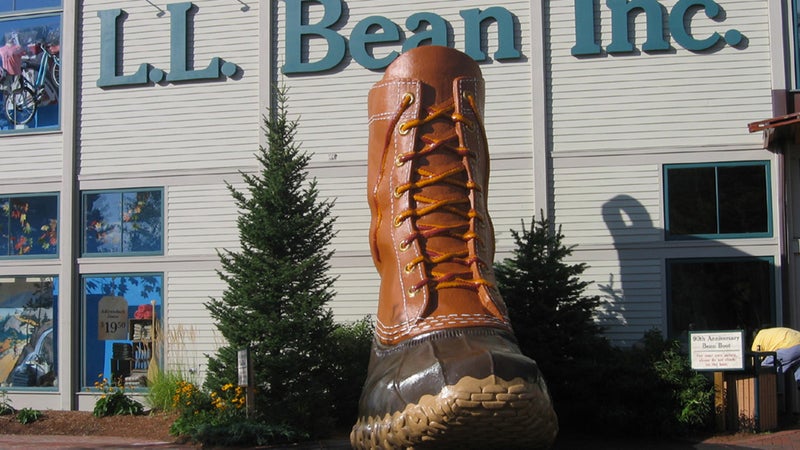 For more than 60 years, L.L.Bean's flagship store in Freeport, Maine, has kept its doors open around the clock. This massive compound of several stores started out with one building in 1917 and has been open 24/7 since 1951, offering New England's outdoorsiest residents the chance to shop for tents at all hours. The flagship store has shut its doors only five times—and just once for more than 24 hours, when it closed in mid-March because of the COVID-19 pandemic.
Aside from a massive Bean Boot sculpture outside the front door and separate shops specializing in different activities—an outlet and stores for home goods, hunting and fishing, and biking, boating, and skiing—the flagship also has its own restaurant, the 1912 Café, named for the year the company was founded. In the summer, L.L.Bean typically hosts a live concert series.
And yes, people do show up at all hours. It's not at all uncommon for shoppers to swing by at 3 a.m. just to hang out with their friends and have some fun trying out camp chairs or lounging in tents.
Outdoor Gear Exchange in Burlington, Vermont
Burlington, Vermont's beloved Outdoor Gear Exchange is the rare store that offers both new products and a large consignment selection to foster the upcycling of gear. This 25-year-old retailer also runs gear repair services under the same enormous roof—the mom-and-pop shop has 44,000 square feet of goods for biking, camping, paddling, and climbing.
Beyond the gear, the OGX community loves the store for all the ways it gives back. Its Charitable Grant Fund offers a handful of $2,000 grants each year to nonprofits working to improve recreation access and facilities. In 2019, for example, the Northwoods Stewardship Center was awarded funds to buy cross country ski gear to foster a love for winter sports in young kids.
Lahout's, America's Oldest Ski Shop, in Littleton, New Hampshire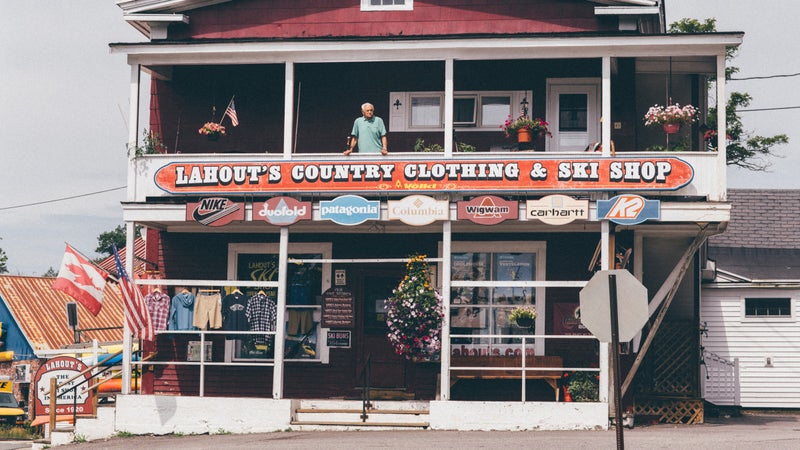 The oldest ski shop in the United States started out as a country store on wheels, then morphed into a grocery store and, eventually, a gear shop. In 1920, Herbert and Anne Lahout sold groceries, wool products, ammunition, and dry goods from a horse and buggy in Littleton, New Hampshire. Their son, Joe, fell into skiing as it exploded in popularity in the United States. When he got back home after serving in World War II, his mission was to make the sport more accessible for children and families by selling more affordable gear. Today, the family owns eight locations around New Hampshire's ski country, but the coolest is undeniably the original. While you will find all the brand names of modern times, the shop is like a time capsule: it's full of old photos, vintage leather ski boots, and memorabilia from the U.S. Ski Team—and lots of odds and ends from the days when Joe was skiing for 25 cents a lift ticket.
A film about Joe, who was born in the apartment above the shop and died at the age of 94 in 2016, was an official selection for the 2016 Telluride Mountainfilm Festival.
Portland Gear Hub in Portland, Maine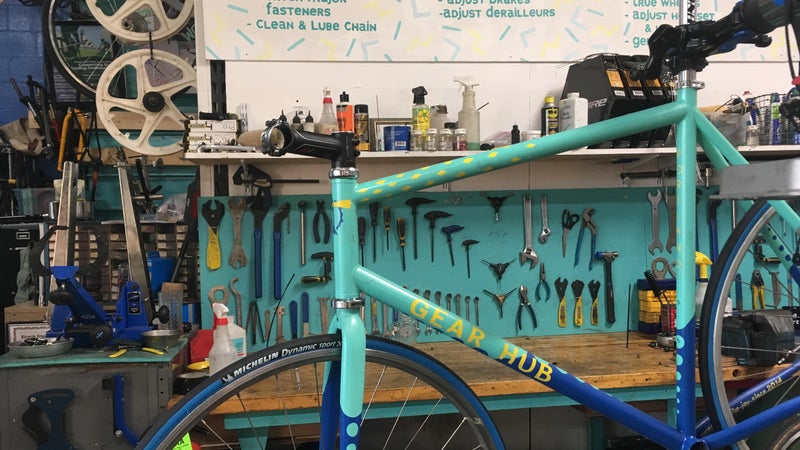 If you cycle, you know it's an expensive sport to get into. To lower the barrier to entry and get more kids on bikes, the five-year-old nonprofit Portland Gear Hub spruces up donated bikes to sell them at affordable prices. It also hosts classes and workshops in its garage to teach everything you could possibly need to know about bikes, including how to be your own mechanic.
While the shop started with bikes, it has expanded to get the community outdoors in other ways, too. Thanks to a partnership with craft brewer Oxbow Beer, the Hub offers fat bike, snowshoe, and Nordic ski rentals alongside a large network of cross-country ski trails behind one of the brewery's locations. It also sells consignment apparel and camping equipment like tents, packs, stoves, and sleeping bags in the main store.
Intrinsic Provisions in Hingham, Massachusetts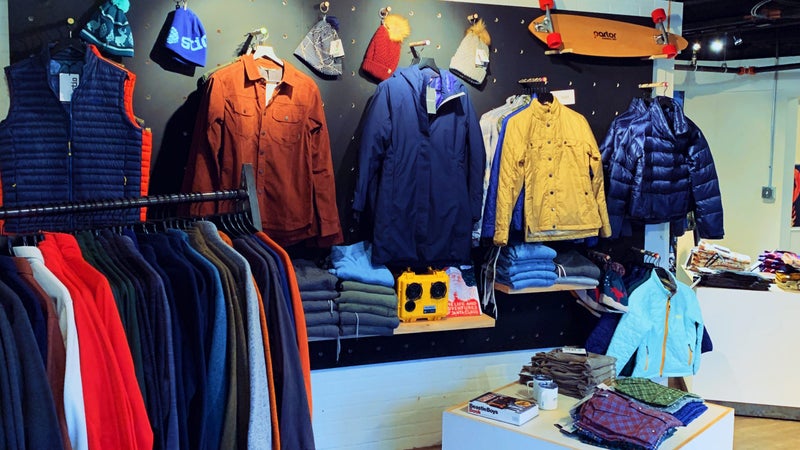 Every time you visit the year-old Intrinsic Provisions, you'll see something new. At Intrinsic, half the space is reserved as pop-up space for outdoor brands to set up mini shops. Every four to six weeks, brands like Fjällräven, MiiR, September swimwear, Shwood, and Topo Designs come in and take over that side of the shop, as if it were their own outfit. The other half of the store is more like your traditional retailer, with consistent brands whose gear cycles in and out with the seasons.
Wish you had something like this in your town? You might some day: owner Mark Boles says he hopes to open ten to 15 more shops like this in other cities around the United States within the next few years.
This story was produced in partnership with Down East magazine.
Lead Photo: Courtesy Outdoor Gear Exchange