The Best Portable Bluetooth Speakers
For backyard to beach, trailhead to hotel room, these speakers keep the party close at hand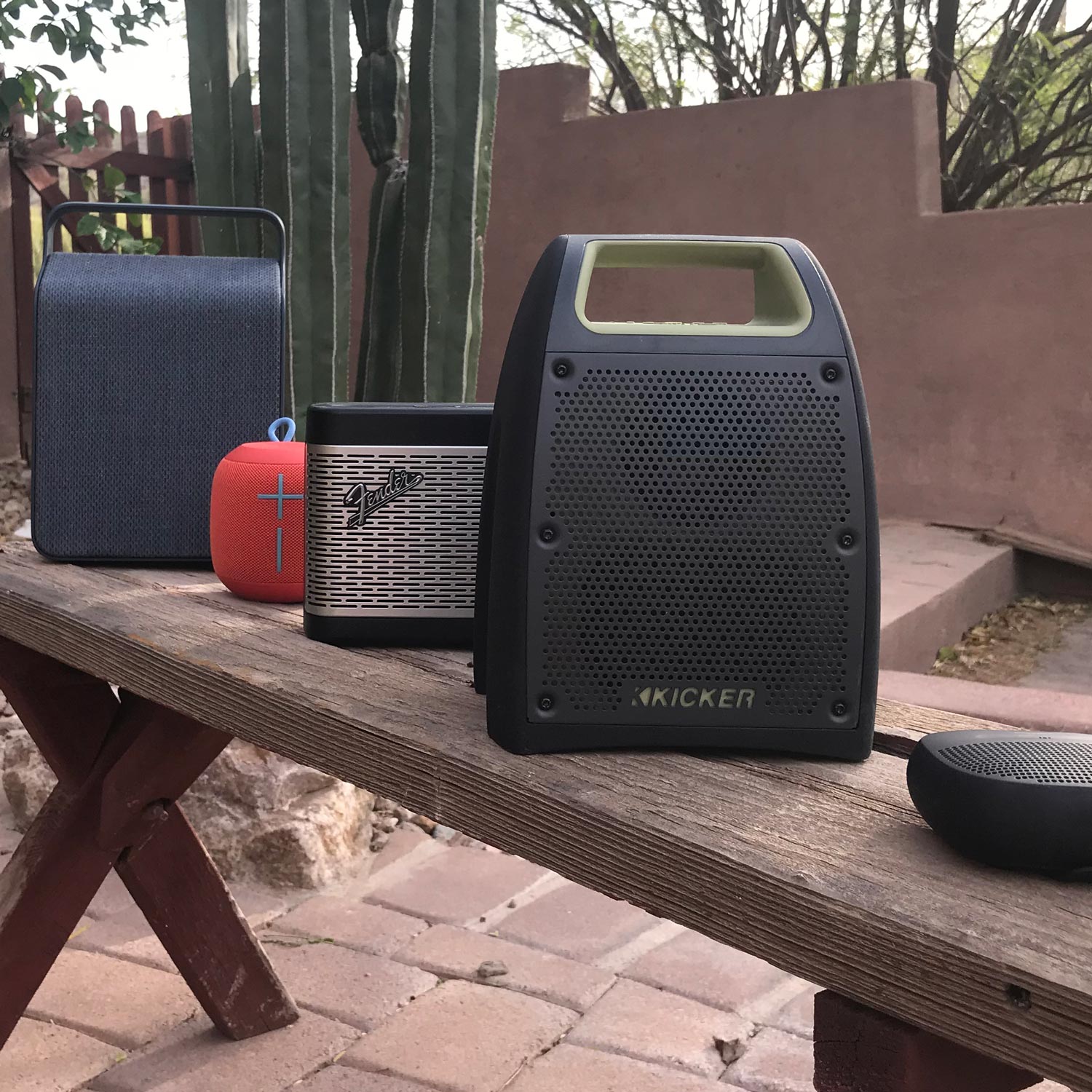 Heading out the door? Read this article on the new Outside+ app available now on iOS devices for members! Download the app.
A great-sounding, travel-friendly Bluetooth speaker is an investment we can get behind. Right now, the market is overflowing with colorful plastic boxes that promise to deliver music anywhere. But not all speakers are worth your time. Whereas a $25 pair of earbuds can sound perfectly good, a $25 speaker will not, and you shouldn't bother with a portable speaker unless it packs some oomph. But like earbuds—which I also tested this year—portable speakers are activity specific. My favorite option this year, the Fender Newport, impressed me with its design and sound quality, although it won't hold up against significant abuse or submersion. But if you need a speaker that is tough and water-resistant, or very small, or makes no compromises in pursuit of world-class sound, I've reviewed options in those categories, too.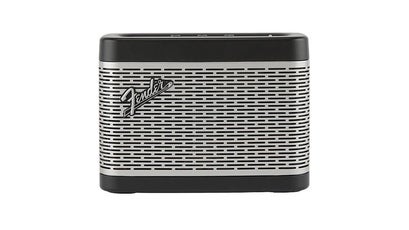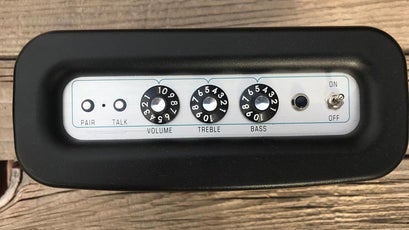 The Newport is a go-almost-anywhere midsize speaker that does retro and does it really well. The Newport, of course, is meant to look like one of Fender's guitar amps, with its classic logo splashed across a metal mesh grille and volume, treble, and bass knobs—remember knobs?—that are both stylish and a pleasure to use in our push-button, app-controlled era.
But those design details would be for naught if the Newport wasn't the second-best-sounding speaker in our test this year, outdone only by the Vifa Oslo, a $550 model I review below. It churns out rich, surprisingly bassy sound (if you want that) and will play at loud volume without distortion. The Newport has a Bluetooth range of 33 feet and plays at medium volume for 12 hours. Because your Spotify-playing phone will likely drain before the speaker does, the Newport has a USB output that lets you charge your phone while it plays. Operating the on/off toggle switch gives a satisfying click, a sensation I haven't experienced in years and realized I missed. There's no pressing, holding, or watching for flashing lights—just click, a chill guitar-strum cue, and you're connected. More important, you stay connected.
The Newport won't withstand weather or big drops, but it is solidly built—my test team broke it out at the trailhead when tailgating, took it on business trips, and set it up next to the pool for hours of lazy classic-hits play. The amount of treble and bass you can actually control with those good-looking knobs is limited, though having some control is better than none. Finally, at three pounds, it's a bit heavy to tote everywhere, but I think that trade-off is worth it. Smaller speakers won't sound nearly as good. And thanks to its analog character, nothing else will be as easy or fun to use.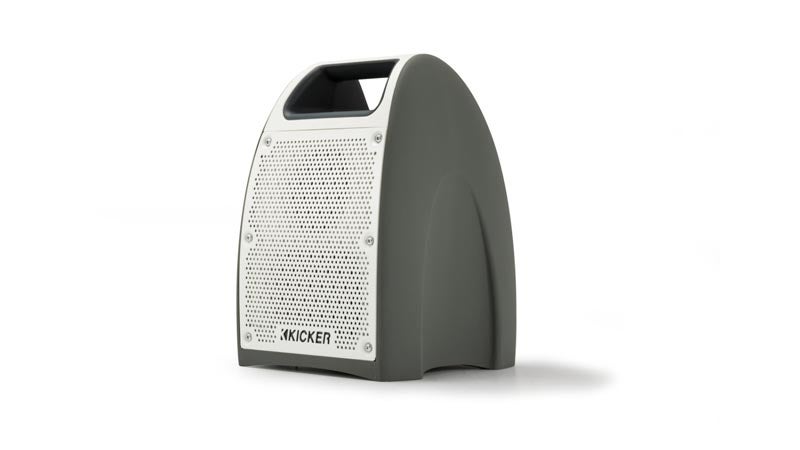 The BF200 is a hefty, well-defended speaker that pumps out rich, deep sound. Its rock-solid case has thickly rubberized surfaces—the speaker actually bounces if you drop it—and its IP66 rating will withstand a heavy rain (though not full immersion). Our test team was able to get close to the advertised 20 hours of playback time on a single charge, which is exceptional in a speaker with this much output. Other rugged models I tested, like the fully submersible Lifeproof AQ11 ($300), do most of what the Bullfrog does but too often lack oomph and sound tinny.
The BF200 weighs 5.5 pounds, but it never felt that heavy as we carted it around, thanks to its well-integrated handle. I do wish more thought had been put into the rudimentary controls, but otherwise the feature set is unusually comprehensive. The BF200 comes with a built-in FM radio, an aux port, and the ability to link two speakers as far as 30 feet apart, although not in true stereo (that is, left and right channels). It also has a connection range of 100 feet. I was impressed with the Kicker Connect app, which has a five-band equalizer, battery life indicator, and an FM tuner that allows you to preset stations.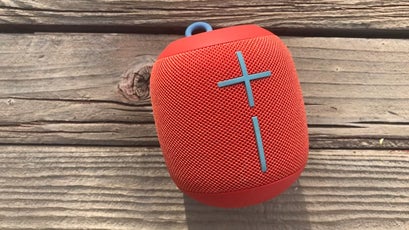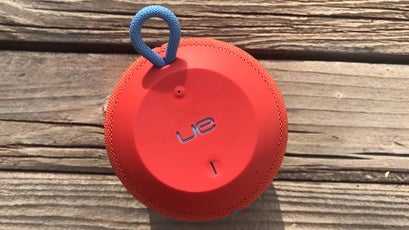 This is the speaker I would choose if I wanted to bring tunes beyond base camp or just needed something smaller to toss into my daypack. The Wonderboom is four inches tall and pumps out rich, 360-degree sound from a cute pod that weighs only 15 ounces. Its IP67 rating means the speaker can be dunked underwater. In my testing, it weathered drops, getting kicked into a river, and exposure to a fair bit of dust and dirt. Like the Bullfrog, the Wonderboom will allow two speakers to play music from the same device.
The Wonderboom is one of the best-designed products we've seen this year. I made regular use of the carrying loop, suspending it from tree branches like a Chinese lantern, and its range of six colors options is a selling point on its own. But don't let the endearing exterior fool you. Inside thumps a powerful heart. It won't power a full-on party the way the big speakers here can, but compared with other similarly sized units, it's a thoroughbred. The Wonderboom's range is 100 feet; battery life is ten hours.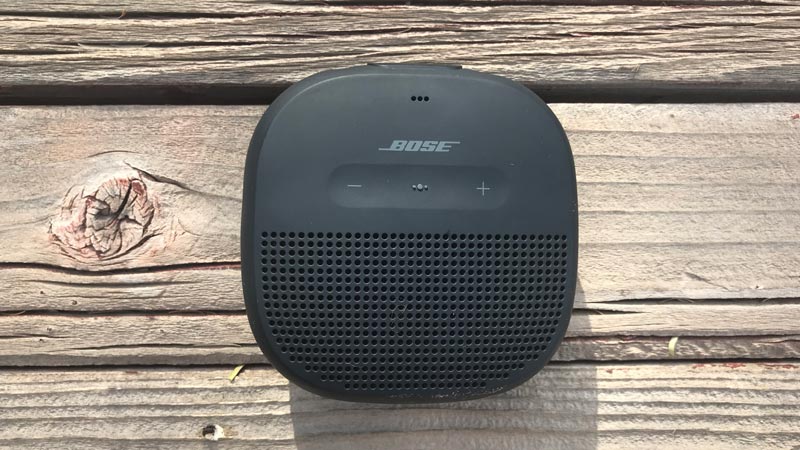 Only one speaker from what I would consider the ultralightweight class really impressed us this year, and that was the SoundLink Micro. Power-wise, it's not in the same ballpark as larger speakers like the Oslo (below) or the Bullfrog, but it puts out surprisingly deep bass and volume on par with the Wonderboom. The rubberized body absorbed drops and is fully sealed against water—even complete submersion. A super-handy rubber strap is built into the SoundLink's bottom so you can lash the speaker to a pack or your bike's handlebars, which I did on numerous rides in the Tucson area. Cruising my local bike paths with some gently pumping techno or even an audiobook helped break up boring stretches and made me want to keep going for hours. If the SoundLink Micro doesn't cede much ground to bigger speakers in sound quality, it does in battery: Bose claims six hours of playback, significantly less than the Wonderboom. In our testing, the SoundLink was slightly shy of that mark. The SoundLink Micro is what you'd expect from Bose—smooth, clear sound that makes you take notice—and at a price that is unexpectedly reasonable. The SoundLink weighs 10.2 ounces, and its range is 30 feet.
If You Want to Splurge: Vifa Oslo ($549)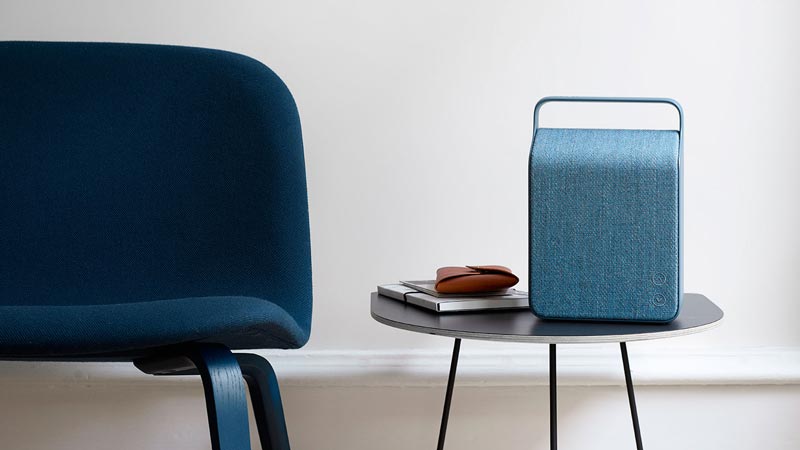 Danish company Vifa has been selling its speakers in the United States for about three years, and they are clearly made with visual design in mind. The 11-inch-tall Oslo feels solidly built around an aluminum frame, with a wool covering stitched by textile designer Kvadrat. At 5.4 pounds, it's light enough to haul along on a road trip, although I would prefer to see a speaker this expensive come with more weather- and abuse-proofing to feel comfortable dragging it on trips.
Given how nice the Oslo looks, it was almost a shock when I first cranked up the volume and heard how incredibly beautiful it sounds. The price obviously puts this speaker in covet territory, but hearing how dynamic and powerful it is—it was an order of magnitude better than anything else in the test—we couldn't not include it here. I like my music loud, and it's rare that a Bluetooth model can handle such a wide range so flawlessly, especially in the bass spectrum, where you can feel it in your guts. You may even find yourself playing music through the Oslo instead of your car speakers. It sounds that good.
All of which means I have one urgent request of Vifa: Please make your next speaker this good and ruggedize it so I can feel more comfortable taking it out of the house. The Oslo's range is 33 feet; battery life is ten hours.
Other Speakers Worth a Look
Our test team loved the teak-encased Como Audio Amico ($400) for its vintage looks and ability to directly play FM radio, internet radio, Spotify, and more, on top of pairing with your phone. The major drawback that kept us from an unqualified recommendation: It's much too nice to take outdoors. The Edifier MP700 ($180) is a medium-size, water-and-dust-resistant speaker with clear sound, a solid steel build, low-key design, and great portability by way of its swinging handle. The JBL Pulse 3 ($200) pumps out 360-degree sound that syncs with a programmable lava-lamp light show to bring the party vibe to your campsite or pool deck. (It's fully waterproof, though we'd be cautious about drops.) The Lifeproof AQ11 ($299)—"Waterproof, dirtproof, snowproof, drop-proof"—is as rugged a speaker as you'll find and offers above-average sound, though not as good as the Kicker Bullfrog BF200. Nice touch: a built-in drybox.
How We Tested Them
The 2018 Bluetooth speaker test was my first for Outside. A team of three audio junkies tested 23 units over four months, taking them on road trips and business trips, hosting dance parties, watching videos at the campsite, playing them through rainstorms, and mounting several models to the handlebars of our bikes. We splashed, hosed down, kicked dust on, and dropped the speakers that are rated for weather and shock resistance. The speakers sat with us through hours of desk work to see how battery life held up. In my case, several speakers came with me to my "second office," the community swimming pool I usually have all to myself. That allowed me to see how the speakers would hold up in the searing Arizona sun and made it easy to take the waterproof ones for a dip.
But more than anything, we listened for hours and hours. We tested each speaker head to head, over and over, playing rock and techno, hip-hop and ambient, classical and jazz. If we had a bias, it was that our testers liked the larger, more powerful, and more expensive speakers, which approach home system–like sound. (Just approach—you'll never replicate a home stereo system with any Bluetooth speaker sold today.) In future tests, I hope to dig even deeper, as the speaker market is exploding.
What Should I Know Before Buying a Bluetooth Speaker?
First, it's important to clarify terms. Everything in this test is a Bluetooth speaker; we don't use the term "wireless," as we would with earbuds, because there is another kind of wireless speaker: Wi-Fi models from companies like Sonos that are made to be stationed around your house. Instead, we focused on speakers that travel with you and pair with your phone, MP3 player, or laptop. Similarly, we did not include any of the home assistants from Google, Amazon, or Apple. Maybe in a future world, our AI assistants will come with us into the backcountry, setting up our tents and cooking our dinner, but honestly, I hope any speaker like that gets eaten by a bear before it makes it near my campsite.
Battery Life
Battery life is one of the most important features of a portable speaker. The point of these objects is to be able to use them far from a wall outlet, so adequate battery life is key. Smaller speakers should run at medium volumes for six to eight hours, whereas medium and larger units usually go for ten hours or even longer. You'll see the advertised specs in the reviews, and our testing backed those up except as noted. Most manufacturers list specs for Bluetooth range, too, but know that anything over 20 feet should serve you fine. There are a few speakers in this test that will play at a distance of up to 100 feet, which sounds impressive but our testers generally found it to be unnecessary.
What Is an IP Rating?
Then there are rugged and weatherized speakers, which can get rained on, endure dust storms, get jostled around in a pack, or even end up in the drink. Look up a product's IP rating (and what it means) if this is a priority for you. In our experience, those ratings can be trusted. Rugged models like the Kicker Bullfrog BF200 and the Ultimate Ears Wonderboom impressed us for their toughness and sound quality.
Sound Quality
More than any of the above, however, a speaker should sound great—not just good, but great. If you bring one home or get one in the mail, play a few of your favorite tunes at a typical volume level. If you hear something you don't like (distortion, tinniness, inadequate power), send it back and try again. Our picks should be a good place to start.
Trending on Outside Online