Reserving Campsites Is About to Get So Much Easier
Thanks to a grassroots movement, it's soon going to get a lot simpler to book campsites on federal lands. But with more than two-thirds of public campgrounds controlled by the states, the work has just begun.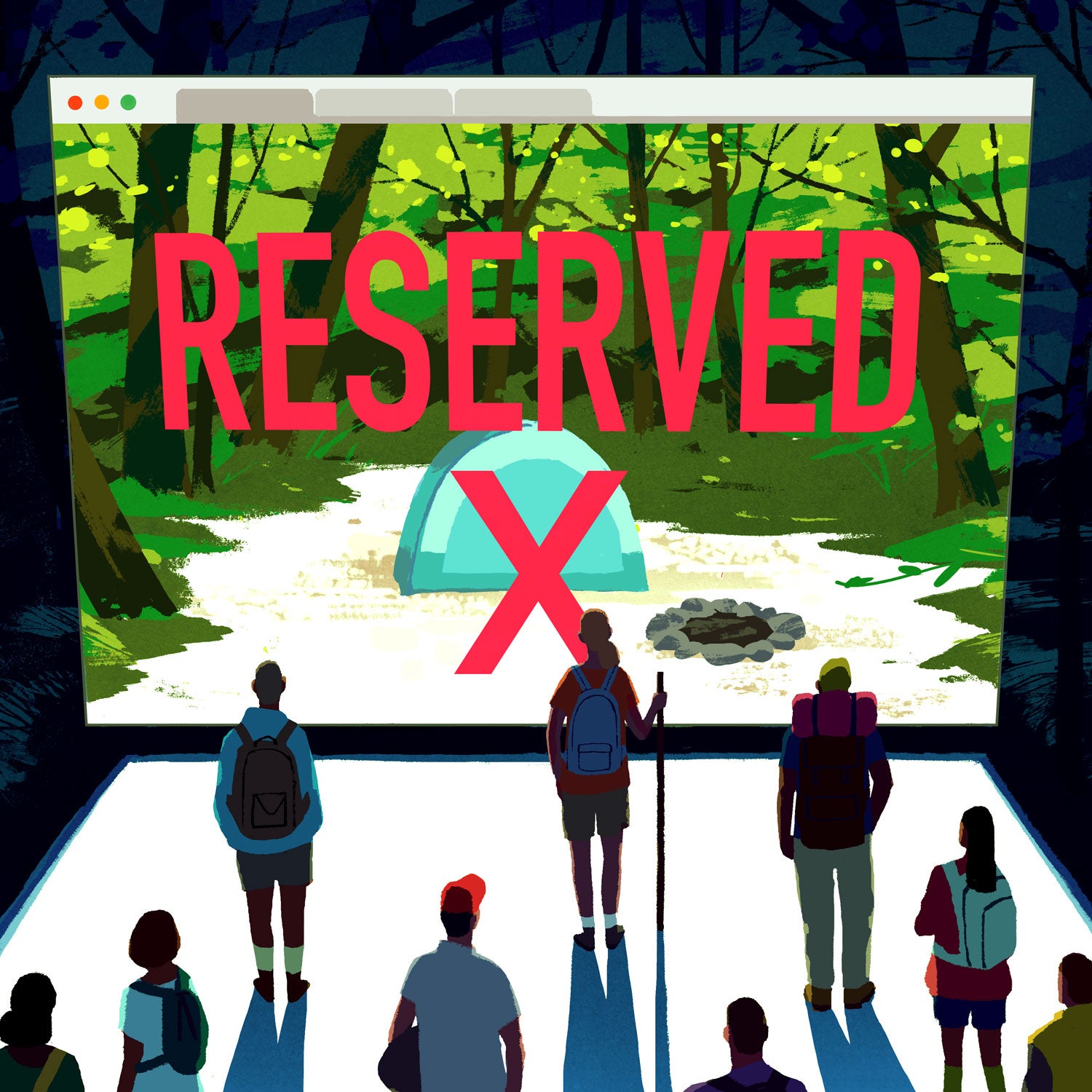 Patrick Leger
Heading out the door? Read this article on the new Outside+ app available now on iOS devices for members! Download the app.
It's Friday, and your weather app is all blue sky and sunshine icons. You shout: "Let's go car camping, kids!" But where? You pull up the website for a nearby state park. The page is gray, seemingly designed by Czech bureaucrats. It doesn't say much about options for hiking, swimming, or fishing, so you open 17 more browser tabs, researching like somebody from the Adderall generation. You finally settle on a campsite and plug in today's date.
That's when your weekend goes to hell.
The booking page tells you that all the reservable campsites are taken. Grimacing, you remember reading something about the best campsites being grabbed six months out. "It's OK!" you say as tears well up in your offspring's eyes. "The park holds spaces for people who just show up! We'll get there early!" Unfortunately, you and 40 million other campers think alike. When you arrive, the campground host says it's full. You drive the loop anyway, looking for no-shows or early departures. Three sites are clearly vacant—but the host has no idea if they're available, because she isn't connected to the booking system. "Try the rough-camping area 30 miles from here," you're told. "It's free and the kids can burn all the beer cans they find."
As you may have noticed, booking a campsite in the summer of 2018 sucks. Most of us assume it has to be this way—we're dealing with government, after all. These are the people who brought us the DMV and the IRS. We can't expect Airbnb efficiency.
But here's the thing: while federal and state campgrounds all exist on public land, their online operations are run by private businesses—a fact few people would guess, given that booking websites are linked directly to Recreation.gov or state-park pages and have official-sounding names like ReserveAmerica. For more than 20 years, a small number of companies have held long-term contracts that grant them exclusive control over reservations at publicly owned campsites. As one would expect from government-sanctioned monopolies—think Amtrak—they've done a terrible job. Their websites make you feel like you're stuck in 1995 because they haven't progressed much since then.
Imagine an app that would notify you of openings at nearby campgrounds with access to, say, great singletrack or a killer surf break.
Fortunately, help is on the way—for federal campsites, anyway. In October, a new contractor, Booz Allen Hamilton, a management-consulting giant based in northern Virginia, will take over operations from Aspira, the parent company of ReserveAmerica, getting the keys to some 100,000 campsites managed by the Forest Service, the Bureau of Land Management, and the National Park Service. Unlike its predecessor, Booz Allen must adhere to two important requirements. First, it has to provide real-time updates on campsite availability through something known as an application programming interface, or API. This is tech lingo for the same kind of software that powers Google Transit, Hotels.com, and Kayak, which have made it delightfully easy to do everything from plan your commute to make a restaurant reservation. Second, the company has to make good-faith efforts to negotiate business relationships with third parties that create campsite-reservation applications. This latter obligation incentivizes a wave of tech businesses to transform the booking experience.
Which is a big deal. Imagine an app that would notify you of openings at nearby campgrounds with access to, say, great singletrack or a killer surf break—and then let you book it on the spot. This won't happen overnight, but the efficiencies of modern e-commerce are at last coming to camping.
Hooray, you say. Except, wait—state-park campsites aren't included in this revolution. Sadly, all 241,255 of them remain locked into the old monopoly-hobbled systems. To change that, we're going to have to get loud.
You see, the federal switch didn't just happen: it was the result of a major grassroots lobbying effort. Back in 2013, Aspira was sharing booking info with other websites, including Hipcamp, a startup founded by Alyssa Ravasio, who had a vision for a simple system that would let you reserve campsites anywhere in the country. But according to Ravasio, just as the new players were gaining traction, Aspira's contract came up for bid, and it shut off the data pipe. Aspira did not respond to Outside's questions about this chain of events, but Aspira was presumably trying protect its business, which was earning around $100 million annually for the federal treasury while generating an estimated tens of millions in commissions for the private company.
In response, Ravasio worked with other activists to create Access Land, a nonprofit that lobbied the government to open up real-time campground-availability data. The group grew into a coalition of 50 organizations, including Code for America, REI, and the Sierra Club. With "open data for open lands" as their rallying cry, the members argued, among other things, that empowering a range of booking systems would lead to a more inclusive outdoor community, diversifying the predominant older white demographic. Eventually, their persistence, coupled with behind-the-scenes work by government administrators, paid off. In July 2015, the feds announced that new campground contractors would be required to share availability data as well as engage with third parties like Hipcamp.
Tackling the states will require an even bigger effort. Currently, 32 of them contract with Aspira, while 18 have deals with other vendors. Aspira's CEO, Mark Trivette, told me that the company shares campsite data with other vendors on a case-by-case basis, but I couldn't find a single example. To make progress, we need to demand that states place the same open-data requirements on campsite-reservations contractors that the federal government does—and keep pushing until we see results. California's state-park administrators said that they would insist on open data after signing a new contractor last year. But so far it hasn't happened. According to Ravasio, that's because nobody besides her has called to complain. When I phoned Colorado state-park officials a few months after they switched to Aspira's platform, they also said that they hadn't received any requests for open data.
Which means it's on us, the campers, to force the transformation. I know this is a big ask. Data access isn't something people tend to get fired up about. But the next time you're limping home from a ruined weekend spent in a trash-strewn clearing next to a shooting range while clean campsites maintained with your tax dollars go unused a few miles away, please channel your rage. Start by visiting AccessLand.org, which lists the phone numbers of state-park officials. Then call one near you and let them know that campsite data doesn't belong to any one company. Just like our public rivers, beaches, deserts, and mountains, that data is ours—and we insist that it be made available to any party that wants to help us find a place to pitch our tents. 
Marc Peruzzi writes Outside Online's Out of Bounds column.
Trending on Outside Online