Indefinitely Wild
The DPx Aculus Flipper Is the Nicest Knife I've Used
Robert Young Pelton's latest folder is his magnum opus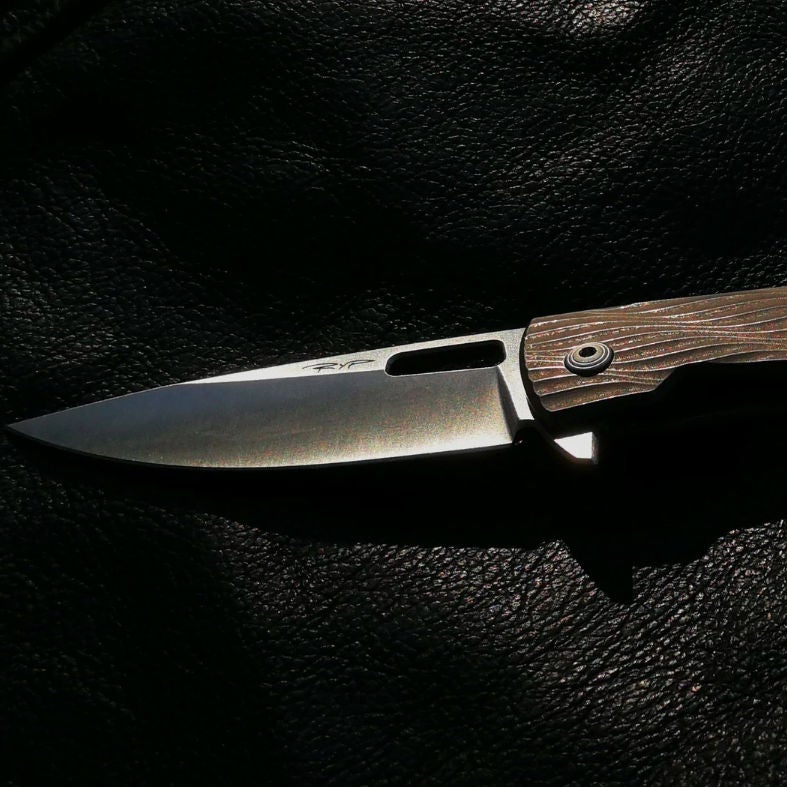 Heading out the door? Read this article on the new Outside+ app available now on iOS devices for members! Download the app.
Describing his new DPx Aculus Flipper, Robert Young Pelton says it "was designed for undercover work, where professionals must dress in formal wear but carry tools that cannot fail." I'm neither a professional nor a formal dresser, but I have carried the new knife every day for seven months. Here's why it instantly became my new favorite.
Pelton's a canoe-accident survivor turned lumberjack turned marketing executive turned war reporter who started designing knives a decade ago. Along with the DPx HEST 6 Decade fixed blade, he designed the Aculus Flipper to celebrate the anniversary of his craft. It represents the pinnacle of folding-knife design and materials, the best possible blade steel fitted to the strongest possible handle, wrapped up in elegant proportions.
"There is nothing better than M390," Pelton says of the latest supersteel by the German maker Böhler. It was designed for use in industrial tools, where its ability to retain an edge, resist corrosion, and be manufactured with incredibly tight tolerances pay big dividends in high-volume manufacturing processes. According to Böhler, M390 "can increase the life of a tool by several hundred percent."
The same merits that make M390 such a good tool steel carry over to the Aculus's blade. That the hollow grind combines with the laser-like sharpness it arrives in to make it a peerless slicer isn't surprising. What is surprising is that, after seven months of daily use, the performance has only just begun to taper off. I do not take good care of my blades and have treated the Aculus no differently. It's been used to cut up food atop ceramic plates and open countless cardboard boxes and stick through firewood, and it's been thrown in the dishwasher a dozen times or more. It's just now starting to dull and shows zero signs of wear, no scratches, and no damage. M390's ability to resist corrosion is real. No blade has any right to retain its polish after the abuse I've put it through.
That blade steel is the main upgrade to the new Aculus, but you're going to notice the new handle material long before you've used the knife enough to marvel at its ability to retain an edge. The handle is a single slab of titanium alloy milled out to make room for the blade and to form a frame lock. That alloy is just as special as the blade steel. Ti-6Al-4V is more commonly used by the aerospace and medical-implant industries. One of the reasons the Boeing 787 Dreamliner is so efficient is that it makes extensive use of Ti-6Al-4V, which has an almost impossible strength-to-weight ratio as well as incredible corrosion resistance. Employed here, the alloy is bronze in color and finished in a really neat wave pattern that's visually appealing and adds traction for your hands. Even when your hands are wet and cold, it provides a solid grip. The monolithic design of the handle means there are only two screws in it—one through the blade pivot, which is capped on one side by a flush-fit nut, and the other used to mount the replaceable pocket clip. A ball bearing on the frame lock keys with a divot on the blade to securely hold the knife closed.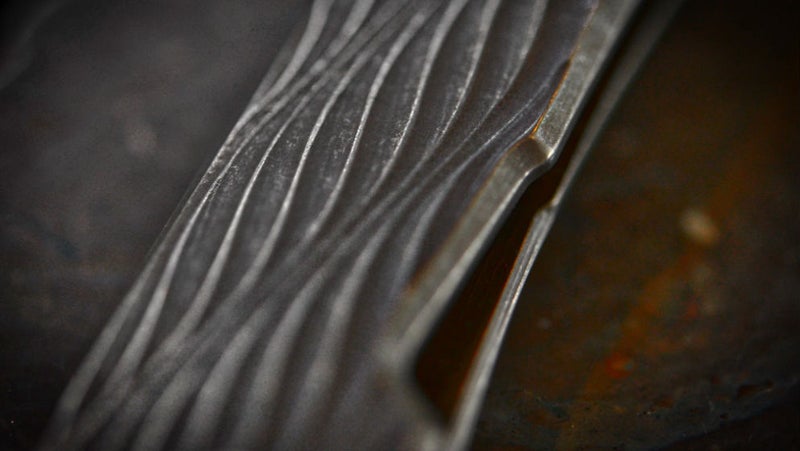 Also new is the flipper, which is sort of a fin on the rear of the blade that protrudes from the handle when closed, allowing you to flip the blade open with your finger. It works as fast as an assisted-opening design, without adding a complicated mechanism and its associated points of failure, and it rides more seamlessly in a pocket than thumb studs. Helping there are the flawlessly chamfered edges applied to the flipper's sides. Those deliver plenty of traction for a finger but don't catch on a pants pocket. If you want to manipulate the blade with more delicacy, there's a large thumb hole. The interior edges of that are also chamfered—an impressive touch for an oft-forgotten area on knives that commonly remains unfinished and, as a result, unpleasant to touch.
The Aculus's pocket clip is the best I've used. Its top rides flush with the end of the handle, allowing near total concealment within a pocket, and the long, narrow clip is well matched to the knife's lines. It appears to be more strongly constructed than most knife clips, too; in those seven months of use, it's totally retained its shape and retention. Mounted close to the knife's handle, it also doesn't interfere with your ability to tightly and comfortably grip the entire knife in your palm with the blade closed. That's handy, because in my size 11 hands, the handle is able to protrude just far enough from my grip to form an effective kubotan.
Perhaps my favorite feature, though, is Pelton's signature milled into one side of the blade. Pelton is one of my favorite authors, a role model, and a friend. Knowing that I'm carrying a tool that represents the pinnacle of his abilities, and one of which he's very proud, is just a really cool feeling.
The Aculus Flipper is only being produced in a limited run of 250 units. It retails for $450.
Trending on Outside Online