Indefinitely Wild
The Only Time You Should Drink Bleach
When it's highly diluted to clear water of pathogens, it could save your life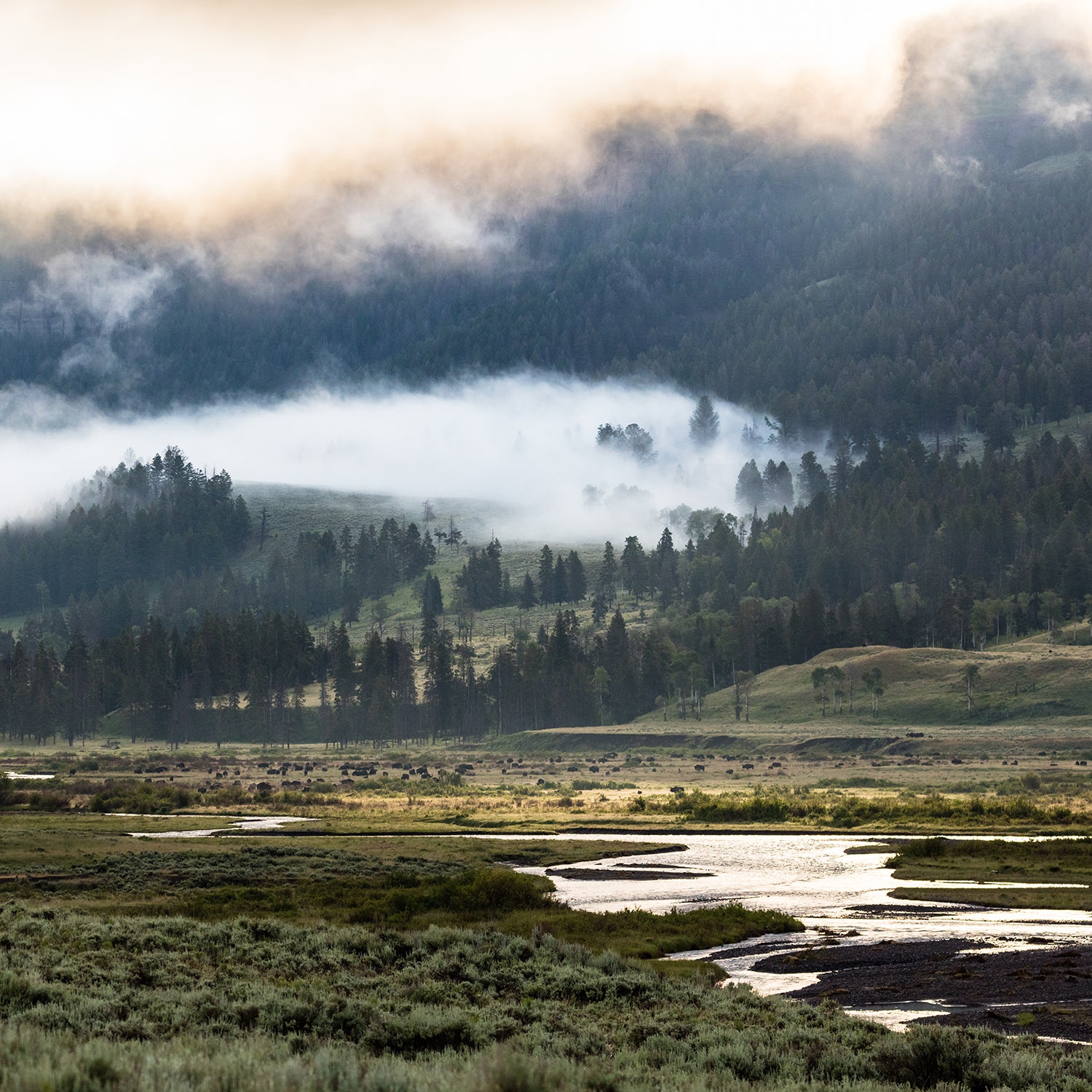 Heading out the door? Read this article on the new Outside+ app available now on iOS devices for members! Download the app.
After President Trump mused about consuming disinfectants during a press conference last week, public health officials were quick to state the dangers of doing just that. But, there is a circumstance in which heavily diluting substances like bleach in water you plan on drinking is actually a good idea. And I want to make sure that potentially life-saving information isn't lost to this moment's political chaos. That's right, adding bleach or other disinfectants to drinking water that may contain deadly pathogens, like viruses, is a proven way to make that water safe to drink. 
Different Disinfectants
According to Clorox, the active ingredient in its bleach products is sodium hypochlorite. When that breaks down (say, in a bottle of water), it creates chlorine. Don't mistake chlorine for chlorine dioxide, which you may find in water purification tablets. Both disinfect by oxidizing the cell membrane of microorganism, a process by which their molecules receive electrons from those membranes. A chlorine molecule can receive two electrons, while chlorine dioxide can receive five, which makes it that much more effective. 
And we can see that in action when we purify water. Both disinfectants are capable of killing bacteria and viruses, but chlorine has limited effectiveness on cysts and protozoa, and may not be strong enough to kill stuff like Giardia or Cryptosporidium, while chlorine dioxide can. 
For that reason, the Centers for Disease Control recommends that you combine chlorine with filtration to clean water before drinking it.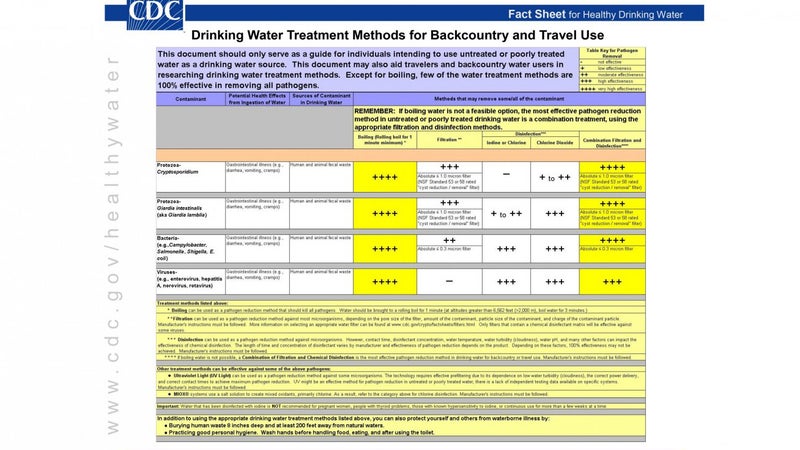 Why Chlorine?
I spoke to Kevin Weitz, a staff scientist in the Mountain Safety Research water lab. The company designs water purification systems for the United States military, outdoor enthusiasts, and for the developing world. Its most important product for the latter is the $250 Community Chlorine Maker, which enables entire towns and villages to access clean drinking water using only a small amount of salt and a car battery. 
The Maker produces chlorine, which then enables users to disinfect very large quantities of water. In just five minutes, using only a tablespoon of salt, the device can produce enough chlorine to disinfect 200 liters of water. One fully-charged car battery provides enough power to clean 40,000 liters of water. It's a cost-effective, easy way for remote communities to reliably disinfect water. 
"We're actively addressing major health issues like cholera," says Weitz. 
For many of the same reasons, bleach is often the easiest, most cost effective solution to disinfecting drinking water here in the United States, too. Outdoor enthusiasts don't need an expensive water filter—a small bottle with an eye dropper in the lid, filled with household bleach, works just fine. In the event of a disaster, or even just a utility outage that leaves you without the ability to boil water, bleach is an affordable, effective solution at home or while traveling. 
Why isn't chlorine dioxide the preferred solution, since it's more effective? It's also more difficult and more expensive to manufacture, and if you want chlorine dioxide to kill challenging stuff like Cryptosporidium, you need to wait while it has four hours to work inside your water bottle. Chlorine dioxide also has a much worse impact on the taste of water than plain chlorine does, and, according to EPA guidelines, the allowable dose of chlorine (four parts per million) is higher than that of chlorine dioxide (0.8 PPM). Chlorine's ease of production and ease of use make up for its reduced effectiveness. 
My wife and I were in southern Baja when COVID-19 really hit the fan. In the absence of easily available information on conditions at home, a gallon of bleach was the first thing I bought before we made the drive back to Montana. That one gallon would have given us the ability to disinfect 1,344 gallons of drinking water. Its abundant availability here in the West is another thing that makes bleach such a convenient solution. Just note that bleach has a one-year shelf-life. 
Proper Dosage
Dilution is key to safely consuming bleach. The CDC recommends adding eight drops of unscented bleach per gallon of water, if that water is clear. If the water you want to purify is cloudy, and you cannot first filter those occlusions from it, the CDC says you should double that quantity to 16 drops per gallon. In both cases, you need to wait 30 minutes before drinking to ensure the water is disinfected. 
Chlorine dioxide is typically available in tablet form, with proper dosage detailed on the bottle. Outdoor enthusiasts will likely already be familiar with chlorine dioxide products like Potable Aqua. 
What happens if you don't dilute bleach? Cases involving accidental ingestion typically involve only minor injuries or irritation, according to the CDC. One of 23 studied incidents involving children aged one to three years old resulted in "superficial burns in the esophagus." 
One of the advantages of using chlorine as a disinfectant in drinking water is that, in the five to six percent concentration level that's typical in household bleach, the incredibly off-putting smell and taste of the substance limits how much could be ingested without great effort. The CDC says you'd need to ingest somewhere between six and 17 ounces of bleach to achieve a fatal dose. 
Weitz backs that up. "If there's an unpleasant taste to the water, you're not going to want to drink it," he says. "But I don't think it's possible to accidentally drink enough to hurt yourself, and I'm aware of no longterm health effects that result from drinking too high a dosage." 
But in terms of safety, all of us are evidence that low concentrations of bleach are safe to drink. The United States first started chlorinating tap water in 1903, and the practice has resulted in no documented health risks, despite rumors that it can cause cancer. Unfortunately though, neither bleach nor chlorine dioxide can be shown to have any health benefits beyond disinfecting surfaces and drinking water. 
Lead Photo: NPS / Jacob W. Frank