First Look: Garmin Edge 1000
This new cycling GPS is so powerful and fully featured that it's almost ahead of its time.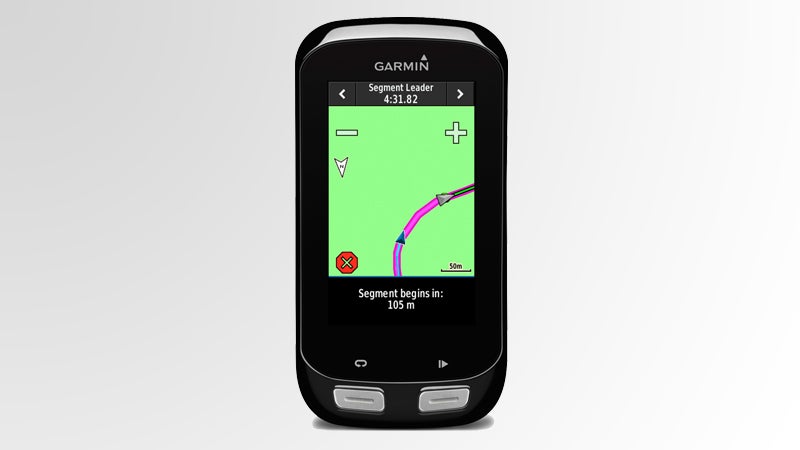 Heading out the door? Read this article on the new Outside+ app available now on iOS devices for members! Download the app.
Cycling computers have come a long way from the simple speed and mileage counters of just a few years ago. And with the slick new Edge 1000, which boasts a larger and higher resolution touchscreen than previous models, as well as both WiFi and Bluetooth 4.0 compatibility, Garmin has transformed the lowly cyclometer to a veritable handlebar-mounted PC.
The Edge 1000 won't replace the current top of the line Edge 810, which is just over a year old, but instead will offer users an even higher-performance and more expensive option ($599). 
As noted, the 1000 is distinctly larger than the 810, with a screen size closer to that of an iPhone. It's also slightly heavier (115g vs. 98g) and significantly slimmer than the previous model. The new size and form give the 1000 a substantial, modern feel, although it also makes mounting directly to a stem almost impossible if you ride a short stem or have any steer tube protruding. Fortunately, a clamp-on, out-front mount is included.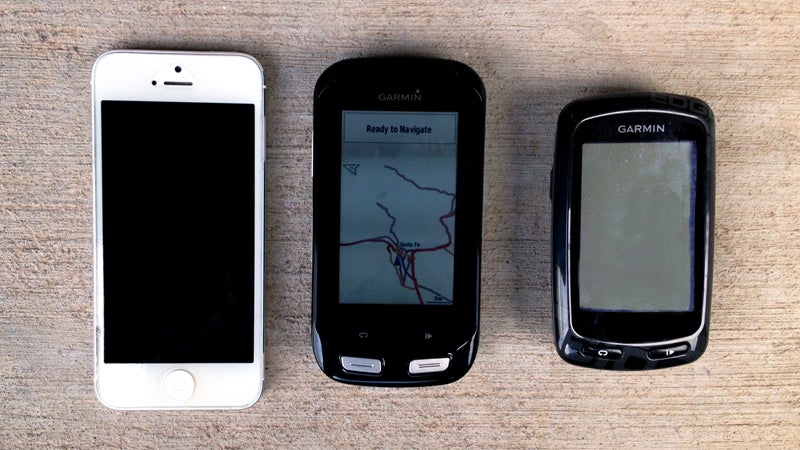 Perhaps the most interesting new features on the 1000 are the new Bluetooth 4.0 and WiFi capabilities. The former means that you can pair the unit with a smart phone and receive notifications on screen when you receive calls and texts. You won't be able to respond from the 1000, but it will at least let you know if someone is desperately trying to reach you. The addition of WiFi makes it possible to download data over trusted networks. 
Garmin has also added support for reading gearing information from Shimano Di2. That means that if you have the Shimano D-Fly Data Management function, the 1000 will capture a host of information, including front gear, rear gear, gear ratio, and Di2 battery level.
Currently, it's strictly for reporting sake and probably only useful to training nerds, especially given that you must use a third-party software to view the info because Garmin Connect doesn't currently support the function. That's sure to change soon, however, and as the technology progresses, the ability for the 1000 to control the Di2—picking optimal gearing options, for instance, or shifting automatically to maintain a given wattage output—could be added.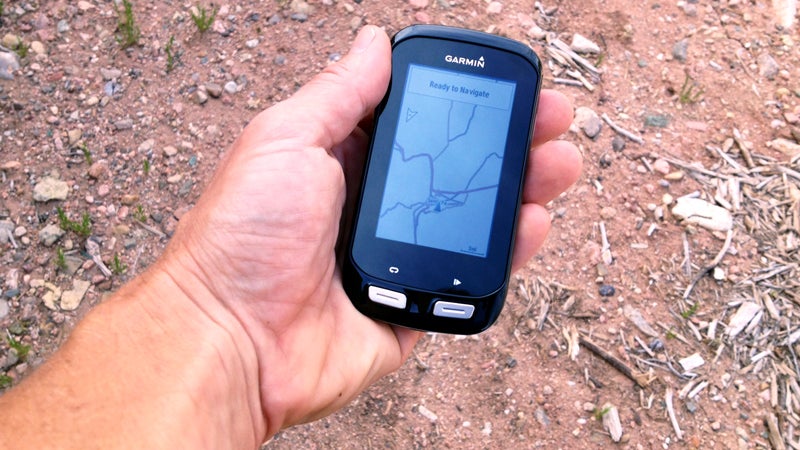 Like an iPhone, the 1000 has the ability to switch orientations, from vertical to horizontal. That might sound like a gimmick, but it's a feature that could come in handy for navigating. The unit also comes bundled with a full set of base maps. (Yes, you can download these for free, but the included maps are a nice addition given the 1000's higher price tag.)
With the new maps, Garmin adds its routing function, which allows you to plug in a distance you want to ride and then makes suggestions of routes to take. It's handy if you're in a new town searching for the best way to a destination, or want to find an afternoon ride. Previously, you could do the same thing using a personal computer and a program like Garmin Connect or Strava, but having the ability to construct routes on the 1000, without a personal computer, is a definite advantage.
Garmin has also added segment challenges, meaning that you can see segments on the 1000 in real time and ride against them on the fly. It's a neat idea that has its limitations, at least for the moment because it pairs to Garmin Connect, not Strava. Because Garmin Connect just added segments to its offerings a few months ago, and because it's not the market leader like Strava, the range and depth of segments to compete against is relatively small, though that will likely change over time.
Finally, a host of interesting peripherals comes bundled with the 1000, including new speed and cadence sensors that don't require magnets. Unlike the previous iterations, these little devices use accelerometers to calculate their metrics, which makes installation and calibration quick and simple. There's also a small three-button remote control that lets you use the 1000 without taking your hands from the bars. Two of the buttons are pre-programmed to toggle between screens and mark laps, respectively, while the third can be programmed by the rider to control any number of other functions.
All said, the Edge 1000 is sleek and powerful with an impressive amount of functionality—more than any other computer on the market, Garmin or otherwise.
Whether or not the new functions justify the added expense is an interesting question, especially given that it will be awhile before functions like the Di2 compatibility and support for Bluetooth 4.0 peripherals are actually useful. However, if you're looking for the best cycling GPS that money can buy and want something that won't be outdated as third-party manufacturers continue to develop their platforms, the Edge 1000 is definitely worth a look.