The Future of Adventure Sports With Heads-Up-Display Eyewear
Are Terminator-style heads-up displays a gimmick—or an adventure-sports breakthrough?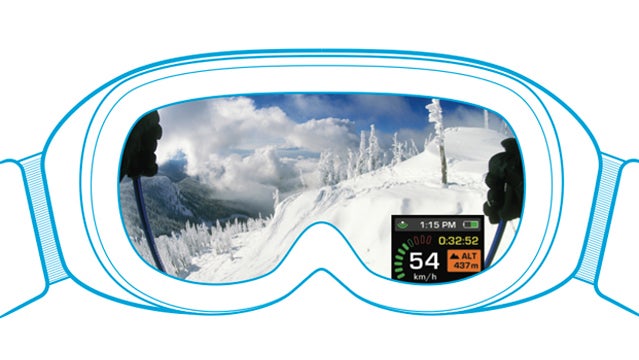 Heading out the door? Read this article on the new Outside+ app available now on iOS devices for members! Download the app.
In September, at the height of New York Fashion Week, Google co-founder Sergey Brin debuted his new heads-up-display eyewear, Glass by Google—essentially a smartphone with a monocle for a screen—at designer Diane von Fürstenberg's runway show. The critics reacted as though he'd shown up in Tevas and socks. "Mr. Brin was wearing a pair with a turquoise stem that made him look as if he had stabbed himself in the eye with the straw of some tropical frozen cocktail," wrote New York Times fashion blogger Eric Wilson.
Unglamorous? Maybe, but the high-tech glasses are part of a larger effort to develop wearable GPS-and-4G-enabled smartphones that integrate useful data into your field of vision. Though heads-up displays, or HUDs, have been projected onto glass screens in fighter planes since World War II, making the technology small and agile enough to be portable has proved difficult. One leader in the field is Recon Instruments, of Vancouver, British Columbia, which introduced a rudimentary prototype display in a pair of ski goggles in 2007. Its most recent HUD technology, Mod Live, has been integrated into goggles from Zeal to Smith and, available this month, the new Airwave from Oakley. Google's version, which Recon spokesman William Parry calls "not particularly attractive," was developed independently.
Unlike the HUD used in Top Gun—little green boxes superimposed on Tom Cruise's cockpit window—the $600 Airwave is more like a dashboard you can see without moving your head. "As you're going down a hill, you're glancing at that like you would the speedometer in your car," says Oakley global category director Scott Smith.
Recon's Mod Live, like most heads-up designs, features a two-inch display. (Recon prefers to call it "a 14-inch laptop screen held five feet away.") But unlike previous Recon-equipped goggles, which showed information like speed and airtime, those with Mod Live are essentially full-featured computers that allow third-party app development. One built-in feature lets users see where they are on preloaded trail maps of most of the world's ski mountains. And because it syncs with smartphones via Bluetooth, they'll be able to scroll through text messages with a remote that straps, say, to an arm.
So are HUDs soon to be ubiquitous? That depends on the sport. Skiers might enjoy the ability to find their pals without pulling out their cell phones, though its questionable how many will pay $600 for the convenience. (And if you think driving and texting is dangerous, try reading messages while ripping through trees.) It's a bit easier to imagine teched-out cyclists digesting performance numbers as they ride. Pro sailors, who constantly monitor wind speeds and competitors, would certainly benefit from the data stream. (Expect to see HUD glasses on America's Cup racers next September.) It's those applications that have Recon CEO Dan Eisenhardt bullish about the technology's prospects. "I think we are very close to a world where all athletes—winter and summer, recreational and professional—are using HUD to perform at higher levels," he says.