7 Fitness Trackers That Tell Athletes How They Really Feel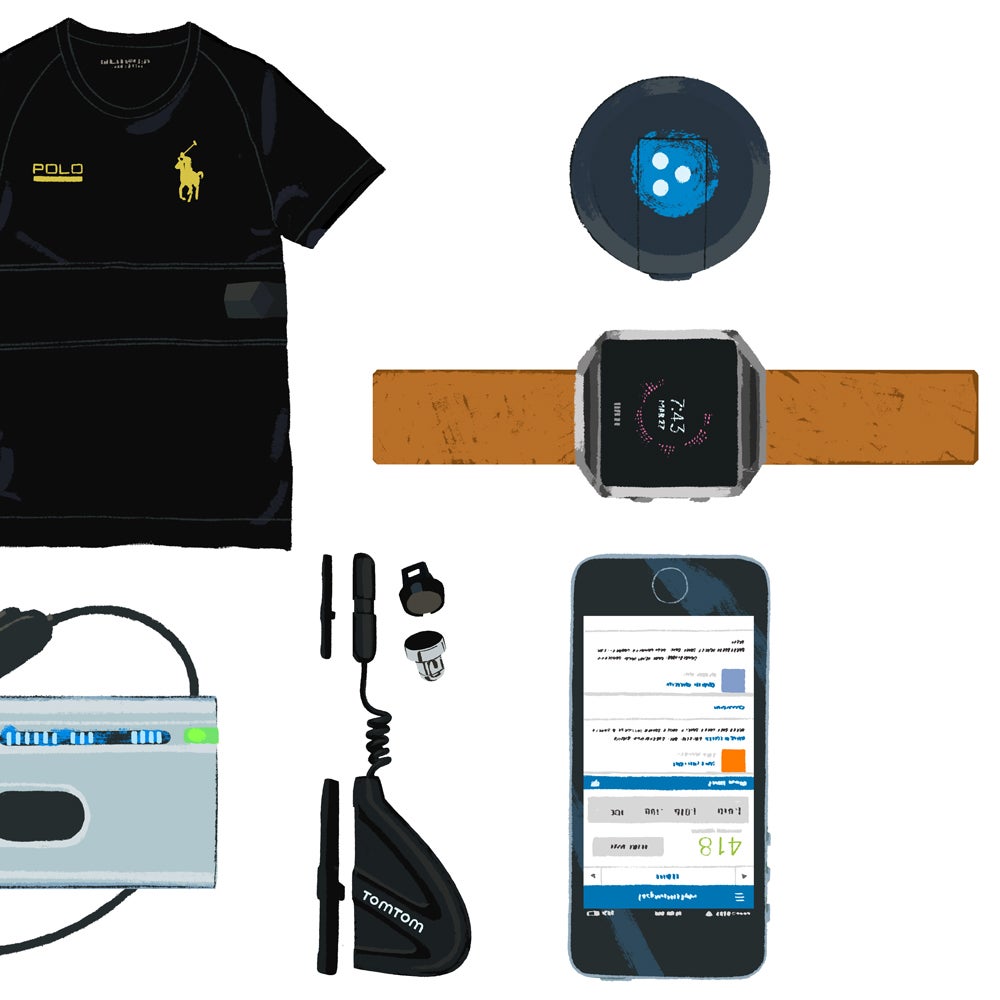 Illustration by Patrick Leger
Heading out the door? Read this article on the new Outside+ app available now on iOS devices for members! Download the app.
Trace Tracker ($200)
Stick this little puck on your surfboard, snowboard, or ski and get a slew of data to geek out about at day's end. The Trace records wave count, top speed, and biggest turn when surfing, and total vertical drop, speed, jump height, and air time while on the slopes, delivering it all to your phone via Bluetooth. Sync the app (Android and iOS) with your GoPro and it can automatically edit down the footage to just the action sequences.
Outside Fitness Special

127 radical tips for total health.
---
Altra IQ Running Shoes ($200)
The IQ isn't the first smart shoe, but its dual sensors give you better impact, balance, and landing-zone data than anything else we've tested. On top of that, a wide toe box and lush cushioning make this Altra one of the most comfortable shoes for distance running. 
---
MyFitnessPal App (Free)
Among the overwhelming number of tools out there for tracking cal­ories, MyFitnessPal (Android and iOS) is our favorite. You can scan bar codes with your phone's camera, so adding meal choices is a cinch, and it syncs with virtually ­every workout app, which means you don't have to manually enter calories burned.
Know Thyself

The New Era of On-Demand Blood Testing.
---
Fitbit Blaze Fitness Watch ($200)
The Cadillac of Fitbits, the touch-screen Blaze features the usual suite of heart rate, sleep, and floors climbed, along with animated work-out videos and upscale smart-watch tricks like displaying phone notifications.
---
TomTom Cadence and Speed Sensor ($60)
A user-friendly tool for cyclists who want to start tracking their rides more closely, the TomTom attaches to your crank with a screwdriver and some zip ties and feeds real-time data about speed and pedaling cadence to any of the company's Multi-Sport watches.
---
HeartMath EmWave2 Biofeedback Monitor ($199)
Think of the EmWave2 as training wheels for mindfulness practice. It tracks your heart rate and guides you through various exercises to get you into a state of calm. Put your finger on the sensor and breathe at the pace it tells you, or connect it to your computer and play a Zen-inducing game.
---
Ralph Lauren PoloTech Shirt ($295)
Silver fibers woven into Ralph Lauren's high-end, techy shirt read your heart rate, breathing, balance, and more, delivering the info to your iPhone or Apple Watch in real time via Bluetooth. Feeling sluggish or off your game? The PoloTech app (free) supplies adaptive workouts based on how you're performing.