Indefinitely Wild
How Do You Clean a Pellet Grill?
Everything you need to know to keep your Traeger in excellent working condition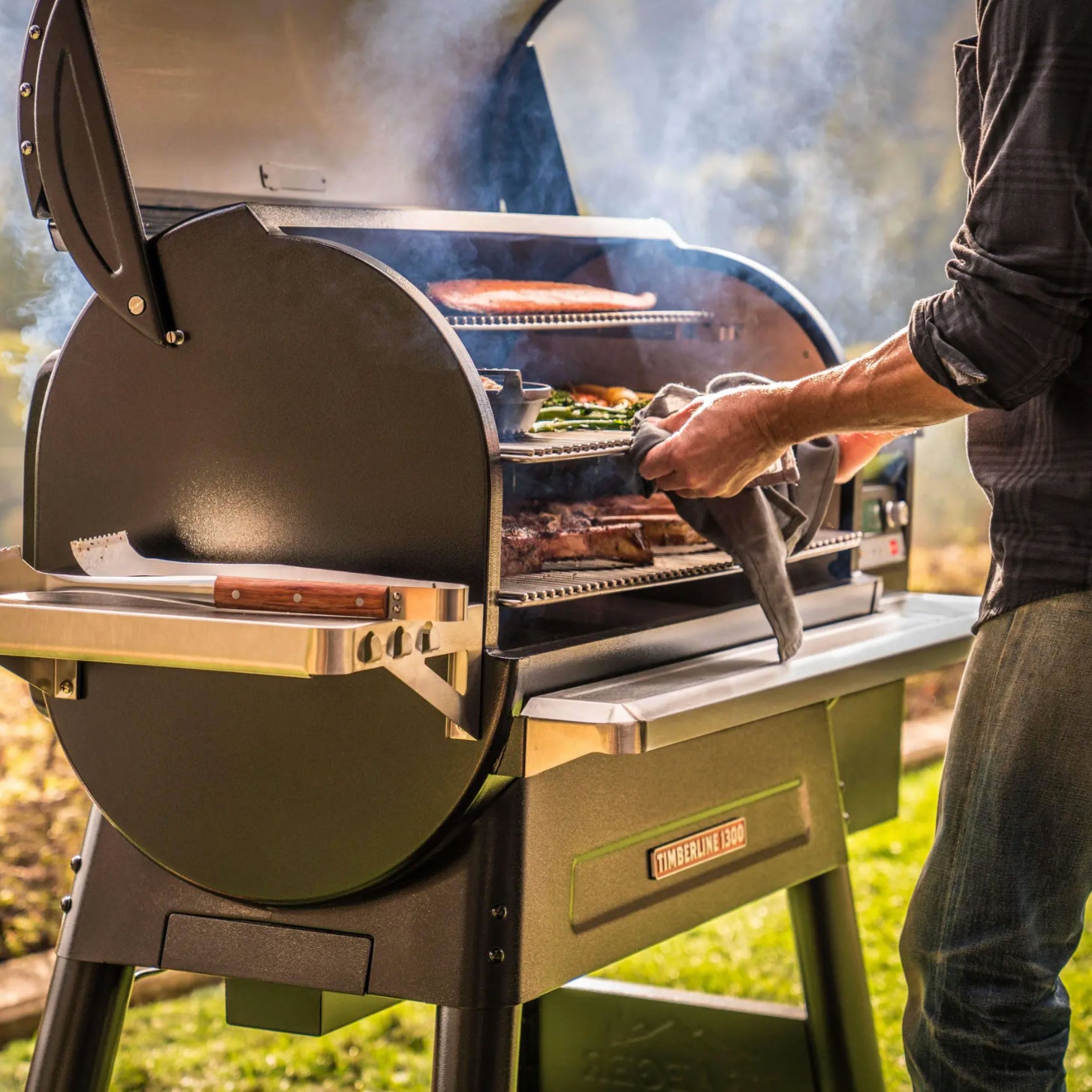 Heading out the door? Read this article on the new Outside+ app available now on iOS devices for members! Download the app.
Welcome to Ask a Gear Editor, our monthly column where we answer readers' most puzzling gear questions. Have a burning question of your own? Become an Outside+ member to ask an Outside expert for advice.
---
I've had my Traeger grill for nearly two years, and I've never cleaned it. I knew things were bad when the display screen started flashing "Clean Grill" so I did some Googling to figure out how. There are an overwhelming number of articles and videos with different approaches. Some of them suggest taking it apart and vacuuming it, others scrubbing or bleaching. What's the best way for me to tackle this, and how often should I clean my pellet grill?
This is good timing, because I'm desperately overdue to clean my Traeger too. I cook on it several nights a week, and haven't been great about proactively keeping it clean. To make sure I did everything right, I reached out to Lisa Janssen, senior international marketing manager at Traeger, for help.
After Every Use
Jassen recceommends cleaning the grates after every use. "Especially if you've done something fatty, like chicken wings or a low and slow pork shoulder," she says. But beware of metal brushes. "We're finding those metal filaments will break off over time and can stay on your grates and make their way to your food." (This goes for any grill.) She recommends this purpose-designed Traeger brush.
Swap out your liners or aluminum foil on the drip tray for good measure, too.
Once a Month
If you're an avid grill user, at least once a month, vacuum out the bottom of your grill, including the firepot (the hole at the bottom of the grill where the pellets burn). Remove the grates, drip tray, and heat baffle, and use a shop vacuum to clear it out. "It helps get rid of any remaining ash or buildup," says Jassen. It also helps the grill burn more efficiently, and enables it to maintain a more consistent temperature, by allowing the fire to breath better.
While you're at it, give the inside of your grill a good wipe down with cleaner and a sturdy cloth. But "no bleach!" says Jessen. "I do recommend the Traeger Cleaner, though. That stuff is straight-up magic and it's all natural. It cuts through grease wicked fast. I even use it in my kitchen." Spray it on grill grates and inside the grill, and if your pellet grill has a chimney, remember to clean that, too.
How I Cleaned My Pellet Grill
To take care of my own grungey Traeger, I dragged my Shop-Vac out of my garage and got to work.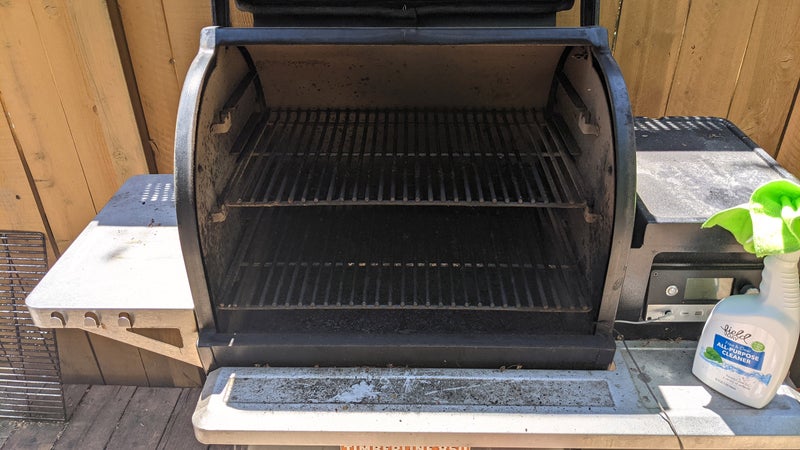 Removing the grill grates, drip tray, and fire box cover was really easy; I just reversed the process I used to assemble the grill. No tools required.
Inside, I found piles of ash, and the fire box overflowing with it. In the past, allowing my grill to get this dirty has caused it to choke out while attempting to raise temperature.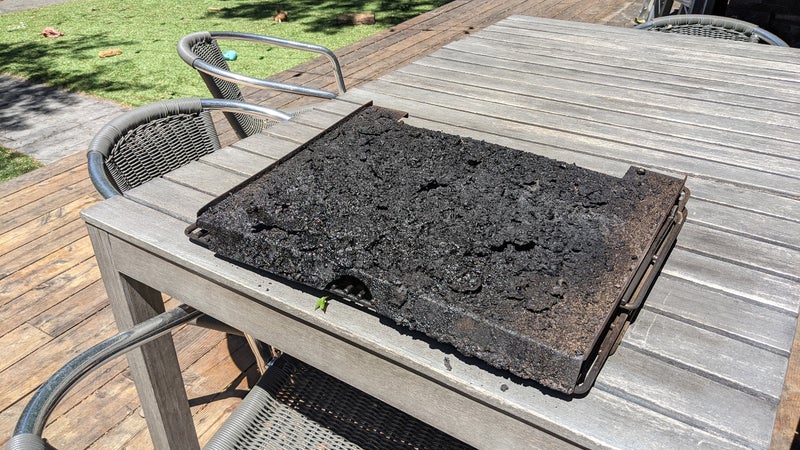 I noticed a lot of baked-on grease and meat residue on my drip tray. Letting it accumulate like this is both unhealthy and dangerous. I've had some really big grease fires over the years because I've neglected cleaning it.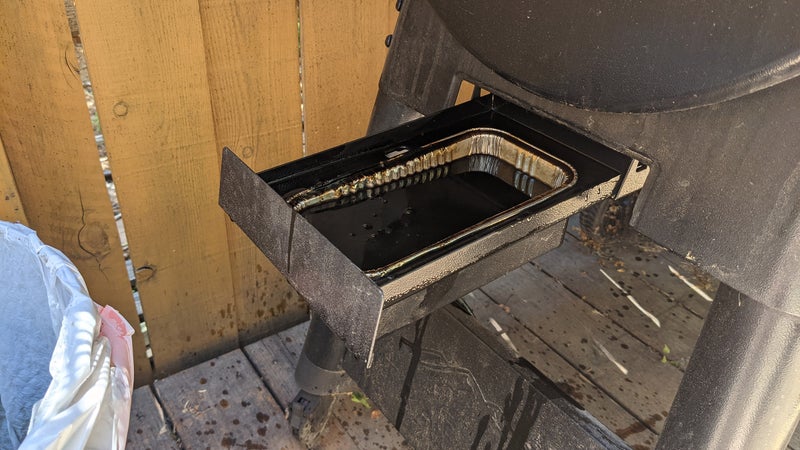 I also found that my grease trap was overflowing with nasty, black grease. I think the last time I emptied it was about a year ago. This must be why my dogs have been licking my grill so much recently. I spilled it all over myself, then had to go change clothes. Emptying the trap more regularly will make clean up a lot simpler in the future.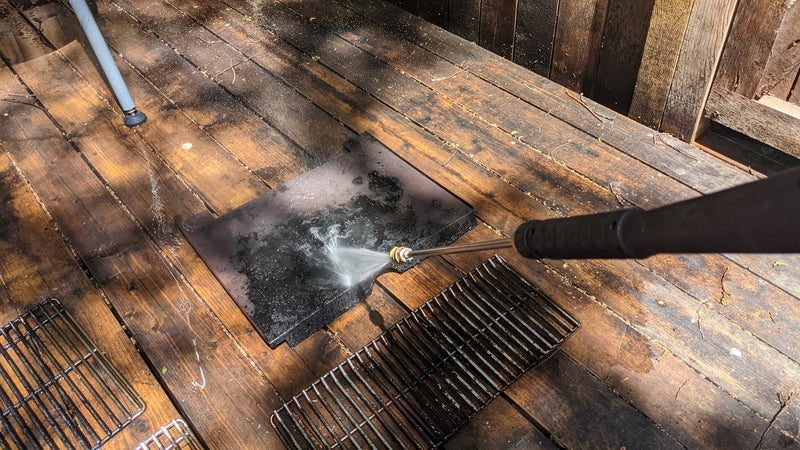 Because my drip tray and grates were so filthy, I decided to pressure wash them to give the grill a fresh start. (My next home project is refinishing the deck, so I already had the pressure washer set up there. I'd recommend doing this on a concrete surface if you don't want to peel the finish off your wood.)
While everything was drying, I used a non-toxic home cleaner to soak all the exterior and interior surfaces on the grill, then scrubbed them with a microfiber cloth. Before reinstalling the drip tray, I wrapped it in aluminum foil to make clean up easier in the future—hopefully encouraging me to do it more often.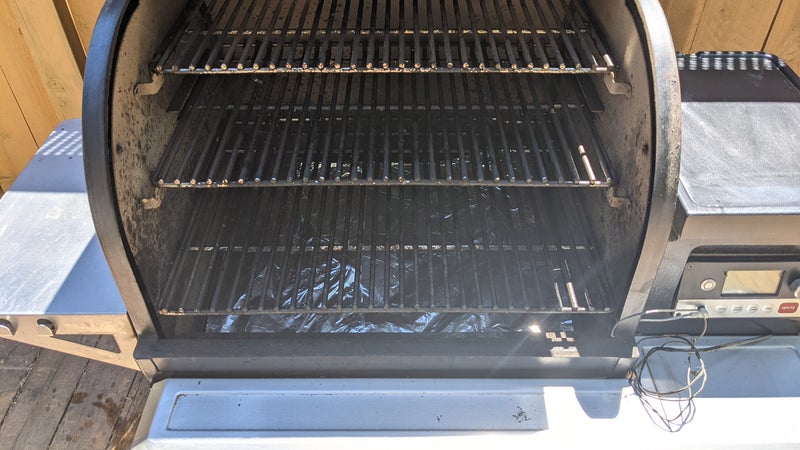 And that was it. The entire process probably took 20 minutes, and now my grill is less gross, and it'll run better, too.
Trending on Outside Online