Gear Guy
My Current Favorite Insulated Water Bottles
I've tested hundreds of them. These are the best daily drivers.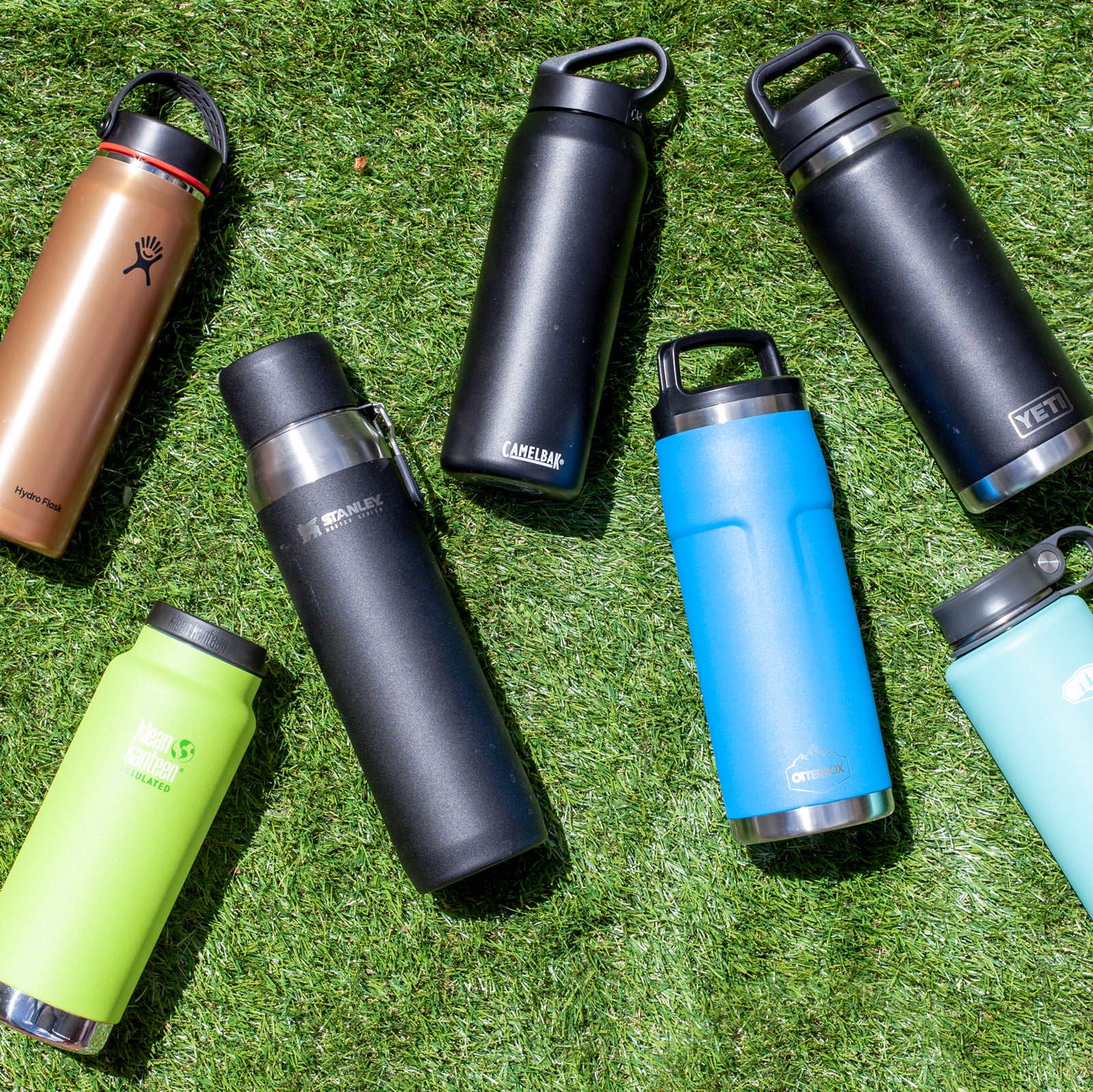 Heading out the door? Read this article on the new Outside+ app available now on iOS devices for members! Download the app.
I've probably tested over 100 insulated drink receptacles for Outside over the years. I've used hundreds of pounds of ice and countless gallons of beer, booze, and boiling water to rate everything from wee whiskey tumblers to mondo growlers. Oddly enough, I hadn't yet tested the vessel that I use for daily water consumption: the 32-to-36-ounce insulated bottle. This size hits a sweet spot—it isn't too big to carry on short hikes or day trips but is still big enough to minimize visits to the sink during the workday. So I evaluated seven top contenders to find the best one for you.
The Test
Usability 
I screwed and unscrewed the caps on these containers 100 times in a row and took notes. I washed each bottle by hand five times. I did not specifically test durability in this roundup, because all seven of these water bottles are tough as nails and will last through years of hard daily use, barring freak accidents. 
Portability
I weighed each of these on my kitchen scale while they were empty. I performed 50 jumping jacks with each bottle in my right (dominant) hand and took notes on how easy they were to hold on to. I also packed and unpacked each bottle from the fully loaded backpack my wife and I use as our daughter's diaper bag.
Drinking Experience
I used each of these water bottles as my daily drinker for two full days—one spent chasing around our two-and-a-half-year-old and one spent primarily at my desk. I consumed five full bottles of water from each container.
Thermoregulation 
I placed 200 grams of ice in each of the bottles, filled them to the brim with water, closed them, and let them sit for an hour before taking the first thermometer reading. I then closed them again and waited 36 more hours before taking another temperature reading.
---
The Winner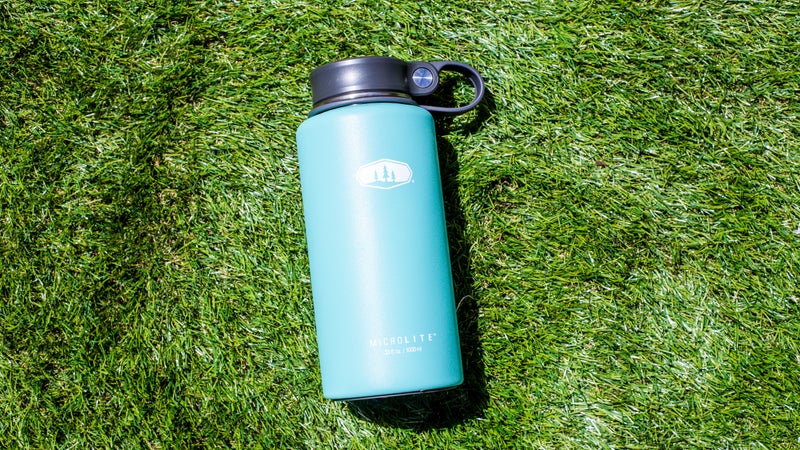 GSI Outdoors Microlite 1000 Twist ($35)
Usability: 4
Portability: 5 (Weight: 13.7 ounces)
Drinking Experience: 3.5
Thermoregulation: 5 (10-degree temperature gain)
The Microlite 1000 is a unicorn. It's remarkably light, is the least expensive of the bottles I tested, and absolutely kicked ass in the thermoregulation test, with only ten degrees of temperature gain in 36 hours. It almost never pans out that the lightest, most affordable product also demonstrates the highest performance, but the Microlite 1000 really has it all. Its functionality blew my mind. Because of it midsize mouth, this wasn't the easiest bottle to clean, but its small footprint made it a snap to pack and unpack. I was not crazy about the way the cap is connected to the bottle—it would slap me in the face if I didn't hold it back with another hand—but that just feels nitpicky, considering all the other magic this bottle contains.
---
Easiest to Clean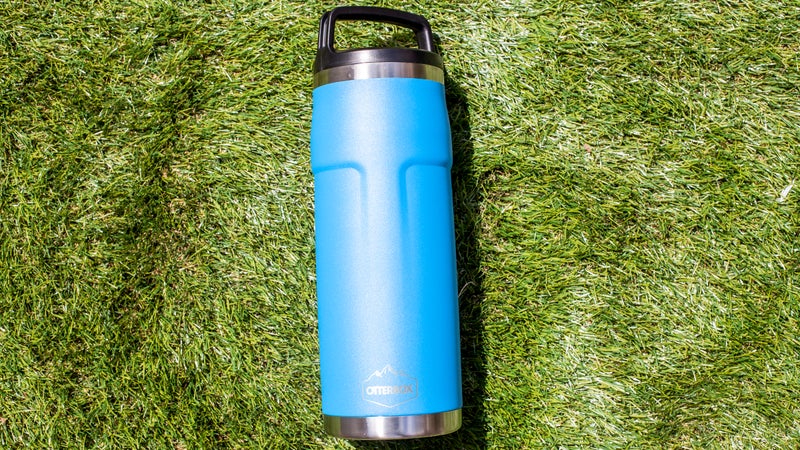 Otterbox Elevation 36 ($45)
Usability: 5
Portability: 2.5 (Weight: 1.5 pounds)
Drinking Experience: 3.5
Thermoregulation: 3 (15-degree temperature gain)
A big threaded lid and the widest mouth of these seven water bottles made this beefy unit an absolute dream to clean. I could get my whole hand and a sponge in there and scrub like the dickens. Easiest to Clean is not the sexiest category, but it's an important distinction for a few reasons. At 36 ounces, this container is a more sensible growler than its 64-ounce counterparts—perfect on a picnic for two or a for a family's worth of soup. Thanks to the effortless cleanup, the Elevation won't turn into a nasty breeding ground after outdoor excursions. It was the widest bottle I tested, which made it a little onerous to hold for extended periods of time and took up heaps of space in the backpack. But it didn't slip out of my hand during the jumping-jack test, a result of its nicely powder-coated exterior and three grip ridges. 
---
Best Bang for Your Buck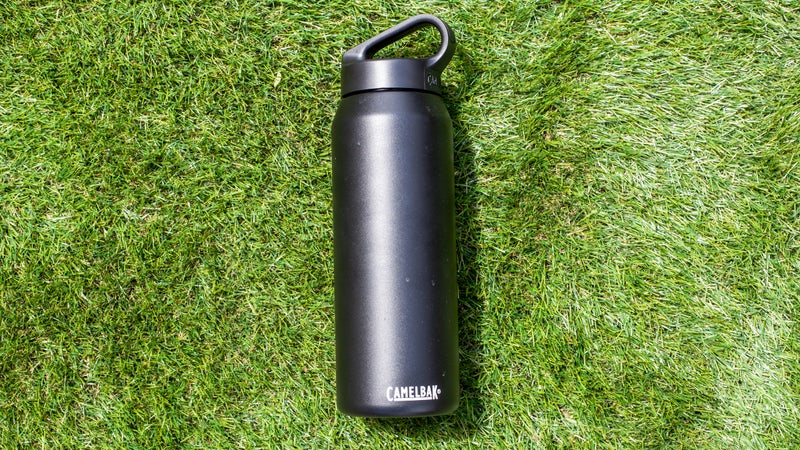 CamelBak Carry Cap 32 ($35)
Usability: 5
Portability: 4.5 (Weight: 15.6 ounces)
Drinking Experience: 4
Thermoregulation: 3 (12-degree temperature gain)
This bottle is extremely portable, thanks to its sub-one-pound weight and small size. I loved how easy it was to hold. The slight angle of the handle allowed it to swing effortlessly from my fingers as I walked around the neighborhood with my daughter. The opening struck a middle ground between the superwide Otterbox and the Chug cap on the Yeti (below), which meant it was relatively simple to clean but wouldn't slosh water on my shirt if I took a drink while walking. The bottle's light powder coating and narrow diameter made it one of the best performers in the jumping-jack test as well.
---
Best Drinking Experience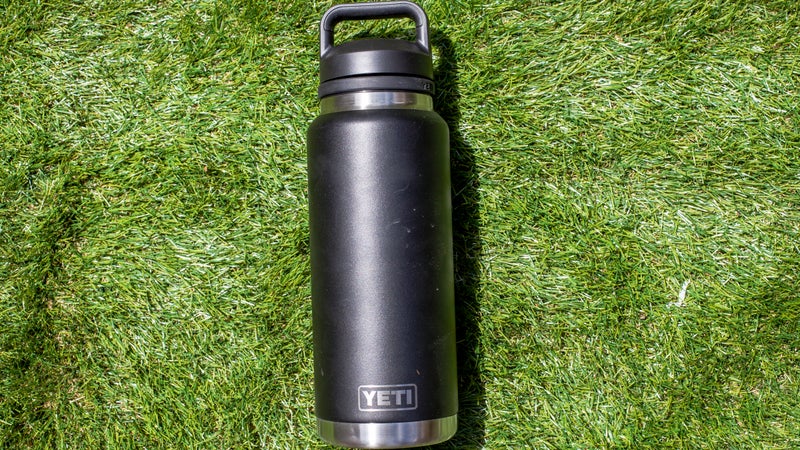 Yeti Rambler 36 ($50)
Usability: 5
Portability: 3.5 (Weight: 1.5 pounds)
Drinking Experience: 5
Thermoregulation: (16-degree temperature gain)
The Rambler 36 was by far my favorite bottle of the bunch to drink from, because of its included Chug cap. While the Otterbox does have an optional hydration lid that would have delivered a similar drinking experience, it costs $15 extra, whereas the Chug cap comes standard with this water bottle. The cap funnels the water down to a thumb-width spout that allowed me to actively drink while following my daughter down a steep trail without spilling a drop. It also readily screws out of the top of the bottle, making it extremely easy to clean. It wasn't the best thermoregulator, though, and is pretty heavy, but this is the bottle that's going to live on my desk through the summer, because the drinking experience was far and away better than any of the others on this list.
---
Best to Bring Everywhere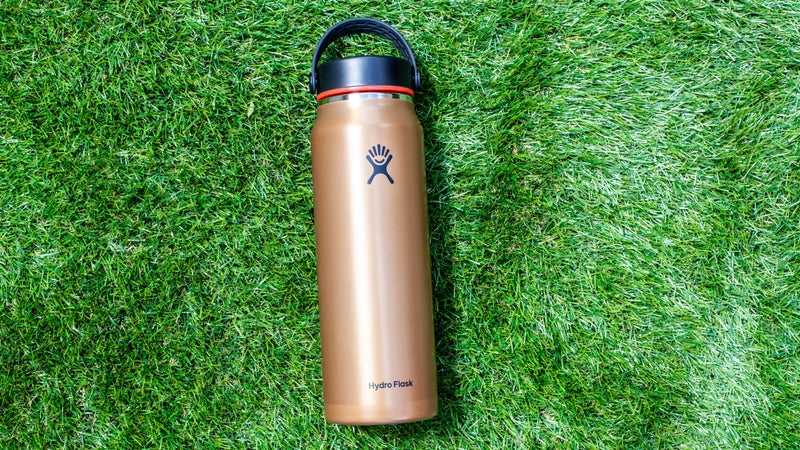 Hydro Flask 32 Ounce Trail Series ($50)
Usability: 4
Portability: 5 (Weight: 12.5 ounces)
Drinking Experience: 4
Thermoregulation: 2 (18-degree temperature gain)
It's crazy that Hydro Flask was able to build an insulated, 32-ounce water bottle that weighs under 13 ounces. This and the GSI are the only insulated water bottles I would bring on a backpacking trip or an extended ski tour. That weight and its slender shape created no hand fatigue when I held it for long walks, and my wife agreed. She only allows a new water bottle into our house if we get rid of one, but she called dibs on the Trail Series immediately. The lack of powder coating did make the jumping-jack test a little precarious—I would have been nervous doing it if the bottle were wet. It performed the worst in the thermoregulation test, but both of those factors are tough to complain about at this weight. 
---
Best Lid
Klean Kanteen TKWide 32 Ounce ($40)
Usability: 5
Portability: 3 (Weight: 1.25 pounds)
Drinking Experience: 4
Thermoregulation: 2.5 (15-degree temperature gain)
In a sea of insulated water bottles, the TKWide, with its brilliant lid design, stands out. A simple swinging metal loop that stows into the lid can be easily deployed to open and shut the bottle. The interior doesn't feature threads but raised dots that make taking the lid off a cinch while still locking liquids in. The exterior of the TKWide had the most textured powder coat, which gripped well during the jumping-jack test. The mouth of this bottle also featured a really nice taper that gave it the best feel on my lips.
---
Best Looking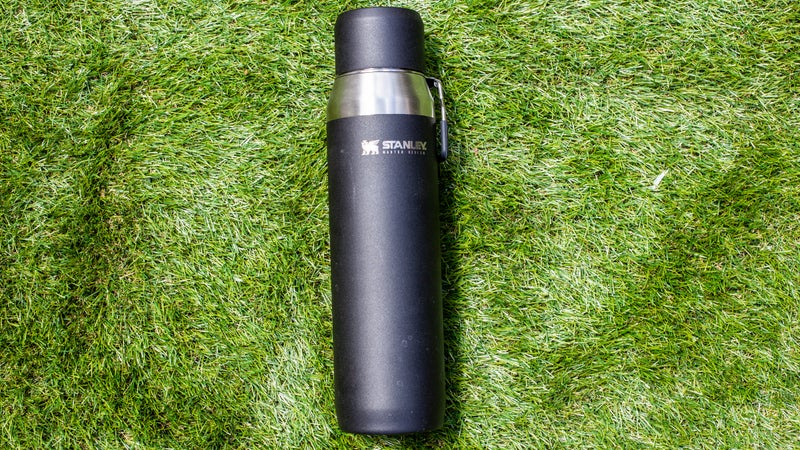 Stanley Vacuum Unbreakable 36 Ounce ($38)
Usability: 3.5
Portability: 2 (Weight: 2 pounds)
Drinking Experience: 4
Thermoregulation: 5 (11-degree temperature gain)
This thing is a beast. It weighs nearly two pounds and barely fit in my backpack. To be fair to Stanley, the company clearly did not design this for the fast and light crowd. A lot of the details that make this vessel so heavy—the thick powder coating, a massive lid with a multi-inch stack height, and a utilitarian metal handle—also make it look absolutely badass. It's timeless: it would be equally at home on my tailgate at a ski resort as it would be in a 1920s construction worker's lunch box. That's a good thing, too, because all of those hardy details mean it will likely last 100 years. It was the least portable, of course, but proved easy to hold during the jumping-jack test because of its powder coating and relatively small circumference. Despite being one of the largest bottles of the test, it had one of the smallest mouth openings, resulting in an awesome drinking experience but also a container that's difficult to clean. 
Lead Photo: Sarah Jackson