Virtual Reality Eased My Adventure-Separation Anxiety
In a time when most of us are struggling with restricted access to the activities we love, I wanted to know if VR would help. What I found surprised me.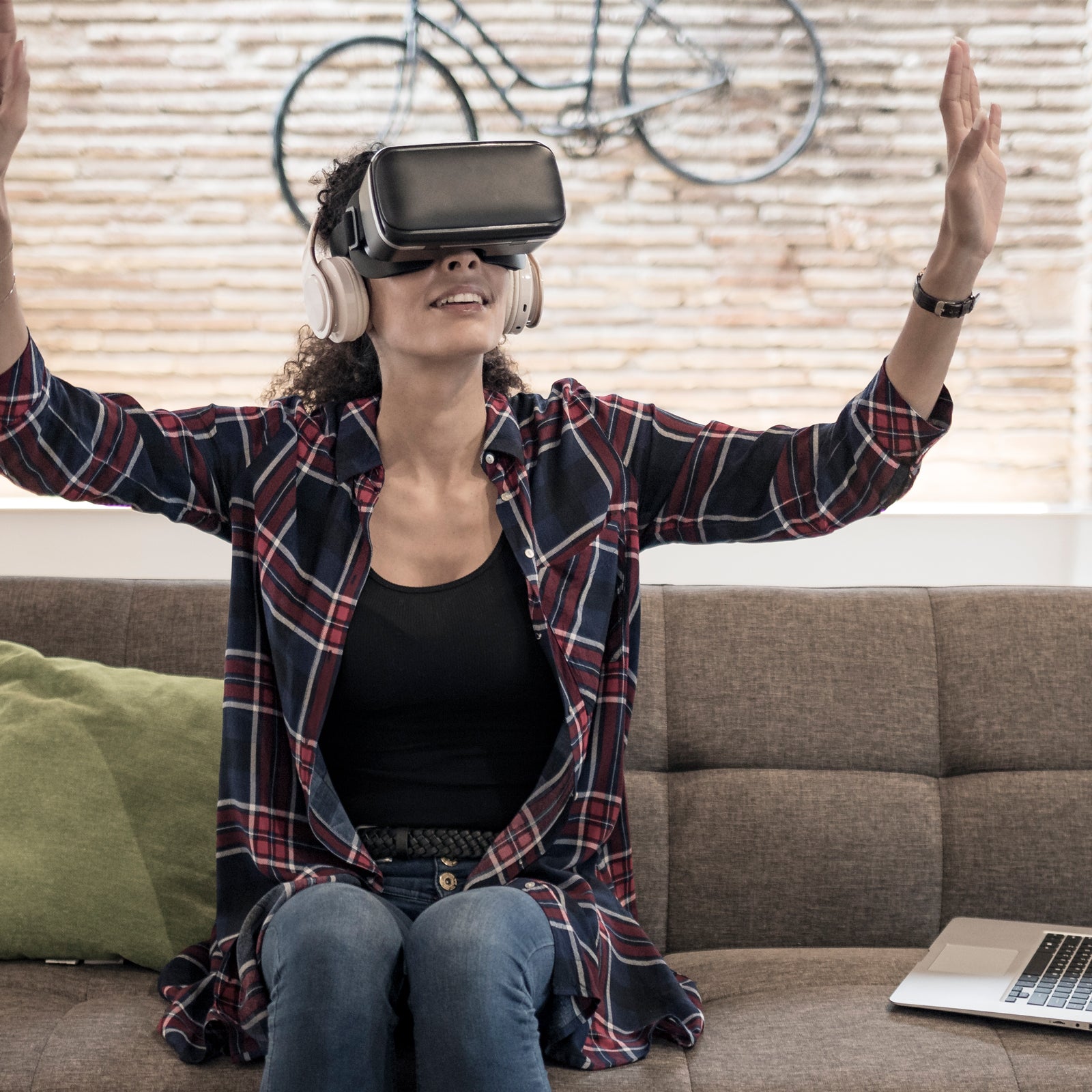 Heading out the door? Read this article on the new Outside+ app available now on iOS devices for members! Download the app.
Like millions of others, I have spent much of the past four months cooped up inside. And like so many people who rely on playing outside for sanity and fitness, I've experienced plenty of highs and lows. But as much as I cherish time spent in nature, I'm also a tech geek. Naturally, this got me thinking: Has virtual reality gotten good enough to help me scratch my adventure itch while on lockdown? The last time I tried VR, several years ago, I was underwhelmed. But I'd heard that the technology had come a long way since.
To be clear, I'm not positing that VR could replace the actual outdoors, just as a hang board can't replace a granite wall and a Zoom call can't replace hugging a loved one. I just wanted to know if VR could help tide me over, like a fancier version of watching ski movies to stay stoked through summer. So I got testing.
The Current State of Virtual Reality
If your last experience with virtual reality was, like mine, your smartphone placed inside a disposable cardboard viewfinder, then there's good news: it's gotten a lot better. Specifically, the graphics and applications have improved by leaps and bounds, thanks to purpose-built goggle headsets.
Early VR setups let you look around in a 360-degree sphere, but if you moved forward or backwards, side to side, or up and down, your perspective wouldn't change. But head- and hand-tracking technology has resolved that. Head tracking maps your position in the virtual environment based on your position in a physical room, so you can move around freely. Hand tracking uses two controllers to allow you to interact with objects in the virtual world. That all makes for an extremely immersive and convincing experience. At first this tech required an elaborate array of cameras and sensors around the room and needed to be connected to a separate beefy gaming computer with a high-end graphics card.
That changed in 2019, with the launch of a new headset called the Oculus Quest ($529). Before you balk at the price, keep in mind that it's the first and only stand-alone rig—just a battery-powered headset and two controllers—that does not need to be hooked up to a high-end computer in order to deliver top-notch peformance. You download whatever apps or games you want over Wi-Fi right from within the headset. Many of the running watches and GoPros Outside has reviewed over the years cost more and do less.
Quest units have been flying off the shelves faster than Oculus can make them, especially with so many people isolated in their homes. I managed to get my hands on one, though, and spent some time with it to see if it's all it is cracked up to be.
Tested: Virtual-Reality Adventure
The program that made me want to try virtual reality again was a three-part documentary called Everest VR: Journey to the Top of the World. The movie, by filmmaker and alpinist Jonathan Griffith, follows Tenji Sherpa on his quest to link the summits of Mount Everest and Lhotse without oxygen. (The project was an ode to Ueli Steck, who died before he could complete the route.) Griffith brought a 360-degree VR rig—a large array of 17 cameras—up to the top of Everest and stitched the footage together later. The result is seamless and immersive, with 360-degree visuals. Though you access the documentary through Quest, it's not compatible with head tracking. This means you can't move forward, backwards, up, or down, but you can spin around to look in all directions during every shot.
Climbing Everest has never been on my bucket list, but have I wondered what it would be like to stand on the summit? You better believe it. At several points during the documentary I realized I was standing with my mouth hanging open in amazement. I've read books on this peak and watched plenty of documentaries, but this marked the first time I was able to see what those climbers see, as if I were there. It was a magical experience.
There are a ton of other outdoor-focused experiences, too. Wander is essentially Google Street View for beautiful places like the Great Pyramids of Egypt. There's National Geographic Explore VR, which casts you as a photographer on assignment in an animated but breathtaking version of the Antarctic or Machu Picchu. Ocean Rift brings you to a make-believe underwater safari park, where you can faux-scuba-dive and interact with animated whales, manatees, and other sea creatures. (As a freediver who's been missing the deep ocean, I really enjoyed this one.)
Generally, the animated experiences I just mentioned aren't totally realistic looking, but they offer full head and hand tracking, so you can explore the worlds as if you were there. Nature experiences that use real-life photo and video footage, such as the Everest documentary, are less interactive (without the head and hand tracking, you're mostly just looking around from a fixed point in space). But being able to visit gorgeous places while trapped inside was still extremely refreshing.
Tested: Virtual-Reality Fitness
At points during the past four months of lockdown, I have struggled with my motivation to work out. Games, however, are an easy distraction. Most of the ones you play on the Quest are best enjoyed on your feet. That's already better than sitting around and watching TV.
On the low-key end of the spectrum, I discovered rhythm-based games that are set to music, like a full-body version of Guitar Hero. One example: Audio Trip has you leaning and ducking to avoid obstacles and hitting targets with your hands as they fly at you to the beat of a song. It truly does feel like dancing. I clocked my heart rate at 154 beats per minute playing something that isn't even marketed as an exercise app.
There are also some no-joke workouts. Leading the charge is a new Quest-exclusive app called Supernatural. It's a rhythm-based program that involves using virtual bats to smash targets coming at you to the beat. While you do that, you also have to get under, around, or through various obstacles, which translates to doing fast squats and lunges, all set to a soundtrack that ranges from Lizzo and Kendrick Lamar to Fleetwood Mac and Chaka Khan. The backdrops are stunning, photo-realistic, 360-degree panoramas of real places like Glenn Coe, Scotland, and Iceland's Blue Lagoon. At one point, my heart rate was up to 179 beats per minute, which is more than I get with most workouts.
Other notable exercise apps include boxing games Thrill of the Fight, Creed, and BoxVR. Thrill of the Fight in particular truly feels like sparring (minus getting punched in the head). After three three-minute rounds, I was gasping for air and my shoulders were burning.
One day in particular, I just didn't feel like doing anything. But I managed to get myself to play one game on the Quest. Before I knew it, I was dancing in a virtual club (in a game called Dance Central) and then doing a full, challenging workout and having a really good time. An hour flew by, and I burned almost 700 calories. Fun is a powerful motivator.
Tested: Virtual-Reality Games
It shouldn't be a surprise that a system built primarily for gaming would excel at it. There are stunning adventure apps like Moss, where you control a tiny hero mouse on a quest to defeat magical villains, and Apex Construct, a bow-and-arrow shooter game set in a postapocalyptic alternate dimension. Climbers will appreciate a game called The Climb, which features routes of varying difficulties in made-up areas that conjure an island in Thailand, the red rocks of the American Southwest, and the French Alps.
One of my best friends, an ER doctor in Los Angeles, has been using his Quest to de-stress in between shifts. We've been able to compete in futuristic racketball, as zombie shooters, and in a sort of zero-gravity, full-contact ultimate Frisbee called Echo Arena. It's a lot more fun than Zoom.
Takeaways
Going into testing, I had no expectations that virtual reality could replace true outdoor experiences. I felt the same way coming out of it. There is no substitute for the feeling of water on your skin, dirt under your shoes, or fresh air in your lungs. But it did make me feel like I was going places and having adventures at a time when I couldn't. It even afforded me experiences I will almost certainly never have in real life.
As for the Oculus Quest itself, I've been extremely impressed so far. It was easier to set up than most fitness watches I test. The graphics, performance, and responsiveness are all more than enough for my needs. Negatives? Because the weight is all up front, I do feel some strain in the back of my neck after long sessions, and the battery lasts only two to two and a half hours. It also costs $100 more than the current generation Xbox or PlayStation (plus the cost of games, which generally run between $10 and $30). In other words: it's far from cheap. But for an all-in-one system that has been able to transport me in ways that those others can't, it's pretty unbeatable.
Lead Photo: aluxum/iStock