What's a trail-worthy MP3 player?
What's a good, trail-worthy MP3 player? It's got to be light and needs lots of storage space since I'm out in the woods for days at a time. I've looked into the iPod mini, but if the battery dies, I can't swap it out for a fresh one. Any ideas? Matt Shasta Lake City, California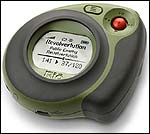 Heading out the door? Read this article on the new Outside+ app available now on iOS devices for members! Download the app.
Sure, several. How about a Rio Cali 256? It's an MP3 player that's designed for outdoorsy use, with an armband strap so the very compact device (it's the size of a fat wristwatch) can ride along with you. It's digital, so storage is more limited than an iPod—60 MP3 songs in its standard configuration, up to 120 if more storage is added. The advantage of this player is that it has flash-based memory, meaning no built-in playback delays and no skipping as you bomb down some scree field. Plus, it has an FM tuner so if you can hit a signal you still have something to listen to once you're tired of the on-board tunes. Best of all, for your purposes, the Cali plays for up to 18 hours on one AAA battery. That's pretty good—just a few little batteries should last you on a weeklong trip. And the price ain't bad at $140 (www.rioaudio.com).

Rio Cali

Look also at Rio's Forge 256, another sports-specific flash-based unit with the same easy packability, selling for a marginally pricier $170. With that you also get the capacity to record radio files to your player, though. Want to catch that Terri Gross interview you missed with Philip Roth as you're exploring the Adirondacks? No problem.


A similar unit to the Rio Cali is the Creative Nomad MuVo TX FM 256 ($169, www.nomadworld.com), which is a digital unit that runs off a single AAA battery (Creative bills one battery as good for 15 hours). Storage capacity is basically on a par with the Cali. It looks more like a mini tape recorder (or iPod, for that matter), whereas the Cali or the Forge have more stylin' lines.
Lastly, SanDisk's slimline MP3 ($200) has a rather substantial one gigabyte of storage, so you can load up to 16 hours of MP3 tunes on it, which is in the order of around 240. And it runs on a single AAA battery, so it's easily re-powered. So, tough choice—Rio's snappy, compact styles, SanDisk's storage… I think it'll come down to your budget—the above cost less than the iPod Mini ($249), all are more trail-worthy, yet they will also pack less of your CD collection with you on the trail.
MP3 players and other electronic wizardry reviewed in Outside's
2004 Buyer's Guide
.