Which GPS unit should I take on a thru-hike of the Appalachian Trail?
When I turn 40, I'm going to hike the AT. I would like to take a GPS unit, and my wife would like a way to keep track of my progress. Is there anything out there that can meet the need? Glenn New York, New York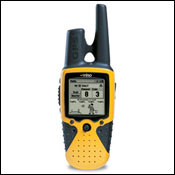 Heading out the door? Read this article on the new Outside+ app available now on iOS devices for members! Download the app.
Not long ago a reader asked about GPS systems integrated into a walkie-talkie device, for keeping track of his wife (or girlfriend—or maybe wife AND girlfriend) and vice versa while skiing. I suggested there was no such thing, which as Alberto Gonzalez might say, "Was a response which at the time, while not inaccurate so far as it went, perhaps did not fully encompass the real state of my knowledge or lack thereof."
Garmin Rino 110

Rino 110 Two-way Radio
But I was wrong! Sort of. Garmin's Rino 110 ($195; garmin.com) is a FRS/GMRS hand-held radio with a built-in GPS unit that does indeed translate its location to other units. Problem solved in the case of the skier? Not necessarily. The radio itself remains a line-of-sight unit. If you're on the opposite side of the ski hill, you might as well be on the dark side of the moon. And the Garmin unit certainly wouldn't work for you because under ideal circumstances it has a range of five miles, at best.
One viable option is to rent a satellite phone, such as the Iridium 9505A, one of the newer and lighter models out there. World Communication Center (www.wcclp.com) will let you have one for $75 a week, plus air time, which runs about $1.80 a minute. What you do is take along any GPS unit—Garmin's GPS 60 ($193) would be outstanding—and phone in your location on a nightly basis. Alternatively, you could get a wireless phone from Sprint/Nextel—specifically, the Motorola i670, which has GPS capability—and use that to report your position. That would be limited to occasional transmission capability, however, as the phone would have to "see" a wireless repeater. But my guess is that, for better or for worse, coverage along the AT is probably pretty good. Certainly on the ridgetops you'd get out pretty easily.
As for some device that would let your wife constantly track you on her PC screen—sort of a Where in the World is My Husband program—that doesn't exist for us consumers. Really! So far as I know.