Gear Guy
Why I Love the Humble Cam Strap
This basic piece of gear is a must-have for any adventure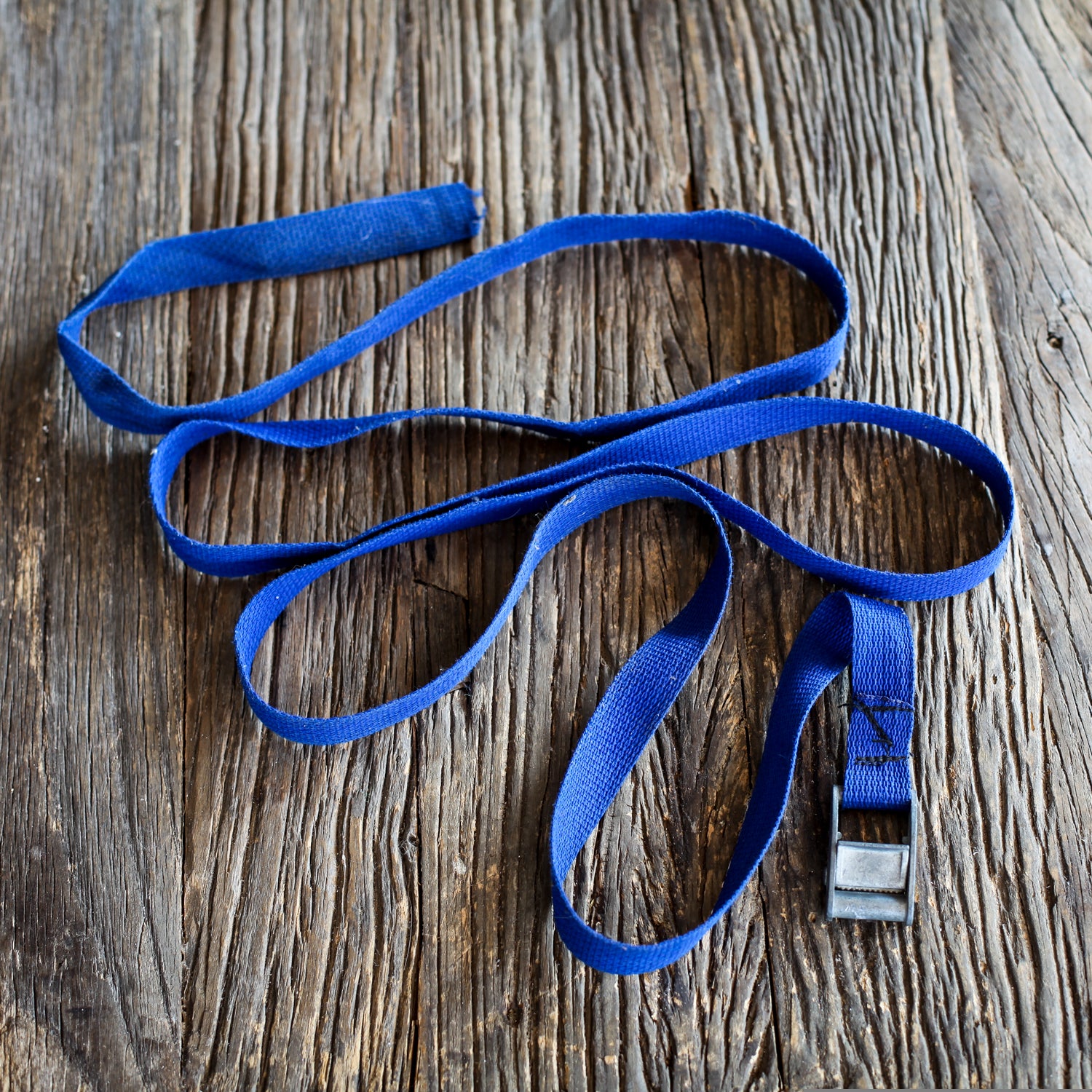 Joe Jackson(Photo)
Heading out the door? Read this article on the new Outside+ app available now on iOS devices for members! Download the app.
One of my most trusted and well-used pieces of gear is something I stole. About 15 years ago, I swiped a series of cam straps from the rafting company I was working for. (Sorry, Adventure Whitewater!) Those straps have since become an essential part of how I play outside. I've used them on innumerable adventures, always keep them in my car, and usually have at least one in all my packs.
Cam straps, lengths of one-inch webbing that cost about $5 and usually measure between three and 20 feet long, come with a simple spring-loaded, toothy buckle on one end that allows you tighten and lock the webbing around some object without it coming undone. They're not to be confused with ratchet straps, which are also webbing but use a ratchet mechanism to tighten things down. Here, you have to yank on the strap yourself to snug everything up. It's not hard: I've created dents in thermoformed kayaks by being too aggressive.
These straps have long been used in the rafting community because of their strength and versatility. I have stacked rafts five high, cam-strapped them to boat trailers, and driven too fast down mountain roads with zero fear of them falling. The one time I lost a raft stack was in a wild explosion of rubber on the Klamath River Highway in California during my second year of guiding. It resulted from a shoddy handle on an old raft tearing off and setting the boat free. The strap, however, was totally fine and is likely still being used by the rafting company 15 years later.
Besides being an ideal way to secure boats, cam straps can fix just about everything else. Catastrophic zipper failure on my backpack? No worries, I can close the whole body tight with a cam strap. Buckle on my ski boot break? Piece of cake: Wrap a cam strap around the top.
Or swap out your adventure belts for a cam strap. A three-footer was just the right size for the skinny end-of-summer guiding frame I sported through much of my twenties. Nowadays, I take a four-footer, cut it to size, then clean up the frayed end with a lighter. I love the idea of always having a gear fix or tie-down around my waist.
The list of advantages keeps going. If your cam straps are short, they can be daisy-chained together by feeding the loose end of one through the buckle of the other; I trust three four-foot straps attached to each other as much as I trust a single 12-foot strap.
Some rope enthusiasts will turn their noses up at my love of cam straps. Sure, a trucker's hitch coupled with a good tightening knot can work just as well. Personally, though, even after securing thousands of bow lines on commercial raft stacks using that method, I still prefer the peace of mind that securing my valuables with a cam strap provides. I don't want to wonder if I tied my knot well enough while hurtling down the road with gear strapped to my roof or trailer.
Here's my final piece of advice: Invest in a series of lengths and write your name on every single one so your friends don't steal them. And don't buy the cheapest ones you can find. The cheap ones will work, but it's better to get them from a company like NRS, which has been making durable cam straps for years.
Lead Photo: Joe Jackson