Why You Should Fully Support the New FAA Drone Regulations
The FAA task force released its drone-registration recommendations Monday. Every small UAV weighing more than half a pound must be registered with the agency, but the process to do so seems downright reasonable.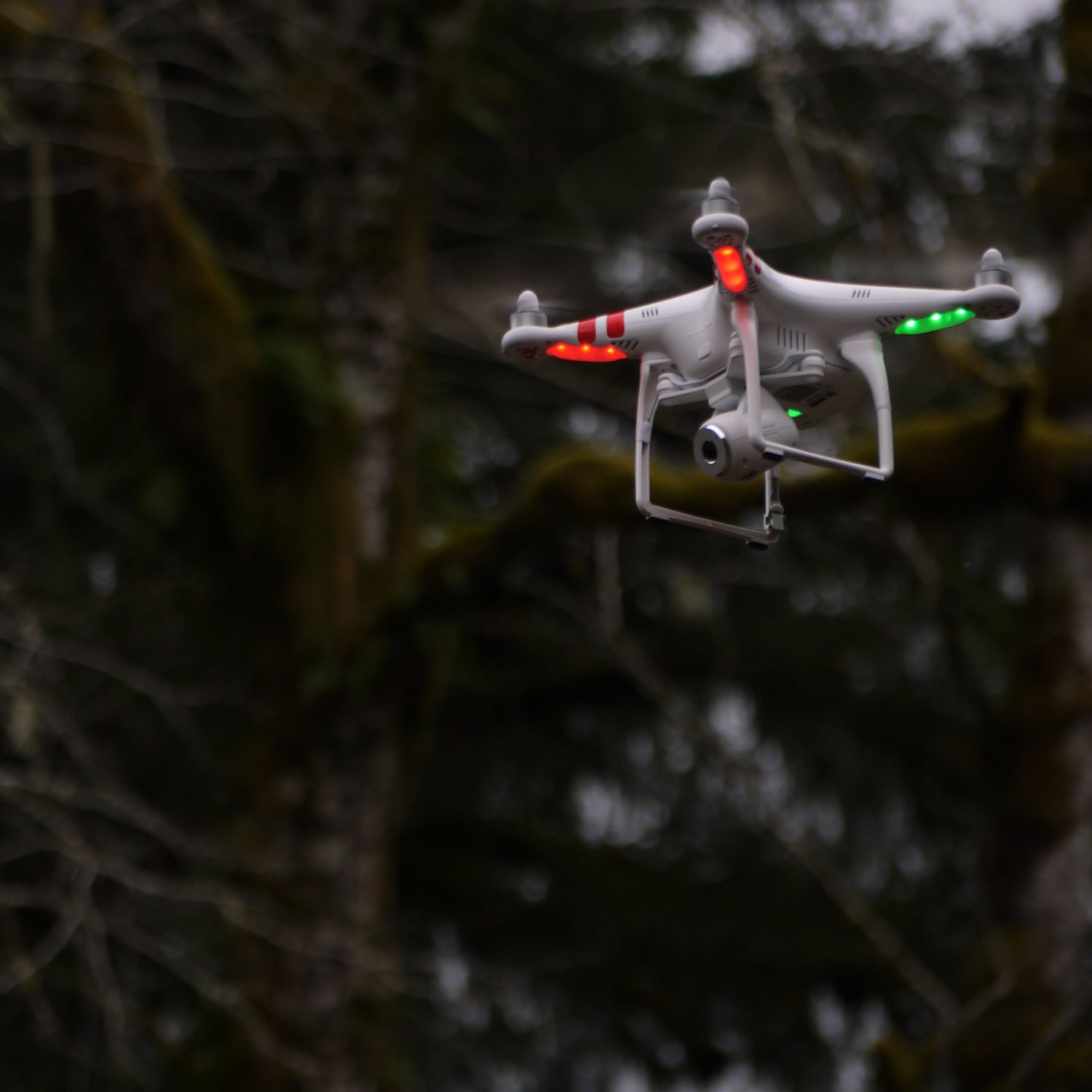 Ecotrust(Photo)
Heading out the door? Read this article on the new Outside+ app available now on iOS devices for members! Download the app.
We told you it was coming, and indeed, we're one big step closer to the day when you have to register your favorite new flying toy with the FAA.
The agency wanted regulation of consumer drones, and it wanted it fast, what with the impending holiday gift-giving frenzy. So it assembled a diverse committee for an intense three-day meeting to develop rules for recreational drones, and that committee released its recommendations to the FAA on Monday. The FAA will likely adopt these rules by early December, but they're not finalized yet. 
Basically, you're going to have to register that drone, if it weighs more than 500 grams (just over half a pound) but less than 55 pounds (more than that and you'll be subject to a much more arduous FAA registration process). But it'll be easy.
The registration process will be web-based: just input your name and street address (phone number, email address, and aircraft serial number are optional). The FAA will then assign you a unique identifying number, which you will write on your drone—even on the inside battery compartment, as long as it doesn't require any tools to open. If you have multiple drones, you can write that same number on all of them (unless you enter the drone's serial number at registration). There will also be an educational component (rules and safe flying practices), which you must acknowledge you received.
And that's it.
Really, that's not so bad. I was prepared to rail against this whole process and rant about how dumb and unnecessary it is, but I can't. People are just too stupid with their drones, and now there are too many stupid people with too many drones. Sometimes things go wrong and there needs to be some accountability, especially if someone gets hurt.
Nobody wants to jump through hoops before they play with their cool flying toy. But we have to say, the regulations seem pretty reasonable. Too many people have demonstrated too much carelessness with their drones for there to be zero accountability.
So, let's dive into the details of the recommendations, which are the result of a cooperative effort from the Registration Task Force. Members included representatives from Google X, the Air Line Pilots Association, DJI, Amazon, Helicopter Association International, International Association of Chiefs of Police, GoPro, BestBuy, and many more. Lots of compromises were made and no one was completely happy, but it's remarkable that they managed to come to an accord after just three days.
The first thing you'll note is that a half pound is very light, which means it will include just about every drone you've ever seen flying outdoors (and this only applies to drones that will be flown outdoors). DJI's Phantom drones, for example, weigh about three pounds. The task force came to this number based largely on the likelihood of someone dying if the drone were to fall from the sky and/or of it causing a catastrophic accident if it were sucked into a jet intake or if it were to hit a helicopter propeller. If pilots can't keep their drones away from rescue helicopters (as we saw earlier this year during a California wildfire, which resulted in someone's death), then we need to know who was flying it. (We should also probably equip emergency helicopters with net-guns, but I'm just spit-balling here.)
To make the online registration even easier, the task force has recommended that the FAA release an API, in addition to the website. For example, because you need an app to fly a Parrot drone anyway, Parrot could include the registration in its app's setup process.
Finally, pilots must be at least 13 years old or fly with an adult's supervision (which is a good idea anyway).
There's also an interesting clause slipped in the recommendations:
Because this new requirement will impact unmanned aircraft owners who do not have the means to protect their identities and addresses behind corporate structures (as some manned aircraft owners currently do), it is important for the FAA to take all possible steps to shield the information of privately owned aircraft from unauthorized disclosure, including issuing an advance statement that the information collected will be considered to be exempt from disclosure under FOIA.
It's hard to know exactly whom that's meant to apply to. Is it saying these rules don't apply to FBI or CIA drones? Maybe. Conspiracy theorists and those especially worried about government spying are sure to have a field day.
The task force also notes that there isn't a clear punishment for those who violate the new registration rules for sUAS: "Current registration-related penalties (perhaps exceeding $25,000) were established in order to address and deter suspected drug traffickers and tax evaders who failed to register aircraft as part of larger nefarious schemes. " Indeed, a $25,000 fine for flying a Millennium Falcon drone around your yard without first registering seems pretty harsh. So the task force urged the FAA to "establish a reasonable and proportionate penalty schedule that is distinct from those relating to traditional manned aviation." Let's hope they do.
So, look, we're not exactly excited about this. Nobody wants to have to jump through an additional hoop before they play with their cool, new, flying toy. But we have to say, it seems pretty reasonable. Too many people have demonstrated too much carelessness with their drones (crashing it into the U.S. Open, for example) for there to be zero accountability. It may not be fun, but it's hard to argue that it isn't necessary. 
Lead Photo: Ecotrust