Hustle + Floe
Chile's Peel Inlet has a long history of turning back experienced explorers. Maybe what they needed was a golf umbrella, four wheels of Dutch cheese, and a better way to brew coffee.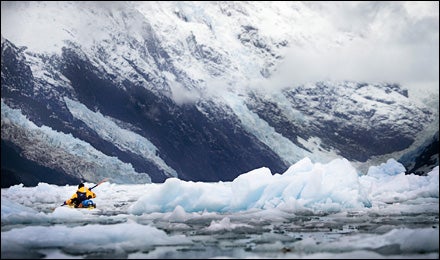 Heading out the door? Read this article on the new Outside+ app available now on iOS devices for members! Download the app.
WE'RE STUCK like Shackleton, only it's not that dire. Or, at least, I don't feel like panicking. Ice is insidious like that. For the last hour, California-whitewater pioneer Reg Lake and I have been milling strokes toward the northern shore of Calvo Fjord, an eastern spur of Chile's Peel Inlet. One of the deepest inlets on a coastline full of deep inlets, Peel cuts to within five miles of Argentina as it bisects Patagonia's southern ice cap. Thick blue glaciers spill out of the overcast Andes, giving the illusion of altitude. On the banks emerge a vicious snarl of lenga trees, their trunks and branches bent sideways in surrender to gusting winds. And at the head of the inlet, just over a ridge—ten miles by air or close to 300 by boat—is Grey Glacier, which flows into Torres del Paine National Park.
Chile

Lake and the author, "starving"
Chile

Lake beside the North Arm's Lobos Glacier
Chile

The North Arm's Patos Glacier sheds another layer.
Here in the March permadrizzle, it's just Reg and me, in sea kayaks, hacking a maze through plates of cobbled brash—baseball-size glacial debris that's refrozen into what looks like sheets of ghostly almond toffee. Between expansive ice plates run narrow alleys that either connect, and we make progress, or don't, and we don't. It's only a mile to shore, but the closer we get, the denser the pack becomes. The temptation to get out and walk is strong.
"What do you think?" Reg asks. An athletic 64-year-old, he tends to see problems as strings of facts; solutions either add up and "make sense?" or fall short and are thus rendered "senseless." The fact that he's asking is a bad sign.
I look around. "I think it's time for Plan B."
WE'VE BEEN OUT for just over two weeks, our exploration of Peel's inner reaches—the North Arm, which extends ten miles north of Tilman Island to within 13 miles of Argentina, and Calvo Fjord, which runs eight miles to the east—funded by a Gore-Tex Shipton-Tilman Grant. Even though cruise ships work the main stem and visit Calvo's first two glaciers, a mile or so in, the rest of Calvo and the North Arm goes unseen: The North Arm is blocked by icy narrows, while Calvo's extremities are so frozen that it would take an icebreaker to progress more than a few miles. Reg and I made it six miles up Calvo but have gotten stuck on the way out. The wind has shifted, packing the ice around and ahead of us. We muscle the boats in reverse and paddle until dark, landing on a gravel beach.
We leave our drysuits on (wearing is the only reliable method for drying anything) and set up camp.
"Cook in the vestibule tonight?" I ask. It's raining harder again.
"Makes sense," says Reg.
"Chicken Polynesian or chicken à la king?"
"Polynesian." He's left the higher-octane 2,500-calorie meal for me, even though we're both exhausted. Soon, the only sounds are slurping and rain. I take a mugful of wine and heat some water bottles to warm our sleeping bags.
Our misadventure takes place in a rather auspicious spot, given the name of our expedition grant. In 1956, British explorer H.W. Tilman sailed his wooden cutter Mischief up Calvo Fjord to launch the first crossing of the Patagonian ice cap. "Peel penetrated furthest east so that the crossing would be the shorter," he wrote, "and it contained no less than ten glaciers which reached the water as well as several others which came within a mile of shore." But the Mischief was able to reach land only at Calvo's first glacier, very near where Reg and I got stuck.
Tilman launched his crossing from this less-than-ideal spot. From above, he looked down on Calvo. He would later write, "It appeared so narrow and so choked with ice, that we were glad we had ignored it." But while Tilman and the men explored the ice cap, stopping several times a day to brew tea, the ship's crew tried to navigate the shallow pass to the North Arm and damaged the Mischief's keel, nearly sinking her. They made it out successfully, but 20 years later Tilman was lost at sea off the Falklands. The island that guards the North Arm's choked entrance now bears his name.
Reg keeps track of these sorts of things. He's a sponge for old nautical information and has paddled and guided more of Chile's 4,000-mile coastline than anyone. And nothing beyond local fishermen's speculation showed that anyone had ever before been through the narrows to the end of Peel's North Arm.
Reg is a contemporary of a band of California adventurers that includes Patagonia founder Yvon Chouinard, The North Face founder Doug Tompkins, and big-wall legend Royal Robbins. The three climbed together in Yosemite in the sixties; in the seventies, they turned from rock to water, exploring California's steep creeks and waterfalls. And if you wanted to run hard whitewater, Reg was the guy you called.
Among them, the four notched first descents on now classic runs like the Upper Kern, flowing off Mount Whitney, and the Middle Fork of the Kings, through Kings Canyon National Park. In 1980, they ran the Devils Postpile section of the San Joaquin, which features an unscoutable, unportageable Class V gorge called the Crucible that's still feared even by the best young kayakers. Reg was the "probe" for that line. "I've got a lot of respect for that guy," says expedition paddler Ben Stookesberry, 29. "He's a complete badass."
While the others went on to found successful clothing companies based on the dirtbag image, Reg stayed in his boat, albeit reinvented as a sea kayaker because of slowing reflexes.
"I'm finally living the life I knew was out there," says Reg with the vigor of an 18-year-old raft guide. Most winters since 1991, he's returned to Chile; this year, for his second attempt on Peel, he invited me. He figures that, with a month's worth of food crammed in our hatches, we'll be able to wait out the ever-changing ice floes and unfavorable weather that turned him back in 2004.
FOR THE FOUR-DAY VOYAGE to Peel, we'd hired a 45-foot fishing boat, the Capitan Matias, in Punta Arenas, the cosmopolitan southern outpost for travelers heading to Antarctica or Tierra del Fuego. In addition to the captain, Roberto Muñoz, there were two crewmen and Fortaleza Expediciones' Cristian Oyarzo Fierro, a 30-year-old outfitter from Puerto Natales who'd arranged the charter to scout the kayaking around the Monte Pirámide glacier.
"Paine is becoming crowded," Cristian said. He'd started his company when he was 18, in Torres del Paine National Park, but, like everyone else, was finding the place overrun. "So we are looking for areas to guide that are untouched—like where you are going."
Chilean president Michelle Bachelet's administration, he told us, was offering loans and grants to budding outfitters. "The government likes our idea," he said, "because everything will happen on the boat: stay, cook, toilet, the Internet … Others want to build hotels and refugios on land, but that's not what we want." His friend the captain was getting in on tourism, too, Cristian said. "Roberto is building a two-masted sailing ship that will hold 20 people, a scaled replica of the …"—it was on the tip of his tongue—"… the Beagle."
On the bridge, Reg had spread a series of four-by-six photos of Peel's North Arm and Calvo, shot from the space shuttle. Some showed the narrows completely bunged with ice; others showed it looking passable.
"Have people been here?" Reg asked Roberto. I was hoping not.
"Sure," said Roberto, pointing deep into the North Arm. "Abalone hunters." The info didn't seem to bother Reg. He didn't want the bragging rights; he just wanted to see the historic fjord.
Three hundred miles later, on a typically overcast February day, we watched as the Capitan Matias motored out of a natural lagoon 30 miles seaward of Tilman Island, and we were alone. I've kayaked plenty of rivers, but this was my first go in the ocean. A month's worth of gear feels like a heavy plaster cast in the cockpit, but the suffering was for good reason—namely, ten avocados, three pounds of Peet's Coffee, four wheels of Dutch cheese, several gallons of Carménère, and a number of other necessities, like my cushy camp chair, a pair of Reg's patented drip-filter-and-coffee-cup-in-one BrewMugs, and a sat phone for calling girls.
On land, Reg looks like your average wild-haired, six-foot retiree, but in a boat his lanky arms and thick trunk coordinate strong, smooth strokes. Following him is like trying to match strides with a pro basketball player.
We camped that first night at a rocky point near a 500-foot waterfall. After unpacking, Reg easily shouldered his half-empty kayak, still close to 200 pounds, up to the calafate bushes, tied it against the wind, and then helped me do the same. We cooked freeze-dried lasagna on the 20-year-old alcohol stove Reg swears by, and in the morning I heated water for coffee while Reg checked the barometer and repeated his mantra: "Only a fool tries to predict the weather in Patagonia." If it was stormy, we stayed put; if not, we kayaked. This would become our routine.
On our second day in the boats, Reg unfurled a large blue-and-yellow golf umbrella, caught the wind, and went sailing off ahead of me like Mary Poppins, actually giggling. Then—sprong!—the ribs inverted, and I was the one laughing. Soon I was a convert.
Later that day we reached the narrows, the gateway to the North Arm. It's more than a football field wide, and even with the tide against us—with swirls and boils and refrigerator-size blocks of ice clacking in the outgoing tumult—it wasn't until we'd eddy-hopped up it and were staring at an honest-to-God rainbow spanning the entire fjord like a bridge that we realized we'd made it into the North Arm. "Not a bad welcome," said Reg.
The ice wasn't quite clogging the choke, but it could with a change in the weather. For two days we watched the bergy bits flow with the tides, and when Reg was satisfied that the ice-in/ice-out pattern was stable, we packed a week's worth of food and fuel, stashed the rest, and headed in.
Of the ten floes Tilman described, three in the North Arm reach the water: Lobos, Patos, and Garcia. We spent an entire day glacier watching from our camp high on the bare granite shoulder of Lobos's southern moraine. The gray scar of once covered rock is visual confirmation that Patos, like many of Chile's glaciers, has lost about 6 percent of its ice over the last 20 years. (The Alps have melted by as much as 35 percent.) Had the Mischief made it into the North Arm, Tilman would likely have seen only ice. But now the glacier meets the bay half a mile back.
Most of the time, glacier watching involves divining the motives of the heavy clinks and kerchunks—like the coupling of faraway railroad cars—trying to predict that singular moment of explosive cataclysm. Then it happens with a puff of white followed by a rumbling report that makes it clear the puff was actually on the scale of a six-story building imploding.
On our third afternoon in the North Arm, we reached Peel's farthest point inland, a granite promontory protruding from the calafate. A mile above us was the treacherous Falla Reichert Pass that Norwegian adventurer Børge Ousland and Swiss photographer Thomas Ulrich had to cross on their historic unsupported traverse of the southern ice cap in 2003. On top of the promontory sits a cairn with a simple plaque left by Chilean commandos in 1997 as a memorial to a fellow soldier. How they got there, we don't know. But if they chose the spot because it's beautiful, spare, and hard to reach, they did well.
TWO WEEKS LATER—and a week after our Calvo detour had us waylaid—we've made it 35 miles seaward and still have a day before the Navimag ferry picks us up on its run north to Puerto Montt. The situation seems desperate: The avocados are gone, and we're down to our last one-pound wheel of Edam. There's still oatmeal, but it's of little use to us without butter or brown sugar.
"First we were the Endurance," Reg offers before invoking John Wesley Powell. "Now we're the Emma Dean: The bacon is rancid, the flour is molded, but we've got coffee!" Nearly a pound of it still.
"Show me hunger, show me starvation," I say, snapping his picture. Reg growls like a bear as he hauls ashore our last dozen sacks of freeze-dried chicken and lasagna.
Our suffering, or lack of it, has been a running joke for the last month. One of Reg's favorite truisms is "Adventure is just another word for poor planning," and he's right: Our hardships have been of our own making, like the time I didn't anchor my tent and woke up flying through the air. Tilman understood this, too, and traveled with great civility. "Give us the luxuries and we will dispense with the necessities" was his rallying cry, as he demonstrated above Calvo Fjord. "After tea," he noted, "we improved the first part of the ice route by cutting steps."
Tilman never knew the glory of a hot Nalgene at the foot of his Polarguard sleeping bag, nor the pleasures of sipping steaming coffee from a BrewMug. But he seemed to understand Reg's life philosophy: "If you've got water in front of you, a trail to hike, and a bottle of wine among friends, that's enough."