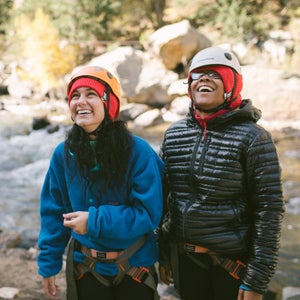 Wilderness therapy has been used for decades to help troubled teens and addicts, and lately all kinds of people are turning to guided nature experiences to detox from our hyper-digital modern lives. The classic approach of such programs is to push you to your limits to build character. That can work great, but it's not a smart recipe for those recovering from trauma. Not long ago, contributing editor Florence Williams, author of The Nature Fix, went backpacking with victims of sex trafficking, writing about it for Outside's May 2018 issue. Now she's adapted the story for the Three-Day Effect, an Audible series that explores what happens in our brains when we go outdoors. This excerpt reveals the surprising ways we can find comfort in wilderness.
Follow the Outside Podcast
Outside's longstanding literary storytelling tradition comes to life in audio with features that will both entertain and inform listeners. We launched in March 2016 with our first series, Science of Survival, and have since expanded our show to offer a range of story formats, including reports from our correspondents in the field and interviews with the biggest figures in sports, adventure, and the outdoors.