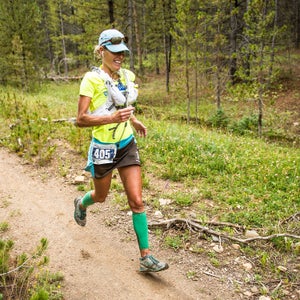 In 2008, Katie Arnold was hiking a trail near her home in Santa Fe with her baby daughter strapped to her chest when a man attacked her with a rock. Two years later, Arnold's father died shortly after being diagnosed with cancer. Overwhelmed with grief and anxiety, she tried many remedies but the only one that worked was running. Eventually she began racing ultras and became an elite competitor, winning the iconic Leadville 100. In this conversation with Sarah Bowen Shea, the host of Another Mother Runner podcast, and professional endurance athlete Yuri Hauswald, Arnold talks about her new memoir, Running Home, and the unique healing power of endurance sports.
Podcast Transcript
Editor's Note: Transcriptions of episodes of the Outside Podcast are created with a mix of speech recognition software and human transcribers, and may contain some grammatical errors or slight deviations from the audio.
[Advertisement]
---------------
EPISODE BEGINS 
Outside Podcast Theme: From Outside Magazine and PRX, these are Dispatches, stories from our writers in the field.
Peter Frick-Wright (host): If you've ever dreamed of writing books or long form magazine articles, Katie Arnold's life is the stuff of fairy tales. She started outside as an intern, worked her way onto a staff job, and then kept moving up -- all the way up, way up, keep going -- to become the managing editor. Then, as can happen with editors, she left to focus on writing and in March published her first book, the memoir Running Home. Katie had always been a runner but was never too serious about it; but after she turned 40 she began racing ultras and did really well. In fact, she started landing sponsors and then last August she won the Leadville 100, an iconic event in Colorado that takes runners up to 12,600 feet. But her memoir isn't entirely about running fast. It's also about how running has helped her through the grief of her father's death and the depression she faced after the birth of her first daughter, and the anxiety she battled after being attacked on a trail near her home in Santa Fe.
Recently Katie sat down for a talk with a couple of people who know a lot about the way endurance sports can change our lives. Sarah Bowen Shea is the host of the Another Mother Runner podcast and Yuri Hauswald is an endurance mountain biker and travel writer. The conversation took place in Berkeley, California, at the headquarters of GU Energy Labs two days after the Marin Ultra Challenge, a race that Katie happened to win. But what Sarah and Yuri wanted to hear first was the crazy story of how Katie came to run her first marathon while writing a profile of ultramarathon of Dean Karnazes. Here's Katie.
[Listen to the Another Mother Runner podcast here: https://anothermotherrunner.com/355-podcast-party-w-katie-arnold-author-2018-leadville-trail-100-winner/]
------------
OUTRO
Frick-Wright: That's Katie Arnold. Her book is Running Home and it's available now. Sarah Bowen Shea is the host of Another Mother Runner, a comprehensive resource for all female runners. Find it at anothermotherrunner.com. Thanks to the whole AMR team for sharing this interview with us. About half of you listening to this are women and the rest of you likely know some. So go subscribe to their podcast. It's chatty and fun. You'll learn something.
This episode was produced by Alex Ward, Mike Roberts and me, Peter Frick-Wright. It was brought to you by Bob's Red Mill. Find the ingredients you should be cooking with and learn how they can help you reach your goals as an athlete at Bobsredmill.com.
The Outside Podcast is a production of Outside Magazine and PRX. We'll be back in two weeks.
Follow the Outside Podcast
Outside's longstanding literary storytelling tradition comes to life in audio with features that will both entertain and inform listeners. We launched in March 2016 with our first series, Science of Survival, and have since expanded our show to offer a range of story formats, including reports from our correspondents in the field and interviews with the biggest figures in sports, adventure, and the outdoors.