Gazpacho Is Spain's Answer to Gatorade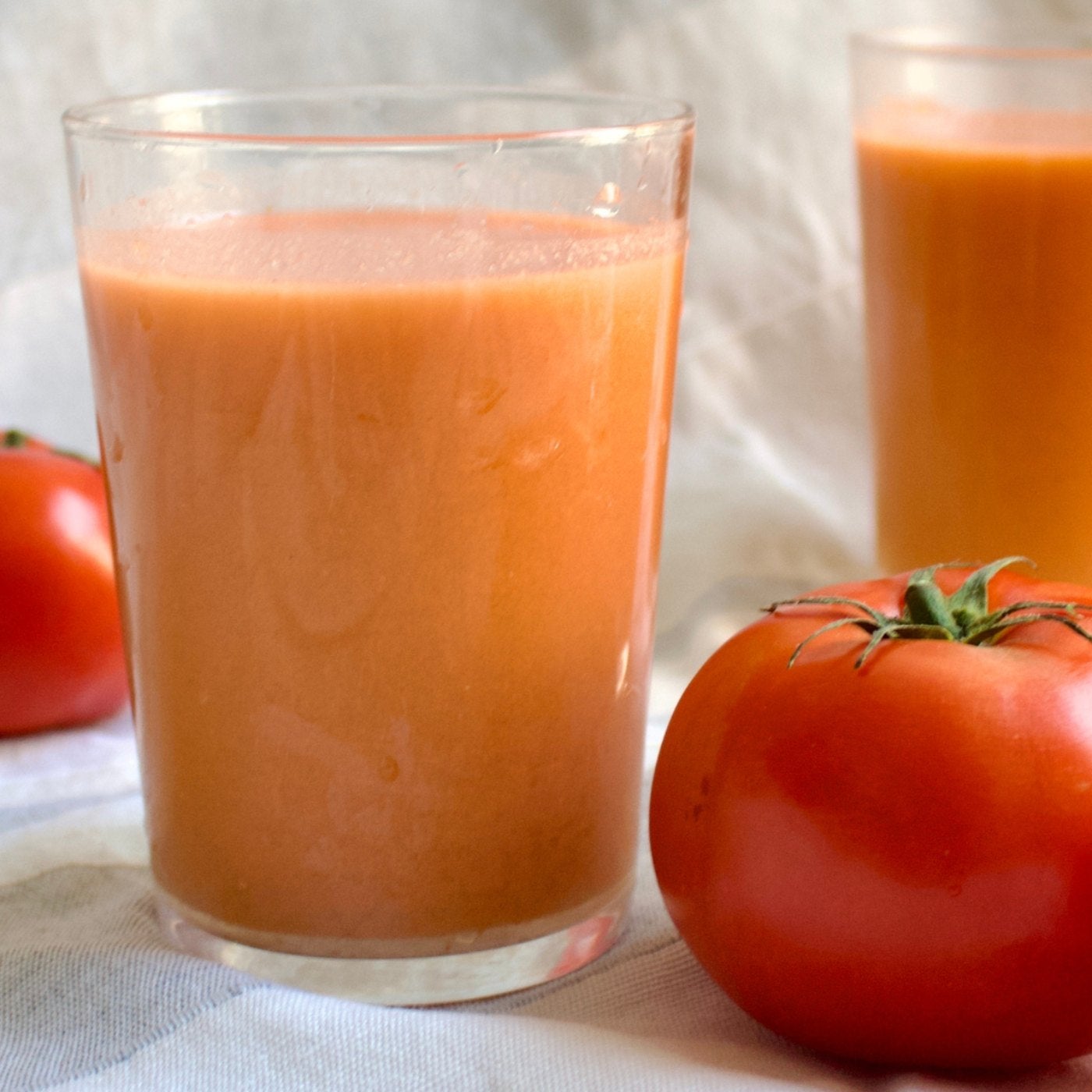 Megan Lloyd
Heading out the door? Read this article on the new Outside+ app available now on iOS devices for members! Download the app.
To some, the calling phrase, "Soup's on!" in the midst of a broiling outdoor workout might not elicit positive reactions. But in southern Spain, gazpacho—a chilled tomato soup— is a coveted relief on any sweltering day. Temperatures can reach 115ºF in the months of June, July, and August, and energy is costly. And Even Ted Lasso, reflecting on his time in Europe in the final episode of his namesake show, declares he's "finally accepted that air conditioning is a privilege and not a right." This never feels more true to me than when I'm in the blazing summers of Seville, Spain, where I've lived since 2017. 
This city turns into a fiery ghost town in August. Shops shut down, restaurants close, and citizens head to the beach for their month-long vacations. The heat is so oppressive it leaves you tongue-tied, lethargic, and even kills your appetite. For those who stay, keeping cool is an art form. Seville is built to keep out the heat, with its narrow streets that block out the sun and buildings lined with cooling marble floors. Many older apartments have inner courtyards with bubbling fountains, a concept brought here by the Moors. But even so, women always keep a fan in their purse and around 4 pm that after-lunch siesta beckons loudly.   
However, the best way for folks to cool down quickly and replenish electrolytes is not by drinking a bottle of a fluorescent sugary "ade," but by guzzling one of Spain's most beloved ancient refreshers: gazpacho. There's gazpacho galore across Spain in the summertime; it is in every fridge and on every menu. It is even at the grocery store. Solfrío, a food company located in Alpujarra, Spain, markets their gazpacho to athletes who are looking for a hydrating recovery drink.
I will add that even though people do sometimes buy bottled gazpacho, my husband always says it's one of those things he thinks people will keep on making from scratch because it tastes unlike anything else.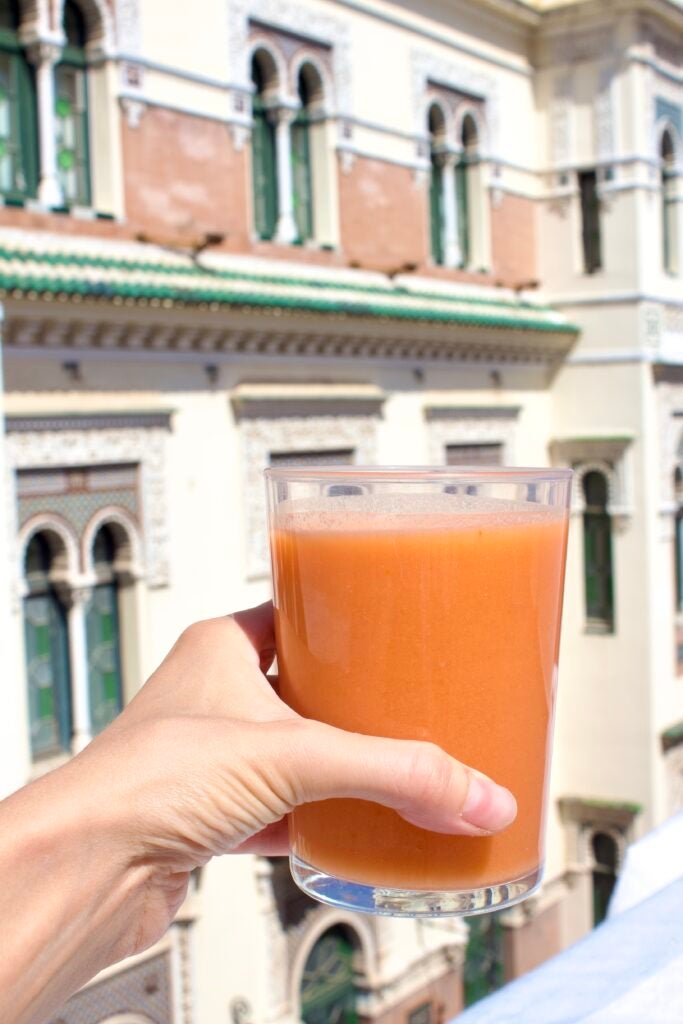 Gazpacho Made Right
Gazpacho made right (or my Spanish family's version of right) is a thirst-quenching, sugar-and- chemical-free alternative to electrolyte enhancers you'd find at the grocery store. Loaded with juicy summertime vegetables, bulked up with extra-virgin olive oil, and with just enough water to hydrate without dulling the flavor, gazpacho is the ideal post-workout beverage. It's also the epitome of the Mediterranean diet, which never fails to outlast all other fads.
According to author and food historian Almudena Villegas, Ph.D, "The Romans invented the idea of gazpacho, the origin of gazpacho," and spread the concept across the Mediterranean. But it really stuck here in southern Spain, with its warm climate and abundance of farm workers seeking sustenance in the fields. Some of the first versions (or what Villegas refers to as the "great-grandfather") of gazpacho—a watery vinegar mixture with salt and a little olive oil— were used by the Romans in battle. Soldiers would carry a canteen of this hydrating elixir as they traveled and fought, adding vegetables they found along the way or crumbling in dried bread. Tomatoes weren't added until the 16th century when conquistadors brought seeds back from the Americas.  
Cooling Off with Family Tradition
The second the temps turn, my Spanish mother-in-law, Loli Ramos Moreno, fires up the blender and gets the gazpacho churning. Sometimes my father-in-law will blend the vegetables and my mother-in-law will season it at the table right before lunch, sprinkling in extra salt or more vinegar, and offering sips to taste test. "Gazpacho is full of vitamins and minerals," she tells me enthusiastically. "It replenishes all those nutrients you lose so quickly here in the summer." 
My husband and I are more than happy to carry on the tradition. While I'm often annoyed at the giant bowl of it taking up space in our small fridge, gazpacho never lasts long. And there's nothing like coming home after a sweaty evening run or day at the climbing gym (or dragging myself across town in the heat) to an icy glass of vitamin-packed goodness.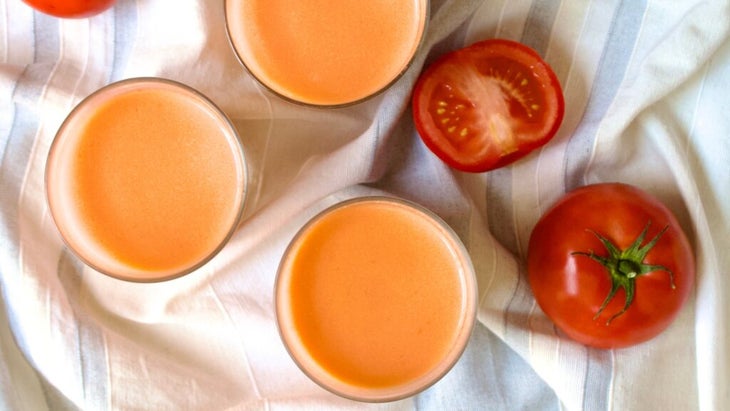 The most widely known gazpacho recipe includes garlic, olive oil, vinegar, bread, and tomato, but everyone in Spain makes it differently. Some add onion, some serve it in a bowl like soup with croutons and finely chopped veggies; Villegas tells me she even adds a little pinch of cumin. In the south, it's always drunk in a glass, often served over ice. But as Villegas says, "The great thing about gazpacho is that every house has a different recipe. This is part of the abundance of Spanish gastronomy— a gastronomy that is living and represents the rich variety of traditions here in this country. The fact that each recipe is different says so much about us. It's what keeps our heritage alive." 
This gazpacho recipe – which comes directly from my mother-in-law –  has changed over the years to accommodate family tastes. For example, garlic was slowly eliminated when my father-in-law started helping out in the kitchen, and they eventually did away with the bread altogether. Overall, the changes resulted in a much lighter soup that's nothing short of chuggable.
Seville-Style Gazpacho
Ingredients
2¼ lb. very ripe tomatoes, cores removed
1 cucumber, peeled and deseeded
½ small green bell pepper, deseeded
2 Tbsp. sherry vinegar or white wine vinegar
1¼ tsp. kosher salt
½ cup extra-virgin olive oil
5 cups cold water
Preparation
Using a paring knife, cut tomatoes into chunks over a blender. This keeps all that juice in the blender instead of spilling all over your cutting board.

Cut the cucumber and pepper into chunks and place in the blender. It will be tight, depending on your blender size (I use a 6-cup blender), but I promise it works. You can also use a bowl and an immersion blender if you prefer. 

Blend until mixture is smooth and there are very few green or red tomato skin flecks floating around. 

Strain into a large bowl, reserving the pulp to whisk into salad dressings or spread onto bread. 

Rinse out your blender and pour the strained mixture back in. 

Add salt and blend until the mixture is even smoother than before. 

With the blender running, stream in the olive oil until emulsified and the color changes from a light red to an orange color. 

Pour liquid back into the same bowl and add vinegar and water, adjusting the vinegar and water as needed and tasting for salt. Keep in mind that the quantity of vinegar really depends on how ripe, sweet, and acidic your tomatoes are at that moment in the season. 

Cover bowl and place in the refrigerator to chill for at least 2 hours and up to 24 hours.

Once chilled, ladle into glasses, with or without ice depending on how sweaty you're feeling. The gazpacho will last 2 to 3 days in the fridge, covered.
Lead Photo: Megan Lloyd