Why Tinned Seafood on the Trail Is a No-Brainer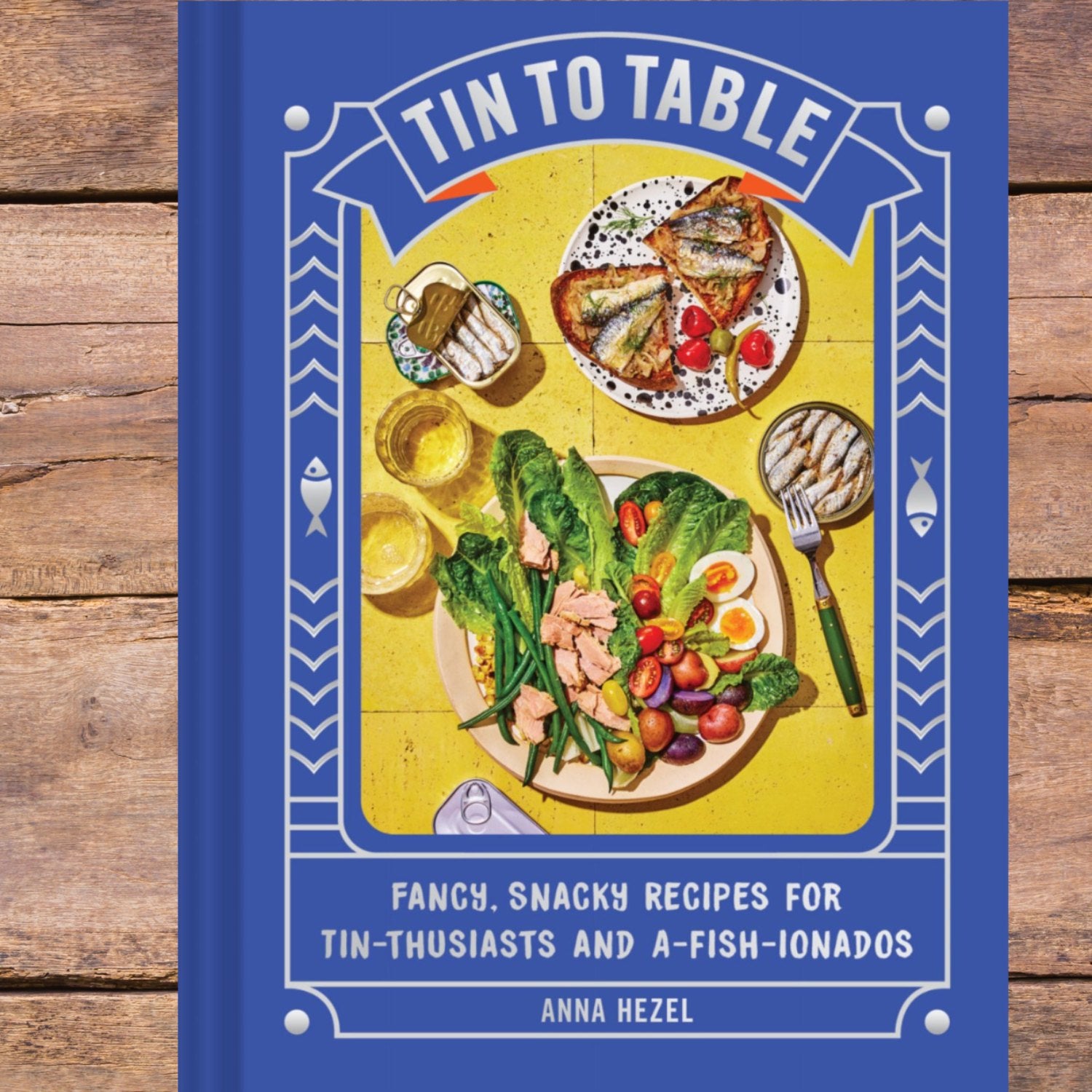 'Tin to Table'
Heading out the door? Read this article on the new Outside+ app available now on iOS devices for members! Download the app.
In Anna Hezel's newly released cookbook Tin to Table (Chronicle Books, $24.95, 2023), she champions all the ways we should be indulging in conserva, or tinned seafood. We're taking it a step further and encouraging those headed outside to pack a tin or two for snacking.
"I love taking canned fish camping and hiking," Hezel says. "It's compact protein." That it is, and small but mighty is the name of the game when your pack has limited space and your hunger runs deep. As Hezel writes in the book's intro, because of conserva's rich sources of protein and omega-3, many a tin has powered overseas voyages and treks up Mount Everest.
But first, the trend: We're not talking about squatty cans of Starkist tuna here. Instead, think of luxury imports like Güeya Ma's chargrilled mussels and Don Bocarte anchovies, both from Spain where conserva is a lifestyle and an art form (just check out these gorgeous labels). "There are entire youTube channels, Instagram accounts, lines of merchandise, and subreddits dedicated to the topic of tinned seafood," Hezel says.
Think of Tin to Table (which is itself gorgeous and compact like the tins it celebrates) as a field guide of sorts. Page by page, Hezel walks you through the basics of conserva and why it's become such a desirable product and where and how to experience it. And, of course, there are recipes—more than 50 of them, ranging from salads and sandwiches to a happy hour trifecta of vermouth, thick-cut potato chips, and seafood straight from the tin.
But back to lunch or dinner on the trail, Hezel recommends bringing along a spectacular tin of olive oil-packed octopus for a delicious, completely out of the ordinary meal of lusty seafood marinated with chili powder and orange peel. Just don't forget the baguette.
Of note, be mindful when heating seafood tins near the campfire, as you don't want the cans' linings getting too hot.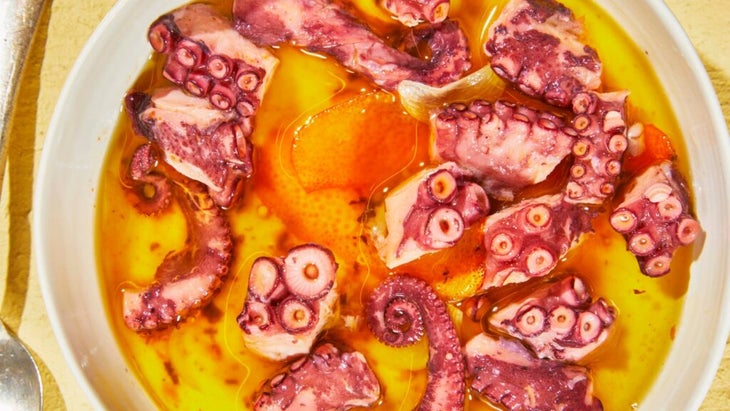 Octopus Marinated with Chili Powder and Orange Peel
Octopus packed in olive oil is one of the most luxurious treats you can buy in a tin for less than the cost of a glass of wine. The best tins contain perfectly portioned, bite-size pieces of tender, glossy purple octopus meat in a savory oil. These don't need much tinkering to taste great, but I like to give them a quick warm bath in some garlicky, subtly spiced olive oil. The oil melds with the liquid from the can and a splash of fresh citrus and vinegar to create a broth you'll want to eat by the spoonful, or at least sop up with the heel of a baguette.
Ingredients
2 Tbsp. olive oil
1 garlic clove, thinly sliced
2 ribbons orange zest
1/4 tsp. piment d'Espelette or paprika
One 4 oz. [115 g.] can octopus in olive oil, undrained
1/2 tsp. fresh orange juice
1/2 tsp. white wine vinegar or sherry vinegar
Baguette, for serving
Preparation
1. In a small skillet over medium-low heat, warm the olive oil, garlic, orange zest, and piment d'Espelette.
2. Sauté gently for about 4 minutes, until the garlic is tender. 
3. Remove from the heat and add the whole can of octopus, with its liquid. Add the orange juice and vinegar.
4. Toss to coat and warm the octopus, and serve immediately with the baguette.
Reprinted from Tin to Table by Anna Hezel, with permission by Chronicle Books, 2023. Photographs © Chelsie Craig. Illustrations © Alex Citrin.
Lead Photo: 'Tin to Table'