Are We Ready for Lance Armstrong's Return?
The most hated man in bike racing wants a second chance with the public. Here's why that's not a sign of the apocalypse.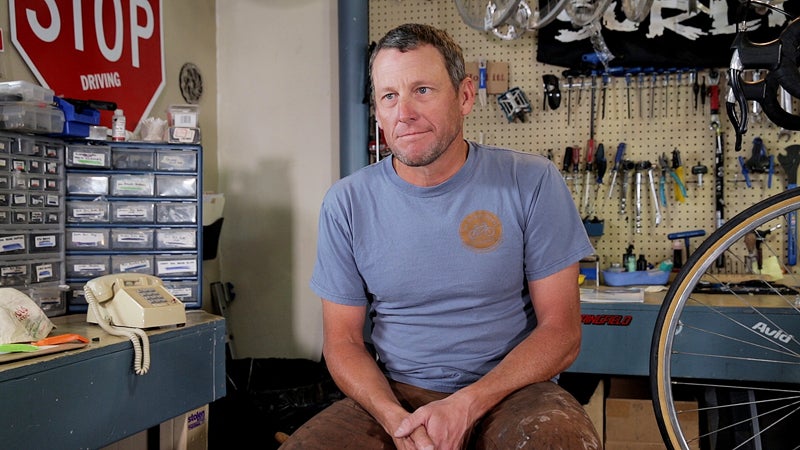 Heading out the door? Read this article on the new Outside+ app available now on iOS devices for members! Download the app.
One morning in February, Outside senior editor Grayson Schaffer was sitting in his office in Santa Fe, coming up with ideas for a series of how-to videos we were working on. As Schaffer tells it, he was trying to think of a way to make a "How to Fix a Flat Tire" clip stand out online, maybe even steal some Google-search juice from the versions already out there, when the answer came to him: Lance Armstrong.
Lance Interview

Armstrong talks about his revoked Tour wins and how life has changed in the past year.
Fixing a Flat
We caught up with Lance Armstrong
at his latest bike-shop gig to hear a few pointers about what to do when you break down.
At the time, Armstrong had been out of the public eye for more than a year, an exile that essentially began the morning after his two-part Oprah confessional. The interview made him a national pariah, with many viewers debating not whether Lance Armstrong was truly sorry, but whether he was a sociopath. His PR machine seemed to disappear overnight, and Armstrong basically vanished along with it, save for the occasional gig playing drums with a band called Lance Herbstrong.
Back in 2009, long before the downfall, Schaffer had interviewed Armstrong for Outside's website, and the two had exchanged sporadic texts and e-mails ever since. So, that morning, after coming up with his harebrained idea for our flat-tire video, Schaffer pinged Armstrong:
"We're producing our How to Do Everything issue for May. Wondering if you might be game to have a little fun with the one on How to Change a Bike Tire. I was thinking that, since you've been out of the news, we could film a viral how-to video with you that suggests you're working as a bike-shop mechanic somewhere in the midwest.…"
Four days later, Lance responded that he was open to the idea. We were all a little shocked. For the next couple of weeks, the two casually discussed the project over e-mail, gradually honing the concept. Schaffer scripted it as a no-nonsense instructional video in which the title—and Armstrong's starring role—would say everything necessary about the meta joke involved. It was Armstrong who came up with the line that accompanies the asterisk being placed on his seven Tour de France Titles—"Hey, I didn't write the script." He also agreed to sit down for a brief on-camera Q&A afterward, which we posted to accompany this article.
And that, essentially, answers the first question many viewers have asked since the flat-tire video went viral on April 14: What the hell is this and how did it happen? There was another popular question, though, and that one is a little more complicated to answer. To frame it, I'll let three Facebook commenters have the floor:
---
I'M NOT SURPRISED by these questions. For as long as I've been at the magazine, Outside has routinely been accused of milking Lance Armstrong's popularity—and, eventually, his ruin—for our own gain. Indeed, the man has been on no fewer than ten Outside covers. If you want to know why a person keeps ending up on a magazine's cover year after year, whether it's Muhammad Ali on Sports Illustrated or George Clooney on Esquire, here's a not-so-surprising answer: they sell newsstand copies. Lance Armstrong was the most bankable cover subject Outside has ever had this side of Mount Everest. We put him on the cover because he was immensely popular. We were somewhat comforted by the fact that Armstrong was also an endlessly fascinating persona—a legitimate story—but after a while, showcasing him involved some internal hand-wringing. We knew we were "enabling the cult of Lance," as my predecessor Hal Espen once explained in The Atlantic.
When I arrived at Outside in 2006, Armstrong had already retired. Even so, I was no better at resisting the lure of a guaranteed seller. I put him on the cover in December of that year. (I held out for five months!) For that story, and for another Outside cover pegged to his 2008 comeback, I interviewed Armstrong at his home in Austin, Texas. I also met him at our group cover shoot in Los Angeles for Outside's 30th Anniversary issue.
On all three occasions, I found him to be just as everyone had always described him: petty, defiant, probably narcissistic, definitely charismatic, and confoundingly slippery whenever the topic of doping came up. In that first interview, he told me he was absolutely certain that Floyd Landis was innocent, a fairly preposterous stance but a classic example of the code of omerta that kept doping almost entirely beyond the reach of journalists for decades. In the middle of the second interview, two doping-control agents rang the doorbell, and Armstrong had to excuse himself to go pee in a cup. When he returned a few minutes later, I jokingly asked if he was nervous. He immediately shifted into full Blue Steel mode, locking eyes with me and sounding off about the "500 drug tests" he'd passed.
So, no, I wasn't exactly sad when the Armstrong Myth went down in flames. From afar he was a cancer hero, but for anyone who got close—even as fleetingly as I did—he was a hard guy to root for. For the two years preceding his fall from grace, our coverage began to reflect that feeling. We examined the federal investigation spearheaded by Jeff Novitzky, reported on Armstrong's morally complicated relationship with the Livestrong Foundation, and published a scathing tell-all by his former personal assistant. I'm proud of the work we did, but it's also fair to say that we took our biggest swings at Armstrong after his power and influence had waned. Some of us were also guilty of piling on, especially on Twitter. He seemed to hate us, and we seemed to take an embarrassing amount of pride in that.
Which brings me back to the second question: Why is Outside now giving Armstrong this platform? Why are we reenabling the Armstrong myth? To be clear, we don't see it that way. The idea originated on a whim, and we initially pursued it purely because we knew having a Lance Armstrong star in an instructional video would be newsworthy on its own—a statement on how radically his circumstances had changed.
---
STILL, THE ENABLING QUESTION is relevant. Here's a more surprising answer: I don't have misgivings about providing Armstrong a platform. Judging by the many comments I've seen on Twitter and Facebook, that won't be a popular position. In the past year, each time Armstrong has emerged from hibernation—whether for an interview or a poorly received public apology—he has been greeted with immediate scorn from a vocal group who consider his sins unforgivable. Many of these people, who Armstrong might describe as his haters, feel that, regardless of the words that come out of his mouth or the efforts he makes to address his past, Armstrong should be in permanent exile. When I read these opinions on Facebook and Twitter, and at the bottom of online articles, I can't help but be reminded of the same self-righteousness that infected Armstrong when he was at his worst.
Armstrong cheated to win, and he destroyed people to cover up that fact. Those are serious sins, but they're hardly more atrocious than the kind of bad behavior that has left the door open for other high-profile Americans to resume a respectable public life. Michael Vick tortured and killed dogs. Some people might never forgive him; others already have. Richard Nixon made a mockery of the presidency. He also, improbably, returned to public life. In the 1980s, he was a regular on Meet the Press, respected for his opinions on domestic politics and international affairs. But we can't forgive Armstrong? Ever?
When I first became editor of Outside, people asked me all the time if I thought Lance Armstrong doped. Absolutely, I always replied. Without a doubt. There was no way I could believe he'd won seven Tours clean when so many of his toughest rivals had been outed as cheaters. I'd also argue that the prevalence of doping made it a level playing field, a notion I stand by today. Once you comprehend just how easy it was to evade doping controls or that, toward the end, most top riders like Armstrong were resorting to the old school method of blood doping instead of using EPO, it's pretty hard to buy Travis Tygart's claim that Armstrong's team ran the "most sophisticated doping program in history." The most aggressive and powerful PR machine, certainly, but all the top riders had access to the same performance boosters.
Still, Armstrong cheated. For this, he received a lifetime ban from cycling, in large part because he refused to come clean in exchange for a lighter sentence when USADA's Travis Tygart gave him the opportunity. Today, meanwhile, Armstrong's former team director Johan Bruyneel, who denied charges to the bitter end that he'd overseen his cyclists' drug use, received a ten year ban. And so far Hein Verbruggen and Pat McQuaid, the former heads of UCI, have essentially gone unpunished, despite evidence that they willfully overlooked doping for years and helped cover up failed drug tests, including one of Armstrong's. As Juliet Macur pointed out, there's a significant double standard at work here.
Floyd Landis, Tyler Hamilton, Levi Leipheimer, and George Hincapie all cheated as well. Landis is now lauded for going after Armstrong with a whistleblower case. Hamilton wrote a bestselling confessional and was praised for his honesty. Leipheimer and Hincapie, meanwhile, are both still able to promote their association with cycling.* They've all been largely forgiven for drafting off the same scandal. Why should it be so different to forgive Armstrong?
The obvious answer, of course, is that those guys didn't destroy people's lives trying to defend the lie. They didn't sue honest journalists. They didn't betray close friends. They didn't lie in depositions. They didn't call a former masseuse a prostitute. It's the way Armstrong treated people that has made him so despised.
I once got a small glimpse of this kind of vile behavior. During my second interview with Armstrong, in 2009, I asked him about a press conference at Interbike in Las Vegas, where Greg Lemond had shown up to ask him pointed questions about a rigorous drug-testing program designed by UCLA professor and anti-doping specialist Don Catlin. LeMond wanted Armstrong to sign on.
"It was really sad," Armstrong told me. "Greg's got issues. It's a sad story, all the way from his failed relationships with everyone in his life. And I talk about loyalty, being around the same people, reinforcing that. He's never been able to do that, probably because of the stuff that came out as a result of the Floyd thing. Terrible injustice and sad for him. That probably affected his life, I would think. And I don't like Greg LeMond, but I wouldn't wish that on anybody. So you let him go."
To review: that "stuff that came out as a result of that Floyd thing" was LeMond coming forward about being sexually abused as a child. In Lance Armstrong's world, at the height of his powers, one man's confession about a horrific childhood experience was simply ammunition.
That kind of scummy behavior revealed a man apparently incapable of empathy. It's why so many people brought up the idea that he was a sociopath after the Oprah interview. But that analysis always struck me as overwrought. Armstrong came off badly in the interview, but calling him a sociopath is too much. Looking back, I find it hard to imagine how anyone, after defiantly living inside a lie for more than a decade, could turn a switch and days later come across as truly remorseful on national television. When Armstrong gave that interview, he still had no comprehension of the reality that awaited him. Remorse takes time.
---
I DON'T KNOW IF A YEAR living in disgrace has made Lance Armstrong truly remorseful. The fact is, I don't know Lance Armstrong. Full stop. But I can tell you that the guy who walked into our offices last March was a very different person from the one I'd met before. His first words to me betrayed this fact. When he entered my office, he looked up at the poster I have on my wall of our 30th Anniversary cover, featuring Armstrong next to Kelly Slater, Laird Hamilton, and other Outside luminaries.
"I'm surprised you didn't scratch out my face," he quipped. Then, a few minutes later, as we discussed the video shoot: "You know people are going to hate you for this, right?"
He said stuff like this all day. Here was a guy who had been steeping in his own infamy for 14 months. He was no longer the tone-deaf celebrity who had once pressed send on one of the most misguided Tweets in sports history.
After a tour of Outside headquarters, we went out for a low-key lunch. We'd agreed that everything said at the meal would be off the record. Here's what I can say without betraying that commitment: Alex Heard, the editor who shepherded some of Outside's toughest Armstrong coverage, was also present. The two of them discussed some of these pieces openly and respectfully.
Armstrong also talked about his doping, which, no matter how much time has passed since his confession, still sounds surreal when it comes out of his mouth. What else? His ego was still there. He'd lost some money settling the lawsuits, but he didn't appear to be broke, as some have speculated. He still seemed a little fixated on settling old scores. Mostly, however, the takeaway from our lunch—and everyone present has said the same thing—was that he projected a sense of sadness that seemed heavy and genuine.
It's this sadness, along with a newfound degree of humility, that I noticed most when we filmed our videos. You don't have to watch very closely to see it. People say that living with fame magnifies the worst attributes in a person. That was certainly the case with Armstrong. But what about living with infamy? I've never met another person who has fallen so far. I believe Armstrong will someday have a role again fighting cancer as a survivor—the one part of his bio that has always been true—and possibly even helping to clean up cycling. But it's his experience living as someone who was once beloved and now reviled that makes me still curious to see what he has to say.
Someday soon we're all going to need to brace ourselves for Lance Armstrong's third act. It's coming. Armstrong is too much of a competitor to disappear forever. I don't know if Armstrong 3.0 will be a better person. I don't know how genuinely sorry he is about the people he hurt. I don't know what he'll have to say for himself when he finally sits down to write the book we all know will inevitably get published. I don't know how he'll address his worst crimes. And I don't know if it will be enough.
What I do know is that America loves a redemption story. Those who were left personally scarred by Armstrong's actions may never let him back in, and perhaps they shouldn't. But the rest of us? I wouldn't bet against him finding his way out of the wilderness. If he does succeed, it will be because of his own actions and how sincere the public views his words and deeds. People might point to that flat-tire video as the first step in Lance's eventual return, and they may want to know how I feel about Outside's role in it. I already have an answer: "Hey, we didn't write the script."
* This sentence was modified to clarify that Leipheimer does not make money from his charitable ride, Levi's GranFondo.
Christopher Keyes is the editor of Outside.