GoPro Hero 4: Everything You Need to Know
We tested GoPro's latest action camera in the waters of New Zealand—and found out that it's as much of a game changer as the rumors have led you to believe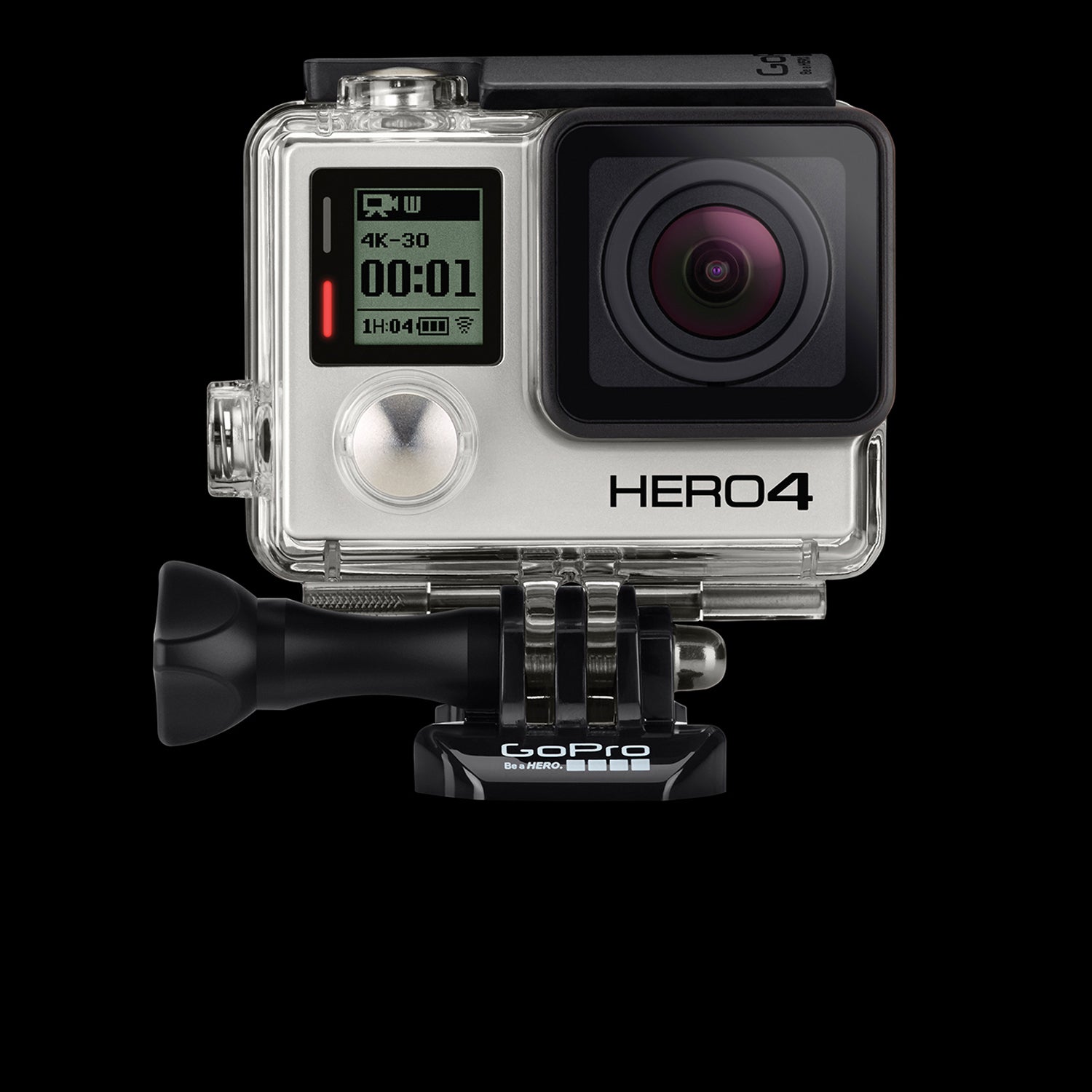 Carter Dow Photography(Photo)
Heading out the door? Read this article on the new Outside+ app available now on iOS devices for members! Download the app.
Oh, thank goodness. The embargo has lifted. I'm terrible at keeping secrets. Back in July, I spent a week diving and flying drones with the GoPro creative team off the northern coast of New Zealand. We had six prototype models of the just-announced Hero 4 in both the black and the silver editions. The shoot, which I wrote about in another story, was part of the Hero 4 launch video that GoPro just released Monday. (We followed Kiwi orca researcher Ingrid Visser as she attempted to film wild killer whale behavior from the water.)
The specs on these cameras have been leaking out for months, and indeed they're kind of a game changer. The black edition offers true 4K resolution—that's 4,000 pixels across the long edge, about twice the size of the much-heralded iPhone 6. It's a serious camera in a very small package.  
If you're a photo geek, here's the rundown: giant 4K images at 30 frames per second (fps), really big 2.7K images at up to 48 fps for moderate slo-mo, and 120 fps at 1920 x 1080 pixels for super slo-mo. It also shoots 12-megapixel stills at up to 30 fps and has a shutter-speed override for low-light exposures and nighttime time-lapses, a first for GoPro. Yes, the Hero 4 is probably the beginning of the end for 1080p video, which has been the standard of HD for the past three years. (YouTube recently upgraded to 4K.) For me, the moment of clarity was importing an interview shot simultaneously with three different cameras: my Canon 5D Mark III (still the go-to DSLR for a lot of photo/video journalists), the Hero 3+ black edition, and the Hero 4 black edition.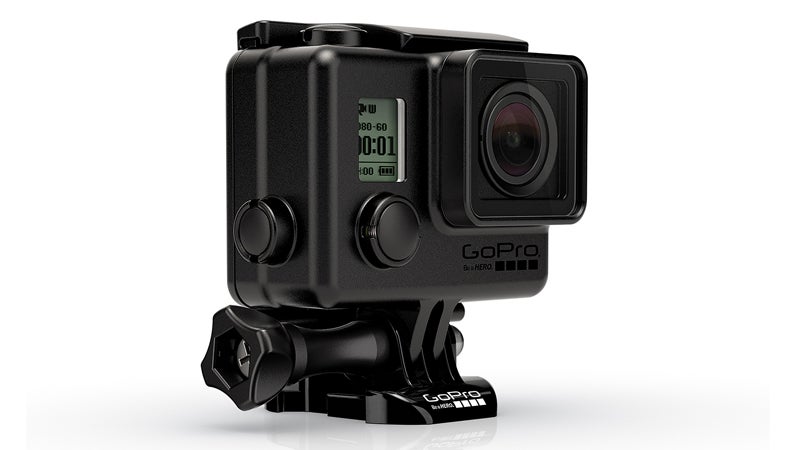 The Hero 4 footage wasn't just bigger, it was also clearer, which is saying a lot for a camera that costs $500 and fits into a teacup. The Canon Mark III and the Nikon D800 are still far superior for shooting stills because of their larger sensor sizes, raw still-image formats, and interchangeable lenses. But between GoPro attacking from below and upstart cinema brands like Red Camera assaulting the high-end production market from above, traditional video and still-camera makers need to do some serious innovating and soul searching before they get squeezed out of the sandbox.
If you're not a camera geek, the Hero 4 is even better, because it's the most user-friendly model yet. The engineers at GoPro have replaced the side Wi-Fi button with a setting button that lets you quickly change the settings on whichever mode the camera is in at the time. And the battery—long the GoPro's Achilles heel, as people tend to turn the camera on and leave it on—now drops into a quick-release magazine that feels more like a DSLR. For straight run time, I was able to switch on the H4 and record intermittently, like I would on a ski day, for 2 hours and 15 minutes on one battery.  
Note: Your Hero 3 batteries won't be compatible with the Hero 4, which is a bummer in the name of progress if you've collected a bunch of them and a charger.
The $399 Hero 4 silver edition has the same resolution options as the Hero 3+ but adds user-friendly features like a touch-screen back that lets you quickly toggle between modes and playback. It also features GoPro's Protune settings for photo. It doesn't have the horsepower of the H4 black edition, but it allows you to see what you're shooting. Both the H4 black and silver editions come with a waterproof housing that's compatible with the H3+, two quick-release adhesive pads, one battery, and the skeleton back. A microSD card isn't included, so you'll need to plan on buying at least one of those.
At a media event I attended on Thursday in San Francisco, the company also made a surprise announcement of a price-point model, the GoPro Hero, which will retail for $129 and include basic photo and video features like 1080p 30 fps video and 5-megapixel stills. This comes only weeks after Polaroid announced its $99 Cube action camera. The point of the Hero is clearly meant to attract even younger users.  
Like all cameras, the most important thing isn't the technology but how you use it. Here's our primer on how to get the most out of your Hero 4.
Making the Most of the GoPro Hero 4's Settings
For most of us, picking the right settings is all about the trade-off between speed and quality. The more of the camera's sensor we want to use, the slower we have to shoot as a result. So if you want extreme slo-mo of your buddy's cliff huck, you're willing to sacrifice 4K image quality to capture every millisecond of hangtime. Rather than bore you with the explanations, these are the best recipes for certain situations.
Default: The most basic, go-to setting on your Hero 4 is 2.7K x 48 fps. You're using most of the sensor here, which means that if you're shooting blind—as you do with the camera strapped to your head or a ski pole—you can crop up or down to pick the best part of the frame in your eventual widescreen edit. At 48 fps, you're also shooting fast enough that if something exciting happens, you can slow the action down to half speed when you're editing.
Fast Action: 1K x 120 fps should only be used when you know something is about to happen really fast—a splash, a backflip, a well-hurled knuckleball. Image quality starts to degrade noticeably when you capture frames at this rate, so only use it when you're really going to slow things down after the fact. I tested this setting in San Francisco last week with Olympic snowboarding gold medalist Hannah Teter.
Interviews: Most movies involve at least a little talking. Maybe you don't need a sit-down interview, but a drive-and-talk or a walk-and-talk can help add context. Use 4K x 24 fps when you want to record someone's face while they're talking—24 fps gives your movies a more cinematic look, while 30 fps looks smoother, like television. If you know there'll never be a reason to slow down your video—like if it matters what's being said on camera—then go ahead and use the entire 4K sensor. You'll be able to do slow, dramatic Ken Burns–style push-ins on your subject by scaling up the video a few percent over a few seconds in your edit. And because the Hero 4 has a fixed 18-millimeter lens, you can zoom in a bit when you're editing to make it seem like you had a longer lens.
Batteries: Make Your GoPro Last
The most common and enduring complaint about GoPro cameras is that they chew through batteries. Unfortunately, shorter battery life is the cost of shooting large images at a high frame rate in a small camera. The Hero 4 gets about the same two-hour battery life as the previous models. Given the battery's size, the problem is more that people forget to turn it off than its poor life span.
But there are some fixes. The easiest is to carry a stack of batteries. Anyone who shoots a DSLR knows that you don't leave home with just one battery. The Hero 4's dual battery charger costs $49 and runs off your car's cigarette lighter or any USB outlet. As a serious improvement in customer relations over the H3+ charger, this one actually comes with a second battery. If you buy a Hero 4, the battery charger and at least two spare batteries should be the next thing you buy.
If you want to run a camera in your car as a dash cam—I saw all the storm chasers do this when I was reporting on tornados last year—just run a USB cable from your car's cigarette lighter to the camera's mini-USB port.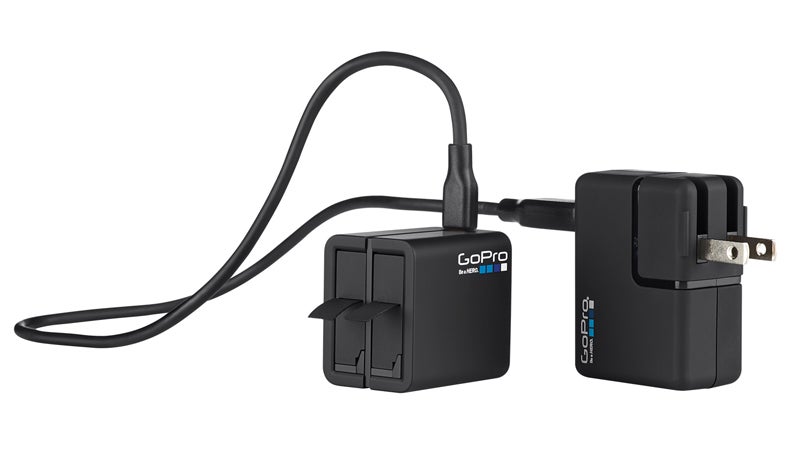 If you're out in the field, or if you really need the battery to last a long time, Brunton makes a rechargeable lithium battery brick called the Heavy Metal that can either recharge your GoPro batteries in their charger or charge/power the camera directly. I can usually charge two GoPro batteries on one of these bricks. If you're trying to shoot an all-night time lapse, you'll definitely need an external power source like the Brunton to make it till dawn. Brunton also makes a GoPro-specific battery called the All Day that snaps onto the back of the Hero 3+, but it hasn't rolled out a Hero 4 model yet.
Mounts for the GoPro Hero 4
You bought the camera, but it turns out that's just the beginning. Don't worry, you don't need really complicated spinner mounts and third-person fly-behind poles sticking out of your pack to make great video. You can always just hold the camera in your hand with no mount, but it's better to have one or two go-to ways to position the camera.
Good mounts start with the case. If you aren't going swimming or whitewater kayaking with your camera, don't use the dive housing. It muffles the camera's microphone, which is capable of capturing pretty clear audio when it's not encased in plastic. Instead, use the skeleton back on your underwater housing. It's less obtrusive and still offers some protection from rain and snow. Better yet, get the Frame case—a black plastic holder with a quick-release that allows you to quickly get the camera into and out of the frame. The Frame is the most popular housing among GoPro's in-house creative staff.
Next, even though you're used to seeing people snap GoPros to their helmets with those sticky quick-release mounts, you don't have to start gluing plastic widgets to everything you want to attach a camera to. That's the old way. For the new way, read on. 
The head mount is probably the most useful. Your melon is often more stable than the rest of your body and always points toward the most interesting thing that's happening in a room. For POV video, it's the natural place to start. It's also the best way to capture honest moments. In New Zealand, GoPro creative director Brad Schmidt was rarely without his head mount. He cuts off the over-the-head elastic and puts on his Steve Zissou skull cap to hide the strap. What you'll find when you try this is that (a) your friends will remark that you look a little douchey wearing a camera on your forehead, and (b) you captured all of this amazing footage because everyone forgot about the camera five minutes after zinging you. Remember to keep the camera pointed down at a 45-degree angle, and use a full-frame mode rather than a cinematic widescreen mode, which snips off the top and bottom of the frame. You can crop later, but you can't go back and add more.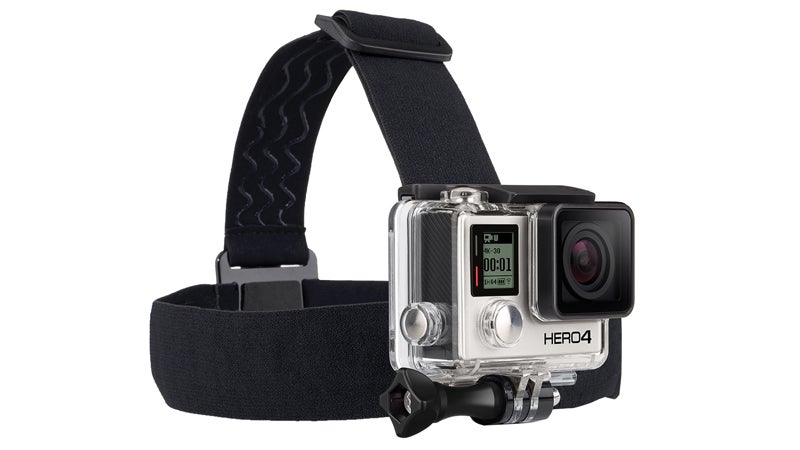 Next up, you need some kind of tripod mount. There are three really good options. The first, and probably the best, is the Jaws Flex Clamp with a Gooseneck added on. It acts like a stable tripod mount on any table but also allows you to quickly clip a flexible mount to a canoe, a sapling, or another camera's traditional tripod. The Gooseneck is also versatile because it snaps onto a standard GoPro quick-release (QR) pad. So if you have a QR on your helmet but want to give your shots an over-the-shoulder look, you can snap on the Gooseneck and extend the camera over your shoulder. You can also snap Gooseneck to Gooseneck to extend your reach. Or you can snap the camera directly to the Flex Clamp without the Gooseneck. That's a really fast way to mount a GoPro to a bike.
Another good option is the 3-Way. It's primarily a tri-folding pole that you might use to film yourself if you're a snowboarder or you happen to be cliff-diving next to your pal. It also has a secret compartment in the handle that folds out to reveal three legs that allow it to stand upright. The tripod is short and sweet and will hold the 3-Way's extender arm, too. You wouldn't want to film an interview in the wind, but it's got great versatility.
The third is the basic GorillaPod. The nice thing about the GorillaPod is that it fits in a carry-on, quickly levels on any surface, and uses a threaded QR mount so you can snap your GoPro onto the tripod without having to unscrew it from the skeleton or dive housing.
If you want to get into swivel mounts—there's a great shot of skier Lynsey Dyer at 5:08 in this clip that's done with a swivel—third-person perspective rigs, or more complicated stuff, that's great, too. A company called GoPole makes some cool floating mounts and extender poles that have worked well for me. It also makes a slick pack called the Venturecase that should hold everything you need. If you start to go overboard with mounts, however, your entire outing will very quickly start to revolve around the camera instead of the experience. The best thing the GoPro Hero 4 does is fade into the background.
To Protune or Not to Protune
First off, if you haven't already heard of Protune mode, or if you aren't editing video in Adobe Premier or some other full-featured editing suite, you probably don't need it. GoPro's auto-color looks vibrant and poppy right out of the camera. Otherwise, Protune offers slightly less-compressed file sizes and flattens out the color. The images look kind of washed out when you preview them, but they allow for more color grading after the fact. If you want to engineer a bleached-out cinema look, then try Protune mode. GoPro's Studio Software has a simple way of pumping the color back in so the images look even better, as they say, in post.
Using GoPro's Software
One thing that makes GoPro unique among action cams is its proprietary editing suite. If you have Adobe Premier, stick with that. Otherwise, get to know GoPro Studio, which is free and surprisingly easy to use with its built-in tutorial.
The one important thing you'll want to remember is to click the "Advanced Settings" button on the "Import and Convert" tab and click the "Remove Fisheye" button. It makes everything look nicer. If you do only one thing to your footage, remember to remove the fisheye look. A warped horizon is always the giveaway that something was shot on GoPro, which some people like but others try to hide. The latest version of Studio includes a lookup table for the Hero 4's flattened Protune mode that looks great. You can also pick from a bunch of artistic looks that are something like Instagram filters.
Studio also offers free music in the form of readymade templates. You drag your footage into a series of placeholders, and the template does the rest. They don't offer much flexibility, but they're good for people who are trying to get the hang of editing. At the low price of free, Studio is pretty hard to beat.
One more technology you'll no doubt want to try is the GoPro App, which allows you to control your camera from your iPhone or Android phone. Personally, I don't like it because it requires the camera to have Wi-Fi enabled, which sucks up the battery more quickly. But it's an easy solution if you want to see what your camera is seeing. It's also an unobtrusive way to hit the record button while looking like you're just fiddling with your phone. So sneaky.
Which Cards to Use with the Hero 4
If you want reliable cards that don't corrupt, go with SanDisk or Lexar. The specs on the camera call for a Class 10 or better microSD card. If you don't really care whether your data always records properly, try Kingston cards, which cost about half as much. I used Kingstons for years in my Canon DSLR cameras and never had a problem with them. That said, I gave them up last year after more serious photographers began to shame me for showing up with them at shoots where data corruption would have been a serious problem.
The best memory card size is the one that's right behind the cutting edge. You'll always pay out the nose for the biggest, fastest card, but you can pick up the second-biggest for about a quarter of the price. Right now, that's a 64GB card. Within a few months, 128GB cards will probably cost what a 64GB card costs now. SanDisk cards tend to come with an SD-card-slot adapter (all new Macs have a place to plug them in), and Lexars come with USB-port adapters. Get the ones that will let you dump your data onto a hard drive most efficiently. The Hero 4 can produce a lot of data, so you'll probably want to get an external hard drive pretty soon, too. The G-Tec 1TB G-Drive Mini is a good place to start.
Insider Tricks
Be Quiet
We'd all really appreciate it if you turned the sound off on the camera. That annoying tone every time you hit a button isn't really necessary. Just remember that it takes one good solid press on the shutter button to start recording and a three-second press on the power button to turn it on and off. The sound is under the setup menu. Press the power/mode button until you see the gears and "setup." Click the shutter button. Then scroll down the menu until you see the music note. Set it to "off."
Stealth Mode
Turn off the red blinking light on the front of the camera. The switch for that is right above the sound setting in the setup menu. It defaults to 4. Switch it to 0. If you're wearing a head cam, the red light on the front just advertises that you're wearing a camera. It'll also put off wildlife if you're trying to get up close and personal with animals. Ditch it. The LCD screen still clearly indicates that the camera is rolling and how long it's been going.
Heat It Before You Stick It
To really stick a QR mount to something, heat it up and apply it to a clean surface. If you've ever tried to stick a GoPro to your ski tip on a cold morning, you've no doubt watched the camera go bouncing down the mountain. One thing I saw all of the serious GoProers do is heat up the red plastic adhesive cover with a lighter before peeling it off and sticking it.
Be Redundant
During underwater shoots, the GoPro creatives often used something called a K-Tec Norbert. It's basically just a metal frame with some cheese plating that allows multiple cameras to be attached in the same orientation. That allowed them to have one camera running at 60 fps, another at 24 fps, and a third shooting a still image once every second or two.
Try a Drop Cam
Putting a camera on a fixed object underwater can yield some great results—things like boats passing overhead, kayakers rolling, trout swimming by. One easy way to do this is to zip-tie a camera by its male QR piece onto a standard dive weight. Just remember where you put it.
Stabilize It
The best footage requires smooth movement on the camera. You need to figure out ways to keep the camera stable. At the recent GoPro Hero 4 launch, I watched YouTuber Mitch Bergsma hold the camera to his lips on a handle. Since your head is naturally more stable than your hand, this helps keep bumps out of your footage. Mitch has hundreds of similar tips and tricks on his YouTube channel that can help you make better movies.
Be a Trapper, Not a Hunter
On a surf trip in the South Pacific, Schmidt heard a surfing magazine editor remark that he and his GoPro filmmakers were more like trappers than hunters. They kept attaching cameras to surfboards and the people riding them, sending them out, and then checking the results. Typically, photographers and videographers stalk around the world pointing their cameras at stuff and then pushing the shutter button. The thing to remember is that sometimes you just need to put a camera where you think the action will happen. Try giving the camera to the kids or strapping it to a soccer player's shin pad. GoPro just released a dog harness, called the Fetch, that lets your dog do the filming. The main thing is not to feel like you have to wear or hold your cameras to get the best footage. Let other people (and animals) do the hard work for you.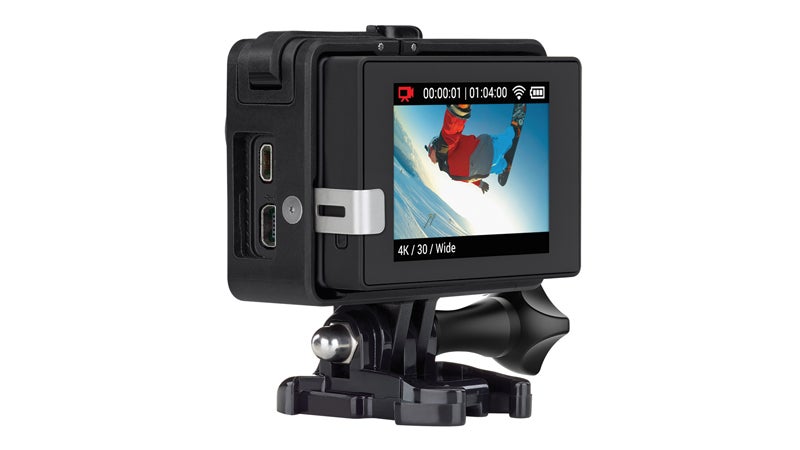 Specs
Hero 4 Black Edition ($499)
4K video at 30 fps
2.7K video at 60 fps
1080p (1K) video at 120 fps
12-megapixel stills
Nightlapse setting
Highlight tagging
Protune on photo and video
Hero 4 Silver Edition ($399)
2.7K video at 30 fps
1080p (1K) video at 60 fps
12-megapixel stills
Nightlapse setting
Protune on photo and video
Highlight tagging
Hero ($129)
1080p video at 30 fps
720p video at 60 fps
5-megapixel stills
Timelapse
Lead Photo: Carter Dow Photography
Trending on Outside Online