Does Dancing Lower Stress?
We sacrificed our dignity in a Zumba class, but gained a new appreciation for ostentatious exercises and Top 40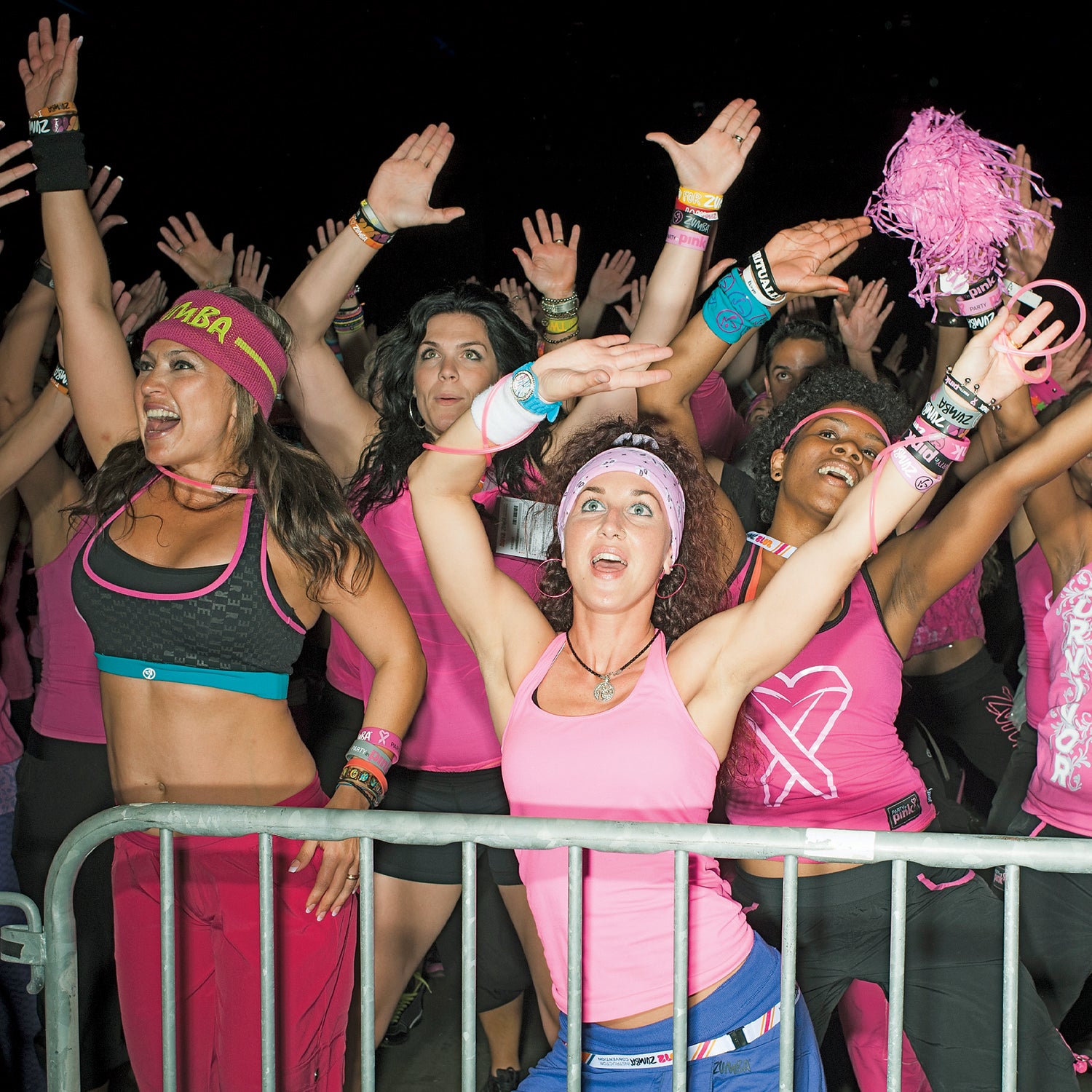 Brian Finke/Gallery Stock
Heading out the door? Read this article on the new Outside+ app available now on iOS devices for members! Download the app.
Like taxidermy and puppeteering, Zumba is one of those things I just thought I'd never do. But there I was, at 9:30 A.M., in a brightly lit studio, wearing beat-up trail-running shoes and a ­ratty ­T-shirt, surrounded by a swirling sea of Lululemon, trying to summon my inner Shakira. I was thinking two things: (1) It's physically impossible for me to shake my hips like that, and (2) I wish I could Shazam this spicy Latin tune, because it's pretty damn good.
An hour before, when I told my wife I was heading to my first Zumba class, she said: "You go, girl."
Which wasn't exactly the encouragement I was looking for. While I'm generally a courageous dude, I have only a fleeting sense of rhythm and typically dance—not very well—only after a few cocktails. Plus, if you know anything about Zumba, the popular Latin-­inspired fitness program, you know that like most dance-based classes, it attracts mostly women.
But the research is overwhelmingly clear: dancing makes you happier. The endorphin boost from the exercise, the social interaction, and the required concentration lift your spirits. Dancing stimulates the hippocampus (the part of the brain that helps regulate mood and stores memories), sparks new nerve growth, and, according to one German study, lowers levels of stress hormones and increases testosterone. So I signed up for a month's worth of Zumba classes.
Just walking into the room made me feel anxious. My apprehension increased when I recognized not one but two friends, one of whom was an über-fit athlete who had been trying to get my wife to do Zumba with her. I sheepishly said hello, took a spot at the back of the class, and waited for the music to start.
Then we were off. The music was fast, the footwork complicated, the gyrations and undulations unrelenting. Staying on track required intense focus. I would concentrate on my feet and forget to move my arms. Or vice versa. By the time I (almost) figured out the sequence, we'd be on to the next one. Thankfully, my frantic bid to keep pace left me little time to feel self-conscious.
There were awkward moments. Like whenever we did the move where you spin around on one foot and slap yourself on the ass.
I wouldn't say I was a fast learner, but as Gloria Estefan has pointed out: the rhythm is gonna get you. Or, in my case, at least get a toehold. After a few more classes, I began to recognize the moves and sequences. On the few ­occasions that I was able to shimmy in step along with the class, it felt great. There's something oddly satisfying about synchronization.
Some classes were a better workout than others, but all were rigorous and I always left drenched in sweat—and, I must say, in a better mood. I'd pull up funny Zumba videos on YouTube, and my kids and I would dance around the house. They liked the new Pitbull song—We gon' boogie oogie oogie, jiggle, wiggle, and dance / Like the roof on fire … Fireball!—as much as I did.
There were awkward moments. Like whenever we did the move where you spin around on one foot and slap yourself on the ass. Or the time I skittered in late to a sparsely attended class. The instructor and four women were in full swing, and although nobody broke step, I could sense what they were thinking: Young man, you seem to have accidentally stumbled into a Zumba class. I ditched my keys and jumped right in: Actually, ladies, I'm here to shake it, too.
When I told my mountain-biking and powder-skiing buddies about all this, they shook their heads. "Dude, do you really have to keep going?" one asked. No, I didn't, but I had to ­admit that the experience was fun. The women I met in class didn't seem to mind me flailing about next to them. One told me that she had been trying to convince her husband to come for months (I laughed nervously), while another offered to help me work on any moves I found difficult (that'd be pretty much all of them, I said). And what's not to like? You dance around, get a good workout, and leave happier than when you entered. Which is why, when my three-year-old son asked me where Zumba lived, I was only half-joking when I replied, "In my heart, little buddy, in my heart."
Continue on Outside's quest to boost happiness:
Strategies for a Healthier, Happier Life
5 Ways to Gain Control Over Your Technology
What Dogs Can Teach Us About Being Content
The Science of Happiness, Illustrated
Trending on Outside Online