10 Winter Escapes to Hot Springs
Take a break from winter in a mineral bath that will soothe your soul.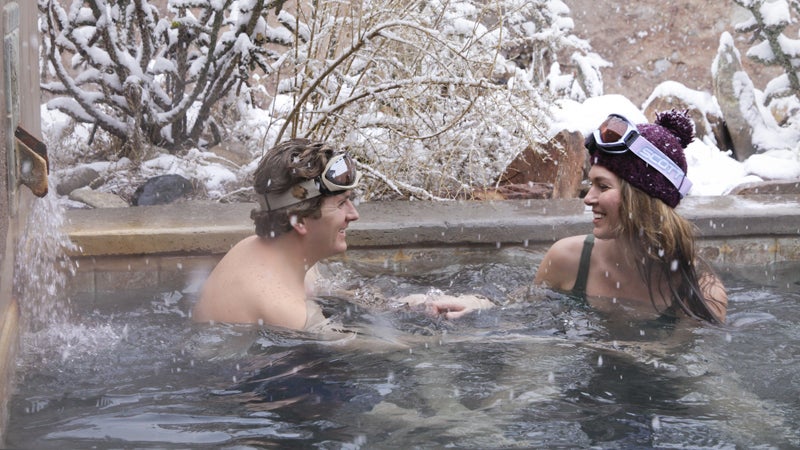 Heading out the door? Read this article on the new Outside+ app available now on iOS devices for members! Download the app.
The cheer of the December holidays has all but vanished—the polar vortex seems to have doused any remaining jollity with its ice and bitter temps. But that's no reason to wish away winter. You might just need a short break from this frosty season.
Perhaps, you need a weekend getaway to one of America's warm mineral springs. These ten places, which are scattered throughout the States, are sure to thaw your frigid body and maybe even melt your bitter cold spirit. So go ahead, shimmy the ice off your shoulders, and ease into one of these hot springs.
---
The Homestead
Hot Springs, Virginia
In 1818, Thomas Jefferson soaked his rheumatism-plagued body in the restorative waters at the Omni Homestead resort and declared them to be "of the first merit." Geologists tend to agree: Mineral waters running down from two Allegheny Mountain springs converge to form these particular pools, which naturally regulate themselves at body temperature year-round. The results are soothing, mineral-rich baths.
Today, you can soak in these same waters, now aptly named the Jefferson Pools, and absorb the same health benefits as one of America's founding fathers. When you're finished bathing, you can dine at the hotel's restaurant like Jefferson himself did. And now that Omni Resorts owns the hotel, you can also partake in spa treatments, a round of golf, and a host of other activities.
Rates: The winter room rate starts at $180 a night. You can enjoy the "Jefferson Soak" for $17, Thursday through Monday in the winter months.
---
Calistoga Spa Hot Springs
Calistoga, California
Perched amid the rolling hills of the Upper Napa Valley, the Calistoga Spa Hot Springs tempt visitors with the dual enticement of natural springs and Syrah. Spend one day winery hopping at popular vineyards such as Castello di Amorosa and Sterling Vineyards and the next soaking in Calistoga's geothermal waters.
All of the mineral baths are located indoors, so you won't have to worry about inclement weather raining on your springs. However, you might have trouble deciding where to spend your time: There's a steamy Jacuzzi pool, which can rise up to 104 degrees. There is also a soaking pool, which won't rise above 100 degrees, an 80-degree lap pool, and even a wading pool for kiddos.
Rates: You can visit the hot springs Monday through Friday for $25. Your hot springs fee is included in your room rate if you stay overnight. Overnight accommodations in the winter start at $165.
---
Strawberry Park Hot Springs
Steamboat Springs, Colorado
Tucked into a dense forest just off the Steamboat Ski Area in northern Colorado is the almost ethereal Strawberry Park Hot Springs. Stone enclosures segment a series of natural spring pools, which simmer with steamy 104-degree waters. Evergreen trees surround the mountainside enclave. And if the impressive view and restorative waters haven't tendered you full relaxation, you can also book a treatment with one of the park's massage or Watsu therapists. Should you wish to stay the night, you can reserve a place in one of the quaint cabins, but be warned: After nightfall, clothing is optional in the pools.
Rates: A cabin starts at $65 a night. A visit during the day costs $10 for adults, $7 for teens and $5 for kids. Keep in mind that the park only accepts cash or check.
---
Riverbend Hot Springs
Truth or Consequences, New Mexico
Located in southwestern New Mexico, the Riverbend Hot Springs were once Apache territory. Today, people from all nations can relax in the hot mineral waters, while relishing in the view of the Rio Grande River rolling by and the Turtleback Mountain rising in the distance. The mineral waters are directed into five public pools, which range in temperature from 100 to 108 degrees and spill one into the other. If you'd rather soak in solace, you can take your pick from among three private pools, one of which nestles right next to the river for an unimpeded view of the Southwestern landscape.
Rates: You can dip into one of the public pools for $10 an hour, while a one-hour soak in a private pool will run you $15. An overnight stay starts at about $70 a night and includes your admittance to the public pools.
---
Hot Springs Resort and Spa
Hot Springs, North Carolina
The hot springs bubbling up at the Hot Springs Resort and Spa have lured visitors to the Southern Appalachian Mountains since 1778. This scenic spot huddles beside the Spring Creek and French Broad River and underneath a canopy of tree branches, laced with leaves in the summer and occasionally bending with snow in the winter. Yet, even in frigid conditions, the mineral waters are a toasty 100 to 104 degrees. You'll find that the spring waters are directed to 17 outdoor hot tubs, which pepper the resort's 100 acres. These healing waters are reputed to have calming effects on the mind, as well as the body's circulation systems and even oxygen flow.
Rates: A cabin starts at about $50 a night, while a suite starts at $109 a night. A daytime soak in one of the hot tubs costs $15.
---
Dunton Hot Springs
Dolores, Colorado
Burrowed in the San Juan Mountains of the Colorado Rockies, the Dunton Hot Springs once soothed the sore muscles of the Ute Indians and later eased the achy bones of the gold mining crowd. These days the hot springs appeal to a somewhat affluent crowd, who is looking to "rough it" in a gorgeous milieu. Picture mountain peaks and pine trees; fresh, clean air filling your lungs; charming cabins nestled into snowy knolls; and mineral-rich hot springs. But these indoor and outdoor pools aren't just pretty; the mineral-rich water is supposed to promote blood circulation and improve your skin, among other health benefits.
Rates: Cabins range from about $600 to $1,500 per night through May 31. If you're not staying at the resort, you can still visit the springs for a "lunch and soak" for $115 or a "dinner and soak" for $175.
---
Goldmyer Hot Springs
North Bend, Washington
Burrowed into the wooded foothills of the Cascade Mountains, the Goldmyer Hot Springs are as enchanting as they are remote. Even after driving your high-clearance vehicle about 20 rough miles from North Bend to the Dingford Creek Trailhead, you have to hike 4.5 miles across the Middle Fork River and through a forest until you reach the hot springs. However, a positively sylvan place awaits you. The hot springs flow from the middle of a cave into a large upper pool, which can reach up to 115 degrees. This water then spills into two other pools, which are corralled by stonewalls and surrounded by thick forest. You should keep in mind that the max occupancy is 20 people at this no-impact conservation property, so advance reservations are highly recommended.
Rates: To reserve your spot at the springs, call at least two weeks in advance of your intended visit. To visit during the day, the cost is $15 while an overnight stay at the campsite is $20.
---
Quapaw Baths and Spa
Hot Springs National Park, Arkansas
The four centuries-old mineral waters at Quapaw Baths & Spa are as relaxing now as they were back then. And that's probably why everyone from the Quapaw Indian tribe to early European settlers has made the pilgrimage to this little corner of Arkansas for a soak. This particular bathhouse was built in the 1920s over the mouth of a natural thermal spring, and the waters were directed to four public pools. You can also enjoy the mineral waters in a private bath for one or a private couples bath. You can also extend your R and R with a massage or a body polish, among other treatments.
Rates: A visit to the thermal baths at Quapaw costs $18.
---
Berkeley Springs State Park
Berkeley Springs State Park, West Virginia
The warm waters of Berkley Springs State Park have been around for centuries, but their popularity was sealed by none-other than George Washington, who first visited them at the age of 16. Today, there's a regimen to the "taking of the waters" at Berkeley Springs. First, you ease into the 102-degree waters in a Roman Bath. These baths are constructed for up to two people and are each filled with 750 gallons of the high mineral-content water. You follow your 15-minute mineral bath with a shower to cool off. Lastly, enjoy a 30- or 60-minute massage.
Rates: A Roman Baths package starts at $45.
---
Ojo Caliente Mineral Springs Resort and Spa
Ojo Caliente, New Mexico
You'll find the Ojo Caliente Mineral Springs Resort & Spa is only about an hour's drive north of Santa Fe, though you might feel like you're much farther from the bustling state capital. Located on 1,100 acres that adjoin national forest and public land, this resort acts as a retreat into the Southwestern wilderness. Ojo Caliente is also pretty famous as it's one of a short list of springs that yields four different types of mineral waters: lithia, iron, soda and arsenic, each of which offer different health benefits. You can soak in these healing waters in private or in six different public options, including a mud pool. The resort also contains a spa, where you can choose from a menu of massages and body therapies.
Rates: Accommodation rates start at $139 and include your entrance into the public pools. A private bath starts at $40, and there's a $10 charge for each additional person. You can also visit the public baths, Monday through Friday, for $18; after 6 p.m., there's a $4 discount.
Trending on Outside Online