How Does an Olympic Cyclist Train?
Queen of the road Megan Guarnier has developed tremendous physical fitness and psychological fortitude—now she's after a medal at Rio. Here's how she got there.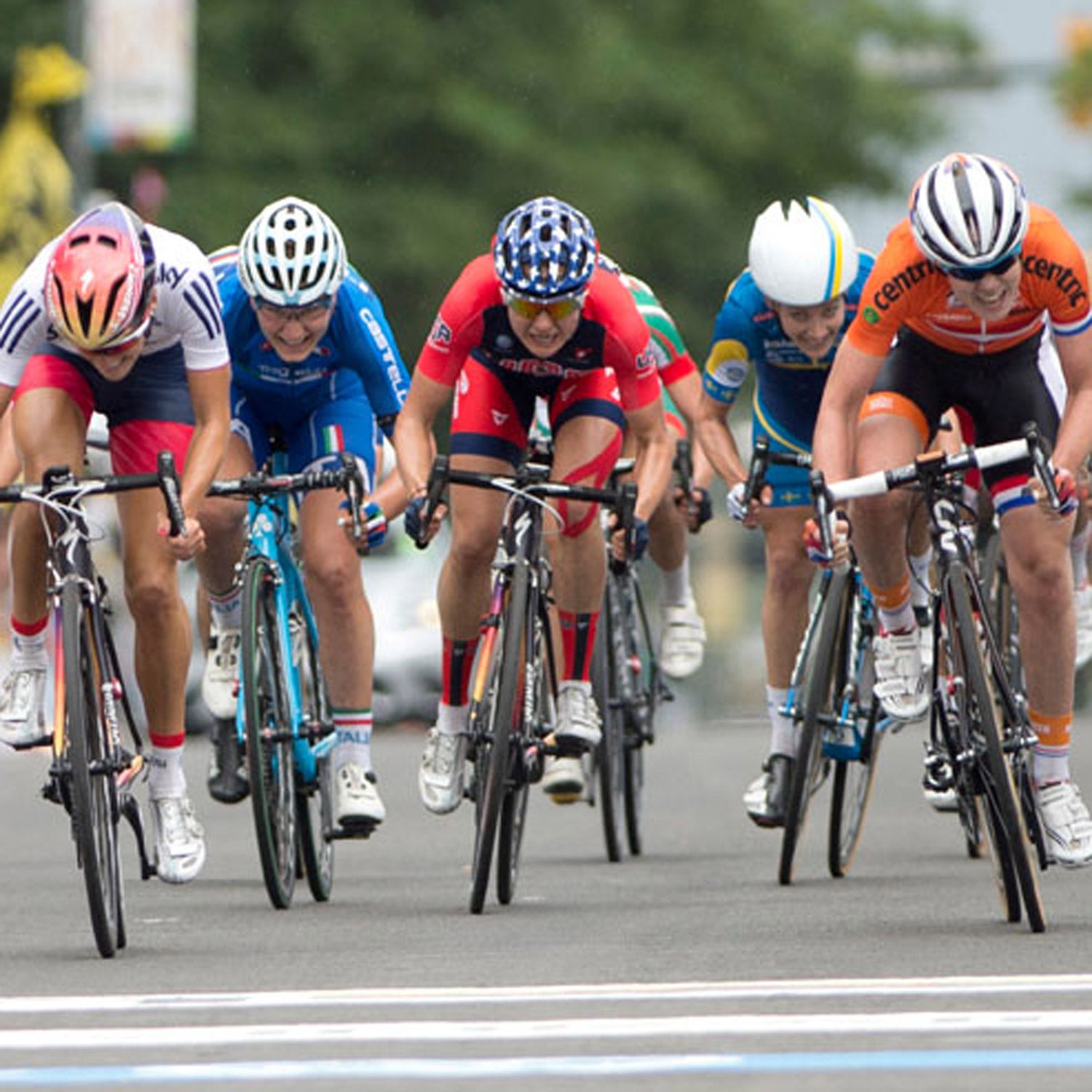 Heading out the door? Read this article on the new Outside+ app available now on iOS devices for members! Download the app.
Megan Guarnier's rise to the top of cycling began over 10 years when, as a college athlete, she made the transition from an All-American swimmer to the bike. Since then, she's been on a roll. The 30-year-old from Queensbury, New York, won the United States Road Cycling National Championship in May and took bronze at the World Championships in September, becoming the first American woman to medal since 1994. These performances earned Guarnier a slot in the 2016 Rio Olympic Games where she'll be racing next August.
Favorite Workout: I love recovery rides. They are so important because they let me decompress and re-energize for the next hard session. 
Hit the Weights: The strength gains are great for power on the bike. I usually spend about two-to-three months each year in the weight room. But I also make sure to stop [lifting weights] at least three-to-four weeks before racing to allow the pop to return to my legs.
Entertainment for Riding Indoors: Trainers are no fun, which is why I moved somewhere warm. But sometimes I still find myself riding indoors. Thank God for Netflix. A long ride on the trainer becomes a great way to binge watch an entire season!  If I'm doing hard intervals I'll switch to music. Girl Talk is my favorite. 
The Art of Suffering: A lot of racing is mind over body. When I'm really hurting, rather than let the pain get the best of me, I remind myself that if I'm hurting, everyone else is too. I also try to stay present; I don't even think about the next five minutes. It's all about getting done what needs to get done in this moment. 
Prime for Performance: Find a routine to repeat before you race. For me it's yoga. I do the exact same yoga routine every time. It only takes about 20-25 minutes, and it predictably puts my body and mind in race mode. 
Hold the Gluten: It's about figuring out what works for you. I know this is a stereotypical endurance athlete thing to say, but yes, I'm gluten-free, and I have been for the last six years. Although I was never diagnosed with Celiac Disease, I just don't digest gluten well: it leaves me bloated and feeling blah.  It may not work for everyone, but a gluten-free diet works for me.
Eat Plenty: If you need the fuel. My family and friends—and even my teammates—are amazed at the amount I can eat.  They're like, "You're the littlest girl on the team; how do you eat so much?" 
And Eat Early: Make sure to finish eating at least three hours before a race or hard training ride. If I don't, and I'm really pushing it, I feel food swirling in my gut. Better to fully digest before getting on the saddle.
Recover Right: I recover just as hard as I train. Tons of sleep. Compression socks for travel. Lots of bodywork. And even though I know the science is mixed, I love ice baths, especially after really hard days…maybe because they numb my legs.
It's OK to Take a Break: It's also important to have the confidence to step away from your bike to let your body and mind recover. If the thought of a hard workout brings you close to tears, skip it. It's better to take a few days off now than to put yourself in a hole that takes weeks to dig out of later.  
Can't Live Without My… Power meter and yoga mat.  If I do a ride without my power meter, it's like the workout didn't happen.  I love to analyze all the data.  I'm extremely crazy when it comes to that stuff, which is probably why my yoga practice is also really important.  The type-A, analyze-everything self needs a balance.